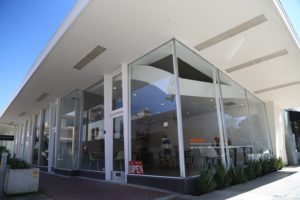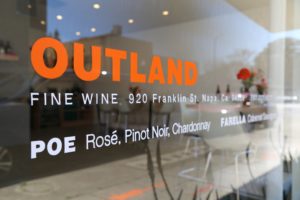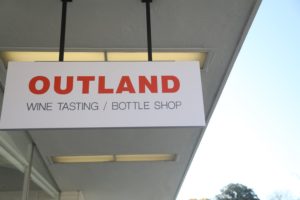 Outland Collection is a partnership between winery owners, Tom Farella of Farella Vineyard and Samantha Sheehan, proprietor of Poe Wines and previously Matthew Rorick winemaker and owner of Forlorn Hope Wines. While the Forlorn Hope wines are no longer represented here, a third producer is: winemaker Taylor Berkley Boydstun's small brand T. Berkley.
Farella Vineyard (established in 1985) is located about 4 miles east of downtown Napa in the sub appellation of Coombsville. This is a family-owned winery; Frank Farella purchased land here in the mid 1970s and his son Tom Farella has been the winemaker and manager for many years. Tom was directly responsible for creating what is still Napa's most recent sub appellation – Coombsville with approval coming in late 2011. They produce under 1,500 cases a year of traditionally produced Napa varieties.
Poe Wines are made in Napa from Sonoma and Mendocino sourced grapes with the focus being on Chardonnay and Pinot Noir. A Raven's wing shows on the front of each of the wine labels with numbers, some more or some less visible in the background (depending on the label). The name and labels are a tribute to Edgar Allen Poe, his poem "The Raven" and also his fascination with cryptography (solving codes). Samantha grew up in Toluca Lake (Los Angeles County) and recalls the numerous ravens that used to congregate near her home (some were supposedly released by one of the studios after filming parts of the Hitchcock film, The Birds). And of course, there is the Sonoma County connection (where some of her grapes are sourced from); Bodega Bay is where part of The Birds was also filmed.
The Poe wines are sold direct and to premium domestic restaurant. Outland is Samantha's first retail outlet. She also makes a standalone wine from Poe called Ultraviolet. This is one of the more affordable Napa Cabernet Sauvignon's available in the market.
The first vintage of T. Berkley was in 2016 and production is currently around 1,000 cases per year, primarily from non-Napa Valley vineyards. Taylor's day job is at Teachworth Winery on Diamond Mountain where he stays extremely busy overseeing both their mountain vineyards and winemaking. His brand is known for its limited production Chenin Blanc and Cabernet Franc.
Forlorn Hope owns vineyards and a winery near Murphys in Calaveras County (put Murphy's on your radar if you have never visited or haven't been in some years – it is a charming old gold rush town that now features a plethora of wine tasting rooms). Forlorn Hope focuses on some very interesting and obscure varieties such as Alvarelhao, Verdelho (not as obscure although there are only two Napa producers, we know of making wine from this variety from grapes grown in the Napa Valley) and Trousseau Gris among others. They hand-craft a wide variety of small production wines.
All the owners/winemakers live in Napa Valley. Samantha makes her wines at Farella; neither producer has a tasting room open to the public; Tom and Samantha began looking to find an accessible space such as this where people could either make appointments or walk-in. They reached out to Matthew, and he became the third partner in this collective tasting room.
This tasting room (opened in Spring 2017) is very central and within easy walking distance of a number of hotels and restaurants including two of the most prominent hotels downtown, Andaz and the Archer. Downtown Napa has seen a wonderful revitalization over the years in part stemming from a flood control project which was completed in 2013 to prevent downtown Napa from flooding. Compared to before, it is more likely visitors to the valley will stay in downtown Napa considering the numerous food and wine spaces and shopping within easy walking distance of the downtown hotels.
When we first started the Napa Wine Project in 2006, we remember visiting downtown Napa and always being surprised by how quiet the streets were. Back then, there were only a couple of tasting rooms in the area including Backroom Wines which was also on Franklin Street across from Poe's location. And it is worth noting that in 2022 Dan Dawson, the founder of Backroom Wines took over his old space on Franklin Street and converted it into what is now Outer Space Wines, a small retail wine shop and tasting room.
Remarkably today there are approximately 40 winery tasting rooms in the downtown central business district open by walk-in or by appointment; each one is unique in its own right and offers a different experience from the others.
Despite being in a 'fishbowl' a tasting here is very personalized; the tiny space is surrounded by large windows allowing both guests and those walking by on Franklin Street to easily see each other. A map on the wall is lit with colored lights representing vineyard locations used by the three brands housed here. Visitors who make appointments may request private tastings with any of the partner winemakers (subject to availability and their schedules). Visitors may also walk in without an appointment if space allows.
This building has been here since at least the early 1930s; we found several references in the Napa Journal from that decade indicating at least one part of this building provided "expert reading" services including for astrology. It was also used as a private residence. In the 1950s it housed Raney's Draper Shop, in the 1980s, Ryken's Gift Shop was located here and in the early 2000s it was a branch of Capital Valley Bank.
A visit here is a rare chance at a Napa based tasting room to enjoy wines from outside of the county including some which are quite unique. For example, Poe Wines makes a Vin D'Orange Vermouth and a Pinot Meunier.
The name Outland was conceived for several reasons including to represent some of the unique wines represented here (unusual by Napa Valley standards) and some of their source vineyards outside of Napa Valley including in Calaveras, Sonoma and Mendocino counties.
Tastings can be either by flight, glass or bottle. Choose from four flights – one for each of the three vintners and the Outland Flight which combines wines from all three producers. The wines represented are priced reasonably.
Select Wines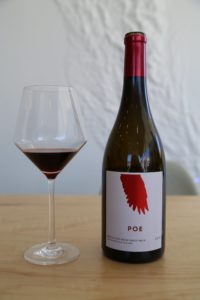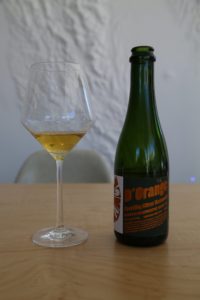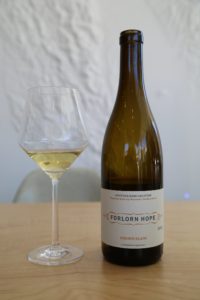 The 2013 Poe Manchester Ridge Pinot Noir was sourced from Mendocino County – a vineyard that is located at 2,000 feet in elevation. Aromatically this wine is very pretty with a floral perhaps dried herb note and a sweetness of fruit present. It is very balanced with a lengthy finish including lingering flavors of dried cranberry.
The Poe Vin D'Orange (Sparkling Citrus) Vermouth (produced by Poe Wines) is a very unique offering for Napa Valley. Samantha remembers being impressed by a vermouth made by one of her friends who was a chef at Chez Panisse in Berkeley where they used to serve it as an aperitif. According to Samantha that vermouth was delicious but was fairly unstable and would start fermenting again after a few days. She changed the recipe somewhat and made it properly this time. Three hundred pounds of Seville Orange pulp/peels were processed by hand to make this; the grape source was Chardonnay from Mendocino County. Aromatically it shows notes of orange peel, a musky component and pine needle. Somewhat sweet there is bit of a lift from being slightly carbonated. There is a noticeable but pleasant bitterness (which we don't mind) on the finish. Sold in 375 bottles.
—
Farella makes a refreshing Sauvignon Blanc that is consistent in its flavor and aromatic profile each year. This is their only white and is one of the nicer Sauvignon Blanc's we've tried from Napa Valley. It is also the first wine Tom and his father Frank made under the Farella label. It is made without the use of oak. We have recently been tasting Napa Valley Sauvignon Blanc, ranging between 14 to low 15% alcohol range which showcases an entirely different set of aromatics than this more mineral laden restrained bottling of 13% alcohol.
The 2020 Farella La Luce Sauvignon Blanc is deep straw in color; the aromatics are bit shy initially and the bouquet needs time to open. It offers elegant aromas of grapefruit, pomelo peel, chamomile, lemongrass and lemon juice. This wine is balanced and seamless across the palate with a complementary verve of acidity but without any overt grassiness or tart tones. It shows a supple texture and a varietal foxiness which persists on the finish. Very shellfish friendly.
—
After a few years of age, the T. Berkley Chenin Blanc wines change fairly dramatically both on the bouquet and the palate and come out of a more 'closed phase'. Taylor has noticed they develop a sheep's wool lanolin character. And we also noticed a difference in richness on an older vintage (tasted 5 years post vintage) versus the current release bottling.
The 2019 T. Berkley Wines Napa Valley Cabernet Franc is from the McKenzie-Mueller owned vineyard in the Oak Knoll District. The oldest Cabernet Franc vines were planted on the property in 1978 and Taylor only sources from these vines. This wine is dark ruby and purplish in color; the bouquet offers aromas of lavender, violets, old cedar box, white pepper and sage along with some brambly fruit influence including blackberry. The fruit shows more on the bouquet as the wine continues to breathe. This wine is very approachable in its youth; it offers flavors of red plum and blackberry with supple and rounded chalk-like tannins. Its texture is a highly appealing characteristic. The finish lingers with both red and darker fruit flavors accompanied by mouthwatering acidity and a note of dried tobacco.
—
Matthew calls his wines "Rare Creatures" as each one is different from the other. These are limited production wines with personalities based on terroir and each unique fermentation. The 2015 Forlorn Hope Chenin Blanc underwent a slow 8 months of primary fermentation. Aromas of citrus blossom and lime lead to a palate that is somewhat rounded and creamy in nature. Balanced with both citrus and apple good acidity; this is a very lively showing. It is an ideal food wine although it certainly is quite tasty by itself.
—
Looking to combine small bites with your tastings? You can do so; Outland has partnered with nearby Ox & the Fox to provide cheese and charcuterie to be paired with a flight of your choice. And if you need a break from wine, you can also order one of their featured cocktails.
Outland maintains their own wine club with wines from each of the producers represented in the tasting salon offered as part of 3x/year club shipments. For more information about this collective, to order wine or to schedule an appointment, visit: www.outlandwines.com