Moss Creek Winery is the eastern most Napa County winery you will find on a map. The ridge that rises near their vineyards forms the county boundary. Moss Creek is located a good 30 minutes from the Napa Valley floor along very windy roads – merely 10 minutes from Lake Berryessa. This is probably the furthest winery from the actual town of Napa that still has a Napa address. It's name comes from the small creek that runs through part of their ranch. The winery is run by the Moskowite Family who have farmed this land since 1917.
At one point their family's land holdings in the nearby region totaled over 10,000 acres. It is still large today – as they own over 1300 acres – not all planted to vine of course; much of the property remains in its natural setting. The family's initial foray into winemaking was started during prohibition which is typically not when vintners decided to start a winery! However, the current owner's grandfather made Sacramental wine from Muscat grapes on site during this trying time for those in the wine industry.
The Moskowite's planted grapes here in 1972 and sold the fruit to other wineries. Today the winery is run by George and Ann Moskowite (they re-opened the winery after it was dormant for several years). They cannot use all the grapes on site for their own wines (160+ planted acres) so they still sell some of the fruit to high end wineries – Markham, Raymond and Saddleback Cellars among others. Moss Creek uses grapes from the highest quality blocks on the property to make their own wine. Often during harvest they will pick a single block multiple times, ensuring only the ripest fruit will be processed. Our visit coincided with harvest and there were several open top fermenters already in use with the wonderful smells of fermenting grapes and juice hanging in the air almost tempting one to start tasting! Harvest is always a nice time to be visiting wineries and we were able to try several samples of partially fermented juice from several varietals.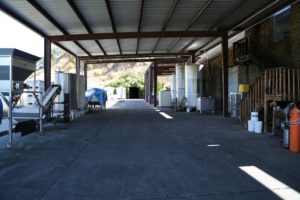 Moss Creek has the privilege of having one of the finest winemakers in Napa Valley in Nils Venge. Nils has been with Moss Creek since Day 1 and he is most well known for producing a Cabernet at Groth Winery which earned a perfect 100 score from the Wine Advocate which made him the first American winemaker to earn such a score. Moss Creek also has the luxury to hold back their wines for aging longer than many wineries. This means when their wines are finally released to the consumer, they have already been properly well aged. Speaking of aging, they also have older library wines available for sale – as of press time vintages up to 11 years old were available. Moss Creek is most known for their Zinfandels and you will see why once you taste one of these!
In addition they also produce Cabernet Sauvignon, Merlot, Petite Syrah and Sauvignon Blanc. We tried several vintages of a wine only sold at the winery which is their Zinfandel port. What a difference several years of aging make, as the alcohol in the earlier vintages has blended nicely with the actual fruit flavors and has really come together as a wine. Their late 90's Zinfandel Ports are amazing and we have one properly cellared for future special occasion imbibing! A small tasting room serviced by whoever happens to be there at the time of your visit is on site as well as a small event area under the oaks where tasting may also occur – weather permitting. A small but functional cave is located in the back of the winery and serious wine enthusiasts are sometimes brought here for some barrel sampling. At press time production is several thousand cases although there are plans to ramp this up slightly.
NOTE: This winery facility now called Steele Canyon Cellars – leased by the Scotto Family. This review needs a major update.
Visit: www.mosscreekwinery.com