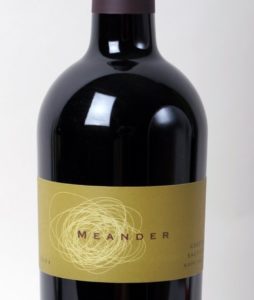 Meander Wines was founded by veteran Napa Valley winemaker, Amy Aiken. Her first introduction to Napa Valley was when she came to California from the Midwest; she studied at UC Davis for her master's degree. She became passionate about Cabernet Sauvignon and made this wine in the 1990s while working at several well-known Napa wineries including at Joseph Phelps Vineyard (where she helped craft their wines including their iconic Insignia). Based on her experience and contacts in the industry she is familiar with a number of premium area vineyards.
In 2000, she decided to create a label for herself. However, the vineyards she had her eye on were in such demand for their high-quality fruit that she had to wait a few more years before certain blocks in these vineyards became available. Once she got her foot in the door an additional part of these vineyards opened up and she was able to source even more grapes.
For many years Amy sourced from the Morisoli Vineyard in Rutherford and Lewelling Vineyard in St. Helena). The Lewelling Vineyard was originally established in 1864 which makes this one of the oldest continuously family owned and operated vineyards in Napa Valley. The Lewelling family roots dating back to 1864 when the family patriarch John Lewelling moved to St. Helena. The vineyard itself is located at the base of the Mayacamas mountains on the western side of the valley. The vines grow on rich benchland soils; several premium producers' source from this vineyard.
Morisoli is also a widely acclaimed vineyard with loads of history supporting it, in part popularized by some of Sequoia Grove and Elyse Winery Morisoli Vineyard designate bottlings.
Each vineyard brings a certain component to the wine; the fruit from the Morisoli adds the backbone and structure and the fruit from the Lewelling vineyard brings an elegance and more of the fruit flavors. For these wines, Amy used all French oak with about 65% of it being new.
Her specialty was producing premium Cabernet Sauvignon each year with production typically around 500 cases. The name of the winery has multiple meanings including "to take a pleasant path", it is a reference in Greek wine history, and it is a loose combination of the names of her sons, Mitchell and Andrew. While Amy has made other varietals under the Meander name, including Pinot Noir and Sauvignon blanc, Cabernet Sauvignon was her focus.
In 2021 Amy sold the Meander brand and production continues under new ownership with several different Cabernet Sauvignon wines being produced.
We need to try current release wines and make a **major update** to this review.
Select Wines
The 2004 Meander Cabernet Sauvignon; about 50% of the fruit for this wine comes from each vineyard. It has strong firm tannins but is not overly tannic. The mouth feel opens with a nice softness; the palate is well balanced. The wine is dark and well extracted with lots of fruit on the palate including some notes of licorice. The finish is very long; one wine enthusiast even timed the finish and said lasted for 28 seconds.
The 2005 Meander Cabernet Sauvignon which as of our tasting is still a young wine. However, it shows even more fruit characteristics when compared to the 2004 vintage and we can't wait to see how this wine ages. One can also buy magnums of this wine. Meander wines can sometimes be found locally at Backroom Wines in the city of Napa and ACME wine shop in St. Helena. In addition, one can join the mailing list online.
—
Amy was also a partner in a winery in the foothills near Calistoga in the northern part of the valley. For more information and or to purchase current release wines, visit: www.meanderwines.com
NOTE: this review has been identified as needing a major update.