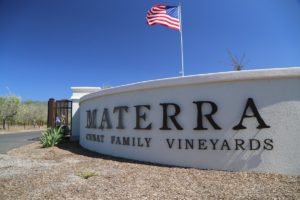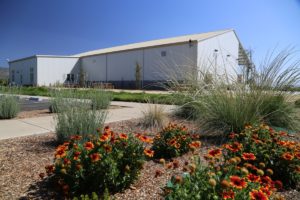 Materra Cunat Family Vineyards. The Cunat family: Brian and his brother John, Brian's wife Miki and their two daughters founded the label Materra in 2007 with the purchase of a 45-acre estate vineyard (50-acre property) located in the Oak Knoll district. This part of Napa Valley has long been known for producing excellent Merlot (the variety they currently focus on) and is also one of the best regions in the valley for being able to grow a diversity of varieties. At the time of the purchase the property was planted entirely to Merlot; the Cunat's purchased the property in August (just before harvest); Brian remembers scrambling at the last minute to sell their grapes to other wineries. They also produced their first wine bottled under the Materra label that year, a 2007 Merlot. The next year they began replanting the vineyard and have since diversified the varieties; it is now planted to Chardonnay, Sauvignon Blanc, Viognier, Malbec, Merlot and Syrah. Grapes have been grown nearly continuously on the site since the 1890s.
Brian worked on a farm during his formative years and always had an interest in agriculture. He became intrigued with French wines but didn't have a chance to truly explore some of California's premium wines until friends invited him out to Napa Valley in the late 1990s for wine tasting. He continued to explore the valley as time permitted (his home base is in Illinois).
Brian and his brother John oversee Cunat, Inc – a residential management and property development company founded in 1976 with a variety of real estate holdings primarily in the Chicago area including homes, apartments and townhomes. He also helped found Illinois State Bank in 1997 and was also the co-founder of Golden Eagle Community Bank (with multiple branches) which later was acquired by Advia Credit Union. And Brian served for several years as the president of Kiwanas International which provided opportunities to visit countries around the planet.
Brian had been watching land prices in Napa Valley for many years, recalling hearing about $25,000 per acre prices in the 1980s. While on a trip to Napa Valley in 2007 (with no intent on purchasing land) the Cunat's were wine tasting with friends and were also looking for job openings for their daughter Neena at select hotels. They took a wrong turn and ended up driving by a vineyard property for sale in the Oak Knoll District. A spur of the moment decision led them to call the realtor for more information which led to them making an offer; several months later they were the owners of this vineyard estate having purchased it from the Jaeger family (long time wine growers in Napa Valley: reference our reviews of Rutherford Hill Winery and Sinegal Estate).
The Cunats wanted to create a name for their label that would honor the terroir or vineyard and decided upon "Materra" which roughly translates to "Mother Earth" in Latin.
For a number of years, Brian and Miki's daughter Neena oversaw the winery operations. She has since stepped back from this role to pursue her photography business and her husband, Harry Heitz is now Materra's General Manager. Nina moved to Napa Valley in 2007 to pursue a career in hospitality and hotel management; she currently assists with Mattera Winery events and related photography including images used on their website, business cards and in the winery's marketing efforts. With no background in wine, once living in the valley she took classes at Napa Valley College and also worked for a local wine merchant. And it was Neena we first met with when writing about Materra, even before their winery and hospitality center were built. Their youngest daughter, Amie is an accomplished artist and designs the Materra wine labels.
For a very short while they were offering tastings next to the Wydown Hotel in St. Helena.
Construction started in late 2022 on what will be a 13,000 square foot hospitality center encompassing two stories. The existing tasting space next to their wine library will be converted into a club member lounge. The new space will have a full commercial kitchen allowing them to be able to offer food and wine pairings. We will revisit the new space once it is completed.
Winemaking

In late summer of 2015 Materra completed a winery, barrel storage facility and hospitality space in the heart of the Oak Knoll District. Not only do they make their own wines here, but the winery also serves a number of custom crush clients: both for small producers, often neighbors from other parts of the Oak Knoll District who make their entire production here, but also for some larger producers who need extra space. Custom crush clients can use Materra's wine making staff or provide their own winemaker. Materra also offers barrel storage services; when full, their barrel storage houses approximately 5,000 barrels.
Two winemakers, Michael Trujillo and Bruce Regalia initially shared the wine making duties. This is truly a 'winemaker's winery"; both Michael and Bruce were instrumental in the design of the wine making facilities. The winery has embraced state-of-the art technology and equipment including a double bladder press (allows the fruit to be pressed gently) and special fermentation tanks that have built in pumps with each tank connected to Wi-Fi so a series of data points and options can be monitored and controlled remotely via a special app.
With built in pumps, pump overs can be controlled remotely or controlled manually should the winemaker want to do so. Another machine helps automate the racking process and handles two barrels at one time. And the winemakers designed a plastic "wall" that can be moved down to effectively separate their barrel room into "two" rooms – when they need to warm up one side of the barrel room and keep the other side cooler.
Most of their grapes come from their estate vineyards; since their original property acquisition they have purchased 50 more acres, spanning several more properties in the Oak Knoll District and one nearby property on the Silverado Trail. However, they also purchase grapes through long term leases from a limited number of growers overseeing premium vineyards. They work closely with growers to ensure they utilize similar farming practices as the Materra's use on their estate vineyard. One of the goals with both their estate vineyards and sites they work with is according to Brian, to have stability – in other words to get to really know their vineyards and continue to work with these sites.
A demonstration vineyard is planted in the front of the winery which is used to educate visitors about varieties, clones, root-stock, and trellising systems.
Winemaker Chelsea Barrett took over the production operations in 2018. She comes from a long line of talented winemakers in her family including her grandfather, Dick Peterson (first PhD winemaker at Gallo and inventor of the 'Petersen pallet' barrel stacking system which is now used worldwide), her mother, Heidi Peterson (arguably one of the most well-known winemakers in the country, known for her work with premium vineyards and wineries) and her father Bo Barrett who has been making wine at his families' winery, Chateau Montelena since 1972. And she has international experience having worked harvests in Austria and Australia along with select wineries in Napa Valley including at Opus One. And perhaps this is the only family in Napa Valley currently with three active generations of winemakers.
Mattera is producing a diversity of some of Napa Valley's most exciting wines ranging from white, red and dessert wines. These are balanced bottlings, curated by the variety, but driven by an invigorating freshness of fruit, acidity and a textural polish. And we must add, are priced comfortably.
Select Wines
Brian met his wife Miki while she was an exchange student at McHenry Community College in Crystal Lake, Illinois. Miki's family is deeply rooted in Japan with ancestors from a well-known Japanese Samurai family. Miki's great grandfather, Shozaburo Dogura was a very accomplished and well-respected individual noted for his forestry conservation work in Japan including donating the lands that are now home to Mount Yoshino, known for its more than 30,000 cherry trees which brighten up the landscape with their flowers in spring. Dogura was also instrumental in building railroads in Taiwan. Mattera creates several wines as part of their Japanese Series in homage to Dogura's legacy and to pair with Japanese cuisine. These wines are available primarily in the Japanese market but are also sold direct through visits to the winery.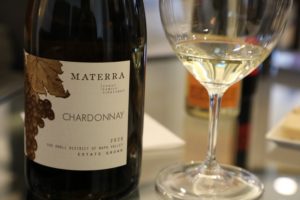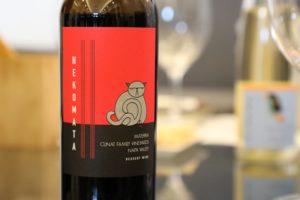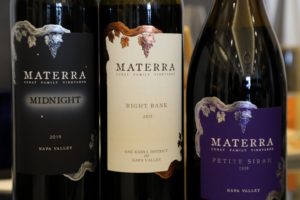 The 2021 Materra Yoshino Rosé is 100% varietal Malbec. The winemaking team produced rosé wines from a number of different varieties but ultimately found they most enjoyed rosé made from Malbec. This wine is a pretty shade of pink in the glass (perhaps matching the color of the cherry blossoms at Mount Yoshino); it is extremely aromatic including notes of watermelon, pink bubble gum, jolly rancher candy, fresh rose petals and a light note of raspberry. Simply put, the aromas smell wonderful. The richness and intensity of flavor is immediately noticeable offering red berries including raspberry, currant and pomegranate along with some lingering citrus nuances.
The 2021 Materra Sauvignon Blanc is pale yellow in color; immediately noticeable are this wine's floral characteristics including jasmine, honeysuckle and citrus blossom. The palate is bright and mineral and citrus driven including flavors of pomelo, grapefruit, guava and green apple. It lingers bright with a liveliness and freshness of acidity and some persistent flavors of lemon/lime. Refreshing, balanced it showcases the varietal characteristics without leaning towards a more green/grassy style. Like several of their white wines, this bottling spent 6 months aging in oak barrels before being bottled in early spring following harvest.
The 2014 Materra Sauvignon Blanc saw no oak during its aging (stainless steel). It is pale yellow in the glass. This wine opens up quickly showing bright fruit including peach, tropical undertones as well as citrus blossom. The nose presents layers of fruit and is quite appealing. There is good acidity, a pleasing rounded texture (for seeing no oak) and good overall balance. The finish is clean and lingers with a hint of perceived sweetness from the ripeness of the fruit.
Not many wineries in Napa Valley grow and bottle a 100% varietal Viognier. The 2021 Materra Viognier is medium gold in color; the bouquet offers pretty aromatics including hints of lemongrass, a subtle note of caramel and floral notes including of spring flowers. It also shows some stone fruit characteristics including of peach and pear. Its texture is silky and rounded with flavors of tangerine and other citrus notes. A mouthwatering brightness persists on the finish while the flavor drops off more quickly. Brian told us he loves drinking this wine with a variety of delicate seafoods. It was aged for 7 months in neutral oak barrels before being bottled in early spring.
The 2020 Materra Chardonnay is medium gold in color; like all of their white wines this wine was not allowed to go through malolactic fermentation. Brian calls this his "Napa Chablis" style of Chardonnay. This wine is noteworthy for what it is lacking; by this we mean it is clearly not a California styled Chardonnay in that it is not oaky, buttery, sweet or heavy on the palate. The bouquet offers some floral notes including of citrus blossom along with a citrus zest, a hint of apple and lychee. As the wine continues to breath it opens to some notes of honeysuckle. This Chardonnay exhibits freshness and balance, not often two words we use in the same sentence in regard to California Chardonnay; but perhaps we are experiencing a bit of a change in style among certain producers in Napa Valley over the past several years in this regard. The palate offers flavors of citrus including tangerine and some lingering mineral notes. Its texture is a nice complement to its crispness. This wine spent 9 months in French oak barrels of which 25% were new.
A heavy Napa Cabernet Sauvignon would most certainly overwhelm the delicate flavors of Japanese cuisine, so Materra purposefully crafts a lighter styled wine from this variety. This wine is part of their Japanese Series. The 2019 Materra Dogura Cabernet Sauvignon is 92% Cabernet Sauvignon, 6% Cabernet Franc and 2% Malbec. It is deep ruby in color and features beautiful aromatics including licorice and red plum. The palate offers a combination of bright red and darker fruits including cherry and plum. Lingers with a note of tobacco spice and crushed peppercorn and a softness of its light and fine-grained tannins. It was aged in new French oak for 19 months of which half was new. This wine pays homage to Miki's great grandfather Shozaburo Dogura.
Materrra used to source from a small vineyard near Spottswoode Winery in St. Helena. This particular vineyard was difficult to find, and Brian would refer to it as the Hidden Vineyard. They have since transitioned to a different source for the grapes for this bottling but kept the same name. The 2019 Materra Hidden Block is 89% Cabernet Sauvignon, 6% Cabernet Franc, 4% Petit Verdot and 1% Merlot. This wine is deep ruby in color; the nose is distinctive and offers aromas of darker fruits including blackberry and boysenberry along with mocha, dusty slate rock, chocolate and baking spices. This wine has depth and complexity built upon layers of darker fruits including plum. One can feel the density of tannins which are long-lasting, dusty and display a moderate grip. A final note of dried tobacco leaf shows on the finish.
During trips to Bordeaux Brian and Miki have always enjoyed the Merlot dominant wines from the Right Bank. Of all their wines, this is Brian's favorite bottling produced each year. And in a nod to Bordeaux the grapes for this wine are grown on the right bank of the Napa River. The 2019 Mattera Right Bank is 91% Merlot, 8% Cabernet Franc and 1% Cabernet Sauvignon. It is deep ruby in color; the bouquet offers notes of cherry, chocolate, cloves, cardamom, other assorted baking spices and a light touch of mint deeper in the aromatics. There is also a note of tobacco spice. Its texture is certainly an appealing hallmark with its supple and seamless feel. The finish is mouthwatering with a note of dried tobacco. Balanced is the first word we used to describe the palate.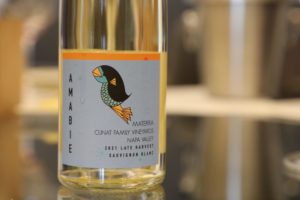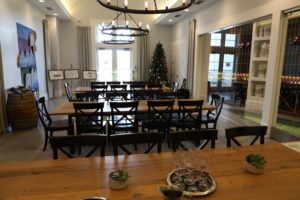 Brian and Miki have enjoyed visiting Madrigal Winery over the years and were always attracted to their limited production of Petite Sirah from a one-acre vineyard in Calistoga. After Bacchus Capital Management invested in Madrigal Winery in 2013, Madrigal stopped producing their Petite Sirah from this particular vineyard. Brian was able to take over the contract and now bottles this under Materra. The 2019 Materra Petite Sirah is deep ruby, purple and opaque; the bouquet reveals dark aromas including of mushroom, black olive, along with chocolate and Graham cracker. This wine is rich and opulent across the palate but shows some structural restraint. It offers flavors of blackberry and boysenberry, along with dark plum. The tannins are dense but not heavy; it lingers with lively acidity and dark spices including notes of crushed peppercorn. And they age this wine in a small percentage of American oak focusing on barrels with fairly tight grained structure.
During one of their earlier vintages, winemaker at the time Bruce Regalia approached Brian and mentioned he had a barrel of Petite Verdot and a barrel of Malbec and was considering bulking off the wine to the wholesale market. But both men tried various blends of these two barrels and decided to bottle an almost equal blend of each variety labeled as Midnight. From about 55 cases this has grown to one of their most produced wines. But today while still primarily made from those two varieties, other varieties may be blended in, and the varietal percentages change each vintage. This wine was originally meant for club members, but then it became so popular they continued to produce more of it each year and now it is also distributed.
The 2019 Materra Midnight is a blend of 45% Malbec, 32% Merlot, 21% Petit Verdot and 2% Petite Sirah. This wine is deep ruby in color with purple hues on the rim of the glass; the aromatics are generous with scents of blackberry, dark plum, mulberry and a hint of chocolate. This is a superbly balanced and easy drinking wine. The mouth feel is supple with rounded and fine-grained tannins blending harmoniously into the seamless finish. Shows bright fruit and a lingering slightly savory note with final notes of white pepper. And Brian calls this his favorite "pizza wine" but in reality, he enjoys it with a variety of Italian dishes including spaghetti or other pastas.
Their Vine 1 Cabernet Sauvignon is sourced from a property deeply rooted in Napa Valley (in the Oak Knoll District). It is from a site on the west side of the AVA against the foothills of the Mayacamas mountains originally part of a much larger property purchased in 1851 by former sea captain from Massachusetts, Joseph Warren Osborne (often referred to as J.W. Osborne). Over the years, he acquired nearly 2,000 acres and called it Oak Knoll. He originally came to California because of the gold rush of 1849.
Records indicated he planted grapes in a nursery here in 1852 from importing European grape varieties (Vitis vinifera) including the first ever Primitivo to be planted in Napa Valley. Within 8 years he owned the largest vineyard in all of Napa Valley (50 acres of vines). Records also show that Zinfandel cuttings from vines growing on the property were taken to Buena Vista Winery in 1859 in neighboring Sonoma County. Joseph also grew a diversity of fruits – having been awarded in 1859 'first premium' at the Horticultural Fair held in San Francisco for having the best variety of fruits on display. And he also founded the Napa-Sonoma Horticultural Society with Agoston Haraszthy (of Buena Vista Winery).
He was being considered for candidacy for governor of California in 1861 but ultimately, he did not run for office. Tragically he was murdered two years later by gunshots in April 1863 by a former employee over an unpaid debt dispute (this employee was later hung – he was the first person to be hung in Napa County following his sentencing) and the sad story is well detailed in Author Todd Shulman's book, Murder and Mayhem in the Napa Valley. For reference, the last person to be hung in Napa County was in 1897, for the attempted murder of a sea captain and the actual murder of his wife. That original noose is housed in the small museum at the Napa Police Department building (near the Napa County Airport).
The property has only had three owners since Osbourne including silent film star Lenore Stearns (who used to also own Meadowbrook Farm). See our detailed notes on Stearns filed under our review of Kanpai Wines. Since 1949 the property has been owned by the Lamoreaux family; today they grow vineyards and raise cattle on the property which incidentally has many old growth oak trees. What is now the site for the Vine 1 bottling (referred to as Block 1) used to be planted to grapes but was pulled out in the 1950s and became pastureland for cattle. In 2014, working with the Cunat's the Lamoreaux family planted the site again, this time primarily to Cabernet Sauvignon with a small block of Cabernet Franc.
Which brings us to the Vine 1 bottling. The 2019 Mattera Vine 1 is 87% Cabernet Sauvignon, 7% Cabernet Franc, 3% Petite Verdot and 3% Malbec. This wine is deep ruby in color with purplish tinges on the rim and almost opaque to look at. The bouquet offers aromatics of violets, sage, blackberry, blueberry and a clove spice found deeper in the aromatics. The tannins are dense, chewy, layered and linger with a pronounced grip but without any overtly harsh edges. This wine shows as slightly savory, especially on the finish. Wine enthusiasts should take note of this well-built but balanced Napa Valley Cabernet Sauvignon. It can be consumed now but can certainly be cellared for many years.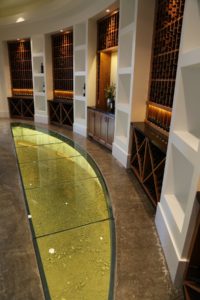 With Brian's interest in French wines, it is important that the Materra wines be crafted to be paired with foods. Their red wines in particular are very elegant and all show good acidity. Merlot is their most produced wine. The 2008 Materra Merlot shows a pronounced bouquet with bright red fruit, plum, red cherry, notes of blueberry and just a hint of cocoa powder. As it opens hints of cedar show. The palate is about high-toned fruit including red currant and red cherry along with a tartness which lingers on the finish. This wine is anchored by tight, yet fine grained tannins.
The 2008 Materra Cabernet Sauvignon has just a touch of Cabernet Franc in the blend. It shows a bit of pepper spice on the nose and more dark fruit aromas than the Merlot including black cherry and plum. Surprisingly the palate reveals more red fruit than the bouquet would initially lead one to believe. The palate is well layered; it is fairly smooth on the entry but finishes with some structure – both with wood and fruit tannins.
The 2011 Materra Howell Mountain Cabernet Sauvignon is noticeably dark in the glass leading to dark fruit aromas on the bouquet including dark chocolate, plum, tar and cedar. The palate is rich and complex with notes of blackberry and white pepper along with hints of baking spices. The wine displays a nice power of fruit/flavor framed by muscular mountain tannins which continue to persist on the long finish.
Materra produces several dessert wines labeled with anime characters. An extremely rare bottling for Napa Valley is a dessert wine made entirely from Cabernet Sauvignon (blended with brandy) and bottled under the name Nekomata with an image of a two-tailed cat on the label. Their first bottling of this wine is a non-vintage primarily made from the 2017 vintage. The aromatics are enticing, offering notes of cherry liqueur, chocolate and ripe blackberry. This wine is sweet but balanced by both acidity and its texture. Offers flavors of cherry and blackberry along with Graham cracker and tobacco spice. Lingers with dusty tannins which offer a noticeable grip.
The 2021 Materra Late Harvest Amabie features an anime on the front label which is part bird, fish and reptile. Amabie refers to a 'keeper of dreams' and also a 'defender of illness'. This wine is medium gold in color; the bouquet is very floral including of spring flowers, jasmine and honeysuckle along with ripe stone fruits including apricot. This is a sweet and intense showing on the palate with flavors of apricot, light peach syrup (but not syrupy). Its acidity keeps it bright and interesting. This wine features a very long finish.
Hospitality
Visits are by appointment and tastings are conducted at your leisure; sometimes outdoors if the weather permits or inside next to the posh wine library (which contains bottlings dating back to their first vintage in 2007). In a Materra tradition, guests are always greeted at the parking lot with a glass of white welcome wine and then accompanied into the hospitality center. Hosts have to keep a sharp eye out for arriving guests so their greeting in the parking lot is timed well.
Tastings are hosted by one of their wine educators; during our most recent visit our host spent more than 10 years working in production in various cellars before transitioning to hospitality. We always appreciate a host who has perspective of working in the cellar and can offer his/her insights about winemaking based on personal experience to guests. Visits include a sit-down tasting of select current release wines followed by an unscripted tour of their production spaces including the barrel rooms. A limited number of older vintages may be available for purchase at the winery.
And mention must be made of their bathrooms; along with the cave bathrooms at Tusk Estate and the cave bathrooms at Montagna Estate, these are among the nicest bathrooms of any winery in Napa Valley. Be sure to duck inside, regardless of whether you need to use the facilities!
—
Total production varies each year but is usually around 6,000 cases. Mattera offers several wine club options available as part of the Dean's List (Dean was Brian's father) and their wine club is named in homage to him. Solis (Latin for sunlight) offers 24 bottles per shipment, aura (referring to a person's emotional and spiritual character) offers 12 bottle per shipment and terra (Latin for soil) offers 6 bottles per shipment. Each wine club category offers various discounts on wine purchases.
The winery and hospitality space have been used to host select events over the years including for the Napa Valley Film Festival. For more information, to shop for wines or to arrange a visit, see: www.materrawines.com
Hospitality

Winemaking/Winery