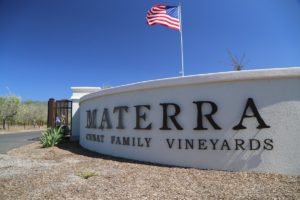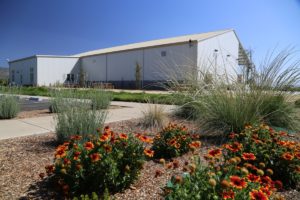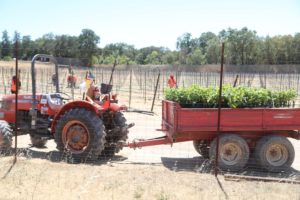 Materra Cunat Family Vineyards. The Cunats – Brian and his brother John, Brian's wife Miki and their two daughters founded the label Materra in 2007 with the purchase of a 40-acre estate vineyard (50 acre property) located in the Oak Knoll district – an area of Napa long known for producing excellent Merlot (the variety they currently focus on). At the time of the purchase the property was planted entirely to Merlot; the vineyard has since been varietal diversified and now is also planted to Chardonnay, Sauvignon Blanc and Viogner. Grapes have been grown nearly continuously on the site since the 1890s.
Brian worked on a farm during his formative years and always had an interest in agriculture. He became intrigued with French wines but didn't have a chance to truly explore some of California's premium wines until friends invited him out to Napa Valley in the late 1990's for wine tasting. He continued to explore the valley as time permitted (home base is in Illinois).
Brian and his brother John oversee Cunat, Inc – a residential management and property development company founded in 1976 with a variety of real estate holdings primarily in the Chicago area including homes, apartments and town-homes. He also helped found Illinois State Bank in 1997 and was also the co-founder of Golden Eagle Community Bank (with multiple branches) which later was acquired by Advia Credit Union. And Brian served for several years as the president of Kiwanas International.
While on another trip to the Napa Valley in 2007 the Cunat's were not only wine tasting but looking for job openings for their daughter Neena at select hotels. They took a wrong turn and ended up driving by a vineyard property for sale in the Oak Knoll District. A spur of the moment decision led them to call the realtor for more information; soon they were the owners of this vineyard estate.
The Cunats wanted to create a name for their label that would honor the terroir or vineyard – and decided upon "Materra" which roughly translates to "Mother Earth" in Latin.
Brian and Miki's daughter Neena currently manages hospitality at the winery. She moved to the valley in 2007 to pursue a career in hospitality and hotel management, married into a local wine family and is now the "face" of Materra wines. With no background in wine, once living in the valley she took classes at Napa Valley College and also worked for a local wine merchant. She is also a talented photographer and has shot a number of images used on their website and in the winery's marketing efforts. And it was Neena we first met with when writing about Materra – before their winery and hospitality center was built – for a short while they were offering tastings next to the Wydown Hotel in St. Helena.
Select Wines/Winemaking

In late summer of 2015 Materra completed a winery, barrel storage facility and tasting room in the heart of the Oak Knoll District. Not only do they make their own wines here but the winery has room for custom crush clients. Judging by the clients already signed up – the winery has been especially popular for some of the smaller nearby producers. Custom crush clients can use Materra's wine making staff or bring their own winemaker. Materra also offers barrel storage services.
Two winemakers, Michael Trujillo and Bruce Regalia initially shared the wine making duties. Today Trujillo is their consulting winemaker. This is truly a 'winemaker's winery" – both Michael and Bruce were instrumental in the design of the wine making facilities. The winery has embraced state-of-the art technology and equipment including a double bladder press (allows the fruit to be pressed gently) and special fermentation tanks that have built in pumps with each tank connected to wifi so a series of data points and options can be monitored and controlled remotely via a special app.
With built in tanks pump overs can be controlled remotely – or can be done manually should the winemaker want to do so. Another machine helps automate the racking process and handles two barrels at one time. And the winemakers designed a plastic "wall" that can be moved down to effectively separate their barrel room into "two" rooms – when they need to warm up one side of the barrel room and keep the other side cooler.
Most of their fruit comes from their estate vineyard but they also source from select area vineyards. They work closely with growers to ensure they utilize similar farming practices as the Materra's use on their estate vineyard. A demo vineyard is planned for the front of the winery – which will be used to educate visitors about varieties, clones, root-stock, and trellising systems.
The 2014 Materra Sauvignon Blanc saw no oak during its aging (stainless steel). It shows pale in the glass. This wine opens up quickly showing bright fruit – including peach, tropical undertones as well as citrus blossom. The nose presents layers of fruit and is quite appealing. There is good acidity, decent structure (for seeing no oak) and good overall balance. The finish is clean and lingers with a hint of sweetness from the fruit.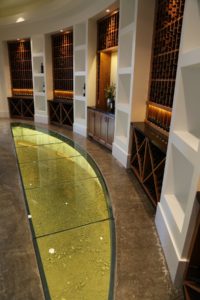 The 2010 Materra Viognier is 100% varietal – there are not a lot of stand alone Viogniers being produced in Napa. This wine shows a clean bouquet that is very floral – with aromas of white peach and hints of vanilla. Again this wine has good acidity.
With Brian's interest in French wines – he has the Materra wines crafted to be paired with foods. Their red wines in particular are very elegant and all show good acidity. Merlot is their most produced wine. The 2008 Materra Merlot shows a pronounced bouquet with bright red fruit, plum, red cherry, notes of blueberry and just a hint of cocoa powder. As it opens hints of cedar show. The palate is about high toned fruit – red currant and red cherry show with a tartness that lingers on the finish. Anchored by tight yet fine grained tannins.
The 2008 Materra Cabernet Sauvignon has just a touch of Cabernet Franc in the blend. It shows a bit of pepper spice on the nose – and more dark fruit aromas then the Merlot including black cherry and plum. Surprisingly the palate shows more red fruit than the bouquet would initially lead one to believe. The palate is well layered – fairly smooth on the entry but finishes with some structure – both wood and fruit tannins.
The 2011 Materra Howell Mountain Cabernet Sauvignon is noticeably dark in the glass leading to dark fruit aromas on the bouquet. Dark chocolate, plum, tar and cedar show. The palate is rich and complex with notes of blackberry, white pepper with hints of baking spices. The wine displays a nice power of fruit/flavor framed by muscular mountain tannins that linger for some time.
—
Visits are by appointment – the tastings are conducted at your leisure – sometimes outdoors if the weather permits or inside next to the posh wine library. In a Materra tradition, guests are always greeted at the parking lot with a glass of white welcome wine.
And mention must be made of their bathrooms – along with the cave bathrooms at Tusk Estate and the cave bathrooms at Montagna Estate, these are among the nicest bathrooms of any winery in the Napa Valley. Be sure to duck inside, regardless of whether you need to use the facilities!
For more information, to shop for wines or to arrange a visit, see: www.materrawines.com
Hospitality

Winemaking/Winery