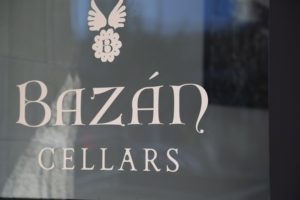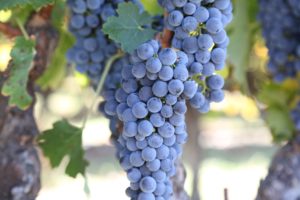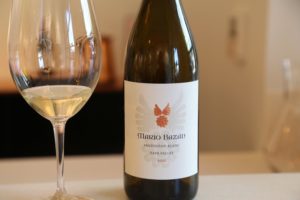 Mario Bazan Cellars is owned by the husband wife team of Mario and Gloria Bazan. Mario is originally from Oaxaca and Gloria is from Morelia, Michoacan – Mexico. Mario was working in a restaurant in Mexico City when he decided to immigrate to California for a short time and after a brief stint in Oakland decided the city wasn't for him. He moved up to Napa in 1973 to work a harvest with the plan of saving some money and returning to Mexico in a few months. Obviously that didn't happen and the wine industry took hold. He learned everything on the job, supported by some excellent mentors at several premium wineries. We worked at Joseph Phelps, Robert Mondavi and finally Stag's Leap Wine Cellars, for Warren Winiarski. Mario learned from the ground up – driving a tractor, then as a mechanic's assistant and finally working his way up to foreman (at Mondavi).
His expertise is in the vineyard and in 1997 while still working at Stag's Leap Wine Cellars, he began Mario Bazan Vineyard Management. Today his vineyard management is a full time job – along with Mario Bazan Cellars – Mario currently manages some two hundred vineyard acres. He made invaluable connections while working at Stag's Leap Wine Cellars including befriending Michael Silacci (now winemaker for Opus One) and winemaker Victoria Coleman.
Victoria Coleman made all their vintages until 2013; she began working at Stag's Leap Wine Cellars as a temporary receptionist. This winery like other small wineries often requires employees to wear multiple hats and soon she was working as a production assistant to Michael both in the vineyard and also in the winery. Mario hired her after asking her one day, "do you want to be my winemaker". While working at the winery she continued to further her wine-making skills at UC Davis; she graduated in 2008. Keep an eye on this talented winemaker.
In 2013 winemaker David DeSante was hired and made their wines for a short while. When we met with David he told us how he was first introduced to wine. At age 10, he already had an inkling he might want to pursue wine making someday. His introduction to wine started simply enough; in Western Pennsylvania where he was born and raised, Concord grapes are commonly grown. He recalls climbing trees to pick bunches of Concord grapes one summer, carrying them back to his mother's kitchen and mashing them up until he had enough juice to fill a large glass Coca Cola bottle. His plan was to let the juice ferment but when his mother discovered the 'mess' – he quickly informed her he was going to allow it to turn into wine. In such a perfectly cared for kitchen, her son's Concord grape production and early wine making interests fell on deaf ears; David's initial interest in wine making suffered a temporary setback. Fast forward several decades and he is now one of Napa Valley's most talented winemakers. He consults for several small Napa producers.
Currently, Kian Tavakoli is the winemaker for Mario Bazan. Kian has made wine for numerous brands in the Napa Valley over the years although perhaps he is often most associated with Crush Pad, a winery that was known for controlling numerous aspects of the wine business from sourcing grapes to production to helping market wine. But Kian's first winery job in Napa Valley was at Opus One and later he worked at Clos du Val. Today Kian provides consulting winemaking services for several premium producers.
The Mario Bazan wine label represents their story very well – it is modeled after a type of traditional clothing women in Oaxaca wear. This is a tribute to Mario's "roots" if you will – part of the design also includes feathers. Oaxaca is on the migratory flight path for birds in southern Mexico and this ties in with both Mario and Gloria's immigration to the USA. The label's colors represent the color you see in adobe houses in and around Oaxaca.
Select Wines
The Mario Bazan Cabernet Sauvignon is always 100% varietal. The first few vintages were from a vineyard just east of the city of Napa that Mario managed. However, starting in 2008 much of their Cabernet Sauvignon comes from their estate grown tiny 1.25 acre vineyard located slightly north east of the city of Napa. Their Cabernet Sauvignon spends about 20 months in barrel, all French oak of which about 50% is new.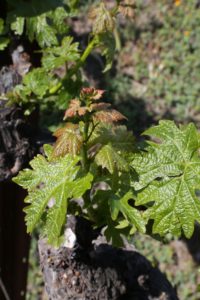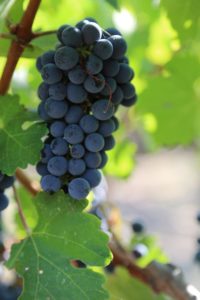 The 2005 Mario Bazan Cabernet Sauvignon is a very clean, balanced wine. As the bouquet breathes it shows more notes of white pepper with underlying aromas of blackberry and espresso – the flavors are more red and blue fruits including plum and blueberry. With integrated flavors and fine grained tannins anchoring the finish this wine drinks very well in its youth.
The 2006 Mario Bazan Cabernet Sauvignon makes a bigger bolder statement than the 2005 vintage. Whereas the 2005 vintage shows more pepper on the nose this vintage has an robust bouquet that offers baking spices, cloves, cinnamon (perhaps some tobacco) integrated with dark fruit including blackberry and black cherry. This wine is layered with dark fruit flavors and has robust structure (bigger tannins than the 2005).
In 2009 they introduced their first white wine, a Sauvignon Blanc. The bouquet on this fun wine is very aromatic including passion fruit and honeysuckle. This is not a thin version of this variety; it has good concentration. The mouth feel is somewhat rounded with flavors of pear and red apple and other tropical nuances. The finish lingers yet is clean.
The 2014 Mario Bazan Cabernet Sauvignon is blend of two vineyard sources, the Bazan's home vineyard and another vineyard not so far away located near the Atlas Peak appellation. This wine is noticeably dark in the glass – the bouquet reveals powerful aromatics including spicy ripe plum and blackberry. There are plenty of layers in the bouquet. Fairly plush across the palate with an intensity of fruit that lingers without any harsh tannins.
2016 Mario Bazan Rama Cabernet Sauvignon shows loads of fruit on the bouquet – in our notes we wrote down chocolate covered blueberry and blackberries. Some spices also; this is a somewhat aromatic savory showing. Approachable and easy drinking in its youth, this wine offers excellent acidity, and well-integrated and rounded tannins. It is a very good value for a Napa Valley Cabernet Sauvignon. And 'rama' in Spanish means branch or a part of something.
—
With extremely limited productions of usually around 250 cases of the Cabernet Sauvignon each year and slightly less of the Sauvignon Blanc their wines are selectively distributed, mostly in California with some in New York. Locally you can find their wines at several restaurants including the Rutherford Grill and Press in St. Helena.
Tasting Room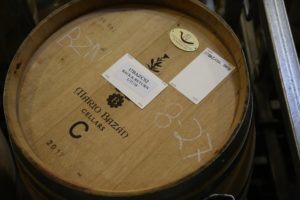 In early April 2019 Mario Bazaan Cellars opened a small tasting room in downtown Napa at 960 Clinton Street on the first floor in the Wiseman Building – the entrance is on Clinton Street. For reference, this building is on the opposite corner, across from Vintner's Collective tasting room. Simply decorated, the tasting room features a small bar and several tables. Lining parts of the wall are photographs of Mario working in Napa Valley including one photograph taking in the 1980s of Mario helping plant the H-Block at the historic To Kalon Vineyard in Oakville.
Several tastings are offered including a Classic Tasting and a Reserve Tasting (featuring more limited slightly older wines). A Gourmet Tasting is available by appointment only and features small Oaxacan inspired bites (created by a local chef) paired with several wines.
NOTE: in late 2022, Mario Bazan made plans to move the tasting room a few blocks away to 1000 Main Street, the former site of the Gabriel Collection and O'Connell Family Wines. This is located across from the Bounty Hunter and next to Backroom Wines. We will visit this space once Mario Bazan is fully moved in, hopefully in Spring 2023 when we have returned from our annual winter break in Southeast Asia.
Tasting Room, Wiseman Building – Downtown Napa

For more information or to join their mailing list, visit: www.mariobazancellars.com