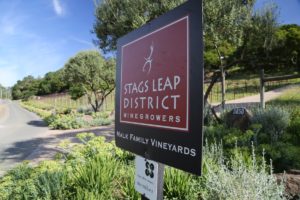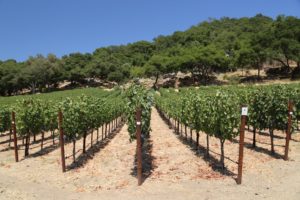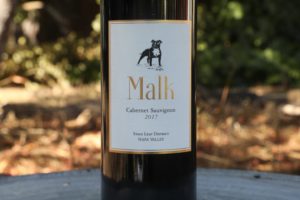 Malk Family Vineyards was founded by Brian and Nancy Malk in 1998 when they purchased eleven hillside acres in the heart of the Stags Leap District. They began planting their vineyards a year later with premium Cabernet Sauvignon clones – from both Spottswoode and Diamond Creek (two premium Napa Valley producers). Their first vintage dates from 2003 and the wine has been crafted every year since their inaugural vintage by winemaker Robbie Meyer. The two-acre vineyard is planted on a hillside and is located at the edge of where the Vaca mountains meet the valley floor. The Malk's carefully manage this vineyard having earned a Fish Friendly Farming designation from the California Land Stewardship Institute, a non-profit organization located in Napa Valley.
Brian is originally from South Africa; he nurtured the idea of owning his own vineyard for a long time. His grandfather owned a vineyard in the prominent wine region of Franschhoek, near Cape Town and will it to his family before he was tragically killed in an accident. But at the time none of his family wanted to take over the farming and the property was sold. Much later after moving to and living in Southern California, after exploring the possibility of buying a vineyard in this area while simultaneously weighing the burden of taking 27-hour flights, Brian's common sense soon prevailed. Their primary home is near San Diego and wanting both a vineyard and a place to visit for relaxation, they chose Napa Valley rather than South Africa based on Napa's quality vineyards as well as proximity to southern California.
It is interesting to note that where Brian and Nancy settled is just down the road from Chimney Rock Winery. The design of this winery is Cape Dutch Architecture and looks just like any of a number of buildings in the Western Cape of South Africa, from when the Dutch settled this province in the 1820s.
Vintners often talk about a "sense of place" in regard to their vineyards. Brian told us about the "sense of space" one gets from his hillside vineyard and home located above it. Beautiful vistas overlook a sea of grapes in all directions broken by small hills rising from the valley floor. The landscape in this part of Stags Leap District is primarily vineyards with very few homes and wineries in the area, as a result sees few visitors. Malk's hillside vineyard sits at the eastern edge of the appellation; as one continues east the land becomes entirely natural, wooded, rugged and steep – backing up to the rocky picturesque Stags Leap Palisades.
It is always a rare treat when we meet a Stags Leap based producer or winery as relative to the total amount of time we spend on the Napa Wine Project, the proportion of time we spent in the Stags Leap District is quite small. The reason for this is there are very few producers and wineries in the region; as of our latest update to this review, only 16 producers are members of the Stags Leap District Winegrowers Association. Furthermore, it's not an appellation that has seen an influx of new producers in the last 10-15 years like many of the sub appellations in Napa Valley. Vineyards in this appellation are fairly well established despite sometimes nearby neighbors selling their winery properties.
The label was originally called Griffin Vineyards, named after their Staffordshire Bull Terrier, Griffin. Wanting to trademark the name, Brian soon found out there were at least 150 other wineries with the word "griffin" in their name making wine commercially. Discovering this and with the passing of Griffin after 15.5 years, the name of the brand and wine was changed to Malk Family Vineyards. However, Brian cleverly incorporated the name "griffin" onto their wine label and a likeness of Griffin appears on every bottle of Malk wine. And the estate vineyard is still named Griffin Vineyard; when Griffin passed his ashes were spread among the vines.
Wines from this region helped put Napa on the map in 1976 with the Judgment of Paris wine tasting in which nearby Stag's Leap Wine Cellars won top honor for their 1973 Cabernet Sauvignon, beating out other Napa and top French wineries. Some of the districts most premium producers include Shafer and Stag's Leap Wine Cellars; Robert Mondavi and Joseph Phelps also have vineyards in the appellation.
Select Wines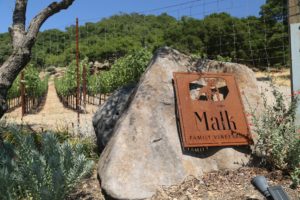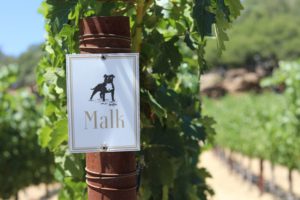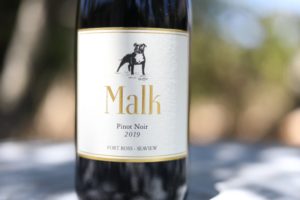 Malk Vineyards produces several wines each year, an estate Cabernet Sauvignon (their flagship wine), a beautiful Sauvignon Blanc and more recently a Sonoma Coast Pinot Noir and the Staffordshire Reserve Cabernet Sauvignon. In addition, they produce a very limited bottling of a Pinot Noir rose. The first vintage of the Cabernet Sauvignon was from 2003 and their inaugural Sauvignon Blanc was in 2006.
The Malk Family Vineyards Sauvignon Blanc has already earned quite a following. In its first year only 100 cases were produced and somehow Robert Parker was able to taste it. He wrote a glowing review in Business Week saying Malk's Sauvignon Blanc and Araujo Estates' bottlings were some of the best wines from this variety coming from Napa. The original vintage was from a small vineyard in an appellation not known for its Sauvignon Blanc – Mt. Veeder. Needless to say, this wine sold out rather quickly. The vineyard source has since changed – it is now from a small vineyard in the Oak Knoll district.
The 2019 Malk Family Vineyards Sauvignon Blanc is from Ryan's Vineyard in the Oak Knoll District. The wine is medium to deep gold in color; immediately upon opening offers a pineapple like sweetness, honeycomb, ripe apricot picked and eaten straight from the tree on a warm late spring day, orange mango and very deep into the aromatics, hints of brown sugar. Shows floral notes especially as it evolves in the glass including honeysuckle and jasmine. Let it continue to breath and it will offer notes of lemon zest. If one can use hedonistic to describe a particular Sauvignon Blanc, we will take the liberty to do so with the bouquet on this bottling. Supple and creamy across the palate – this very balanced bottling shows flavors of honeycomb, crème Brule, ripe pear and Golden Delicious apple. Drinks very nicely by itself. Whole cluster pressed and then fermented in neutral French oak barrels using non inoculated yeast; it was aged sur lie. Malolactic fermentation was inhibited.
The 2021 Malk Vineyards Sauvignon Blanc like earlier vintages is also from Ryan's Vineyard in the Oak Knoll District. This wine is medium golden in the glass; its aromas are varietal specific including of citrus, lemon, lime and gooseberry along with hints of pineapple and honeysuckle. This wine shows some pleasing mineralities on the palate along with intense flavors of lemon, lime and lemongrass. This finish lingers bright and lively but is not tart. This bottling offers a nice balance between texture, flavor intensity and acidity. It was fermented with indigenous yeasts in barrel.
The 2021 Malk Family Vineyards Rosé of Pinot Noir is a summertime friendly wine. Approachable, dry and great for sipping around a pool on a warm summer evening. This wine is pink light salmon copper in color; the bouquet offers aromas of strawberry jolly rancher candy, wild strawberries and light dried rose petal. The palate offers flavors of strawberry, rhubarb and cranberry. This is not a light rosé; it is very flavorful across the length of the palate with a slight creamy texture and bright acidity.
The 2019 Malk Family Vineyards Pinot Noir Fort Ross Seaview was sourced from the Del Dotto owned Cinghale Vineyard on the far reaches of the northwest coastline of neighboring Sonoma County. This wine is medium ruby in the glass; the bouquet offers a pleasing union of both primary and secondary aromatics. It includes aromas of raspberry, cherry, tea leaf, mocha and old cedar. As the wine breathes in the glass it reveals additional notes of baking spices including hints cardamom. This wine offers plenty of flavor and depth of both dark and red fruits across the length of the palate including of cranberry, red cherry and dark plum. As soon as we tasted this, we could tell it had some power and structure and we commented that it is a 'cab lovers Pinot Noir'. It finishes dark, savory and bright with earthy and lightly gravelly textured tannins.
The 2010 Malk Family Vineyards Sauvignon Blanc, while being a very young wine at the time of our tasting was already very well balanced. The nose is rather complex and layered. White peach and notes of pineapple round out the bouquet as it evolves shows additional aromas of browned sugar and honeysuckle. The palate is clean and some mineralities as well as notes of Meyer lemon linger on the supple finish. This wine was fermented and aged in neutral oak barrels.
The 2018 Malk Family Vineyards Stags Leap District Cabernet Sauvignon (100% varietal) is dark ruby in color; this wine offers powerful aromatics including ripe black cherry, blackberry, boysenberry, black licorice, cassis, and a beautiful, mulled spice note. Offers showy and opulent aromatics that are primarily focused on the fruit. Reveals an intensity and ripeness of fruit across the palate but without being over ripe. The textural balance is a key to this wine, featuring ripe, soft and supple tannins which are almost chalklike in their feel. And deeper into the finish, lingers with light notes of dried tobacco leaf, dust and a persistent brightness of fruit. This wine was aged 22 months in French oak, 70% of which was new.
The 2007 Malk Family Vineyards Stags Leap District Cabernet Sauvignon (100% varietal) shows a slightly smoky nose with concentrated yet elegant fruit. Dark berry aromas, black cherry and even black fig show as the bouquet evolves. The palate is balanced and smooth and finishes with structured yet moderate tannins and the afterglow of vanilla and caramel. Like their Sauvignon Blanc this wine was allowed to ferment using indigenous yeasts.
The 2019 Malk Family Vineyards Staffordshire Reserve is a wine from all non-estate fruit (Kenefick Ranch in Calistoga). This red blend is composed of 50% Cabernet Sauvignon, 25% Merlot and 25% Cabernet Franc. It is dark ruby in color; the aromas show ripe including of red Santa Rosa plum, blackberry and boysenberry. The bouquet continues to evolve nicely – just give it some time and it will eventually reveal a diversity of dessert spices along with notes of chocolate. It offers flavors of dark cherry and blackberry anchored by earthy, gravelly and very long-lasting tannins. This wine has plenty of life ahead of it and is only available for purchase to allocation members.
—
If not the smallest single vineyard in the Stags Leap District, Malk Vineyard is certainly one of the smallest. This 2-acre vineyard was replanted several ago and as a result there were no estate vintages produced for several years. During this estate down time, Brian located fruit from several blocks in a premium vineyard located just north of his own vineyard and produced wine under the Malk label until his own vineyard came back in production. Also noteworthy is the devastating fires that burned around their property in 2017 and destroyed several nearby neighboring structures. Cattle from their winery neighbor Robinson Family Vineyards sometimes graze on the eastern portion of the Malk property. They had already grazed the property prior to the 2017 fires and is what potentially saved Malk's home due to all the grass already being consumed by the cattle.
With only several hundred cases comprising their annual production they are not widely distributed. One can find the wine locally in St. Helena at ACME Wine shop and several restaurants around the valley. They are also in select locations in San Francisco and a number of restaurants in San Diego.
Malk Vineyards participates in the once-a-year V2V (Vineyard to Vintner) event always held in April. This event is produced by the Stags Leap District Winegrowers Association – all winery members participate, and the event includes dinners and open house events and is a unique opportunity to visit winery properties which are not open to the public. Sometimes older vintages are available for sale on the website. For more information, to join the mailing list or to join one of their wine clubs, visit: www.malkfamilyvineyards.com