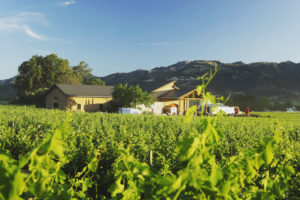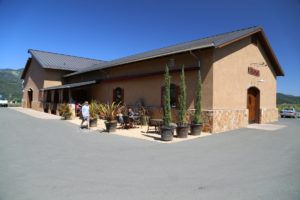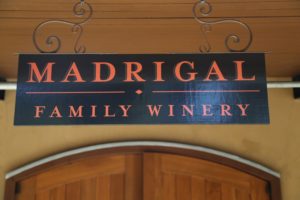 Madrigal Family Winery is located a shoe strings length from Highway 29 and just a bit north of Bale Lane north of the town of St. Helena. Their first vintage was in 1995 of Petite Sirah; they crushed at Napa Wine Co for many years, and put the finishing touches on their new winery in mid 2007. The facility is also home to several small premium producers who custom crush on site.
The Madrigal family has a long history in Napa Valley starting with grandfather Jacinto Madrigal who came to Napa Valley from Mexico in 1938. The Madrigal's were the first Latino family to settle in Calistoga. At the time Jacinto settled about halfway between St. Helena to the south and Calistoga to the north. Farming in the valley back then was orchards of apples, pears, walnuts as well as grapes. Napa Valley of the 1930s and 1940s was a different agricultural Napa Valley then and was not a monoculture wine grape crop as today.
Jacinto's son Jess began a vineyard management company in 1984 with as they say, "a pickup truck and several pairs of pruning shears". Their first client was Duckhorn's well-regarded Three Palms Vineyard just south of Calistoga. Currently their company farms over 800 acres of vines with a focus on Calistoga and Howell Mountain. Forty estate acres of their own vines surround the winery on land that is both alluvial (close to Highway 29) and becoming more clay-like on the portions of their property that border the Napa River. Ten varieties are planted on site.
Chris Madrigal, Jess's son founded the winery and often is seen in the tasting room.
Tastings are sometimes hosted by one of the family members; this is very relaxed, unscripted, no hype and no pressure experience. With a winery such as this one that has low production, relationships with customers is key and they often know many of their clientele. They are very hospitable. The tasting is held at the small bar inside the winery or weather permitting outside on their deck among a number of tables and chairs. Visiting the Napa Valley in September? Madrigal hosts an annual harvest party which is always enjoyable. Check their website for details.
In 2013 Bacchus Capital Management took ownership of a large percentage of Madrigal Winery.
Madrigal is not making homogenized wines; these wines are all unique with their own characteristics both on the bouquet and palate focusing more on the variety rather than the wine making styles.
Select Wines
The 2014 Madrigal Family Vineyard Sauvignon Blanc is sourced from vines in Yountville – some of which are up to 50 years old (certainly among the oldest Sauvignon Blanc vines in Napa Valley). The wine is 100% varietal from vines which are mostly dry farmed. This wine shows pretty aromatics of peach married with citrus blossom. As the wine opens it becomes slightly tropical showing notes of honeysuckle. On the palate the fruit is ripe but not over ripe; it is a balanced bottling showcasing bright acidity and lingers with a crispness of lime zest.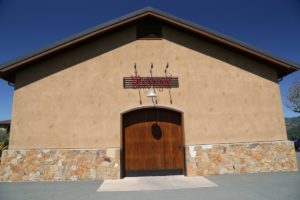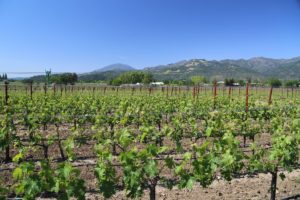 Chris enjoys making a Tempranillo (a lighter red wine); this is a tribute to a variety that was commonly planted in earlier field blends in Napa Valley. The 2013 Madrigal Family Vineyard Tempranillo shows generous fruit aromas on the bouquet complemented by an earthiness and a subtle smoky characteristic. The palate reveals flavors of chocolate, red cherry and strawberry.
The 2011 Madrigal Family Vineyard Cabernet Sauvignon is from vines farmed at an elevation of about 1300 feet on the slopes of Atlas Peak. The bouquet shows a white pepper component along with dusty/earthy aromas. As the bouquet continues to open more fruit is revealed while the other aromas are relegated to the background. This wine has an appealing flavor profile with good acidity. A tartness lingers on the finish for some time framed by delicate tannins which show more on the front of the palate than the back and are slightly chalky in nature.
The 2005 Madrigal Family Vineyard Pinot Noir sourced from the cooler growing climate of Anderson Valley. They have managed vineyards in this valley for a number of years and know all the "sweet spots" for the premium grapes. This is a rich full bodied wine and one of the few Anderson Valley Pinots one will find from a winery located in the northern part of Napa Valley. The aromas reminded us of of leather and cedar followed by pleasant fruit flavors including strawberry and cherry.
Madrigal is well-known for their concentrated and richly flavored Petite Sirah; regardless of the vintage it would pair very well with grilled or BBQ meat. The 2012 Madrigal Family Vineyard Petite Sirah is a remarkable wine and an example of a wine from this variety that is in balance (not always the case with a young Petite Sirah). It is noticeably dark in the glass as this variety tends to be. The bouquet is well-layered and continues to shows additional complexities of aromas as it opens. It is meaty and savory with plenty of black fruit including blackberry. On the palate it is juicy and layered with an almost sediment like tannin framework that lingers for some time. Some tannins from youthful Petite Sirahs are massive; this is not one of those.
Enjoy a good port-style wine? Their dessert styled Petite Syrah is delicious. This is a variety that is not often made into a fortified wine in Napa Valley. This one doesn't grab you like some ports that use cheap brandy, rather it is light without syrupy characteristics so that the fruit remains the star of the show rather than the sugar and heavy viscosity. Their wines are structured so that they can be consumed now or also aged.
Madrigal also has a strong following for their Merlot and Cabernet Sauvignon bottlings.
Sausalito Tasting Room (permanently closed)
In August 2014, the Madrigal's opened a tasting room in Sausalito located at 819 Bridgeway – a few minutes from the Ferry Terminal. From a hospitality point of view this was a smart move as the Napa Valley is full of tasting rooms (perhaps to the point of over saturation), with numerous options to choose from ranging from Calistoga to the city of Napa. Sausalito has not yet been a destination for winery tasting rooms so this location made perfect sense. Numerous visitors arrive from San Francisco on weekends. A popular transportation option is either biking across the Golden Gate Bridge and then returning on the ferry or making it a round trip bike tour; Sausalito is certainly also on the radar for many tourists who visit San Francisco.
Note: we keep these notes here for historical reference only, as this tasting closed permanently in 2020.
The Sausalito Ferry Terminal is only about a 25 minute ride from the Ferry Building in San Francisco. And from where it departs in Sausalito, it was only about a 5 minute walk to the Madrigal Family tasting room. And one was able to make a short trip to Larkspur (about 15 minutes with no traffic) to catch the (Sonoma Marin Area Rail Transit (SMART) train to various north bay destinations. Once in Sausalito, one is treated to stellar views overlooking the Bay and San Francisco in the distance. Sausalito is known for boutique shops and restaurants.
The tasting room held a number of private events and often worked with tech companies who wanted to treat employees to wine tasting and special events including blind tastings. In addition, Sausalito holds several prominent events each year including the Jazz & Blues by the Bay and the Art Festival. Madrigal Vineyards participated in both of these events.
Madrigal Tasting Room, Sausalito (permanently closed)

Total annual production is around 10,000 cases. For more information, or to schedule an appointment, visit: www.madrigalfamilywinery.com
NOTE: this review has been identified as needing a major update.