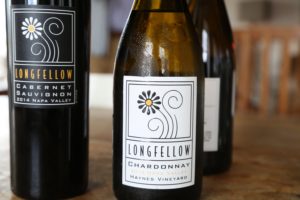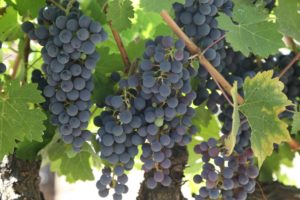 Longfellow Wines. The story of this brand dates back decades when Longfellow Wine founders Craig Whitney and Mark Smith met as children growing up across the street from each other in the small neighborhood of Longfellow, Columbia – Maryland. Longfellow is one of three neighborhoods in Harper's Choice, which is one of ten villages in Columbia. This small but charming older neighborhood is only about a 30-minute drive from downtown Baltimore. An affluent neighborhood, Longfellow is primarily residential homes with small streets and cul-de-sacs connected by Eliot's Oak Road, the primary thoroughfare through the neighborhood. Arguably the center of this neighborhood is the Longfellow Neighborhood Center and Pool next to the Longfellow Elementary School.
Remarkably, Craig and Mark's story continued to move in parallel steps at times; both attended the University of South Carolina in Columbia and were even in the same fraternity.
Their introduction to wine was the Napa Valley – during a spring break trip in 1990 both men came to the Napa Valley for the first time and as Craig recalls, "we visited as many tasting rooms as we possibly could". After graduating from the University of South Carolina, both men went their own ways but each pursued business graduate degrees at separate universities. Remarkably, both Craig and Mark later settled in the San Francisco Bay Area for work and reconnected.
When both began discussing the possibility of entering the wine business, they initially looked at acquiring existing labels but then they realized they wanted to begin a wine brand completely from scratch. In anticipation of starting their brand in the late 1990s they hired an employee to help with compliance. She introduced them to Napa Valley based winemaker Rolando Herrera and Rolando crafted their wines until 2016.
Longfellow neighborhood, Maryland

Winemaker Kale Anderson took over in 2017 and like Rolando has introduced Craig and Mark to a number of premium vineyards. Craig and Mark have never owned vineyards in the Napa Valley. As a result, their vineyard sources change over time as do the varieties. However regardless of the wines produced, the Longfellow winemaking philosophy is to make the best wine possible from small lot selections from single vineyard sites. And the one wine they have produced since their inaugural vintage in 2001 is Cabernet Sauvignon.
For nearly 14 years Craig worked as a Director of Marketing for Dryers Ice Cream. He no longer works at Dryers and now focuses much of his time on overseeing Longfellow Wines. Current production is around 1,000 cases per year – each wine is typically only several hundred cases. Despite their longevity of 15+ vintages, (and beautiful wines) this is still one of Napa Valley's most under the radar brands.
Select Wines
In 2017 Longfellow introduced a unique for Napa white wine, Grenache Blanc sourced from one of the larger vineyards in eastern Napa County, the Somerston Ranch. Not a variety that is common in Napa, the Somerston Ranch has only 25 rows of this variety (it is lumped into the 70 acres of 'other' whites according to the 2017 Napa County Crop Report). Grenache Blanc is widely planted in the Rhone region of France and in northeast Spain. Regardless, it is refreshing to discover a Napa grown and produced white wine from varieties other than the ubiquitous at times Chardonnay or Sauvignon Blanc.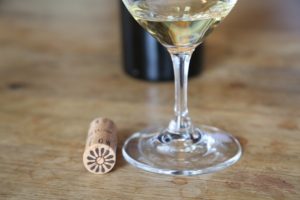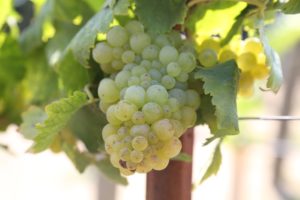 The 2017 Longfellow Grenache Blanc is highly floral on the bouquet with aromas of honeysuckle, jasmine and citrus blossom along with notes of ripe pear. Perhaps one doesn't always associate weight with acid in a white wine; on the palate the wine is creamy with a pleasing rounded and supple texture yet at the same time is lively showcasing bright fruit and excellent acidity. A citrus flavor (lime), a sweetness of fruit and a minerality nuance shows on the palate. Very rich in flavor. Drinks very well by itself.
The historic Haynes Vineyard located in Coombsville (not to be confused with the Hayne Vineyard in St. Helena) is the site for the Longfellow Chardonnay. This vineyard was originally planted in 1966 – well-known winemaker André Tchelistcheff (of Beaulieu Vineyard) walked the property and provided vineyard consultation as did Louis M. Martini. Some of the existing Chardonnay and Pinot Noir vines date back to 1966 making these among the oldest vines of these two varieties in all of the Napa Valley.
The 2015 Longfellow Haynes Vineyard Chardonnay (from clone 4 and a Wente clone) was barrel fermented and then aged in about 20% new French Oak; malolactic fermentation was inhibited. Both Craig and Mark are not fans of the big bold buttery Chardonnays – this wine is certainly not made in that opulent style. It is bright golden in the glass with appealing aromatics including citrus, pineapple and hints of almond. Intensively flavored with some weight and excellent acidity. A gorgeous wine.
The 2014 Napa Valley Cabernet Sauvignon was sourced from two small, as Craig calls them, "backyard" vineyards in Coombsville. This wine was aged in 50% new oak and 50% neutral oak – using approximately 70% French Oak and 30% American Oak. This wine shows an elegant bouquet with aromas of black licorice, raspberry, mocha, dill, cloves – along with mostly darker spices and hints of milk chocolate. A diverse aromatic showing. Very approachable on the palate in its youth, offers flavors of mostly red fruits including red cherry. Bright fruit, lively acidity but no tartness. And balanced. Firm tannins anchor the finish.
Kale is known in part for his work with Rhône varieties (especially for his own label, Kale Wines). The grapes for the 2016 Hermitage Cuvee were sourced from the Fountain Grove District (a neighboring wine region in Sonoma County, in part bordering Napa's Spring Mountain District). The wine is 51% Syrah with approximately 49% Grenache and just a touch of co-fermented Viognier in the blend for aromatics and color. A compelling bouquet with lots of layers; shows aromas of black licorice, a floral nuance including violets, bacon fat and an aroma we can't place other then it reminds us of an aunt's perfume from years ago. Savory aromatics. Balanced with a nice density on the palate – somewhat juicy with flavors of plum and other dark fruits. A white pepper nuance shows on the finish with integrated and earthy tannins. Craig recommends this wine with BBQ or smoked meat.
—
Craig oversees most of their outreach efforts including in both Northern and Southern California. The wines are primarily sold direct via their website and wine club and also are available for tasting at Vintner's Collective, a multi winery tasting room focusing on premium mostly Napa brands located in downtown Napa. In fact, Longfellow Wines is one of the longest running vintners represented at Vintner's Collective – having joined in 2005 just several years after they opened. Craig recalls telling Garret Murphy (one of the owners of Vintner's Collective) to keep a slot open should he ever have space to bring on a new brand. Vintner's Collective is highly selective on who they accept within their portfolio, and it was an honor at the time to be included among a number of the other mostly premium vintner owned and operated brands including Melka Wines and Mi Sueno.
Private tastings can also be arranged ahead of time, depending on Craig's availability. Some older wines are also available for sale through the website. For more information or to join one of the membership levels of the wine club, visit: www.longfellowwines.com