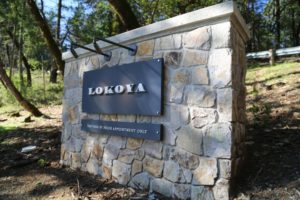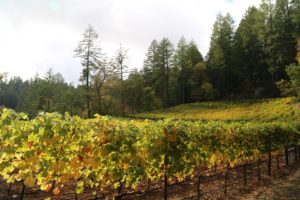 Lokoya Winery (established in 1995) by Jackson Family Wines, specializes in premium small lot wines (100% varietal Cabernet Sauvignon) exclusively from Napa grown fruit from select mountain appellations. Founder, Jess Jackson wanted to create a wine that showcased some of the best mountain vineyards in Napa Valley. He began acquiring specific properties in the early to mid 1990s. The name Lokoya is a tribute to the Native American tribe that inhabited what is now known as Mt. Veeder in the Mayacamas mountains rising above the western side of Napa Valley.
While in the early years of its production, Lokoya was produced by several winemakers – it is really winemaker Chris Carpenter who has become such an integral component to producing these wines each year (he became Lokoya's winemaker in 2000). Chris is from Chicago and is arguably one of Napa Valley's most well-rounded individuals. He earned his undergraduate degree from the University of Illinois while playing Big-Ten Football (followed by his MBA, also at the University of Illinois). While selling medical products he simultaneously worked at an Irish Bar in Chicago and he began to explore both music, food and wine in Chicago (from personal experience, a great food and wine town).
Eventually he moved to Napa Valley and earned a master's degree from UC Davis in viticulture and enology. He joined the wine making team at Cardinale in 1998 as an enologist. Oh, and he never gave up his passion for bar-tending – he bar-tended at the Rutherford Grill for nearly 20 years before eventually retiring from this gig (it was one night a week on Fridays).
Today Chris oversees the wine making for Cardinale, Lokoya, La Jota and Mt. Brave wines. He knows the vineyards very well and keeps only the highest quality fruit for Lokoya. In certain cases, this comes down to merely a few select rows in specific blocks in the vineyard. All of the Lokoya wines are bottled unfined and unfiltered and fermentation is conducted with indigenous yeast already on the grapes.
After many years of looking for a 'home' for Lokoya, Jackson Family Wines located this special property (77 acres in total of which approximately 25 are planted to vines). They grow a select number of Bordeaux red varieties on site and perhaps somewhat surprising, several acres of Riesling.
Previous Ownership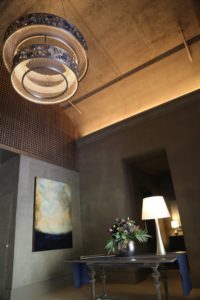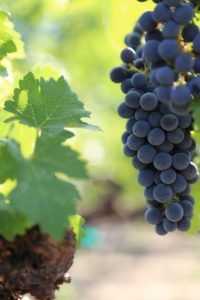 The site was purchased by Fred Aves in the mid 1960s, an engineer who invented and manufactured automobile accessories (including remote controlled mirrors on vehicles); he called this special slice of Napa Valley, Yverdon, named after his mother's hometown in Switzerland, located along the shoreline of Lac de Neuchatel (and also the name of Lokoya's estate vineyard on the property). Fred also initially planted grape varieties found in Switzerland, but these were not successful. Winemaker Cathy Corison worked with Fred for 3 vintages.
Fred (died 1997) and his son Russell (died in 2019) built a small 'castle' of out of local stone quarried from the Napa Valley (opened in 1970). In 1999 the property sold to Minnesotans, Angus and Margaret Wurtele. Angus became president of Minnesota Paints Inc. in 1962 and over the decades built it into what became Valspar Corporation – a major painting products company. Eventually he sold the company to Sherwin-Williams and retired as CEO in 1995. The Wurtele's were major philanthropists in Minnesota.
After the Wurtele's purchased the property, they changed the name to Terra Valentine and the winery produced these wines until 2013 when it was sold to Jackson Family Wines.
Hospitality
We first visited many years ago and recall the interior being dark, framed by original stain glass windows and not very roomy at all. This decades old building was wonderfully refurbished by the team at Backen, Gillam & Kroeger Architects. The interior is contemporary and spacious, the stained glass has been replaced by large clear glass allowing plenty of light into the space and a wine cellar/library has been added. The hospitality center opened in November 2016 (by appointment only). Tastings are for serious wine enthusiasts and collectors of luxury wines.
Tastings are unscripted and hosted at a pace desired by the guests; there is never a feeling of being rushed during a visit. Guests will learn about both the wines, history of the property and the various vineyard sources for each of their bottlings. And one does not want to rush through a tasting in such a comfortable space such as this; oh, and the excellent views through the trees of Napa Valley in the distance do not hurt either.
Tastings include four current releases and a library vintage (usually of their Mt. Veeder wine as that is the most produced of their wines). The sit-down tasting is paired with tasty small bites (including some cheeses) prepared by their culinary team.
Select Wines
Lokoya carefully focuses on the types of wines they produce each year. They craft four 100% varietal Cabernet Sauvignon wines each year from four premium mountain appellations within Napa Valley: Diamond Mountain, Howell Mountain, Spring Mountain and Mount Veeder. Jackson Family Wines owns vineyards in each of these appellations and in certain cases, such as on Spring Mountain and Diamond Mountain, they also purchase fruit from other select outstanding vineyards). Across these appellations, the vineyard elevations range from 1,000 to 2,100 feet.
Each of the wines is different from the other; they highlight the terroir differences of their source appellations while showcasing the varietal that Napa is most famous for – Cabernet Sauvignon. The wines are generally tasted in order of both evolution of flavor intensity and structure.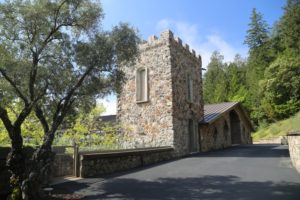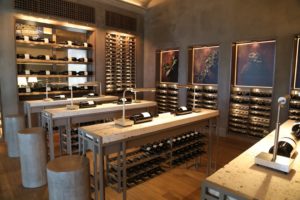 The 2013 Lokoya Cabernet Sauvignon Diamond Mountain is an exemplary wine; it is sourced from soils that Chris refers to as "moon dust" or volcanic ash. This wine shows an intriguing mix of aromas, more so as it has time to breath including black fruit interwoven with cedar and hints of toffee. There is a wonderful lightness on the palate, not of flavor but more so with structure – velvety almost. This bottling offers flavors of darker cherry, black currant and blackberry. Rounded somewhat chalky well-integrated tannins caress a very smooth finish. It drinks extremely well young.
The 2013 Lokoya Cabernet Sauvignon Spring Mountain reveals a pretty floral aromatic to the bouquet including dried rose petals and perhaps violets. Very bright and lively aromatics. It offers dessert spices and a ripe plum spice along with cocoa powder as it continues to breathe. A soft entry quickly gains in complexity across the palate. It features bright acidity and shows a mix of both red and darker fruits with a lingering tartness and depth of tannin structure.
The 2013 Lokoya Cabernet Sauvignon Howell Mountain is very dark in the glass; this is a beautiful wine which has an exotic fruit profile complemented by herbal notes on the bouquet. Somewhat savory to smell (hints of smoke at times with leather and notes of chocolate), this quality also carries onto the palate. It is a powerful wine that is balanced. Arguably it is the most aromatic of the four wines. Dry and dusty tannins linger for some time on the intense and persistent finish.
All of the wines we tasted show very dark in the glass, but the 2013 Lokoya Cabernet Sauvignon Mount Veeder is decidedly the darkest of the four 2013 bottlings, showing a deep purple in color. The nose is perhaps a bit more subtle than some of the other wines, but these aromas disguise the depth, concentration and power found on the palate. It offers notes of dry gravel with a sweetness of fruit (blackberry) and becomes somewhat briary showing hints of coffee as it opens. Powerful grippy tannins persist on a very long finish. This is a big wine!
The 2018 Lokoya Cabernet Sauvignon Mount Veeder is deep ruby/purplish in color and nearly opaque in the glass; the bouquet is dark, brambly and opulent. It offers aromas of blackberry, dark plum, boysenberry, violets, a woodsy spice, tobacco and darker baking spices. This wine is dark and savory across the palate; it has depth, plenty of character and power without being overtly "muscularly mountainous". It reveals flavors of plum and blackberry, crushed peppercorn and dried tobacco. The ripe tannins are dense but not course in their textural and are chewy, woodsy, dusty (almost chalky) and very long lasting. This wine is clearly built to age. If your a serious Napaphile collector of mountain Cabernet Sauvignon and you haven't yet put Lokoya on your radar, start with this bottling. It spent 22 months aging in 94% new French oak barrels. We tasted 5 years post vintage.
And these are wines that are built to go the distance and will certainly age well. The 2007 Lokoya Mt. Veeder Cabernet Sauvignon is the perfect example of this. The wine shows bright and lively fruit aromatics including bright cherry, a spicy plum note and sweetly fruited scents which are teased out as the wine continues to open. Great acid, intensity of flavor and a structure. This wine actually tastes younger than it is while still nurturing plenty of life ahead for graceful aging.
Jackson Family Wines
The remarkable success story of Jackson Family Wines began with Jess Jackson; San Francisco raised, he founded a law firm in the city in the 1950s focusing on real estate and land rights issues. Later, with his first wife Jane in 1974, he bought an old 80-acre pear and walnut orchard near Lakeport, Lake County. They converted this to Chardonnay and began selling the grapes to local wineries. Eventually the market for grapes softened and Jackson had more grapes than he could sell.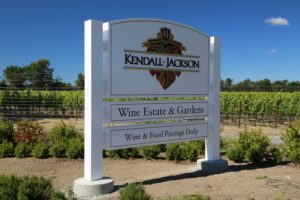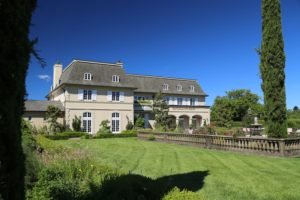 He decided to make Chardonnay – the fermentation on one of the lots ended up not fully completing leaving the resulting wine with a little bit of residual sugar. With the help of Napa Valley vintner, Ric Forman they created the first Chardonnay from a blend of multiple lots from various vineyard sources. The 1982 vintage was the first wine from Jackson Family Wines – called Vintner's Reserve Chardonnay. Priced reasonably, not to cheap and not too expensive, this was a premium made fruit-forward Chardonnay, soon made in large amounts with a flavor profile that appealed to many people.
With the popularity of the Chardonnay, Jackson began expanding to other parts of California and eventually outside of the state including international properties. The Kendall-Jackson Winery and tasting room is located in tiny Fulton, just north of Santa Rosa in Sonoma County. The company headquarters is located in Santa Rosa. Kendall was the maiden name of Jackson's first wife.
In 2003 Jess became involved with professional horse racing including purchasing horses (some went on to stand-out careers) and establishing Stonestreet Farm (Stonestreet is Jackson's middle name); this horse farm and racing stables is based just outside of the small town of Versailles in Kentucky. This is prime 'horse' country' with numerous thoroughbred horse farms in the region. Stonestreet is also the name of their winery in Alexander Valley (not far from Field Stone Winery). And it should be no surprise that the horse stables are named after grape varieties.
In 2009 Jess was inducted into the Vintners Hall of Fame. He died in 2011; today his wife Barbara Banke oversees the growing company and its operations. For reference, in addition to Lokoya, their Napa Valley owned wineries or brands are the following: Cardinale, Freemark Abbey, Galerie, La Jota Vineyard Co, Mt. Brave and the Spire Collection.
Stonestreet Farms, Kentucky

For more information and or to schedule an appointment, visit: www.lokoya.com