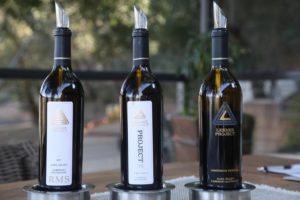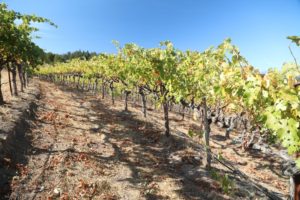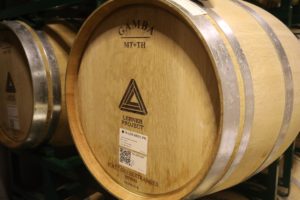 Lerner Project. The singular element that strikes one immediately upon arriving at Armstrong Ranch (the home estate for Lerner Project) is its profound silence. In this regard, its remote location is its most coveted asset. Yes this is in the Napa Valley, but this is a slice of the valley that few visitors ever see. Access is either from Sonoma County on a rare still partially dirt road or from Napa County up several miles on the very narrow Kortum Canyon Road which quickly rises from the valley floor – elevating one to exceptional and intimate views of the surrounding hillsides, Mt. St Helena and the valley far below. Like on the eastern slopes of the Sierra Nevada mountains, the eastern slopes of the Mayacamas mountains are rugged and steep.
The property is 91 acres of which 13 acres are planted almost entirely to Cabernet Sauvignon (clone 6) along with a tiny block of Malbec. There aren't many vineyards in this part of the Napa Valley – their nearest neighbor is a vineyard that produces fruit which goes into the Beringer Private Reserve. And there are no wineries here and very few homes – rather the landscape is primarily forested and scrub land in all directions.
The vines were planted in 1983 by winegrower Dick Steltzner and in places are growing on very steep slopes, up to a 45 degree grade. The upper parts of the property are about 1,200 feet in elevation but feel much higher. Sections of the vineyard are terraced. The 13 acres features a wide variety of slope, elevation gain and a diversity of soil types including volcanic ash, obsidian and diatomaceous earth. The property benefits from its elevated site and eastern facing slopes for the early morning sunshine – the fog in the valley below often burns off in the summer by mid morning. And very common during the growing season is the afternoon breezes blowing in from Sonoma County to the west.
Previously the property was owned by Jane (Janie) Armstrong (died in 2019) and her husband Tom Byrne. Jane was a dietician who built a highly successful career including her role in nutritional labeling on grocery store products and an easy to understand open dating on various dairy products. She was also an accomplished chef. They purchased this property in 1979 – at the time it was not planted to grapes – they developed the vineyard well before the Napa County ordinance prohibited planting on steep slopes. Over the years grapes from the property have gone to Rombauer, Provenance and St. Clement and were at times bottled as vineyard designate wines. And wines were produced under the Armstrong Ranch label for a number of years.
Jane and Tom sold the property in 2017 to proprietors of Lerner Project, Stu and Karen Lerner. Winemaker Russell Bevan is a partner in Lerner Project but not in the property as is Matt Simpson (formerly the Director of Operations at Chateau Boswell).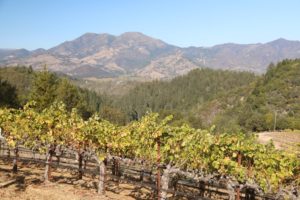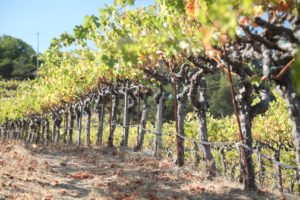 Stu has enjoyed a productive and long career in the wine business providing wooden shipping pallet's to the wine industry for over 30 years in both Napa and Sonoma County. Over the years he founded several pallet or related companies including in 1987, L&M Pallet (which he partnered with Karen's father, Donald Meneghetti – simply choosing a name that reflected the first initials of each of their last names) and later Blue Chip Manufacturing. Stu retired from the pallet business in 2014. Through his work in the industry and introduction to numerous wineries and brands through pallet sales, he became a collector of fine wine. And he also met numerous winemakers including Russell Bevan.
When the Armstrong Ranch came on the market, Chris Walden, the owner of Vinedresser Vineyard Management told Russell about the site. Russell then mentioned the property to Stu and Karen. The three walked the property for the first time together – during their visit, Russell said something like, "if you guys don't buy this, I will!"
Russell has a led a varied life – he earned his Masters in Philosophy from Gonzaga University, worked in Minneapolis selling dental equipment, wrote a syndicated column which was published in the Wine Spectator and then became a self-taught winemaker with his first vintage in 2005. Russell has worked with a number of iconic Napa Valley based vineyards over his career, getting his start with Kal Showket (who used to own Showket Vineyards in Oakville before selling to Peter Michael). Russell identifies a select group of winemakers who he has been influenced by including Napa Valley's long time winemaker, Philip Togni.
Select Wines
The 2018 Lerner Project, Project 18 Napa Valley Cabernet Sauvignon is a blend of 92% Cabernet Sauvignon, 5% Cabernet Franc and 3% Merlot. This is the most produced wine in their portfolio, a barrel selection of fruit sources from two of Russell's favorite vineyard sites including Tench Vineyards in Oakville and Sugarloaf. Offers darker, slightly brooding aromatics with notes of clove, mocha, cedar box and chocolate. Becomes a bit more savory as the wine breathes. Also aromas of dried rose petal and violets. Bright fruit shows across the palate. Lingers with both red and darker cherry flavors and this wines' hallmark, its dusty fine chalk-like tannins. A very 'crowd' friendly wine.
The 2017 Lerner Project RMS (takes its name from the initials of the founders, Russell, Matt and Stu) is 75% Cabernet Sauvignon, 15% Cabernet Franc and 10% Merlot. Is dark purple in the glass; immediately shows a sweetness of berry fruit including boysenberry and blackberry complemented with dessert spices and subtle hints of dried tobacco leaf. Well layered across the palate – provides plenty of pleasure for even the most discerning of Napa Valley wine enthusiasts and is a style of wine that followers of Bevan will gravitate towards. The tannins are mature for such a young wine; they roll over the palate carefully and gently with a light but firm grip. Also notes of dust and hints of mocha rounding out the finish.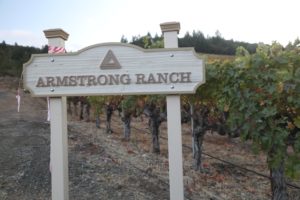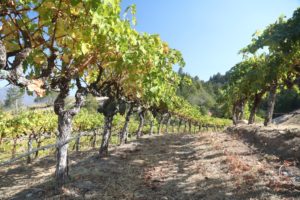 The 2017 Lerner Project Armstrong Vineyard Cabernet Sauvignon, Diamond Mountain is 100% varietal. While this wine shows the unmistakable characteristic ripeness of the Napa Valley (versus say cooler climate regions), one can still smell the Cabernet Sauvignon elements that are representative of this variety. Offers aromas of dust, a slight herbal note, hints of dried tobacco leaf and plenty of unwavering darker fruit aromatics. On the palate shows a richness but retains a freshness of acidity. Its grasp on the finish is classic Bevan-like style – a gentle integrated texture but with some noticeable grip, like a firm but non aggressive handshake from a friend. Very long finish. Noteworthy is its balance in its youth – this won't go away. Plenty of age ahead of this beautiful showing.
While there are only a few vintages produced so far under the Lerner Project – the vineyard part of this property has already proven itself. Estate Director, Brigid Babb tasted a 2003 Armstrong Ranch vineyard designated Cabernet Sauvignon some 17 years after the vintage date and recalled the bright still lively fruit, a freshness preserved by the wine's acidity.
—
In 2020, ground was broken just south of the city of Napa for a custom crush winery where the Lerner Project wines will eventually be produced.
Their white label wines are vineyard and varietal blends – these wines see some distribution. The black label are wines that are vineyard designates and are generally sold direct to consumer. Locally one can often find select wines at ACME Wine Shop in St. Helena and at K. Laz in Yountville. Their first vintage was in 2016 – it has grown since the approximately 1,000 cases that year to around 3,000 cases annually. For more information or to register for their allocation list, please visit: www.lernerproject.com
And the quote of the interview below is clearly this: "I want to create something that consistently gets better, that's why its the project." ~ Stu Lerner.