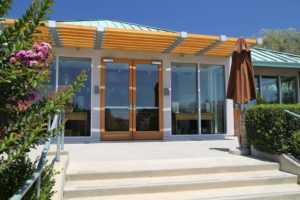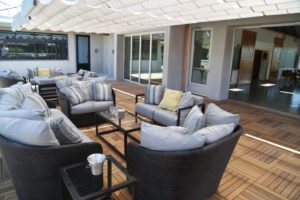 Laird Family Estate is located just off of Highway 29 near the intersection of Oak Knoll Road. A bit of Napa trivia to get your attention: the original plans for this winery were to be used by nearby Dominus Estate. However, Dominus decided upon a totally different design and with a few modifications, Laird used their original design.
No appointment is needed to sample their fine array of reasonably priced wines. Built upon many years of experience, Ken Laird, the owner and founder opened the winery and tasting room in 1998.
Always the visionary, Ken built the winery much larger than for his own production needs. Today Laird Family is one of the largest custom crush wineries in Napa Valley – home to over 60 small wineries. These producers bring in their grapes during harvest – and during a visit the crush pad and winery is a buzz of activity – easily seen from their outdoor terrace.
Walking into Laird's barrel storage rooms or among their winery operations is like walking into the guts of the Napa Valley. During harvest especially, the winery is a hive of activity with forklifts running, pumps operating, and wine making staff busily handling work orders.
Several large state of the art production facilities are located on site. For the winemaker, producing wine here is also educational as you are working alongside other area winemakers. It is not a competitive environment and winemakers often help out each other. Their own winery is a client of their custom crush facility as all their own wines are made on site. Numerous now well-known vintners got their start here in the past; Colgin Winery along with well-respected vintners Paul Hobbs and Bob Egelhoff to name just a few. Laird also offers mobile bottling & a multitude of other winery services – www.lairdcustomcrush.com
While this winery is located in the southern part of the valley, Laird's history in Napa actually started further to the north in Calistoga with the purchase of their first vineyard (an abandoned fruit orchard). Ken and his wife Gail drove up from the San Francisco Bay area for a romantic weekend and fell in love with the entire valley. They had no background in wine at the time (still not an uncommon story in Napa) and needed to raise capital to actually purchase the vineyard.
The bank told them to "do some homework" before they would lend any money. Looking through the phone book Ken saw merely 8 Napa wineries listed and the only one he recognized was Robert Mondavi. Short story told, he met Robert at the site of what was going to be Ken's new vineyard and Robert told Ken what to plant and said he would buy the grapes for the next 20 years. Good timing on that partnership as Mondavi's fledgling winery was merely 2 years old at this time!
More good timing occurred in the early 1980's when the Lairds purchased land in the Carneros region which at that time more known as providing good grazing land for sheep. Today the Carneros is Napa's world-renowned cool climate terroir – ideal for producing top quality Pinot noir and Chardonnay. Currently Laird is Napa Valley's largest private growers, managing over 2200 acres (with some 40+ Napa Valley vineyards under their ownership and one sizable vineyard in neighboring Sonoma County). With so many acres they have a wide diversity of grapes to choose from for their wines (although they only use a very low percentage of the overall grapes under their ownership for the Laird Family wines).
At last count, they sell grapes to more than 40 wineries or producers in the Napa Valley including a number of very well-known brands. As a result, if you regularly drink wines from the Napa Valley, chances are you have already tried wines from some of Laird's vineyards.
This is very much a family affair with Ken & Gail's children involved; Justin oversees all their vineyards and Rebecca is the General Manager of the winery including of their custom crush facility.
Their tasting room is spacious with plenty of windows allowing one to look out onto the winery and vineyards in the distance. In mid-July 2017 the tasting room building was significantly expanded. During the construction of this, tastings were temporarily conducted out of a fancy airstream trailer. Guests who enter their hospitality center can view their original small tasting bar directly in front of the entrance – simply turn to the left to reach the main tasting room. This tasting room contains a smaller room that can seat larger groups (up to 10 people) for appointment only private tastings. Weather permitting, the outside western facing seat are the most coveted spots here – with cozy sofa like chairs overlooking the vineyards.
Often popular with cyclists (considering their prime location near the Napa Valley Vine Trail (for bikes and pedestrians). We've also seen several bike tour companies bring people here to enjoy lunch plus wine tastings.
As of our latest visit, two tasting options were offered, a Standard tasting or their Reds Only tasting. Individual wines can also be ordered by the glass or by the bottle. Each tasting flight includes five wines – each wine has its own unique taste and style. Their ever-popular Chardonnays are sourced from the southern part of the Napa Valley. Their Cabernet Sauvignon and Merlots are styled so that you can drink them young.
Select Wines
The 2017 Laird Family Cold Creek Chardonnay (Sonoma side of the Carneros) is deep gold in color; the bouquet simply put, smells pretty with tropical aromas including ripe mango like juice dribbling down one's mouth – along with butterscotch, vanilla, orange marmalade, honey, almost a saline quality and less noticeable notes of dried straw. Rounded and supple across the plate – intensely flavored including notes of apricot and pineapple and lingers with nuances of butter and some darker dessert spices. A richer styled wine of this variety. The wine went through slightly over 50% malolactic fermentation and spent 10 months in French oak, 21% of which were in new barrels.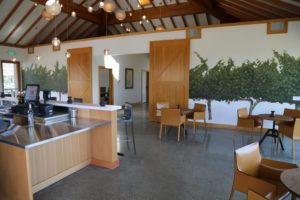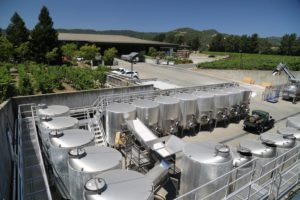 The 2018 Laird Family Cold Creek (Sonoma side of Carneros) Pinot Grigio (100% varietal) is pale to medium golden in color; on the bouquet shows immediate notes of lime, orange blossom, a wintergreen/mint nuance, freshly mowed grass on a warm summer morning and as the wine breathes and perhaps warms up, notes of yellow pineapple. Rounded across the plate with a soft texture – which plays nicely with the bright acidity, which is especially noticeable on the finish. Shows flavors of mandarin, lemon zest and green apple. Fermented and aged in stainless steel.
The Ghost Ranch Pinot Noir is from the Napa Valley side of Carneros – the 2014 Laird Family Ghost Ranch Pinot Noir shows spicy notes on the bouquet both from the fruit and from the oak. As it opens it reveals aromas of mushroom or truffles. Somewhat earthy. Soft on the entry, this wine is light yet very balanced. Lingering notes of oak and subtle white pepper show on the finish. The name of this wine comes from the name of the vineyard – apparently vineyard workers have at times noticed 'people' within the vineyard – and as they approach them, these people totally disappear.
One of their most popular wines is the Jillian's Red Wine Blend (named after Rebecca's daughter). The 2012 Laird Family Jillian's is a blend of Cabernet Sauvignon, Syrah, Petit Verdot, Merlot and Malbec. Shows pink purplish hues on the rim with a darker ruby red core. Initially shows a noticeable dustiness on the bouquet – almost like the smell after a summer rain drops onto dry soil. This opens to a more floral characteristic – violets with aromas of blackberry. Shows a pleasing richness on the palate with fairly muscular tannins that persist for some time. Good steak wine. Very reasonably priced for the quality.
The 2015 Laird Family Jillian's Blend is composed of 67% Cabernet Sauvignon, 18% Syrah, 12% Merlot and 2% Malbec (from multiple vineyard sources in the Napa Valley). The wine is dark ruby in the glass; offers deep dark aromas of blackberry, black licorice, currant, brown chocolate, and espresso. An inviting bouquet. Richly flavored across the palate; lingers with a medium grip of drying tannins, tobacco leaf, coffee beans and cedar (which persists for some time) and other darker spice notes.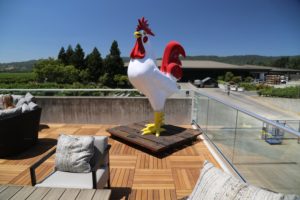 The 2014 Laird Family Napa Valley Cabernet Sauvignon is dark purple in color and fairly opaque when tilting the glass; the bouquet is all about dark fruit with some sweetness of dessert spices – shows pronounced ripe aromas of blackberry, boysenberry and plum complemented by mocha. Think warm blackberry pie. This is an appealing wine to smell. Features a juicy mouth full of layered, intense and ripe darker fruits – lingers with chewy medium bodied tannins, notes of cedar and crushed black pepper corns. This wine is noteworthy for its density on the finish. A fine wine to pair with BBQ; this is a Napa Valley Cabernet Sauvignon with some character.
The 2012 Laird Family Napa Valley Cabernet Sauvignon initially shows a smoky elegance on the bouquet with an herbal hint – which over time opens to reveal pretty fruit aromas – fruit forward, with a little dessert spice sweetness. Drinks easily with a lingering liveliness on the finish. Pleasing earthy tannins linger for some time. Cabernet Sauvignon and Syrah blend.
Laird typically produces only several hundred cases per variety, and some of these may only be available for purchase by visiting the tasting room. Due to all the custom crush winery clients who use this facility, this is one of our most often visited Napa wineries. We've tasted with a number of winemakers outside next to the olive trees. Laird is sometimes referred to as "the Napa pyramid" due to its unique design (they even offer a Pyramid Tasting which pairs small bites with a variety of wines – available by reservation only). And the pyramid shape appears on top of the foil of their bottlings.
OTHER PROPERTIES
Sunrise Ranch Winery
Laird owns the Sunrise Ranch Winery across from the Chardonnay Golf Club along Highway 12 (about 15 minutes from downtown Napa). This winery location has seen many tenants over the years. Previously known as Jamieson Ranch Vineyards it was also formerly known as Kirkland Ranch Winery, Reata Winery and Valley Gate Vineyards. Dutifully, we visited this winery after each name change. To further add to the confusion, the name Jamieson Ranch is a different spelling then the name of the road, Jameson Canyon. To further add to the confusion this space was being used by other brands for tastings and hospitality including Roots Run Deep and Educated Guess.
This property is about 400 acres – Ken and his son Justin oversaw the replanting of the vineyards – Laird purchased the property in 2015. For many years, perhaps the space wasn't best utilized due to its somewhat outlying location – away from the city of Napa and from the actual valley. It has been rebranded as Sunrise Ranch, a space that focuses on hosting a variety of events, both private, corporate and for charity. The name was chosen by Ken and his wife Gail because they would often spend the very early mornings on this property – watching the sun come up. And they chose an appropriate tagline, "where the valley greets the day".
The winery portion of the space is used for several custom crush clients. Both the non-production indoor and outdoor space are being used to host numerous events including lunches, dinners, wine specific gatherings and corporate groups. There is no shortage of space here! The interior is 12,500 square feet with the space split into three levels; the uppermost floor contains ten private rooms, a 160+ room banquet hall, a small tasting bar and a full commercial kitchen. A grand ballroom with a western styled theme is located on the second story. And the outside of the building has a 12,000 square foot wrap around covered veranda – with a number of outdoor options for guests including Pétanque, cornhole, and fire pits. Heat lamps and blankets are available for colder days and or evenings.
A number of package options are available offering a wide variety of experiences; they work with select local vendors for additional team-building experiences (i.e., kayaking, hiking, biking, a ropes course, rock climbing, golfing at the nearby Eagle Vines course and other adventure trips) along with bringing people on the property with specialized knowledge, i.e., a falconer. But experiences can also be highly customizable, and the property can be branded for specific company and or personal events.
Laird Wine Studio
Laird Family also owns the winery facility that Andretti Winery used (no longer occupied by Andretti) and leased the tasting room to Andretti (before Andretti closed their hospitality operations in 2021). In 2013 the Lairds purchased Silverado Hill Winery on the southern part of the Silverado Trail for additional custom crush facilities. They renamed this winery to Laird Wine Studio for a short time.
This winery site has featured a rotating string of owners over the decades. The original winery here was Pannonia Winery, founded in 1979 and over the years has had numerous owners with various winery names including Louis K. Mihaly Winery (operated by a Hungarian), Silverado Hills Cellars (owned by a Japanese company), Silverado Hill (Big Horn Cellars) owned by William Hill, Crushpad and now is home to Bread & Butter Wines (see our separate review of that brand for more details).
This winery on site is currently only used for production while the original tasting room remains closed. If this tasting room ever re-opens (it was under renovation as of 2021) we will of course re-visit and update this review.
Laird Wine Services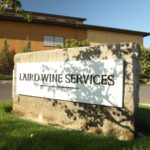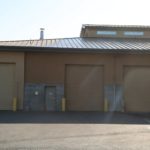 And Laird maintains a major wine facility within the Napa Airport Business Park (south of the city of Napa). They have the capacity to store 2.5 million gallons of bulk wine with additional space for up to 50,000 cases of wine in their climate-controlled warehouse. More information about these services is available here: www.lairdwineservices.com
For more information or to join their wine club, visit: www.lairdfamilyestate.com
Laird Family Estate