Kinsman Eades. For winemaker Nigel Kinsman, winemaking is a highly personal pursuit and is strongly tied to vineyard sites that inspire him. He was not born into a winemaking family, rather he discovered his passion on his own. He was studying music at the University of Adelaide in Australia and simply needed a job. Through his mother's connection with a store manager at Bailey and Bailey's (a small number of fine-wine stores in Adelaide) he was given an entry level position. He thought it was just going to be working at a liquor store as he didn't realize at the time the reputation of these stores and the diversity of their wine selections.
He quickly discovered he was the only employee with no background in wine, as Bailey and Bailey's had a policy of hiring viticulture and enology students from the University of Adelaide. After three months of working at two of their stores, an assistant manager approached him one day and said they needed to let him go. Nigel was surprised as he was one of the hardest workers at the store – always on point when it came to unloading deliveries and physically moving product. But what the assistant manager told him next, would ultimately change his career path.
He said while the store appreciated all the hard work Nigel had been putting in, ultimately this was a fine-wine shop, and he needed Nigel to talk to customers about wines and have some knowledge about wine when doing so. Fortunately, Nigel asked for a second opportunity, one that the assistant manager agreed upon but with a stipulation. Every Friday he would send Nigel home with a bottle of both a red and a white wine. By Monday Nigel needed to produce a single page report on each wine, including tasting notes, information about producer, vintage and region among other attributes. It was during these three months that Nigel truly built a personal appreciation for wine and developed his palate. He also joined several tasting groups and participated in the stores' trade tasting events – estimating at one point he was tasting through some 300 wines a week.
After finishing his bachelor's degree of Music, Solo Performance he then decided to continue his education and apply for the Agricultural Science program at the University of Adelaide – the path leading to either a degree in enology or viticulture. He applied twice and was rejected both times – eventually realizing that as a music major, he did not have the prerequisite science and chemistry background. An arrangement was made; start as a general science major and then if successful the first year, transition into Agricultural Science which he ultimately did, graduating in 2002 with a Bachelor of Agricultural Science, Oenology.
But one aspect of his wine resume was missing: working in a cellar and in vineyards. He took a job at Nepenthe and also assisted at Petaluma Wines, both in the Adelaide Hills, and later worked at Cullen Wines in the Margaret River and Mount Langi Ghiran in Victoria. Eventually he decided he needed some winemaking perspective oversees and accepted a job at Tolaini Societa Agricola in Tuscany. Nigel recalls being on a shoestring budget in those days, taking 5 flights from Australia just to get to Italy. One of the consulting winemakers picked him up at the airport and Nigel immediately informed him he needed to go to sleep, but the winemaker replied that the previous winemaker had just been let go and Nigel was now their winemaker, followed by, "we will go to work right now". And so, they did.
He stayed for two harvests at Tolaini Estate; later, while at a viticulture seminar, Nigel heard Bruce Dukes, the founding director of Naturaliste Vintners in Western Australia, mention a possible job in the Napa Valley. Three weeks later Nigel was on a plane to California; his first job was at Krupp Estate on Atlas Peak. Then winemaker Françoise Peschon called and said Araujo Estate needed a new winemaker. He took that job, remained on as a consultant for a short while after the Araujos sold and then became the project manager for Wheeler Farms (where he currently makes the Accendo Cellars wines, Kinsman Eades and wines for several other clients).
Nigel's career philosophy has not been to chase a particular winery or initially a particular variety but rather find people he would learn from and work at places he could further his education. He considers several Napa winemakers as mentors including Françoise Peschon, Celia Welch and Aaron Pott. And Bordeaux based Michelle Rolland who he first worked with at Tolaini Winery in Tuscany.
Nigel and his wife Shae have grown the brand organically. There are no outside investors, their hands and personalities touch everything relating to the wines from the vineyard to the cellar, to interactions with their customers.
Select Wines
Kinsman Eades produces premium wines from exceptional sites, focusing primarily on Cabernet Sauvignon. These are wines with the spinal fortitude to last but can certainly be consumed in their youth; each wine is distinctive and representative of its respective site. The first vintage of Kinsman Eades was in 2016.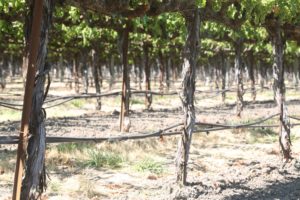 The 2018 Kinsman Eades Rhadamanthus (the same site that was formerly known as Reverie Vineyard at about 800 feet on Diamond Mountain) is 80% Cabernet Sauvignon, 17% Cabernet Franc and 3% Petit Verdot. Nigel harvested these grapes simultaneously and co-fermented them. The bouquet offers a diversity of aromatics including darker fruits (blackberry and ripe plum) and black licorice as the bouquet continues to evolve. One can also almost smell the decomposing volcanic soils of the site. Additional aromas include notes of truffle oil and dark chocolate. The texture is a hallmark characteristic of this wine with dusty, earthy and robust tannins – which show plenty of density but are rounded in their textural feel. Slightly chewy finish. This is a very impressive bottling.
Nigel has full control over this site and spent significant time redeveloping parts of the vineyard in conjunction with vineyard employees who have been working this site since the 1990s during Norm Kiken's ownership of the property. The vines for Rhadamanthus are more than 30 years old and are extremely healthy. They are planted on St. George rootstock. In Greek mythology, Rhadamanthus refers to the king of Crete – the root word 'adamas' refers to invincible and untamed'. Each of their wines features a label designed by a specific artist. Rhadamanthus is an ink pen drawing of the vineyard site by United Kingdom based artist, Lee John Phillips.
The 2018 Kinsman Eades Anjea (Sleeping Lady Vineyard in Yountville, farmed by the Bettinelli family) Cabernet Sauvignon is 100% varietal of clone 22. Nigel enjoys working with this clone because the berries are inherently tannic, and its aromas are decidedly floral. He describes this wine as very hands off with no acid or water additions needed. Interested in seeing if adding another clone would add complexity – one year he introduced Cabernet Sauvignon Clone 7. It was a case of 'more is not better' and he went back to focusing this wine entirely on the one clone. The bouquet offers a diversity of aromatics including violets, a dusty minerality nuance, dark chocolate, blackberry and spice notes including cardamom, cacao and expresso. It also shows a hint of dried tobacco leaf deeper into the aromas. The finish is mouthwatering – lingering with a brightness of fruit and dense but not course tannins, with rounded and finer grained edges that glide across the palate. Very long finish. Very satisfying.
Its name refers to a fertility goddess in Australian Aboriginal mythology. The label for this wine was produced by artist Sylvia Waters.
The 2018 Kinsman Eades La Voleuse du Chagrin Cabernet Sauvignon (inaugural vintage) is from the tiny 1.38-acre Geeslin Vineyard bordering the iconic Eisele Vineyard in Calistoga. This wine is 100% varietal, made from the Eisele clone of Cabernet Sauvignon. It is dark ruby in color, offering a sweetness of blackberry showing at the peak of ripeness but is not overripe. The bouquet shows the purity of fruit exceptionally well without a lot of other distractions. Also, aromas of violets and a sweet fig note. Lingers with broadly distributed tannins showing a noticeable density and muscle in their textural feel. Very long lasting. Juicy. And it features a lively and bright finish.
This tiny vineyard is special for Nigel – he became familiar with it while working at Eisele Vineyard as its fruit went into the Araujo Estate wines for years. After Bart & Daphne Araujo sold Eisele Vineyard, Nigel lost access to the fruit for several years until the vineyard owner Keith Geeslin approached him about using the grapes once his contract with Eisele Vineyard ended. He and Shae came up with a clever name for this wine, La Voleuse du Chagrin, which translates in French to, 'thief of the grief' referring to the relieved feeling after Keith's offer. And the dot stifling drawing representing the label was done by a South African artist. The diminutive vineyard site is also depicted on the label, giving one a visual of its tiny size in comparison to the surrounding vineyards.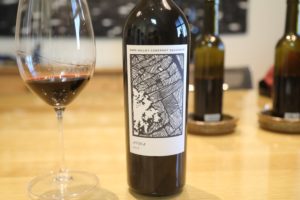 A dark thin outline of a flower is located in the lower right hand white corner of every label – easily missed if one does not observe the label closely. This flower is highly personal and relates to an old house they used to live in, in St. Helena with very dated wallpaper including of the flower represented on the label. Nigel and Shae chose to subtlety depict this flower in homage to their early and perhaps simpler days of living in Napa Valley.
Production is extremely limited – in 2018 it was 500 cases, 2019 was about 650 cases. No wine from Napa Valley will be released from the 2020 vintage, although Nigel was able to secure several tons of Syrah from Santa Barbara County. Nigel also began working with two blocks in Vine Hill Ranch in Oakville in 2020, one of Oakville's most coveted sites.
Nigel and Shae ultimately would like to reach a production of around 1,000 cases per year. To join the wait list for future access to the allocation list, please visit: www.kinsmaneades.com