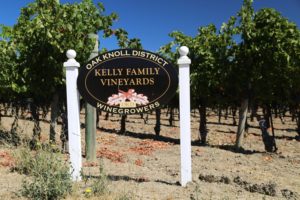 Kelly Family Vineyards was founded by long time Napa Valley resident, Gene Kelly and his wife Paula with the purchase of a 10 acre property in 2012 on the west side of the Oak Knoll District. Gene's family has lived in the Napa Valley since 1968 when his father Harold became tired of commuting into New York City and convinced the company he was working for, Equitable Life Assurance Society to transfer him some place more rural.
Once he arrived in Napa, he then convinced the company to start lending money to physical wineries (they had never done that before) and began working with a number of now well-known local wineries early on in their development. The Kelly Family have long been champions of preserving the natural environment in the Napa Valley and its agricultural heritage. Harold was a Napa city-councilman and founding president and trustee of the Napa County Land Trust (since their founding in 1976 the trust has protected 57,000 acres of land from development – equivalent to 10% of Napa County).
The site of their vineyard is a part of Oak Knoll that few visitors to the valley get to see – it is tucked away just north and west of the city of Napa slightly outside of the city's residential neighborhoods. While there are many growers here as well as some producers, there are few physical wineries, and none open to the public.
The property is almost at the base of the southern Mayacamas mountains and as a result there is a slight slope to part of the vineyard. Because of their proximity to the hills, they see a fair amount of wildlife including wild turkeys, rabbits, fox and coyote (including the one we saw wander casually through the vineyard in broad daylight during our visit).
The soils are fairly uniform throughout the vineyard – and the vines are generally dry farmed. A nearby canyon often brings a cooling breeze through the property – especially in the late afternoons on warm days. While a neighbor has a wind fan they do not – and have yet to be affected by frost. A small reservoir on site may also help moderate temperatures. The first vines on the property were planted in the mid 1990's.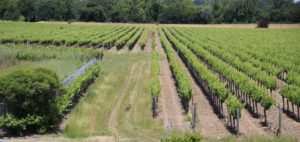 Crop Care Associates, one of the larger agricultural technology consulting firms referred Gene to his vineyard manager Mario Bazan. Mario founded a vineyard management company in 1997 and has tended to these vines since Gene purchased the property. And it is Mario who then introduced him to long time winemaker Bob Pepi.
Gene purchased the property with the intent to sell grapes to area wineries. He was not planning to make wine commercially. However, this changed with a phone call. Some years prior Gene had encouraged his son to take a "Gap Year" off between high school and college. This turned out to be a 12-month father-son trip built around some of Gene's business ventures. He was overseas when Mario called him and said they needed to decide what to do with the fruit that was ripening quickly. They had not yet lined up any buyers at this point; Gene calls his first wine his "gap year decision" – as he made a spur of the moment decision to use the grapes for themselves.
Restaurants take note. These are food friendly wines – lighter in style with good acidity and lower in alcohol. They complement food rather than detract like a much riper style wine often does. And the wines are available at an extremely reasonable price to quality ratio
Select Wines
The 2012 Kelly Family is 100% Merlot. It is smoky on the bouquet – with notes of cigar smoke and is somewhat floral (violets) with appealing baking spices including brown sugar and a hint of toasted cedar as the wine continues to breath. As the wine opens further the bouquet becomes more elegant and shows more fruit – raspberry and red cherry. The wine is nicely balanced with a lighter mid palate through to the finish showing a nice mix of higher-toned fruit flavors including red cherry and currant.
In 2013 the decision was made to graft over the Merlot grapes on the property to Cabernet Sauvignon. This was done in April. Remarkably these grafts were so vigorous that they set a surprising amount of fruit later that same year! The long growing season this year was certainly favorable. These grapes were harvested Thanksgiving weekend which in 2013 was during the final few days of November. This is the latest Napa pick date we've heard of for a non-dessert wine in the 10 years we've been talking to vintners in the valley.
The 2013 Kelly Family Napa Valley Cabernet Sauvignon is 78% varietal with the balance being Merlot – both from the estate vineyard. This wine would be easy to pick out of a lineup of Napa fruit forward wines. This wine is not that – rather the nose shows easily noticeable aromas of cigar smoke, leather in the sun, tobacco and a dry dust component. The wine is rounded up front with medium bodied tannins that linger for some time. Mouthwatering finish – with a lingering plum and red cherry tartness. Great acidity. The wine really shows well when paired with various foods.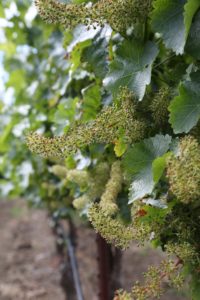 Looking for a white wine to accompany their estate Cabernet Sauvignon Gene turned to his winemaker Bob who located a source of Sauvignon Blanc in Calistoga. The 2013 Kelly Family Sauvignon Blanc is blended with 5% Semillon and shows straw yellow in the glass with tropical notes on the bouquet including honeysuckle, apricot and mineralities that carry through to the palate. This warm weather grown SB is not green or grassy; it does not display various herbaceous characteristics that this varietal often shows. The mouth feel is rounded and soft – the wine is very easy to drink.
—
In 2014 a devastating earthquake hit south Napa causing significant damage to both the city of Napa as well as numerous barrels of wine that were being stored in the southern part of the valley. Kelly Family Vineyards stored their wine in a warehouse in Carneros – the day of the earthquake they moved their wine to Napa Wine Company – far enough up valley to be much less affected by the earthquake. They lost none of their wine in the earthquake- but Gene recalls the location where they moved it from had significant damage. Talk about great timing.
NOTE: this review has been identified as needing a major update including with current release wines.
The wines are available at a few select restaurants in the Napa Valley and through their mailing list – which incidentally has been quite popular with those who share the same last name – (note the Irish family crest on the label). For more information visit: www.kellyfamilyvineyards.com