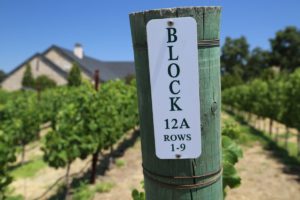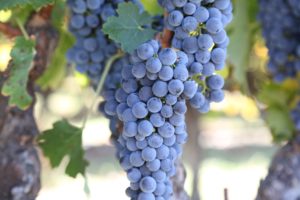 Kapcsándy Family Winery (pronounced Cup-chon-dy) is a small family owned and operated winery located just east of Yountville surrounded by premium vineyards and producers. This site was originally the Beringer leased State Lane property which produced some of the finest grapes for Beringer's wines including the fruit for their first Private Reserve wine in 1979. The fruit from this property provided the basis for Beringer's Private Reserve wine for 20 years.
Founder and owner, Lou Kapcsándy, who we met with on our first visit to the winery and subsequent visits was born in Budapest Hungary; Lou passed away in 2021 at age 85. While in Hungary he played soccer and was a youth reserve for the Hungarian National Soccer Team (the same team that was runner-up in the World Cup of 1954). After the Hungarian Revolution in July 1956, Lou fled the country, arriving to a refugee camp in Vienna. He eventually came to the USA, spoke no English and arrived in Newark, New Jersey where he was sponsored by a family. Later he worked as a chemical engineer in petroleum and pharmaceuticals engineering and design. Eventually he and his family settled in Seattle for 30 years where he worked for various companies including Flow Industries (where he helped develop a water jet cutter for cutting corrugated cardboard for cartons), Criton Corporation and later was CEO of Baugh Enterprises, a large industrial general contractor.
His first trip to the Napa Valley was in 1962 and subsequently he made many trips after this. He told us that he personally knew "all 14 winemakers" in the valley in the 1960s. Today that number would be measured in the hundreds – in the valley alone.
Lou has long been interested in fine wine and in 1999 co-founded Grand Cru Imports, a company that focused on importing fine wines from Bordeaux, Hungary and Spain.
Upon "retirement" Lou decided to follow his passion and with a little luck was able to find the property on State Lane (formerly a cattle farm which ceased operations in 1975). Today his son Louis Jr and daughter in law manage the winery operations. Lou has his own degree in winemaking from the UC Davis Extension program; several prominent winemakers have been Kapcsándy's consultants over the years including Rob Lawson from Napa Wine Co and Dennis Malbec. Denis came to Kapcsándy from Chateau Latour, the First Growth estate in Bordeaux and tragically died in Yountville in a car crash in 2016. Renowned winemaker Helen Turley made the first several vintages and helped oversee the planting of their initial vineyards.
All wines are produced from fruit grown on the estate. The property is 20 acres of which 15.5 are planted nearly all to Bordeaux red varieties using Bordeaux clones. The one exception to this in their vineyard is the only block of Furmint grown in all of the Napa Valley – a Hungarian white variety that grows in the Tokaj wine region. Lou brought back cuttings from Hungary, the vines went into the ground in 2007 and is only about 1/2 an acre. Production on this wine is so small that the wine is only sold direct at the winery.
Despite a relatively small piece of property there is a remarkable variety of soil types; their vineyards are separated into a number of individual blocks. Initially satellite illumination studies were conducted on the property to best help determine which direction to plant the rows and how to deal with the angles of the sun depending on time of day and year. NASA provides Kapcsándy with 30-minute interval photography of their site over a span of time from March through October. The vineyards are farmed by hand and are farmed sustainable. The vineyard is also a bird habitat with a number of owl boxes, raptor perches and a creatively designed starling capture box.
Despite being on the valley floor the soils are rather shallow with an extremely hard clay layer beneath the topsoil – perfect terroir for stressing their red wine varieties.
Three things are held close to the vest at Kapcsándy Winery. One is the micro-management and quality of their vineyards, two – picking fruit when it is physiologically ripe (wines with lower alcohols – usually between 13.5 and 14%) and lastly maintaining absolute cleanliness within the actual winery.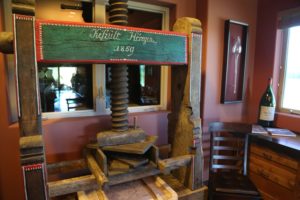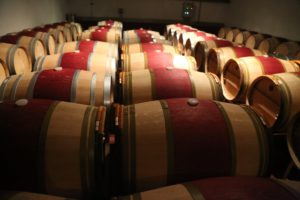 One does not taste any pyrazines or greenness in their wines (despite the lower alcohol) – they pick at lower brix but all of the grapes that make it to fermentation have been extremely carefully selected. Grapes are hand-select numerous times beginning after set in the vineyard dropping significant amount of fruit which doesn't meet their exacting specifications. An elaborate sorting system is in place once the fruit actually comes into the winery – with a sorting table that was specially designed by Lou. Preferring a gentle touch when it comes to harvesting the grapes and sorting as the fruit is brought into the winery, Lou hires female vineyard workers. And during the winemaking attention to detail is paramount. Only the highest quality "berries" are allowed to go to fermentation, nothing else. As Lou says, there is "no substitute for bringing in average ripe fruit".
The winery is kept extremely clean, and a number of techniques and materials are used to ensure this. We have seen hundreds of wineries in Napa Valley; if we ever build a winery, it would be modeled on this one. There is no wood used in the construction materials of the winery or where the grapes are initially processed. Two adjoining barrel rooms (appropriately titled Pince 1 and Pince 2 – meaning cellar in Hungarian – contain their two most recent vintages. Both French and Hungarian oak are used to age the wine.
Select Wines
The 2017 Kapcsándy Family Wines Furmint is dried straw color in the glass – fruity on the bouquet with aromas of honeysuckle, guava, a wintergreen mint nuance, beeswax and green apple. Offers plenty of aromatic depth and keeps on giving as the wine continues to breathe. On the palate shows a beautiful balance anchored by depth of flavor and a slight creamy texture. Flavors of peach, apple along with a refined spice nuance and a mineral note. Lingers for quite some time – with good acidity but mostly the fruit that keeps on giving. A pleasure to enjoy by itself.
The 2013 Kapcsándy Family Wines Vino del Sol (wine of the sun) is a port-style blend of 70% Cabernet Sauvignon, 24% Merlot and 6% Cabernet Franc. This wine was aged 30 months in French oak. Dark red, the bouquet initially offers aromas of spicy and toasted oak which soon morphs into brown chocolate, vanilla, coffee bean and ripe plum. Sweet and flavorful but not heavy or viscous, there is an ethereal lightness that runs the breadth of the palate. Offers flavors of black fig, raisin (but not raisiny if that makes any sense) ripe blackberry and chocolate. Lingers with loads of flavor, a supple quality along with a dusty tannin feel that shows more in the front of the palate rather than in the rear. I do believe this has become one of our favorite port-style wines being produced from the Napa Valley. Bottled as 500ml.
For a small winery they produce a number of wines, but all in small production – usually in quantities of merely several hundred cases. Some of our favorites are spotlighted below.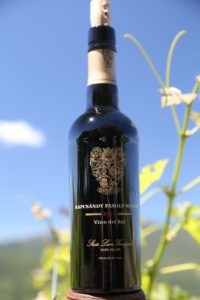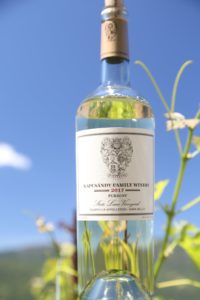 2003 was the winery's inaugural vintage; the 2003 Kapcsándy Family Wines Proprietary Red was such a robust wine and production was so small that they held it back for several years before releasing. For a number of years, it was available exclusively at the winery.
The 2008 Kapcsándy Family Wines Rosé is quite unique in the Napa Valley. This is a robust rosé; it has flavor and character and body. How often have we said that about rosé's produced in Napa. It was aged entirely in stainless steel and stirred on the lees for 9 months and then went through malolactic fermentation. It is predominately Cabernet Sauvignon and Merlot with smaller amounts of Cabernet Franc and Petit Verdot. It holds an orangish hue in the glass; the bouquet shows floral aromas as well as strawberry and rhubarb. The mid palate is slightly creamy.
Some of Napa's finest Merlot is being produced at Kapcsándy. Several acres are planted close to the Napa River on the west side of their property located in a slightly cooler area on top of heavy clay. Because of its particular location it's much easier to keep the sugars under control. They have matched the root stock and clone very well for this micro-climate. Lou says, "we are trying to resurrect the nobility of the Merlot graph." And that they are doing very well. This wine has already garnered very favorable reviews from a number of people in the industry.
The 2006 Kapcsándy Family Wines Roberta's Reserve is a Merlot based wine named after Lou's wife. It hints of brown chocolate with subtle notes of cedar. The layers of flavor on the palate are big but are integrated beautifully, balanced by the wine's robust structure – it is a big Merlot but like their other wines, is in balance.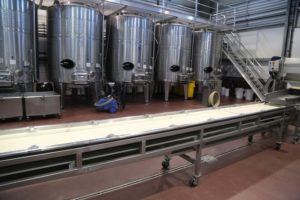 The 2006 Kapcsándy Cabernet Sauvignon is dark in the glass with spices and dark fruit on the bouquet. This is a rich wine – red and dark fruit flavors show throughout the palate with notes of leather, licorice and red currant. With well integrated flavors and good acidity this will be a good wine to pair with a variety of foods. The finish is very long and flavorful anchored by sweet tannins. Again, this wine is lower in alcohol coming in at 13.7%.
The 2007 Kapcsándy Family Wines Estate Cuvee is a beautiful wine (it was released in September 2010). This is a dark wine with a very pleasing bouquet (dark chocolate, herbs) and we think it's even better integrated than the 2006. Layers of flavor are woven smoothly together with a tantalizing finish that is long and leaves traces of berry flavors. Both the entry and the finish are very clean. Like all their wines, this one is definitely built to age.
A real treat, but produced in extremely small quantities is their dessert wine, Vino del Sol. The 2007 Kapcsándy Vino del Sol is entirely Merlot however later vintages include other varieties grown on the property. This wine is perfectly enjoyable by itself; there is no burn from high alcohol (good quality grape brandy used) and this wine stays away from the sometimes-syrupy characteristics of some California port-style wines. A big part of enjoying this wine is the bouquet. The aromas are layered and elegant; one can keep on enjoying the aromas as the wine opens. Black cherry and apricot flavors run the breadth of the palate finishing clean and smooth and with lingering notes of berry.
—
Tours are always private and are for serious wine enthusiasts – typically their mailing list customers or referrals. Often Lou Jr. will host visitors for a detailed tour which ends with a tasting in their elegant tasting room. Minimum of four guests requested. For more information and or to join their mailing list, visit: www.kapcsandywines.com
Furmint