Joseph George Wine is one of the very few Napa producers that focuses their entire commercial production on Sauvignon Blanc. They produce one wine each year from their 2.5-acre vineyard near the Napa River in the Yountville appellation.
Proprietor, Bert George has been involved in the wine business since age 16. His grandfather, for whom the wine is named after, Joseph George – started a wholesale business in downtown San Jose, California in 1940 focusing on candy, tobacco and Coca-Cola syrup. After World War II ended, he entered into a contract with Seagram's and sold liquor and beer and then ultimately wine.
Joseph's son, Glenn took over the business and grew the company into the largest distributor in Northern California for about 20 years. His son, Bert, started working in the business at a young age and then as soon as he had his driver's license, started delivering wine and beer to various outlets in the Santa Clara Valley.
Today Bert is President of Joseph George Fine Wines, a premier wine shop in the Carriage Shopping Center in San Jose (1559 Meridian Ave). Their specialty is on quality wines with a focus on wines from the Napa Valley. The store carries numerous wines from small producers as well as wines from some of Napa's more well-known producers including Opus One, Silver Oak, Shafer and more. And in addition, a limited number of Napa's hard-to-get cult wines are for sale including Screaming Eagle, Harlan Estate and Colgin among others. Remarkably Bert has a magnum of every single vintage from Harlan Estate on display dating back to 1991 (these are not for sale). A number of private label sports themed wines are for sale (usually larger format bottles).
Customer service is key at the shop – and in a digital world of fast paced immediate satisfaction (perhaps ground zero in the Silicon Valley), it is nice to know that old fashioned personalized service can still be found. Bert knows his customers and his customers often know the winemakers he represents. Every month from February through November, a tasting is held in the store featuring 4 to 5 wineries pouring select vintages of their own wines. The owner or winemaker usually attends these events. And the shop also hosts select other wine and charity events.
Several parking spots directly in front of the shop are reserved for clients – but there is plenty of parking in the surrounding parking lot.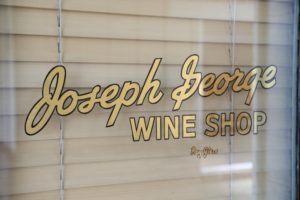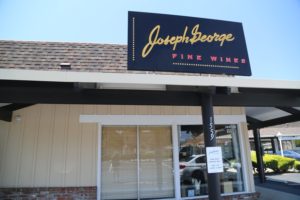 With several generations in the wine distribution business and a passion for wine it was only some time before Bert started getting the "itch" to have his own wine label.
He was initially interested in a piece of land about 1/2 mile south of his current vineyard (south of Yountville). He had already made an offer to purchase and was moving towards a sale when another buyer purchased at the last minute. As it were, this was one of the best things that could have happened. The George's purchased their current property in 2000 with the intent to plant a vineyard.
This is truly a unique piece of the Napa Valley floor for a number of reasons.
While Bert's small property is near the Napa River and a seasonal slough, the property is slightly raised above the valley floor. This proved extremely valuable during the terrible floods that covered the lower part of the valley and parts of downtown Napa in 2005. A nearby neighbor opened his window to look out in the morning and saw two ducks floating by. During this time, Bert's property remained completely above the flooding.
This is a part of Napa that has extremely fertile soils – it is towards the southern part of the valley where the valley begins to widen. The soils are influenced from drainage from the neighboring mountain ranges and over the years the soil has become extremely fine and claylike. It is not a part of the valley where you find a lot of rocks in the soil.
Whereas we have visited with some vintners located on the hillsides who have to drill down 800 to 1000 feet to find a decent water supply, the water table here is merely 9 feet below the surface. As Bert puts it, they asked one question of their soils, "what are you going to give me" – after extensive soil analysis it was determined only select varieties could grow here including Merlot and Sauvignon Blanc. Bert and his wife love drinking this variety and the decision was made to plant these vines.
Their vineyard was soon given a name; the "West Block" as in the location in relation to their garage. Large trees surround much of the perimeter – the most prominent are giant valley oak that Bert estimates to be between 120 to 150 years old. He couldn't see himself removing these stately oaks, so the vines were planted around them.
We have visited hundreds of vineyards over the span of this project, and it is very rare when we are surprised by something "unique" on the valley floor. What is either the largest or among the largest non-planted parcels of land on the valley floor is located directly across from their property. This hidden gem runs north and south for some distance along the Napa River. It hasn't been planted to vines since the early 1980's and has been left to revert back to its natural state.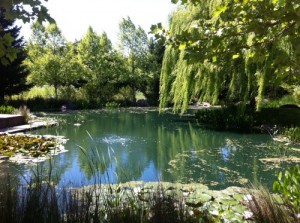 Sauvignon Blanc can be made in a number of styles – this wine can be either a bit grassy or green and show citrus characteristics both on the nose and palate or it can be made in a style that smells and tastes more tropical. The Joseph George Sauvignon Blanc features none of the grassy characters; this wine is about the vineyard and the variety – or as Bert says, "an unadulterated Sauvignon Blanc". Their vineyard manager is meticulous in his crew's efforts to open up the vine canopy and allow ample sunlight to the grapes. They pick when they want – when the fruit is ripe. Being an early ripening variety, weather has not been a factor in their past harvest decisions.
The grapes are harvested very early in the morning and taken immediately to a local winery and put into a stainless-steel tank. No oak is used during the aging of this wine. They strive for long fermentation times with the intent to bring out additional complexities – a commercial yeast is used continues to feed even at very low temperatures. As a result, their fermentation often lasts a month before it is complete.
A typical vintage from their vineyard is between 700 to 750 cases. The George's planted their vineyard in 2001 and their first vintage is from 2003. The 2010 vintage was above normal production followed by a very small 2011 vintage that produced less than 400 cases. The 2010 Joseph George Sauvignon Blanc reveals bright and lively aromas on the bouquet including passion fruit, pear and melon. The palate is balanced and lingers delicately with notes of melon. This is an ideal wine to enjoy on a warm spring or summer day.
Bert is also the only official and exclusive producer of wines for the National Hockey League. He has been working with the NHL since the 1993/1994 season. As expected, his San Jose Shark's wines are quite popular. He produces wines for the Draft, All Star Game, anniversary wines and commemorative wines among others.
Hockey and wine – an interesting combination – but Bert has certainly made this work and has proved that hockey fans are not necessarily only beer drinkers.
The wine can be purchased directly but is also available at the Joseph George Wine Shop at their retail outlet in San Jose. For more information visit: www.josephgeorge.com
Joseph George Wine Shop, San Jose