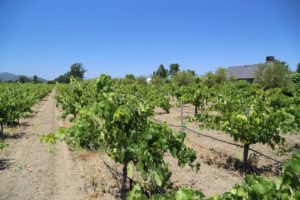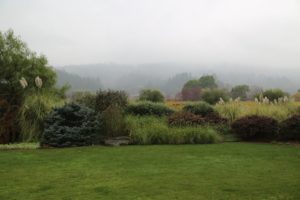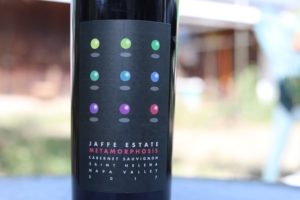 Jaffe Estate was founded by Gary and Pam Jaffe. Today their daughter, Vida Jaffe has assumed the role of President of Jaffe Estate. Their small vineyard was located just south of the town of St. Helena and provided all the grapes for their red wines. Note that the Jaffe's have since sold their property to Sharon and Gary Lessing who operate a small wine brand called CourVant. As a result, this review has been identified as needing a major update.
Their previous vineyard is located in the St. Helena Appellation almost on the border of the Rutherford Appellation. They purchased the estate in 1999 with vineyards that were already planted to Cabernet Sauvignon and Merlot; their total production each year is about 700 cases. For several years they sold the grapes to a nearby winery; Gary always wanted to make wine and after noticing the good press and awards this winery was earning, they decided to create their own brand. They hired the very talented and perhaps we should add 'brilliant' winemaker David DeSante; he produced their inaugural release from 2005 and a number of subsequent vintages. Today David is no longer directly involved with their wine making; following his departure, the wine is made by a top wine making team at a local winery in St. Helena and as of our latest update to this review, Philip Titus (Titus Vineyards, Chappellet) is their winemaker.
Gary having been born and raised in the Los Angeles area was first introduced to Napa Valley in 1980 through a friend who had business in the area. This initial trip soon turned into a few days, then a month, then a week and then a long-distance commute from Los Angeles. At the end of one year Gary realized that for the cost of his hotel each month, he would be better off moving to Napa Valley. Like many he was drawn by the beauty of this small valley and surrounding hills, and even more so by the collaborative rather than competitive efforts that area vintners show one another.
Special mention must be made about the small but impressive Jaffe observatory and rotating telescope they built among their former vineyards. An observatory in the Los Angeles basin may not be the best idea because of all the lights and smog, but at night in dark Napa Valley vineyards it is a rather ideal location. For some time, this was the only privately owned observatory in Napa County; as expected, this has been a popular resource for local school kids. However, Francis Ford Coppola built his own observatory high up in the Mayacamas mountains above his house and Rutherford. One can see this observatory if one knows exactly where to look while driving on Highway 29 through Rutherford. Gary remembers the first time he became interested in astronomy; he was 9 years old and had just visited the iconic Griffith Park Observatory above Los Angeles for a planetarium show. He was hooked from that point on, and astronomy has become a lifelong passion.
As he told us, "Astronomy is the one branch of science where amateurs can actually be involved in research"; researchers have called him on a number of occasions for his help. We have visited the property and observatory several times over the years; observatories have a definite limit to their usefulness during daylight hours. In any case Gary showed us how the auto tracking works; at night he can and has tracked the International Space Station flying 250 miles overhead. His telescope also has the ability to view the surface of the sun and download images directly to a computer.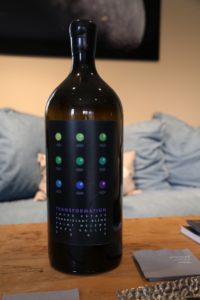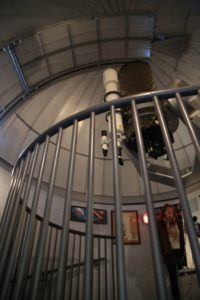 Note their unique label; knowing their passion for astronomy, on first glance one might think the colorful circles are planets, but taking into account the two names of their wines and upon further glance one will notice the circles are grapes. The color pattern is a representation of the grapes as they change from green through the purple veraison to ripeness.
Jaffe Estate produces two red wines each year: Transformation, a Bordeaux style blend of Cabernet Sauvignon and Merlot and Metamorphosis, primarily a Cabernet Sauvignon. The wines are representative of their vineyard but are also styled after the types of wines the Jaffe's enjoy drinking. And in 2020 they produced their first white wine, a Chardonnay and in 2022, also a Chardonnay from the Sangiacomo Family Vineyards in neighboring Sonoma County.
Select Wines
Former Jaffe Estate wine maker David strived to make wines that were elegant and generally not high in alcohol; the integral focus of his wine making concentrated on balance. In this regard, he quotes the famed soils and wine making expert André Tchelistcheff: "once balanced, forever balanced". We have tried wines from several of David's clients including his own wines and have been impressed every time. David almost did not become a winemaker. He was halfway through medical school on the east coast when he made a dramatic change. He moved across the country to become a winemaker; he completed his Master's in Viticulture and Enology at UC Davis.
The 2018 Jaffe Estate Transformation, Proprietary Red Blend is deep ruby in color; the bouquet features a dark and savory aromatic core including scents of black plum, black cherry, sweaty leather, old cedar box, roasted herbs and white pepper. However, give it time to open and some of the savoriness dissipates revealing more fruit. Balanced across the palate, not one feature of this wine dominates but rather it's a seamless interaction between fruit, acid and texture. Light to medium bodied, it offers flavors of cherry, raspberry and a bramble note. The tannins are lightly textured and linger softly along with flavors of red cherry and a slight woodsy/dark spice character.
The 2017 Jaffe Estate Metamorphosis is 79% Cabernet Sauvignon and 21% Merlot. This bottling is deep ruby in the glass and offers ripe, opulent and sweetly fruited forward aromatics of blackberry jam, Santa Rosa plum, boysenberry, a mulberry preserve and deeper in the aromas, scents of bittersweet chocolate. If we were to categorize a wine's bouquet as either an introvert or extrovert, this bottling would clearly be an extrovert. And as equally about the fruit as the bouquet is the palate; it features generous and ripe flavors of blackberry, boysenberry, mulberry and chocolate. The texture is fleshy with some noticeable tension between fruit and tannins. The medium structured and silty textured tannins are ripe and rounded. They are not course in their feel, but one can feel their density. This bottling is nearly 16% alcohol and a completely different style than the Jaffe Estate Transformation.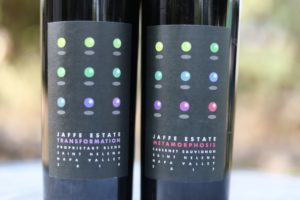 The 2012 Jaffe Estate Transformation is 58% Cabernet Sauvignon and 42% Merlot. The bouquet shows sweet aromatics including of red cherry, toasted cedar and as the wine opens, an inviting floral nuance comes forth (rose petal). The aromatics are elegant and become even more so as it breathes. This bottling is very balanced and soft on the palate, showcasing a pleasing texture. The fairly smooth finish lingers with nicely integrated tannins. It drinks very well young. Quite approachable.
The 2006 Jaffe Estate Transformation is a beautiful and elegant wine, and while we sampled it merely 2 weeks after its release, it was already drinking nicely at such a young age. The bouquet initially opens with an earthy and dusty component which is well integrated with ripe fruit aromas, namely blackberry. As the bouquet continues to evolve in the glass, it opens further and reveals nuances of mocha. The mouth feel is plush and very well rounded with layers of fruit from the entry all the way to the finish. The rather delicate tannins are broadly distributed and like the body of this wine, are completely in balance. We would love to see where this wine is in say 5 years.
The 2005 Jaffe Estate Metamorphosis offers some noticeable earthy tones to the bouquet which over time opens to fruit aromas. The palate is driven by a rich core of fruit including plum, cherry and raspberry. The tannins are firmer than the 2006 bottling Transformation; with bright acidity and lively fruit, this wine will prove itself to also be quite age worthy.
Studio by Feast it Forward Napa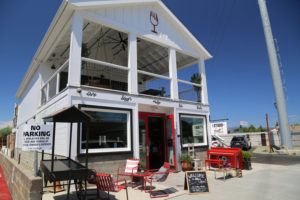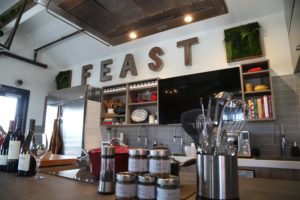 Select Jaffe Estate wines are available for tasting at the Feast it Forward tasting room in downtown Napa. A private tasting can be arranged by appointment. The studio is located directly across from the Oxbow Public Market in downtown Napa and packs numerous experiences into a small space. This two-story building houses an "experiential showroom", as founder Katie Hamilton Shaffer calls it – with a focus on wine, food and music. Each vintner represented offers several wines and several of the showroom's sponsors have prominent placement including guitars from Gibson Brands, Inc. and furniture from Crosley. A chocolate tasting is also offered oddly enough sponsored by Sherman Williams and a vinyl station if offered for playing a variety of old records. Upstairs features a demonstration kitchen; when shows are being filmed here, televisions downstairs broadcast the live feed. This kitchen can also be used for guest chefs to offer culinary classes.
And visitor's will want to stop by their bathroom to read the latest in all the graffiti and words of wisdom that visitors mark on the walls. The site can be used for a number of events including the availability of plenty of space in the back of the building. The Yard is a sizable outdoor space featuring several stages, cute places to taste wines, a lemonade stand, a place for food trucks and a comfortable fake lawn. The Ultimate Airstream Film Lounge trailer is often be parked in The Yard; this trailer is used when the Feast it Forward team is on the road hosting unique lifestyle events and it also serves for private tastings on site or for special events. One such event at the showroom has included "Terrible Tuesdays" in which bad films with cult like followings are shown.
The second floor features a sizable surround building deck and a swinging 'bed'. This is an ideal perch to watch pedestrians walking to Oxbow Public Market or those enjoying the park next to the Napa River. These are also some of the best seats in the area to watch live performances at the nearby green. And the interior features a full kitchen used for various culinary TV shows.
—
Jaffe does not submit their wines for ratings, but with a premium vineyard producing top-caliber wines, word is bound to get out and it already has. The Wine Enthusiast magazine tasted one of their wines and rated the 2005 Jaffe Estate Transformation 94 points …not bad at all for an inaugural release. Jaffe Estate is also very involved with a number of charitable organizations including participating in tastings for charity and auction events. Their wine is made to be consumed with food and can be found at a number of premium local restaurants including Auberge du Soleil, Bouchon and Ad Hoc. They are also selectively distributed in parts of Asia including Japan, Hong Kong, China and South Korea.
For a premium brand focusing on hand crafted wines in the heart of Napa Valley they have kept their prices rather reasonable. Their mailing list is appropriately titled The Celestial Set. For more information, visit: www.jaffeestate.com