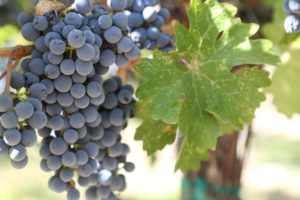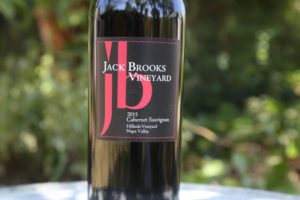 Jack Brooks Vineyard.
There are boutique producers in the Napa Valley, but there is also another layer of even smaller producers, micro-producers we call them. Jack Brooks falls into the latter category. While not the smallest producer we have tasted with, they certainly are one of the smallest at only approximately 75 to 125 cases produced annually of a single wine. This is from a one-acre vineyard in the Calistoga appellation of the Napa Valley. Their focus is on carefully managing this one vineyard, which is planted to one rootstalk and one clone of Cabernet Sauvignon.
Jack Brooks was founded by Larry Arnoff and his wife Eileen with their first vintage dating from 2005. The couple are originally from Evanston Illinois (near Chicago), and both made numerous trips to the Napa Valley before deciding to move here permanently. They have long enjoyed trips to Italy and the northern part of the Napa Valley reminded them of parts of Tuscany. They purchased a small piece of property in 2000 in the far north part of the valley. They are in the "shadow" of the Palisades, a series of rocky steep outcrops that tower above the eastern side of the valley.
And unlike many couples who move to wine country later in life, both Larry and Eileen had prior experience in the wine industry. Larry has worked as a consultant in a number of larger companies over the years – but also as a business consultant focused on helping wineries in both Napa and Sonoma improve their overall operations and Eileen worked as a controller for several wineries. Larry is also actively involved in the local Calistoga wine scene having served as president of the Calistoga Wine Growers Association and on their board of directors.
At that time, they purchased this land, only a few hardy old trees were still growing, left over from what used to be a fruit orchard. The Arnoff's removed the trees and at that point, were happy to let their property remain a bare field. That is until they were at a barrel tasting at nearby Vincent Arroyo Winery. A couple asked Arroyo's vineyard manager at the time if he could help manage a new vineyard in Lake County to the north. Larry then asked the vineyard manager if he would be able to plant a vineyard in Calistoga.
Nothing really moves fast within the wine industry – but remarkably, within a week, this vineyard manager was ripping up their acre and preparing it for planting. This small piece of Calistoga is incredibly rocky. It is certainly a challenge to till it each year – and what is unique about this valley floor site, is not all of Calistoga is rocky like this. Even their nearby neighbors don't have the abundance of rocks they have. Larry admits, "we are producing both grapes and rocks each year"! Even what should be a simple task as digging a hole for a small mailbox post turned into quite the endeavor. Larry remembers pulling sizable rocks out of a small hole when he had to put in a mailbox a number of years ago.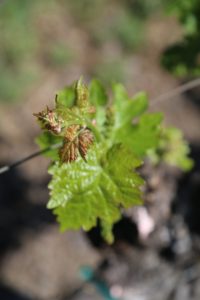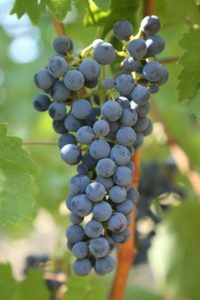 Even though the vineyard is small – it is separated into two distinct blocks – based on row orientation.
With such a small vineyard and one variety, they are really at the mercy of mother nature. As a result, the quantity of each vintage varies, sometimes dramatically so. Take 2008 for example, this was a year that saw the worst freeze in 40 years in parts of the Napa Valley during the critical stage of bud break in April. They lost a significant portion of their crop – and ultimately only produced about 35 cases commercially.
The vineyard is dry farmed – and certainly produces much less fruit each year than an equivalent vineyard that is watered. The Arnoffs have always been drawn to Bordeaux style wines – limiting the alcohol and while showcasing the fruit, limiting its expression to result in an elegant wine – that has good acidity and is versatile with a variety of foods.
Select Vintages
The 2010 Jack Brooks Vineyard Cabernet Sauvignon is medium purple color in the glass – the bouquet is very aromatic and evolves nicely over time. It is somewhat perfumy and floral – certainly elegant and shows darker fruits – black currant and blueberry. The palate is extremely balanced for a young wine – with decent acidity. The mid palate shows an intriguing gravelly, loamy component – this is their particular terroir 'speaking'. No surprise considering the types of soils in their vineyard. The earthy tannins are well integrated on the finish and linger delicately for some time.
The 2015 Jack Brooks Vineyard Cabernet Sauvignon represents their 10th vintage. Any brand that makes it 10 years in Napa Valley is doing something right – especially a producer that focuses on merely one wine. This wine is deep ruby in color; immediately showcases aromas of ripe blackberry, cassis and dried tobacco. The fruit dominates on the bouquet. Nicely balanced across the palate – between flavor, acid and structure. Lingers with plenty of darker fruits, tobacco notes, a subtle hint of black pepper and chewy yet fine-grained tannins, showcasing a medium grip. A very limited production wine which is well worth seeking out for Napa Valley Cabernet Sauvignon enthusiasts.
—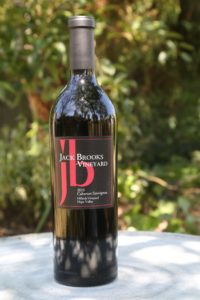 Their wine is a tribute to both of their fathers; Larry's fathers name was Jack and Eileen's dad's name "Brooks", a short nickname for an extremely long and difficult to pronounce Italian name. As it were, both their fathers were in WWII and were stationed in the same part of Europe. They never did find out if they knew each other but there certainly would have been a good possibility that this might have been the case.
With such a small production distribution is very limited. They sell mostly direct via their website and the wines are available in a couple of local retail outlets including SolBar at nearby Solage Resort and at the Calistoga Wine Stop in downtown Calistoga. The wine may also be at the Ferry Plaza Wine Merchant and K&L Wine Merchants in San Francisco. In Los Angeles one can sometimes find select vintages at the Peninsula Hotel in Beverly Hills.
For a single vineyard Cabernet Sauvignon from the Napa Valley – this wine is very reasonably priced. For more information, to purchase the current release, or to join their mailing list, visit: www.jbvineyard.com