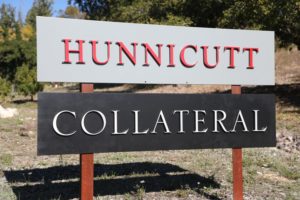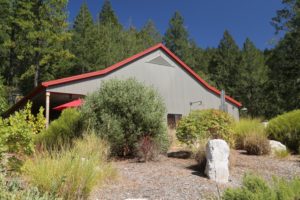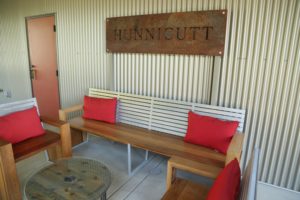 HUNNICUTT Wines is owned and operated by Justin Hunnicutt Stephens and his wife Seana. The winery takes its name from Justin's grandmother, Nora Hunnicutt. After college Justin immediately entered the fast-paced world of commercial real estate. During a flight back from a business trip it occurred to himself that he was always reading articles about wine making, wine regions and grape varieties; if he was really interested in real estate, he admits he would have been reading real estate journals. This was an "awakening" if you will, a point in his life where he found himself not following his passion and wishing he was.
Justin realized this, changed careers and moved back to Napa Valley and began learning the hands-on part of the business at Miner Family Winery. Soon thereafter he worked at other notable Napa Valley based wineries gaining additional wine making knowledge including as General Manager at Saddleback Cellars, Venge Vineyards and Seavey Vineyards.
We first met with Justin in September 2007 at the caves at Venge Vineyards where the HUNNICUTT wines were made at that time. This location was at what is now Merus Vineyards. And this was before Justin had yet acquired the property which would become the home for HUNNICUTT Winery. Along with Amizetta and Ruston, this was one of our very first small Napa Valley producers we met with during our early work on the Napa Wine Project.
HUNNICUTT Wines purchased a beautiful piece of property (15 acres – mostly hillside) in 2008 on the Silverado Trail about halfway between the towns of Calistoga and St. Helena. The prior owner Les Behrens of Behrens Family Winery had already gained valuable permits for building a winery prior to the sale. An extensive 18,000 square foot cave was built into the hillside taking 18 months to drill out. This cave not only houses the HUNNICUTT Wines but also the wines for COLLATERAL and D.R. Stephens Estate. The winery was functional in time for the harvest in 2011. Solar cells cover the roof of the office/hospitality building. There are no vineyards planted on site.
Their first commercial vintage was from the 2002 vintage and for the first several vintages production remained under 500 cases of two wines: Cabernet Sauvignon and Zinfandel. Their production has grown over the years and as of our latest update to this review is around 3,500 cases annually. Since their inaugural vintage, all their wines have been crafted under the management and direction of well-known winemaker, Kirk Venge – one of Justin's close friends. Both Kirk and his father Nils have a long history of making wine in the Napa Valley and both own wineries as well as consults for several premium Napa Valley based brands. Seana is also involved having joined the winery in 2010 – relying on her previous experience in advertising to help promote HUNNICUTT.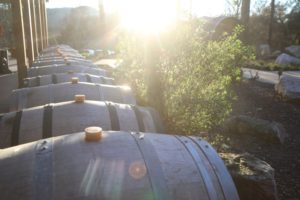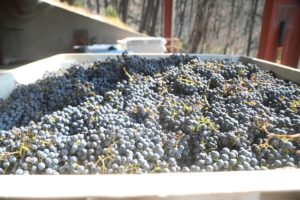 And HUNNICUTT is also known among local vintners as being a premium custom crush winery – allowing other wineries to 'rent' space within their cave to make their own wines. Different somewhat than other wineries who rent out space, HUNNICUTT allows the winemakers for the individual brands to oversee each of their own brands. Walking through the cave is like being in a candy shop for premium Napa Valley boutique producers with wine from some of Napa Valley's finest under the radar producers crafted here.
And there are other advantages to making wine here; from a winemaking perspective, one is surrounded by extremely talented vintners who all have access to premiere vineyards. Over the years we have visited the property numerous times; it's always neat to bump into winemakers we don't often see. This space is a think tank so to speak where one can bounce ideas of others and relationships are cultivated.
Tastings are always private for visitors, sometimes with Justin (he may stop by if he is on site) and are for serious wine enthusiasts and are hosted in a cozy lounge decorated with old barrel staves, vintage skis, a pair of lacrosse sticks and a road bike. In 2021 a small alcove within the cave was converted into a beautiful private tasting space.
The forested property is located in a quieter part of the Napa Valley accessible via a steep driveway leading up from the windy Silverado Trail. HUNNICUTT shares the initial part of the driveway with their winery neighbor, Failla Vineyards. The Glass Fire in 2020 did some major damage to the property including burning tanks and equipment on their crush pad, killing numerous trees on the property and burning to the ground, a small house located next to their driveway just before the parking lot.
Sometimes one can hear the wind whistling through the trees – with no vineyards in site one could almost be in the foothills of the Sierra Nevada mountains rather than Napa Valley.
HUNNICUTT has never owned any vineyards, rather they source from premium vineyards sites, primarily in Napa Valley but also from neighboring Sonoma County. Their wines are reasonably priced based on the source vineyards and the expertise and knowledge of winemaker Kirk Venge.
Select Wines
HUNNICUTT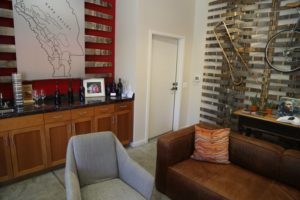 The 2021 HUNNICUTT Luvisi Vineyard Napa Valley is 100% varietal Zinfandel from a head-trained dry-farmed block which dates from 1952 planted at the base of the Palisades in Calistoga. This wine is deep ruby in color; the bouquet sports aromas of bramble, raspberry, blackberry, cherry, a woodsy spice which as the wine evolves transitions more into scents of chocolate, molasses, mocha and espresso. A layer of dried herbs is also present including of sage. Richly flavored across the palate it offers Santa Plum, raspberry, strawberry, red licorice, chocolate and cloves. The acidity shines through brightly on the savory and mouth watering finish. The grainy tannins are broadly distributed across the palate and linger for some time. This wine was aged for 18 months in both French and American oak of which 30% were new barrels.
One of their more popular wines is the Fearless Red, a red varietal blend in which the percentages change every year. Its inaugural vintage was in 2007 with Syrah from a friend's vineyard which was blended with Zinfandel and Petite Syrah. The 2016 Fearless Red, Sonoma County is an intriguing blend of 36% Zinfandel, 33% Merlot, 25% Syrah and perhaps surprisingly, 6% Pinot Noir. Shows a diversity of aroma including darker fruit (ripe blackberry) complemented by darker spices, tobacco leaf and toasted cedar. It is somewhat brooding in its aromatic presentation. Flavors of plum and currant are anchored by gritty tannins and a finish the features darker spices including notes of crushed pepper.
The 2016 HUNNICUTT Cabernet Sauvignon, Brinkman Block from the Beckstoffer Georges III Vineyard in Rutherford (right next to Caymus Winery) is 100% varietal. Named after Justin's mother's maiden name (Christina Brinkman Stephens) this wine is noticeably dark in the glass and immediately offers an intensity of dark fruit aromatics including blackberry and blueberry framed with aromas of old cedar box and dark chocolate. Slightly briary. Features plenty of depth of flavor; this is a big wine but is balanced. Shows notes of dust, plum, and spices on the finish including white pepper. Great texture – we love the way this wine feels across the palate. Lingers with long lasting persistent chewy tannins.
A companion brand called CUTT was created in 2007, typically focusing on one-off wines or from vineyard sources they may only have limited-time access to. The 2016 CUTT Merlot, Knights Valley is a wine presumably most people would not be able to identify as Merlot in a blind tasting. It is 100% varietal. Dark ruby in color it offers a diversity of aromas including mushroom, forest floor, blueberry and hints of sage. Also, a sweetness of fruit. It is a robust wine (especially compared to other Napa Valley produced wines from this variety) across the palate with excellent depth of flavor and structure with gritty long-lasting tannins on a mouthwatering finish. Very good acidity.
The 2005 HUNNICUTT Zinfandel was sourced from the Chiles Valley region one of the Napa Valley's 16 sub appellations located east of the main valley floor. This is a very fruit forward wine meant to be consumed with food. The 2005 HUNNICUTT Zinfandel offers aromas which slightly hint of oak and white pepper complemented primarily by cherries leading to a palate with additional ripe cherry and strawberry flavors.
The 2005 HUNNICUTT Napa Valley Cabernet Sauvignon was not yet released at the time of one of our early visits due to the wine needing additional bottle aging. The fruit for this wine came from three premium vineyard sites sourced from Rutherford, Spring Mountain and St. Helena. Each vineyard produces wine that is remarkably different from each other but when combined, forms a very elegant wine. Trying barrel samples allows one to observe the very distinct taste, color and aroma differences between each vineyard's fruit. For example, the particular wine from the Rutherford vineyard features more earthiness along with subtle fruit aromatics as compared to the St. Helena vineyard which offers much more fruit driven aromatics – also noticeable on the palate. The tannins are firm yet delicate throughout and end with a silky-smooth finish. This is a well-balanced wine and is an excellent value.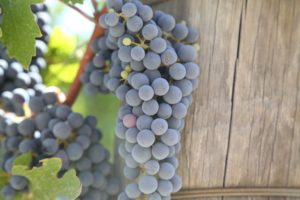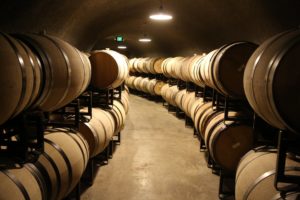 HUNNICUTT Wines also produces 9-3-5, their most premium Cabernet Sauvignon offering (with two meanings behind the name, but the most obvious one being Justin and Seana's wedding date). This wine is a barrel selection, is not produced every year and is only crafted when they have exceptional grapes. Primarily a red wine producer, HUNNICUTT produces one white wine, a Chardonnay.
It should be noted that the HUNNICUTT red wines age very well; for example, we tried a 2001 vintage of their Cabernet Sauvignon after 10 years. The wine had held its fruit and structure beautifully. There is a reason one ages wine, and this vintage is an ideal example of the importance of time in fully integrating wine's many facets.
COLLATERAL
Justin also produces another label called COLLATERAL bottled with a minimalistic metallic looking label, simply containing the name COLLATERAL. The first vintage of this wine was from 2014 and was produced in homage to the time he and his father spent working together on D. R. Stephens Estate. Tastings by appointment for COLLATERAL only wines are hosted at HUNNICUTT winery.
The 2021 COLLATERAL Chardonnay Star Vineyard Rutherford is deep gold in color; the bouquet offers scents of warm butter and a diversity of both stone and tropical fruits accompanied by assorted baking spices. These include pineapple, mango, apricot, banana, yellow peach, crème Brule, caramel, butterscotch and corn tassel. The bouquet is well-layered, generous and a healthy expression of mid valley ripeness. The texture is one of this wine's hallmark characters, featuring a noticeable weight with its briny, satiny and almost oily feel. Rich and intense across the palate, it offers flavors of mango, pineapple, apricot, mandarin orange, a lingering note of popcorn butter and a hint of toasted oak. A light perceived sweetness of fruit continues to persist on the bright fruit-filled finish. California richness in a bottle. This wine was aged for 17 months in French oak of which 33% were new Burgundy barrels.
The 2021 COLLATERAL Malbec Calla Lily Vineyard Napa Valley (Pope Valley) is 100% varietal and is their inaugural vintage of this variety. This wine is deep ruby and nearly opaque in the glass; the bouquet offers both floral and fruit characteristics including of freshly picked blackberry, black currant, Santa Rosa plum, boysenberry jam, dark licorice, a note of violets and a subtle layer of dark chocolate and coffee deeper in the aromatics. But in its youth, the fruit dominates both on the bouquet and the palate. A mouthful of fruit, it offers flavors of plum, red and dark cherry, dark raspberry and blueberry. The ripe and resolved tannins are already seamlessly integrated into the juicy and bright finish with a rounded and fine grained, lightly grainy character. They persist more on the front of the palate than the back and are accompanied by a note of crushed dark peppercorn. This bottling was aged for 17 months in all French oak barrels of which 40% were new.
And their sister brand, wines from the D.R. Stephens Estate are produced here. DR Stephens (Justin's father) produced his first wine in 1996. Unlike HUNNICUTT which does not own vineyard property, DR Stephens owns the Moose Valley Vineyard containing 7.5 acres of vines nestled in a gorgeous location just below Howell Mountain.
Those interested in their wines can join one of their wine club options. The wines are also sometimes found locally at ACME Fine Wines in St. Helena. Sometimes the winery offers select wine focused cruises (both for members and non-members). For more information or to schedule an appointment, visit: www.hunnicuttwines.com