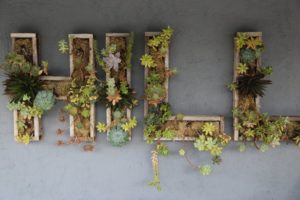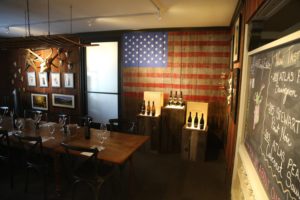 Hill Family Estate is built upon strong family and agricultural roots. Doug Hill spent his early childhood on a farm in San Jose (back when Silicon Valley was mostly fruit orchards and other agricultural row crops). His family then moved to Healdsburg (Sonoma County) where his father was the mailman for the town, however they did not abandon their farming roots. They grew apples and prunes.
Doug's introduction to the Napa Valley was through the Jaegers – a family that has deep vineyard and winery roots in the Napa Valley since the 1960's. Bill Jaeger & partners founded Freemark Abbey Winery in 1967, purchased an existing winery in the hills of Rutherford and named it Rutherford Hill and used to own the land that is now Sinegal Estate. The Jaegers hired Doug Hill to manage their sizable Napa Valley vineyard portfolio. After working for the Jaegers Doug started his own vineyard management company – called Oak Knoll Farming. Early on in his career, Doug entered into a number of long-term vineyard management contracts. When those contracts expired, he was able to purchase select vineyard sites. Today the Hill Family owns 12 unique vineyards (all in the Napa Valley, mostly in the southern part) with a focus on Atlas Peak, Carneros and Oak Knoll.
And in what are their smallest managed vineyards, Hill's company planted and manages the small vineyard in front of Bardessono Hotel & Spa and the even smaller demonstration vineyard near Villagio Inn & Spa (both in Yountville).
Hill Family Estate produced their first wines in 2001, a Merlot and a blend called Origin (total production that year was under 900 cases). Today they are producing anywhere between 9,000 to 12,000 cases annually with plans to continue to grow production. Having a repertoire of over 600+ acres to draw from, and established relationships with owners, Hill is able to select only the highest quality fruit for their wines. They continue to sell grapes to some of Napa's most well-known wineries including Cakebread, Duckhorn, Far Niente and Quintessa among others.
Tasting Salon, Yountville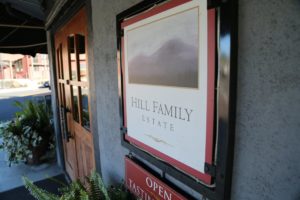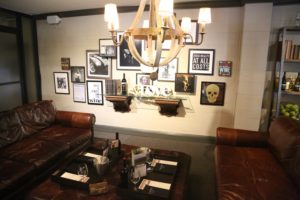 In 2006 Doug's son Ryan approached an elderly couple running an antique store located on the corner of Washington and Mulberry Streets in downtown Yountville about using part of their space to offer Hill Family Estate wines for tastings. They shared the space for a bit until later Hill Family took over the entire space. Guests are welcome to drop by without an appointment – sit down more private experiences can be reserved ahead of time on their website – with seating in slightly more private spaces.
The tasting bar is small and is not setup for large groups. The hosts are well-educated about the Hill Family Estate wines and even the pop in tastings are highly personalized. While the family employees a number of employees on the wine side of their operations, this is very much a small family run winery. Doug remains actively involved with his vineyard management business while Ryan oversees the tasting room and wine sales – and his sister Carly (living in San Diego) helps with some of their Southern California wine events. Doug's wife Darci created the design for their primary label.
Ryan has become an integral part of wine side of their operations – and is in part responsible for several ingenious ideas. One includes the 'stained project partnerships' including with Fender (guitars and other musical instruments) where several types of wood were stained by red wines and then sent back to Fender where the company produced 100 very limited production red wine-stained guitars. One of these hangs on the wall near the tasting counter. Ryan also partners on several 'stained' charity projects including baseball bats and a special rifle.
And a number of the products for sale in the tasting room are from local artisans.
This space has housed numerous tenants over the years including Jimmie's Radio and TV Service. According to an article in The Napa Valley Register dated October 19, 1960, the owner James Thomas discovered his store was being robbed at night by three men. With his trusted .32 caliber automatic at his side, he apprehended the men and when the police arrived all three individuals were lined up with their hands in the air as Thomas kept his .32 aimed at them. According to the article one of the men wanted to quickly retrieve his jacket but Thomas told him, "you move and you won't ever need another jacket". The site later was home to JT's Club, then Harvey's Club, which became Mexicali Rose in 1969 and eventually Antique Fair.
Their wine production was at Laird Family Estate (located just south of Yountville – a sizable custom crush facility serving many small area wineries). Alison Doran has been their winemaker since the inaugural vintage. Ryan recalls how his family first met her – it was through Napa based Lewis Cellars where she was the winemaker at the time. Incidentally Alison celebrated her 40th harvest in 2017 – as did Doug Hill. Alison was also mentored by the iconic André Tchelistcheff early in her career.
Select Wines
The 2022 Hill Family Sauvignon Blanc is medium straw in color; this wine smells fresh and floral including aromas of jasmine and citrus blossom. These scents are in parallel with a lemon and lime zest, lemon drop, flint and sliced green apple. This wine smells like it should be paired with some kind of shellfish and a late afternoon fog rolling in view of the Pacific Ocean somewhere along California's coastline. The palate offers a minerality nuance, crushed rocks, green apple, lemongrass and a light note of mint leaf. It's texture offers a gentle creamy feel. This wine showcases an inherent citrus character but without being green or grassy. The finish offers an intensity of flavor including of grapefruit. The acidity is refreshing, bright, and bounces around the palate with verve.
Some of Napa's highest vineyards get the most attention, IE., Blue Ridge Vineyard, Altezia Vineyard, Black Sears and Kongsgaard, but one never hears about Napa Valley's lowest vineyard. This is the Stewart Ranch Vineyard with vines planted between 6 and 12 feet above sea level (near the estuary that forms just south of the city of Napa). This vineyard is surrounded by a levee and is managed by Doug Hill.
Most visitors to the valley may drive by this vineyard on Highway 29 in the southern part of Napa without giving it much thought – rather their attention is drawn to the zebra looking like cows that often graze the hillsides on the other side of the highway and the vineyard. Look for a red barn next to the vines – which are surrounded by a wildlife refuge.
And this vineyard is home to the extremely (rare for Napa) variety, Albariño. In fact, Doug planted Napa's first Albariño vines in this vineyard (originally for Michael Havens of Havens Winery). Hill Family Estate has been producing wine from Albariño since 2010. Their Albariño is only distributed to various Morimoto restaurants around the country (including the one in the city of Napa). They have no other retail outlet for this wine, and it is only available for tasting and purchase at the tasting room.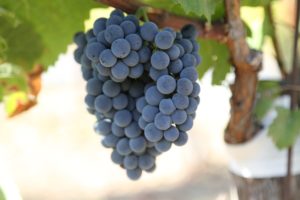 The 2016 Hill Family Albariño sees no oak during its aging, only stainless steel. Usually bottled within about 5 months of the harvest date. Light straw colored in the glass. Shows notes of green apple, pear, lime and citrus blossom on the bouquet. While very crisp, there is a perceptible roundness on the palate. Features excellent acidity. Clean lingering finish. Most likely will pair well with a variety of seafood.
During one of our early visits, we enjoyed their rosé of Malbec. This is an unusual wine as in the Napa Valley, Malbec is typically used as a blending variety. This is a very easy drinking wine featuring notes of strawberry and watermelon and is great for hot summer days or serving with appetizers. It's recommended to serve it chilled.
The Barrel Blend is a "surfer wine". A partnership with well-known surfer, Kyle Knox pretty well ensures this is a "fun" wine! It is a blend of Merlot, Cabernet Sauvignon and Syrah and is easy drinking and quite smooth. For surfing enthusiasts who are tuned in to the jargon of waves, a picture of Kyle carving a perfect cut in "the barrel" appears on the label. An analogy of this can also be compared to the wines "balance in the barrel". Nice. Oh, and the price is something to be "stoked" about to.
The 2015 Hill Family Stewart Ranch Pinot Noir shows some earthy nuances on the bouquet with red fruits showing more as the wine opens including red cherry. Also, a bit of white pepper spice. Rounded on the palate and oh so balanced, this wine drinks beautifully young. Supple and seamless it features ripe fruit but not overripe fruit flavors including spicy plum and cherry. An earthy note along with a hint of oak shows on the clean finish.
The 2014 Hill Family Napa Valley Cabernet Sauvignon is one of the better priced to quality Napa Cabs we have seen from this vintage. Blended with 7 % Merlot, 5 % Malbec and 5 % Petit Verdot. Very dark in the glass. The bouquet is all about darker fruits – earth notes, black plum and black cherry. Fairly balanced for being young, shows good flavor, acidity with long lasting but harmonious earthy tannins.
The door to their tasting room in Yountville was carved by a wood worker from Montana – it is also stained in red wine. Appropriately the Hill's own a vineyard called Red Door and produce a premium red blend by the same name. The 2016 Hill Family Red Door is a blend of 75% Cabernet Sauvignon, 10% Malbec, 6% Merlot and 5% Petit Verdot from several vineyards, both valley floor and hillside sites. Dark ruby in color with generous aromatics including blueberry and ripe darker fruits. Also, a little bit savory with some dried herbs. Has a nice density across the palate without the tannins being structurally overbearing. Darker spices, along with both flavors of plum and blackberry. Very balanced – with a supple and satisfying finish. A well-crafted showing that drinks quite well in its youth but has the characteristics to age gracefully for years to come.
Double Barrel Cabernet Sauvignon is Hill Family's premium Cabernet Sauvignon and roughly only two barrels of wine are made each year. The covering of the bottle is two toned in color to mimic a shotgun shell. It is a rare brand in the Napa Valley that features wines related to a gun – another producer is Revolver Cellars.
Winery/Estate Vineyard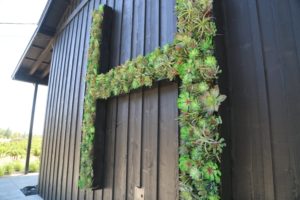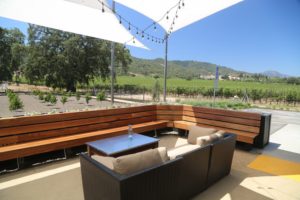 In late November 2019 the Hill family purchased the old McVicar vineyards and winery located just south of Yountville (west of Highway 29 off of Solano Avenue/Hoffman Lane). The property is only about a mile from their tasting salon in Yountville; it is 7.5 acres and is currently planted to Merlot and Cabernet Sauvignon. Ryan's stepmom has experimented with Korean farming practices on part of this vineyard – spraying on an organic mixture onto the vines which has resulted in a lower infection rate of powdery mildew. The tiny winery will be used for limited production (focusing on grapes from the surrounding vineyards) while they continue to produce their wines at nearby Laird Family Estate (a custom crush winery).
The winery building dates from 1989 and went through a complete restoration in 2014. The large rusty metal pieces of iron that serve as the winery door handles used to be anchors on a dock for large boats down in the San Francisco Bay Area – the boats would tie onto these when mooring. Weather permitting (tastings are held on small patio overlooking the surrounding vineyards, a small orchard) and the Mayacamas mountains in the background (by reservation). In addition to tastings at their salon in downtown Yountville (about 1.1 miles away), tastings are also held here (by reservation).
Secret Garden, Yountville
One of Napa's little-known treasures is right in Yountville's backyard and only about a 5-minute drive from the tasting room. This is the Secret Garden – with private one-hour tours (reservation only) usually led by Ryan on weekdays between June 1st and October 1st. This tiny 1.3-acre garden is owned by Ryan's godparents, Peter and Gwen Jacobson.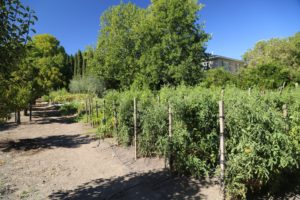 The tour is a unique glance into the diversity of fruit trees, vegetables, herbs and culinary flowers that Peter and Gwen lovingly care for (the property is certified organic). Most of the products grown in the garden are sold to Thomas Keller and his collection of Yountville Restaurants (the Thomas Keller Restaurant Group) including Ad Hoc and the French Laundry. While the French Laundry maintains an impressive garden across from the restaurant, there are a number of products they don't grow (including fruit trees).
And the French Laundry needs a wide variety of products – one of their culinary commandments is to never repeat a single ingredient during the course of a meal.
Two products sourced from the garden by the culinary team at the French Laundry include the tiny flowers on fennel (they use culinary tweezers to extract and place the flowers) and the delicious Sungold tomatoes (one of their team has the fastidious task of removing each of the thin skins by hand from these tiny tomatoes, they are then dried and used in salads).
Despite being located in a residential part of town, this is certainly not your normal backyard garden – nor are the often-requested uses of the various produce. Take peach leaves for instance – crush them in your hand and the smell will be similar to amaretto. One of the uses of these are for Peach Leaf Ice Cream.
Other interesting products include the Hyacinth Bean vines (the beans pods are poisonous, but their flowers are edible), capers grown for the flower buds and the caper berries (both need to be properly prepared before eating due to their tannic nature), Korean mint flowers (sweet with a hint of anise) and other flowers from vegetables and herbs that you might not necessarily know are edible.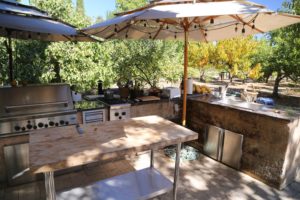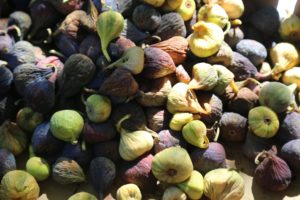 There are over 120 types of fruit trees on the property with a focus on figs, peaches and pears. These are dry farmed. And plum trees – and as Ryan is quick to point out "all prunes are plums, but not all plums are prunes". Think about that for a minute and you will figure it out.
Squirrels and snails are the property's primary pests. They have an answer for the snail problem. Peter and Gwen built a special "snail mansion" as Ryan calls it – a raised 'house' in which any snails found on the property are brought here. CCOF did not originally have an organic certification for keeping snails so with Peter's urging, they created an organic certification. These snails eventually end up as escargot on the French Laundry's menu.
For optimum visits, Ryan recommends sometime in July. But there are products available from Spring throughout the summer months and into Fall. And one of the highlights of a visit as you follow Ryan through the garden is sampling both the fruits, herbs, flowers and select vegetables. The garden tour is then followed by a flight of wines in their tasting room.
Two tastings are generally offered – a tasting of their current releases and a reserve tasting of their more limited production wines. For more information and or to join their Crossroads Wine Club (provides member discounts to wines, parties and hotel rooms with select properties in Yountville), visit: www.hillfamilyestate.com