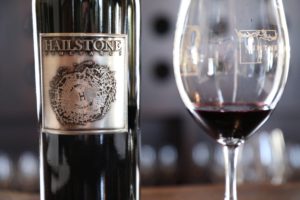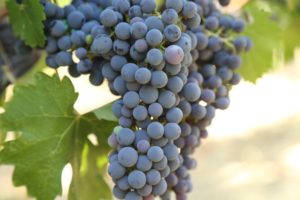 Hailstone Vineyards was founded by Akron, Ohio born and raised Chris Zazo; he and his wife Jessica oversee the operations of the brand. Chris grew up on a farm, but not one directly producing agricultural crops, but rather a dirt farm. His family business involved mining and screening peat, the resulting products were packs of mulch supplies for various nurseries and landscaping needs. The business was originally founded in 1953 as Fairlawn Peat Humus Supply and was later renamed to Fairlawn Landscape Supply. Chris's family sold the business in 2015; it continues to be operated by the current ownership.
Chris recalls enjoying cooking with his grandmother at a young age; his love of cuisine eventually led him to wine. After graduating from Ohio State, he noticed some of his former fraternity brothers were enjoying a fun lifestyle on expense accounts. Not able to find a job in Ohio, he moved to Dallas and began selling steel for a manufacturing company. It was here that he had a generous expense account and over lunches and dinners with clients he was introduced to premium wines.
He has worked a number of jobs during his career including as a private chef who would cook meals as a welcoming gift in recently purchased homes for new occupants. But the career that eventually inspired the name Hailstone began when a friend started a supply chain company and a proposed contract with a large residential construction company fell through. One of the individuals involved in this venture invited Chris to join him in Florida working with insurance companies to repair roofs damaged by a major hurricane.
Chris came to Florida with the intent to help his friend for a short while and then move back to Dallas. Upon his arrival, his friend gave Chris 5 leads and told him to, "go make the sales". Chris recalls he didn't even have a ladder or a measuring tape for the onsite visits that day. But he returned with 3 of the 5 leads converted to sales. His friend was impressed. He had found a new calling. Eventually he began following job sites around the country based on storm damage, driving a large tour bus or as he calls it, "a rock show without the rock," followed by construction crews. The last storm related project he worked on for his friend's company involved repairing parts of New Orleans's after Hurricane Katrina.
He returned to Dallas and started his own company in 2005, Aspenmark Roofing – named in homage to the town in Colorado he wanted to retire in. In addition to roof repair services including from storm damage (i.e., hailstorms), the business eventually also included solar services; Chris sold the company in early 2020. In homage to his business, he chose the name Hailstone as the name of his wine brand; a stylized image of an impact mark left on glass by a large hailstone is on all their pewter wine labels.
Chris is as he puts it, "a serial entrepreneur". He encourages people to follow their dreams and take risks. And there will be plenty of mistakes; he can personally testify to this. But overcome those mistakes and learn from them. And in business, surround yourself with those are smarter and more accomplished than yourself.
The first Hailstone Vineyard wine produced was the 2012 bottling of Impact Cabernet Sauvignon. It earned a Silver Medal at the TEXSOM Awards, the first of many awards they have since earned at the annual TEXSOM. Judges at this event are among the most expert and well-trained individuals in the wine industry.
Select Wines

An extremely unique non-vintage sparkling bottle of Chardonnay was released for the first time by Hailstone Vineyards in 2023. This California Sparkling Wine was made with 100% Chardonnay grapes from Lodi. This wine was purposely made in an intense concentrated style; prior to bottling CO2 was added. This wine is not meant to be consumed by itself but rather enjoyed with ice. The idea for this wine was born in Florida. Chris would often notice elderly women putting ice cubes in their wine while drinking at bars and other restaurants. He was intrigued as to the reasons for this, so he began to ask them. 90% of the women replied because they wanted to make their drinks cooler and 10% denied ever doing it, despite Chris watching them do so.
The Hailstone Vineyards "ICE" California Sparkling wine non-vintage (tasted mid 2023) is medium straw in color; if offers fresh and lively aromatics of red apple, ripe pear, pineapple, Crane melon (a local Sonoma County favorite available every September and October) and honeysuckle. Pouring it over ice creates a refreshing palate profile especially on a hot summer day like during the middle of a heat wave while we were tasting this. This wine offers flavors of pineapple, lychee, assorted stone fruits including apricot and white nectarine and quince sauce. We tried this wine at room temperature and over ice; when it's cold the acidity shows more, and this wine becomes 'livelier' on the palate. It is recommended to add a slice of citrus or even watermelon. And one more caution, the pressure inside this bottle will make the cork forcibly pop at a very high speed as soon as one starts unwinding the metal cage. We were not able to control it with our thumb – rather one's entire hand needs to be pressed above the cork when opening this bottle (or open it outdoors).
The 2020 Hailstone Vineyards Weather Dancer Rosé is from Lake County grown Grenache. This wine is salmon color in the glass; it offers some flinty minerality notes on the bouquet along with aromas of fresh rose petals, green apple, strawberry, raspberry and a hint of citrus blossom as the wine evolves. Serve cold but not too cold as to not inhibit the aromatics. This wine offers flavors of raspberry, strawberry, limeade and ruby grapefruit. We noted that this is an appealing rosé with some depth and character rather than the too common linearly styled rosé wines. Its superb balance makes it a crowd pleaser. It lingers with a citrusy finish and a noticeable brightness which continues to beg another sip. We imagined drinking this on a warm evening, on an early summer day at any of a number of higher elevation properties located on the western hillsides of the Vaca mountains overlooking much of Napa Valley.
The 2019 Hailstone Vineyards 32′ Degrees Sauvignon Blanc Rutherford offers herbaceous layers including of young spruce tips crushed between one's fingers, chamomile, green tea notes, along with red apple, lemongrass and lychee. As the wine opens it offers some floral nuances including of star jasmine. Its texture is somewhat creamy which texturally flows across the palate gently and is moderated and balanced out by a bright acidity which continues its dance on the mouthwatering finish. This wine offers flavors of apple, pear, lemon juice (without the tartness), lemongrass and pomelo. It is easy to drink by itself. Although, perhaps pair it with freshly caught crab and a Thai nam prik made from fish sauce, cilantro, sugar, lemon and hot chili pepper.
The 2018 Hailstone Vineyards Chardonnay Oakville is medium yellow in the glass; the bouquet immediately offers aromas of warm butter (which shows more on the bouquet than the palate), honeysuckle and honeycomb. More subtle scents include a light crème Brule character and vanilla. As this wine opens it becomes more tropical offering additional aromas of pineapple and mango. Its texture is a notable talking point; it is viscous with some noticeable weight and density. This wine offers a variety of stone fruit flavors including of peach and apricot. It is a balanced bottling; it lingers with a very light but lingering note which we compared to a citrus pith like character.
The 2021 Hailstone Vineyards "Restoration" Chardonnay was produced from two small vineyards in both Yountville and Carneros. The grapes from Yountville were fermented in 3-year-old neutral oak barrels and the grapes from Carneros were fermented in stainless steel tanks. Both lots were combined prior to bottling and neither lot went through malolactic fermentation. This is their inaugural bottling of this wine. This wine is medium to golden in color; the bouquet initially was a bit shy and needed time for the aromatics to be coaxed out. It offers scents of light honeysuckle, citrus blossom and pear. It reveals flavors of melon, apple, citrus and not yet fully ripe pineapple. This lighter styled Chardonnay is a refreshing take on how this variety is normally made. It lingers with persistent flavors and a balanced brightness of acidity. And one lady stopped by while we were tasting this and also tried a sip. She quickly summarized its character in a couple of words, "I just want to drink this bobbing around a pool in a floaty some summer evening". To which we replied, "refreshingly, it's not a meal in a glass wine", as are often the heavier, buttery and more oaked wines of this variety.
The 2020 Hailstone Vineyards Cabernet Sauvignon Oakville is deep ruby in color; the bouquet is diverse with an initial burst of fruit including mulberry, blackberry and dark plum. But if one continues to take a close look at its aromatics, one will notice its additional layering. It also offers scents of cocoa powder, tobacco spice, chocolate and a darker woodsy spice. The palate offers bright and juicy fruit including flavors of cherry and red plum. The finish is savory and includes notes of dried tobacco spice, a hint of dark pepper and old cedar. There is also a nuance of coffee grinds. The tannins still show as youthful and linger with a light persistent dryness. This wine is listed as 15.2% alcohol.
The 2020 Hailstone Vineyards The Proprietor's Reserve Oakville Cabernet Sauvignon is deep ruby in color and opaque with an amaranthine rim in the glass. Its aromatics are immediately open knitted, expressing a union of both fruit forward darker scents along with a complementary influence from its barrel aging. It offers aromas of blackberry, boysenberry, dark chocolate, a light toasted oak note and old cedar box. The palate also shows a union of both fruit and barrel characteristics including blackberry, dark plum and dark cherry along with a woodsy spice and dark pepper on the finish. Noteworthy is this wine's texture; the tannins are fine-grained resulting in a supple and almost creamy feel.
Tastings, Vintner's Collective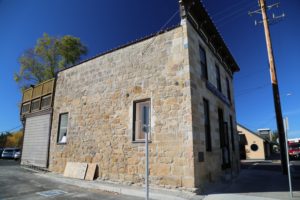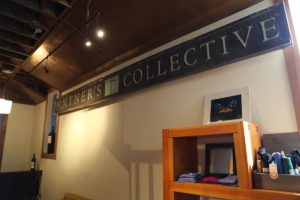 Hailstone Vineyards is a part of a coveted collection of vintners represented at Vintner's Collective, the city of Napa's oldest collective tasting room. Vintner's Collective showcases wines from a select group of mostly Napa Valley based producers most of which do not have their own tasting rooms. And it's not easy to have one's wines represented here. Vintner's Collective has an in-depth vetting process to make sure the wines match what their customers are interested in, including varieties, price points and wine styles.
The tasting flights differ everyday which is certainly part of the appeal for visitors. Unless you are acutely tuned into the world of boutique Napa Valley producers, you probably will never have heard of any of the labels that are being poured, and that is not a bad thing. The wines represented are typically from producers who have a maximum annual production of 1,000 cases. A number of tasting flights are offered – geared towards all levels of wine interest and prior knowledge.
Walk-in customers are generally welcome if space allows but appointments can also be requested including for more private tastings hosted upstairs. And when Chris is in the valley, he will sometimes stop by Vintner's Collective to showcase his own wines or host private tastings.
Hailstone Vineyards currently produces around 1,000 cases a year. A limited amount of large format bottles are also produced, primarily for charity. Those who meet Chris and Jessica quickly will note their love for animals. Some of their charity efforts include supporting animal rescue centers including through, Hailstone Hounds (supporting older dogs).
For more information, or to join one of their wine clubs, (Silver, Gold and Platinum) with each tier offering a different number of bottles shipped twice a year (all shipments can be customized), visit: www.hailstonevineyards.com