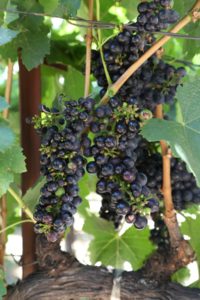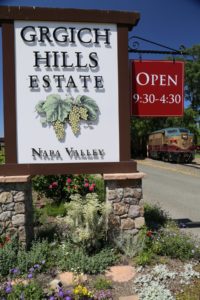 Grgich Hills Estate was founded in 1977 by Miljenko "Mike" Grgich and Austin Hills. Austin is part of the family that started Hills Bros. Coffee, Inc – he started as an assistant coffee buyer with the company until ultimately, he was Chairman of the Board. He also began his own wine label under a company he founded in 1975, Hills Vineyards. After he and his sister Mary Lee sold their coffee company, he approached Mike Grgich in 1976 (after the Judgement of Paris results) about starting a winery. With his financial backing and business acumen, plus Mike's winemaking skills, they went into partnership and founded Grgich Hills. Today both the Grgich and Hill families continue to share the ownership of the winery equally.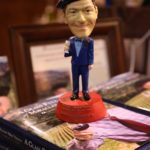 This history of how Mike Grgich came from a tiny village in Croatia to become a world renowned winemaker and own his own winery in the Napa Valley is a fascinating one. It starts in Croatia – where he was born (the last of 11 children) in a tiny village, Desne, located inland on the Dalmation Coast. This village is still small but well spread out with only around 100 people living there today. Mike's family home (perched on the hillsides) is remarkably still standing, but mostly only the stone walls as time has taken its toll on the structure – including being bombed during World War II (damage from this can still be seen today) and in 2004 a devastating forest fire burned around and through the family home and several nearby houses.
Standing inside Mike's old home is a very humbling experience. One cannot help but realize this successful winemaker and mentor to many others over his decades in the business was rooted to his childhood spent within these old stone walls.
Mike's father owned a small farm near their home – and Mike's introduction to wine grapes came early on in his childhood. At only a few years old, Mike was helping stomp grapes and was tending sheep by the time he was 6 years old. Later in his teens he helped open and manage a small grocery/supplies store.
HISTORY
During the 1950's the Communist control of the former Yugoslavia region did not create an environment conducive to producing fine wine. In general, production at the time was about quantity rather than quality. Realizing that to make premium wines Mike would have to move out of Croatia (and more importantly, gain personal freedom).
But first he studied viticulture and oenology at the University of Zagreb's Faculty of Agriculture. One of his professors had visited California and spoke very highly of the state and its agricultural resources. After hearing his professor's stories about his trip, Mike was intrigued. Mike then moved to West Germany where he was given and studied under a fellowship – he had no plans to return to Croatia and set his sights on moving to California. He contacted one of his cousins (a priest) living in Canada. During these years it was easier to immigrate into Canada then into the United States. He was supposed to take a wood cutting job in the Yukon – this never materialized so he took a train to Vancouver where because of his limited English at the time, his first job in North America was washing dishes at a small college.
From there he started working at a pulp mill, but this wasn't going to be a long-term career choice – his primary interest was in wine. He placed an ad offering his wine making services in the Wine Institute's monthly newsletter. A winery called him from the Napa Valley – tiny Chateau Sovereign (housed at the time in what is now Burgess Cellars in Deer Park). Founder Lee Stewart hired Mike in 1958. This was Mike's first wine related job in the Napa Valley. He arrived in Napa with not much – his worldly possessions fit in merely a suitcase.
In 1963 Mike married fellow Croatian Tatjana (the mother of Violet) – they were married for some 30 years. She died in her early 90's in September 2020. During her time living in the USA, she founded the Tatjana Grgich Foundation – with a focus on helping youth in Croatia and also founded WiRED, an organization delivering free medical and health education to certain parts of the world.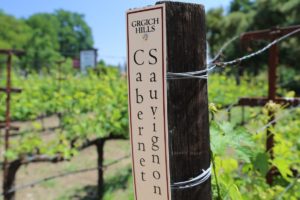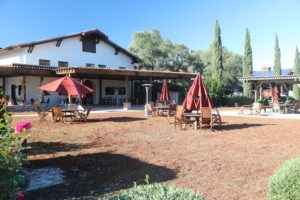 Other jobs in the valley included working for Brother Timothy at the Christian Brothers Winery, then Napa wine pioneer, André Tchelistcheff who was working at Beaulieu Vineyard hired Mike on a two month trial basis. Liking what he saw after this trial period he hired Mike full time to help oversee quality control at the winery. During his time working with André several innovations were introduced to the wines at Beaulieu Vineyard including inoculating the wine to begin malolactic fermentation and using micro filtration to remove yeasts and any bacteria prior to bottling. Mike worked with the 'master' at Beaulieu Vineyard some nine years before moving to a "new" winery at the time, Robert Mondavi where he helped craft their wines, just two years after the winery was founded.
He then met James Barrett, a lawyer who wanted to start a winery in the Napa Valley and make a premium Cabernet Sauvignon (the founder of Chateau Montelena). James hired Mike as his first winemaker – until they could get some cash flow from the sales of Cabernet Sauvignon, Mike suggested they start making a Chardonnay – quicker to bottle and quicker to market. Grapes from four vineyards, two in Napa and two in neighboring Sonoma County (with the majority of the tonnage from Sonoma County) were sourced to make this wine. This Chardonnay was entered in the 1976 Paris Tasting, was tasted blind against other French and California Chardonnays by French wine judges. When the final results were announced the 1973 Chateau Montelena Chardonnay had earned the highest score of any of the Chardonnay wines.
Mike calls his winning 1973 vintage Chardonnay his "first real miracle as a winemaker". It is easy to see why with significant press at the time including stories in the New York Times Time Magazine. The timing was good – he was nearing the end of his five-year tenure at Chateau Montelena and had long dreamed of starting his own winery.
He located and purchased 20-acres in Rutherford (site of the current winery) – this was bare land at the time – merely grass fields; the property was sold to Mike by Nestlé Company. The winery was originally going to be called Chateau Hills, a somewhat generic sounding name. With financial help from Austin Hills, Grgich Hills was founded with their first release from the 1977 vintage. Ground was broken on an auspicious day for Mike, July 4, 1977 – symbolizing his own freedom from the former communist part of Europe. The first Grgich Hills wines were a Chardonnay, Zinfandel and a Johannisberg Riesling.
Many people have heard of the 1976 Paris Tasting but not as many are familiar with the Great Chardonnay Showdown organized in 1980 in Chicago. Over 200 Chardonnays were entered in this competition with some international wines also represented. By the end of the competition Grgich Hill's first Chardonnay vintage, the 1977 had triumphed over all the entries. Mike was later honored when he learned that President Ronald Reagan brought some of his Chardonnay to France for a dinner with the president at the time, François Mitterrand.
Mike wrote a fascinating autobiography, A Glass Full of Miracles in 2016 highlighting the challenges he faced in Croatia during World War II and Communism, how he left the country and intriguing details about his long and storied career. Mike is certainly one of Napa's living vintner legends; his induction in the Vintner Hall of Fame in 2008 culminated a storied career.
THE VINEYARDS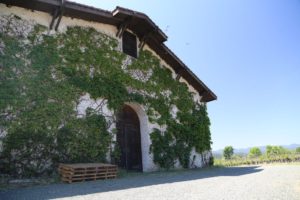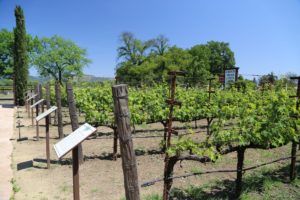 Grgich Hills manages and owns over 360 planted vineyard acres in the Napa Valley with five fully owned vineyards ranging from American Canyon & Carneros in the south, Yountville, the 'home' vineyard in Rutherford and a vineyard north of Calistoga. In fact, a small block of Zinfandel in their Calistoga vineyard dates from 1889. The Rutherford vineyard surrounds the winery and is planted almost entirely to Cabernet Sauvignon with just a small block of Petite Verdot.
At one point Grgich Hills was the largest Biodynamically farmed winery and grape grower in the USA. They have refocused their efforts on organic farming and all their vineyards are now farmed this way. A focus on soil health including its microbes is a critical part of their vineyard operations. And not only for short term farming but also is ultimately responsible for longevity of their vines. They also use solar for much of their power.
And Grgich Hills owns some of the oldest Cabernet Sauvignon vines in all of Napa Valley (valley floor site, slightly north of Yountville) – still growing, the oldest of which were planted in 1959. This is by far the largest 'old vine' Cabernet Sauvignon vineyard in Napa Valley at 25 acres and is used to produce the Grgich Hills Yountville Old Vine Cabernet Sauvignon. Several vineyard blocks in Napa Valley predating these (with various levels of health and quantity), still being used are from Scarecrow (1945), a one acre site owned by Grace Family Vineyards dating to 1957 and a section in the MacDonald Vineyard in Oakville (from 1954). Some Cabernet Sauvignon vines in Varozza Vineyard in St. Helena date from the late 1960s.
Old Vines Vineyard, Yountville

Violet's Vineyard, Yountville

Mike is no longer involved in the day-to-day operations, however his only child, Violet is President of Grgich Hills Estate (previously Vice President of Operations & Sales). She is also an accomplished musician (harpsichord) having earned her master's degree in music at Indiana University and along with her husband Colin, a violist, co-founded Les Violettes, a Napa-based classical musical ensemble. Mike's nephew Ivo Jeramaz came to the Napa Valley in 1986 and joined the winery and vineyard operations. Today he is Vice President of Vineyards & Production.
And contributions are not only from the Grgich side of the partnership; Justin Hills, the youngest son of Austin Hills has worked at the winery in a number of roles including in the vineyard, sales and in the cellar.
THE WINERY
The winery is simple and functional – Mike has a saying about wineries, "A chandelier doesn't belong in a winery". The original small stainless-steel tanks from their 1977 vintage are still here and are still being used. The winery has expanded significantly since it was built – with additional large barrel rooms having been added on over the years. Several practices that are extremely rare for a Napa winery are how they stack barrels, the type of vessel they use for aging some of the wine and how they "stir" the lees on their Chardonnay wines.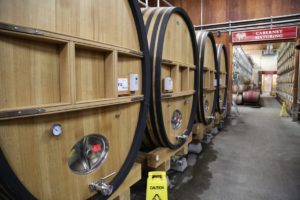 The winery uses an Oxoline barrel stacking system (introduced by long time Grgich enologist Gary Ecklin) – a series of metal tubes that encircle the barrels with cross supports and 'catwalks' for workers to stand on as needed. This system supports barrels stacked eight high (most wineries we have seen in Napa range from a single barrel to five high). Despite the height it is a fairly stable way of stacking barrels. Case in point: the Napa earthquake of 2014 while centered much further south in the valley and caused more damage in the city of Napa than Rutherford, only caused a loss of 8 barrels at the winery.
Their Chardonnay barrels rest on wheels – so when they want to "stir" the lees – rather than the accepted practice of battonage (inserting a stainless-steel tool into the barrel and stirring by hand), one worker simply rotates the barrel 360 degrees, allowing the lees to cloud up the wine and filter back down. A barrel with one wooden head replaced with plexiglass is displayed so you can easily see this process in action.
And they use 1,500-gallon wooden casks for some of their wine – these are called Foudres and are commonly used in France's Rhône Valley.
Each room in the winery is named with a wooden sign above the doorway. One room is called the "Honeymoon Suite" – Mike used to tell visitors "I pick my grapes, they then marry with the aromas of the oak, and I then send both on a long honeymoon". Appropriately a photo of daughter Violet and her husband Colin on their wedding day hangs on the wall next to the entrance to this barrel room.
SELECT WINES
The wines are all estate grown. Total production depending on the year is usually between 65,000 to 70,000 cases. Their largest produced wine is the Napa Chardonnay. Mike has been called the "King of Chardonnay" and for good reason. His Chardonnay wines have good acid, mouth feel, are food friendly and are not overly oaked. They produce several Chardonnays. And it should be noted that the Grgich wines are typically very age worthy.
Whites
The 2012 Grgich Hills Chardonnay was sourced from their cooler Carneros and American Canyon vineyards. This wine sees no secondary (malolactic) fermentation. It shows an appealing bouquet with both citrus characteristics and honeydew melon and a hint of baking spice. It is rounded on the palate, with a sweet note of fruit with a pleasing mouth feel and a lively long finish (melon, red apple).
More recently the winery started producing a special Chardonnay, a commemorative to the Paris Tasting. This wine is only available at the winery and to through the wine clubs. The label is of Mike in his trademark cap – an image created by New Jersey artist, Kevin Sprouls (creator of the Wall Street Journal Portrait Style bio images). The 2012 vintage was created through clonal selection, and it ages longer than the Napa Valley Chardonnay. The more subtle aromas do not reveal a beautiful richness of fruit that shows on the palate. However, the fruit is tempered to some degree by good acidity, so this wine retains its crispness.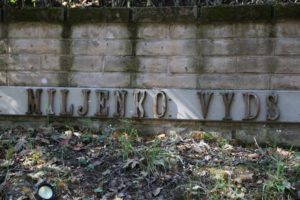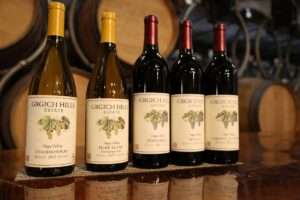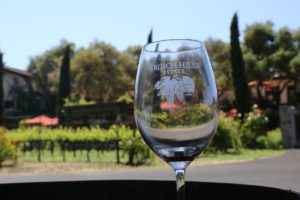 Not many Napa wineries label a Sauvignon Blanc as Fumé Blanc. Mike learned of this when working at Robert Mondavi Winery. The 2013 Grgich Hills Sauvignon Blanc is 100% varietal – it was aged in large Foudres casks. The bouquet shows stone fruit aromas including white peach and white nectarine. A sweetness of fruit shows mid palate tempered by a tartness on the finish. This is a polished wine meant to be enjoyed with food.
The Violetta late harvest wine is made from Sauvignon Blanc, Riesling and Gewürztraminer. Named in honor of Violet. These grapes are harvested late in the year after a naturally occurring Botrytis fungus attacks the fruit. This wine is rarely made (only several times in 15+ years), has limited production and is only available at the winery and through their wine clubs. Opulent and ripe, the 2012 vintage is layered with aromas of honey, brown sugar and pear. The palate is honeyed and rounded with plenty of sweetness to satisfy dessert wine lovers. One would need a rich cheese to pair with this wine and temper some of the residual sugar.
Reds
The 2019 Grgich Hills Miljenko's Old Vine Zinfandel Calistoga was from vines 134 years old at the time of this vintage. This wine is medium ruby in color. The aromatics are initially brooding and dark with scents of sage, forest floor and a barnyard note. It is gamey and savory. Give this wine time to fully open. These darker characteristics dissipate as the wine evolves in the glass and the fruit becomes more expressive. The bouquet also offers an herbal note most reminiscent of fresh tobacco leaves along with dark spices including pepper. The palate reveals flavors of red cherry, red licorice, cranberry and crushed peppercorn. Lively acidity. The red-fruited finish is bright and savory accompanied by lightly grainy tannins. A subtle woodsy spice appears deep in the finish. We immediately thought of pairing this with BBQ ribs and a spicy BBQ sauce.
The 2011 Grgich Hills Zinfandel is from their Calistoga Vineyard. The bouquet reveals lively aromas of cherry cola, nuances of white pepper and is slightly dusty. More red fruit than black fruit shows on the palate – strawberry, raspberry and red licorice. It is not a big jammy styled wine that one more commonly finds from California grown Zinfandels. The earthy tannins are well integrated into the finish.
The 2010 Grgich Hills Yountville Selection Cabernet Sauvignon is made from some of Napa's oldest Cabernet Sauvignon vines; these vines were planted in 1959 (west of Yountville) near Dominus. The vines are planted with what is known as the Inglenook clone and are on St. George rootstock which is resistant to several waves of phylloxera to have afflicted many of Napa's nonresistant rootstocks over the years. Unlike other parts of the world, here in Napa it is a rare treat to try a Cabernet Sauvignon that is from vines this old. In the vineyard they have converted over some of the vines back to the way they were historically managed – head pruned rather than on trellising.
The 2010 vintage shows a sweet almost jelly like note on the bouquet – black berry jam. This 'sweetness' carries over to the palate – a perceived sweetness that is from the fruit rather than any residual sugar. Red cherry and blackberry show; this is a robust full-bodied wine. The wine tastes younger than its age (five years old at the time of our tasting). The mouthwatering finish is anchored by gripping heavy tannins.
The 100% varietal 2011 Merlot are from grapes grown in a cooler part of the valley – Carneros and American Canyon – not to mention 2011 was an unusually cool and damp growing season at times. This wine shows earth, smoke, and saddle leather with cedar box aromas. The wine shows bright fruit and lively tannins with moderate alcohol (13.5%).
The 2012 Grgich Hills Cabernet Sauvignon is dark purple in the glass with black cherry, blackberry and a violet floral component. This wine has very good acidity. It shows higher toned fruit on the palate with a very long finish including tannins that linger. A tartness, perhaps red currant and notes of oak also show on the finish.
VISITS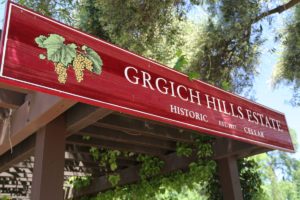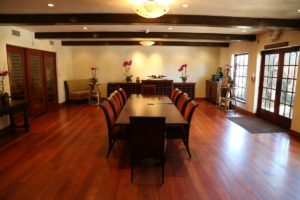 Should you be in the area during September and typically much of October, and are a wine club member, consider participating in the Grgich Grape Stomp offered as a fun and memorable experience by appointment only. You will make juice the old-fashioned way; be prepared to get dirty. The grapes for this fun activity are harvested from the short rows of vines in their demonstration vineyard in front of the winery (see below for more details & photos).
The tasting room and gift shop are located at the main entrance. For a very relaxed experience, guests may purchase a flight of wines or by the bottle and weather permitting enjoy these in the outdoor patio. Noise from vehicles on the nearby Highway 29 are muted during certain times of the year – from late Spring through mid-Fall when the vines are covered in leaves.
For those looking for a more in depth visit experience, Grgich Hills offers the "Unforgettable Educational Wine Experience" tour and tasting. This lasts from 60 to 90 minutes and touches on both Mike's history and accolades of 50+ vintages in the valley, includes a walkthrough of the actual winery and culminates with a tasting in their VIP room. Unlike many wineries, Grgich Hills has older vintages for sale in the tasting room. Also note they have barrel tastings most Fridays from 2-4pm and this is included with the main tasting fee.
A tasteful souvenir section is located near the tasting counters including Mike Grgich Bobble Head Dolls. This is one of only several Napa wineries we've visited who have memorialized their founder with the bobbing bobble head!
Two wine clubs are available – appropriately named Miljenko's Cellar Club (Mike's Croatian name) and Violet's Pre-Release Case Club after his daughter Violet.
THE WINE TRAIN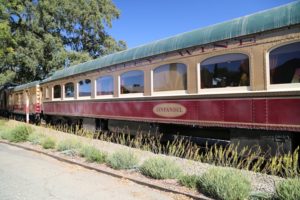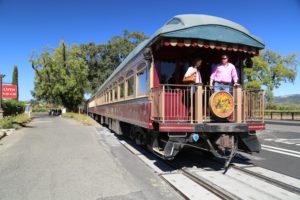 The winery is located on the west side of St. Helena Highway (Highway 29) in Rutherford; the wine train travels directly across their driveway. You may be treated to a blast from its loud horn if you are visiting mid-day or later in the afternoon when the wine train returns. The operation of the wine train was somewhat controversial when it first was introduced to the Napa Valley. Now it is a well-established somewhat iconic presence in the valley, running from the city of Napa to St. Helena. With a perspective on trains coming more so from growing up in Europe rather than the United States, Mike embraced the Wine Train from its beginning.
The Wine Train offers an optional stop for its guests at Grgich Hills and then continues up to St. Helena. The winery offers an hour tour for these guests which are then picked up when the train heads back south (your call to board is clearly heard with the blast of the train's horn!).
THE GRGICH GRAPE STOMP
The annual Grgich grape stomp was usually offered from mid/end of August through mid to end of October; timing always changed slightly depending on each year's actual harvest dates. While this used to be offered to the general public it is now ONLY offered to wine club members by reservation or guests of the Napa Valley Wine Train who book this experience. And it is held at the Ranch House, rather than next to the main entrance as it used to be. For a number of years, Grgich Hills was the primary winery in Napa Valley to offer this to the public although Sterling also offered this for several years but no longer does so. We keep our notes here for historical reference and for club members or wine train guests who need more information on this seasonal offering.
The stomp used to be held next to their small demonstration vineyard rows in the front of the winery. This vineyard has since been removed. No appointments were needed for groups of 8 or under and the mornings were recommended because it was usually the least crowded (especially on the weekends). During the busiest times, a line would form adjacent to the barrel stomp. Several barrels of grapes are available – visitors get to slosh around to their heart's content – posing for photos.
The juice created from the stomping was not used to make wine, rather it was put back into their vineyards as compost. Each guest received a souvenir glass and a glass of wine to enjoy before or after or perhaps during the stomp. Once your feet were covered in grape juice you would clear off the skins and then step onto the back of a white t shirt, effectively leaving a perfect outline (and memory) of your time stomping grapes in Napa Valley. The t-shirts were then allowed to dry (10-15 mins if it's sunny outside).
THE RANCH HOUSE
Formerly the home of one of their immediate neighbors, the Ranch House is located next to the primary parking lot (on the southwest side). The grounds have since been updated and the property is currently used for private events and select tastings including seasonally on Saturdays a wine pairing with a selection of several wood fired pizzas cooked on site. All experiences at the Ranch House are by appointment. Box lunches and a more elaborate lunch experience can also be arranged.
This is a more intimate way to experience Grgich Hills – especially on crowded summer and fall weekends. Guests enjoy their tastings on the deck in the back of the Ranch House with excellent views overlooking their estate vineyard (Cabernet Sauvignon vines) to the west.
CROATIAN WINERY
Over the years Mike has become very well known in Croatia and in neighboring regions; during our travels, we met numerous people who were aware of his success in the Napa Valley (both from our time in Croatia as well as Bosnia & Herzegovina).
In 1995 Mike purchased a building perched above the Adriatic Sea across from the tiny village of Trstenik on the Peljesac Peninsula in Croatia. This building dates from 1947 and was originally built by the military as a resort for their officers and later used by a large firm from Mostrar for a summer getaway for their employees. Mike converted the building into a winery and tasting room and opened in 1996 – called Grgić Vina in Croatia. Grgić Vina is about an hour and 45-minute drive from the Dubrovnik Airport (DBV) along narrow and often very windy roads hugging the Dalmatian coastline. The drive is extremely scenic featuring beautiful bays and rugged coastline as well as small villages and plenty of restaurants along the way.
The winery produces between 55,000 and 60,000 bottles (4,000 and 5,000 cases of wine) annually focusing on two Croatian varieties, Pošip – a white wine and Plavac Mali a red wine and the only red grape planted on the Peljesac Peninsula used for commercial red wine. Grgić Vina sources the Pošip grapes from the beautiful nearby island of Korčula and some of the Plavac Mali comes from their own several acre steep hillside vineyards located on the slopes directly behind the winery (approximately 6,600 vines are planted here).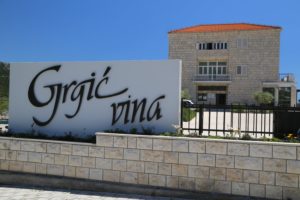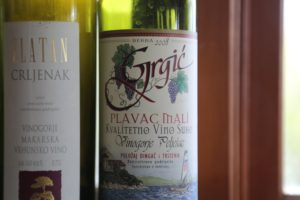 The 2018 Grgić Vina Pošip is a light golden color in the glass – highly aromatic offers aromas of citrus blossom and honeysuckle. Noticeable immediately is the feel of the wine on the palate – rounded and slightly creamy in texture, the wine is supple from start to finish. Very clean and balanced with a hint of presumably residual sugar (a slight perceptible sweetness). 13% alcohol.
The 2016 Grgić Vina Plavac Mali shows a unique spiciness on the bouquet with notes of pepper, cigar smoke and a jalapeno pepper like nuance. The aromas are layered. Shows a nice texture on the palate – very noticeable tannins but they are not course or rough – puts forward some grip and lingers with flavor for some time. A slight darker fruit tartness on the finish.
While Grgić Vina does not produce a Zinfandel, the winery played a role in the discovery of this varieties' pedigree. Mike noticed the similarities between Plavac Mali and Zinfandel and mentioned this to Napa's own viticulture expert, Dr. Carole Meredith (who was still teaching at the University of California Davis at the time). With her research and the help of others, in the year 2000 it was proven that Zinfandel was actually Crljenak Kaštelanski, a grape native to Croatia and the parent of Plavac Mali. Carole stayed at the winery during part of her research on Zinfandel's heritage in Croatia. A Zinfandel documentary was later made, called Dossier Zinfandel available on Youtube.
In 2015 a devastating wildfire burned all the way to the Adriatic Sea along the way destroying a number of homes in the area and severely damaging Grgić Vina including destroying about 25,000 bottles in their cellar. The winery used to be surrounded by a forest – today all the surrounding trees are gone – slowly to regrow again over the coming decades.
Trstenik is highly worth a stop for lunch or at the very least drinks or ice cream – only about a 2–3-minute drive from Grgić Vina. Several restaurants and cafe's offer indoor or outdoor seating – overlooking the small bay with its aquamarine and blue waters and overall picturesque scenery. People come to town by bike or car or by boat (popular with sailors and slightly larger boats).
The winery is open for tastings daily of the two current release wines from 9am until 5pm. Tastings of select Grgich Hills Estate wines from Napa Valley are available upon request. A sizable terrace offers exceptional views on clear days overlooking the azure waters below as well as of Trstenik – with chairs and tables outside available weather permitting. The tasting room is popular with independent bicyclists as well as bicycle tour operators – often the winery provides small bites with tastings for small tour groups. Plans eventually call for opening a small hotel and restaurant on site. For more information about Grgić Vina visit: www.grgic-vina.com
ROOTS OF PEACE
Grgich has worked for many years with Roots of Peace, an organization dedicated to removing landmines from war affected countries including his native Croatia. The Roots of Peace Fountain was located at the entrance to the winery (since removed in 2019). On the 7th anniversary of 9/11, Mike and Roots of Peace founder Heidi Kuhn placed the first coins in this fountain. From then on, all usable coins tossed into the waters are collected and donated to Roots of Peace (their primary focus is to turn minefields into vineyards and or make the land once more productive).
FOOD: TRANSFORMING THE AMERICAN TABLE 1950-2000 – SMITHSONIAN, NATIONAL MUSEUM OF AMERICAN HISTORY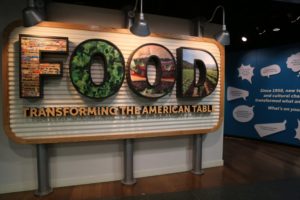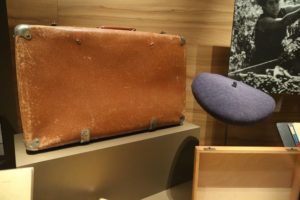 FOOD: Transforming the American Table 1950–2000 is an ongoing exhibit at the Smithsonian Museum, housed on the lower floor of the Behring Center, the National Museum of American History. Visitors to the Smithsonian National Museum of History can park on nearby streets (very limited parking) or at the parking lot next to the Ronald Reagan Building (only about a 10–12-minute walk away). Alternatively, the Federal Triangle Metro stop is only about a 1–2-minute walk away.
Napa Valley based Stag's Leap Wine Cellars founders, Warren and Barbara Winiarski were instrumental in helping develop this exhibit which has been on display since late 2012. Prominently featured in the exhibit titled: Wine for the Table are some of Mike Grgich's early wine-related possessions, including his original suitcase he brought with him to the USA from the former Yugoslavia and several wine related books. One of Mike's original Ebullioscope's is also displayed – he used this instrument for boiling wine to determine the level of alcohol. And of course, no exhibit mentioning Mike Grgich would be complete without his traditional headwear, one of his older berets.
The exhibit is categorized into nearly 30 smaller sections – focusing from the recovery of Prohibition to more modern-day winemaking – along this historical timeline, highlighting individual personalities and wineries, tools, vineyard practices and other related information.
Several historical mementos, tools and other artifacts from the early days of Stag's Leap Wine Cellars are also displayed. These items include a Stag's Leap Winery notebook from 1974 containing pages and pages of handwritten notes including winemaking details and names of vineyards worked with at that time (some of these notes were written by his winemaker at the time, John Williams – later co-founder of Frog's Leap Winery), a wine barrel and related equipment and a number of historical photographs from Warren and Barbara's personal collection.
In addition to the physical items, a monitor plays 15 short interviews with Warren and some of his employees – made in 1997 when a team from the Smithsonian visited Stag's Leap Wine Cellars and recorded an oral history project. Wine-related items from other Napa Valley producers are represented including Gustavo Brambilia (who worked with Mike at Chateau Montelena) and from wineries including Biale Vineyard and Ceja Family Vineyard.
—
Grgich Hills ships to all 50 states and has some international distribution. For more information about the wines visit, www.grgich.com
Exterior

Estate Vineyard

Interior

The Ranch House

Mike's 1st Napa Valley owned Home, St. Helena

FOOD: Transforming the American Table 1950–2000, Smithsonian Museum

CROATIA CONNECTIONS
Grgić Vina, Croatia Vineyard

Grgić Vina, Croatia Winery & Cellar

Trstenik Village

Desne Village, Mike Grgich birthplace

Mike Grgich original home, Desne