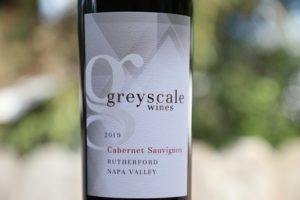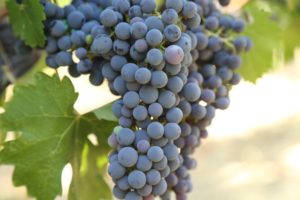 Greyscale Wines was founded in 2008 by husband wife Jean and Larry Rowe. Jean was raised in Orinda, CA (San Francisco Bay Area); her father John Cunningham planted Zinfandel and Merlot around their property and made home wine while she was growing up. Admittedly the varieties he grew may not have been ideal for the heavy fog often blanketing Orinda, especially in the summer. While the Zinfandel fared better than the Merlot, some of his best bottlings were from grapes he purchased from Sonoma and Napa counties. Jean's mother also had a green thumb and was part of the Orinda Garden Club (a club that Jean is very active in). It was her father's home wine and Jean's help in the vineyard which ultimately helped develop her interest in wine later in life. Both Larry and Jean fell in love with Napa Valley and have been visiting the region for decades. Larry calls it, one of the "advantages of living in the San Francisco Bay Area."
Larry is a U.C. Berkeley Emeritus Professor in Electrical Engineering and Computer Science and was one of the co-founders of Ingres Corporation in 1980. Ingres, which stands for INteractive Graphics REtrieval System was one of the early database systems, first developed at U.C. Berkeley in the early 1970s. His first trip to Napa Valley was with his family in the mid 1960s when he was a junior in high school. Not yet of drinking age, he recalls the first winery his parents took him to was Charles Krug. He began developing a passion for wine when he was in graduate school.
The impetus for creating their own wine brand came during a trip to Bordeaux in 2005 when they were introduced to Bordeaux Blanc, a wine that is usually 100% varietal Sauvignon Blanc or blended slightly with Sémillon. They have visited many wineries in California and also on their international travels; they always gravitate towards an old-world style of wine, one that is elegant, balanced, pairs well with food and is lower alcohol.
Upon returning to California after their trip to Europe, they were introduced to Crushpad, a winery that was located in San Francisco at the time. They were assigned a winemaker, Kian Tavakoli who made them a barrel in 2006 of Cabernet Sauvignon from Stagecoach Vineyard for personal use. Friends and family inquired about the possibility of purchasing the wine; this in part led them to create Greyscale Wines in 2008.
Kian has made every vintage starting with their home wine, a 2006 Stagecoach Vineyard Cabernet Sauvignon. He is a good match for Larry and Jean's mutual interest in making old-world style wines. Kian is of French and Persian heritage. He spent time working harvests in France after completing his degree at U.C. Davis. In 2012 he co-founded with winemaker Tom Bougetz, Kito Wines, a wine consortium producing wines for a small number of individually owned producers located in the former Arger-Martucci winery south of St. Helena. Until joining Kito Wines in 2017, Greyscale moved production several times including in San Francisco, Sonoma and Napa.
Their vineyard sources have changed over the years with Coombsville and Oak Knoll (southern part of the valley) playing prominent roles in their red wines with newer vintages coming from a historical vineyard in Rutherford.
Select Wines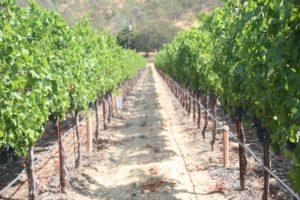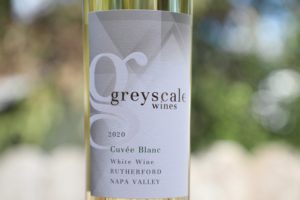 The 2020 Greyscale Cuvée Blanc Rutherford Napa Valley was fermented half in oak barrel and half in stainless steel tank. It was then barrel aged for 15 months prior to bottling. This wine is 100% varietal from the Dalla Gasperina Vineyard in Rutherford. While Rutherford is well known for its exceptional red wines, if there was one white variety we think of when discussing this appellation it is Sauvignon Blanc. There would probably be more of this variety planted if it weren't for the better economics of growing red varieties, although certain Napa Valley Sauvignon Blanc bottles are now rivaling the pricing of Cabernet Sauvignon. This wine is medium gold in color; the bouquet offers attractive aromatics including of pineapple, papaya, honeycomb, citrus blossom and brined apples. Its texture is supple and velvety which is complemented nicely with a balanced acidity. This wine reveals flavors of red apple, mandarin, melon and light citrus notes. This is not a green or grassy showing; it drinks very well by itself. The finish is flavorful and long-lasting. And it was awarded a gold medal in 2023 in the prestigious San Francisco Chronicle Wine Competition.
About half of their Sauvignon Blanc for the 2011 Greyscale Cuvée Blanc was aged in oak and then blended with Sémillon. This wine has pleasing aromatics which shows as both tropical and citrus driven, including pineapple, citrus blossom and a minerality. The palate is soft and slightly creamy, offering some textural weight. This wine was stirred several times a month as it aged on the lees helping impart additional complexities. A hint of baking spice show on the finish. This bottling won a "Best in Class" award among Bordeaux white varieties at the 2011 San Francisco Wine Competition.
The 2019 Greyscale Merlot Oak Knoll Napa Valley is medium ruby in color; the bouquet offers aromas of mulberry, boysenberry, cassis, old leather, cooked blackberry and darker spices including old cedar box and a light note of pink peppercorn. As this wine opens, it reveals an additional scent of dark chocolate and espresso. It is savory and dark on the palate showing both wood and grape tannins, crushed peppercorn, toasted oak, dark plum, spicy plum skin and blackberry. The medium gripping tannins linger with a gravelly-like texture and a light but persistent dryness. This wine made us immediately think of either steak + winter nights and a warm fire or outdoors + warm California summer evening paired with a BBQ. This is a Merlot with plenty of character.
The 2019 Greyscale Cabernet Sauvignon Napa Valley is 94% Cabernet Sauvignon from Beckstoffer owned Georges III Vineyard in Rutherford, 5% Merlot and 1% Cabernet Franc. This wine is deep ruby in color; the aromatics are character driven rather than entirely focused on fruit and are dark, meaty and brooding with scents of forest floor, baseball mitt in use on a hot day, mushroom, jerky, sage, cedar and blackberry. One would not be incorrect in describing the aromatics as savory. Some of the darker characteristics from the bouquet are mirrored on the palate. It shows flavors of blackberry, dark plum and dark licorice. The grainy and pixelated tannins linger along with flavors of crushed peppercorn, old cedar and spicy plum skin. This wine is built to age. It earned a double gold in the 2023 American Fine Wine Competition.
The 2010 Greyscale Valley Cabernet Sauvignon is dark in the glass. It shows a complex appealing bouquet with a pleasing smoky elegance combing a dusty or chalky quality and a slight herbal component which disappears as the wine breathes. Notes of baking spices also show along with a hint of black licorice. The palate is extremely well balanced – showing dark fruit and well-integrated tannins that linger on the front of the palate rather than the back. The finish also reveals slightly toasted oak, subtle chalkiness and hints of mocha. This wine drinks very well despite being relatively young.
The 2009 Greyscale Napa Valley Cabernet Sauvignon offers bright and lively fruit aromatics including red cherry and red berry fruit. The mouth feel is soft and rounded with well-integrated fairly delicate tannins. Along with the fruit on the palate, this bottling shows a toasted cedar/spice component along with flavors of mocha. This wine drinks nicely by itself.
The Greyscale mantra is, "wine is neither white nor black, it is always shades of grey." Wine is a product of variation and nuances and there is no black and white formula to make great wines. One can ask a winemaker or a vineyard manager about a certain way of doing something and will receive back a number of responses in the way they operate – all backed up by specific reasons for their answers.

The Rowes chose the name "greyscale" to symbolize the art and science of wines; hand crafted wines are not expected to be made the same way every year, instead from a metaphorical perspective, they are always made in shades of grey, with adjustments made based on many factors depending on that particular vintage.
As a small producer their wines are selectively distributed in wine shops in California and in south Florida and are sold through a variety of online retailers including Cellar Angels and The California Wine Club. And the wines are sold direct to consumer through their mailing list and wine club. Wine club members are offered a number of benefits including special club events, vertical tastings, blending sessions and wine/food pairings.
Every year, Greyscale participates in approximately 6-12 consumer and trade tasting events including the Garagiste Festival, a gathering of small producers with the tastings usually held in Glendale, Paso Robles, Sonoma or Solvang or the Family Winemakers of California.
As our latest update to this review, they produce approximately 500 cases of wine each year. For more information, to request a private tasting, to purchase wines including current release and some older vintages, or to join their mailing list, please visit: www.greyscalewines.com