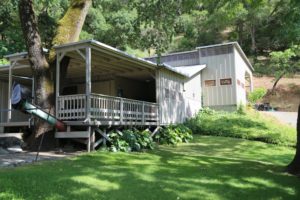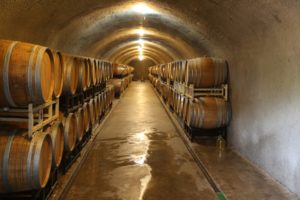 Green and Red Vineyard was founded in 1977 by Jay Heminway (died in June 2019, leaving the winery to be run by his wife Pam and daughter Tobin). Jay had a long history making wine in the Napa Valley having first purchased land in the steep Chiles Canyon near Chiles Valley in eastern Napa County in 1970. By this time he already had experience working in the wine industry with stints in Bordeaux, France and selling wine in New York City (where he was raised) for Sherry-Lehman, Inc. However he did not purchase the property with the intent on making wine – that came later as it has for a number of other generations who moved to the Napa Valley and become "bitten" with the allure of the Napa Valley.
Jay bonded his winery in 1977 – this was the year of his first vintage (300 cases of 1977 Zinfandel). Incidentally, this was the same year as Grgich Hills was founded; there were under 30 wineries in operation in the Napa Valley (the limited numbers of wineries in the valley were a direct result of Prohibition which ended some 46 years earlier). Since Jay started Green & Red, things have certainly changed in a mere 40 years with now more than 1000 'wineries' producing wine commercially based in Napa of which there are some 500+ physical wineries.
Jay had tasted plenty of Cabernet Sauvignon based wines by the early 1970's but it was several Zinfandels that caught his attention. He tried two late 1960's vintages of Zinfandel – impressive wines that helped persuade him to move to the Napa area; one was from at that time the newly reborn Mayacamas Winery and the other was from Sutter Home (using purchased fruit from the Deaver Vineyard in Amador County).
Today the majority of Green & Red's vineyards are planted to Zinfandel with additional varieties being Sauvignon Blanc, Petite Sirah and Syrah. Green & Red does not make a Cabernet Sauvignon. Jay planted his first Zinfandel vines in 1972 – on their own rootstock. Ultimately these first vines were infected with phylloxera requiring a full replant to phylloxera resistant rootstock. One vine however survived – the one that was planted on a resistant rootstock – and continues to produce, some 45+ years later. Initailly Jay made home wine from his fruit and sold grapes to other producers including Cuvaison and to Philip Togni.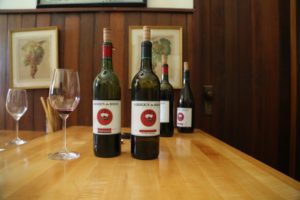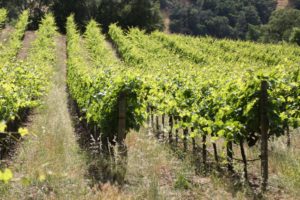 The vineyards range in elevation from 900 to 1800 feet and are planted in very red soils which are veined with serpentine deposits. Because of this elevation spread fog sometimes is a moderating influence on the lower vineyards as it rolls up the canyon.
Compared to the Napa Valley Chiles Canyon has remained fairly unchanged. Airline miles, its not that far from the actual valley floor, but narrow winding roads, the steep canyon and its eastern location help ensure that this part of Napa has and will remain fairly undeveloped.
Jay was a pioneer grape grower in this part of Napa – he was one of the first of the "modern" growers to move into the area (grapes were grown in nearby Chiles Valley dating back to the 1870's). He was instrumental in securing an American Viticultural Area (AVA) for this region in 1999, called Chiles Valley. His upper most vineyard at 1,800 feet is the highest vineyard in Chiles Valley.
Green & Red is the only winery in Chiles Canyon; the property is 200 acres of which about 31 are planted to vines distinguished between three unique vineyards – all at different elevations and exposures; Chiles Mill, Tip Top and Catacula. This is a very terroir driven winery even down to the name; the green reflects the greenish serpentine in their soils and the red is reflective of the reddish iron rich soils (decomposed chert material). Some of the nearby hills that surround their vineyards are extremely red. In person, these reddish hills dominate above the vineyard and are among the reddest hills we have seen in Napa County.
Solar panels on site help power irrigation and other vineyard needs. The winery & cave is small, about 6000 cases are produced annually with the bulk of that production being Zinfandel with much more limited production wines of Sauvignon Blanc, Syrah and Petite Sirah.
Select Wines
A special barrel room is used only for their one white wine. The 2007 Green & Red Sauvignon Blanc has nice floral notes on the bouquet with notes of mineralites from their unique terroir. This is followed by crisp pear and apple flavors on the palate with a hint of pineapple and spice towards the nice lingering finish. The wine was not put thorugh malolactic fermentation and it was was stirred on the lees during the barrel aging. This helps bring a nice weight to the palate.
The 2006 Green & Red Chiles Mill Vineyard Zinfandel is named after the old Grist Mill on site which unfortunately burned down in the 1960's (this vineyard overlooks that site). The Bale Grist Mill north of St. Helena is the mill that comes to mind when you think of Napa Grist Mills, but in actuality this mill had a much larger production during its operation. Only the remains of the foundation are still standing. This Zinfandel has some great spices on the nose, black pepper and cloves and even a hint of rose petal – the palate continues with spices, perhaps a little ginger and you can also pick up some blackberry and plum flavors, with a similar spiciness that you would have in the skins of a Santa Rosa plum.
The 2014 Green & Red Chiles Mill Vineyard Zinfandel reveals a very elegant bouquet in its youth – aromas of blackberry and raspberry are complemented by floral notes and a hint of vanilla. The aromas are about the fruit rather then the oak. Bright fruit on the plate includes raspberry and plum with an earth driven characteristic (hints of pepper and dried herbs). Well integrated slightly dusty tannins and a peppercorn spiciness – along with a kiss of mocha anchor a pleasing and very smooth finish. This is a very well balanced wine.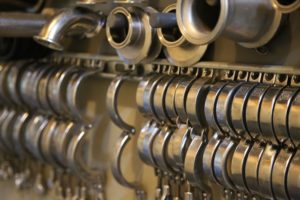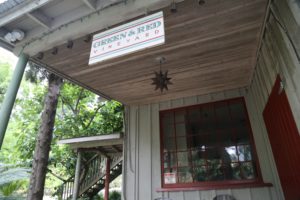 A very limited production Petit Sirah is also worth trying – the 2014 shows a lot of character and depth.
The 2015 Green & Red Sauvignon Blanc is from a part of the property at about 1400 feet in elevation (the Catacula Vineyard) and this wine is made from the Musqué Clone of Sauvignon Blanc. Medium golden in the glass, the bouquet sports aromatics of dried straw, a lemon lime zest, paraffin, grapefruit, citrus blossom and a steely minerality. On the palate, offers a supple texture – rounded and soft with flavors of green apple, mandarin, orange and kiwi. Finishes bright with lemongrass and notes of lemon. Not tart – very balanced and drinks quite nicely by itself. Good acid but not bracingly so. Five years of age has been quite nice to this properly stored wine and this is a good example that when made thoughtfully, Sauvignon Blanc can certainly age. Probably the best quality to price point Sauvignon Blanc consistently coming out of the Napa Valley.
—
The label is Greek in origin adapted from a wine chalice that was painted in the 6th century B.C.
For the quality to price ratio, there is absolutely no question here – these are some of the best value limited-production wines in the entire Napa Valley.
Most of their production goes into restaurant and retail distribution in select markets across the country with lesser amounts sold direct (one of their noted restaurant accounts is the acclaimed Chez Panisse Restaurant in Berkeley, California). Visits to Green & Red are by appointment and are based around their winemaker or assistant winemaker's schedule. For more information and to join their mailing list, visit: www.greenandred.com