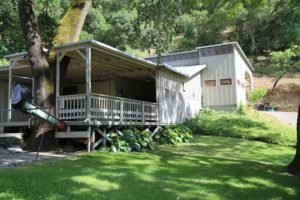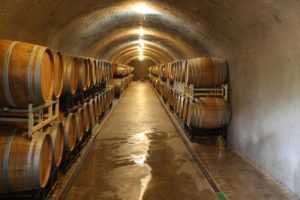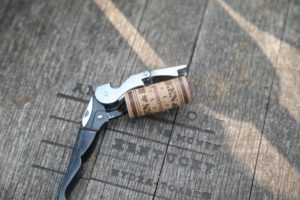 Green and Red Vineyard was founded in 1977 by Jay Heminway (died in June 2019), leaving the winery to be run by his wife Pam and daughter Tobin and her husband Raymond. Tobin has enjoyed a career as a film producer and editor in New York and Raymond was a General Counsel who now describes himself as a 'cellar rat' helping out with numerous details both in the vineyard and in the cellar.
In the 1960s Jay was teaching sculpture at U.C. Berkeley and with friends developed an appreciation of both food and wine. After visiting Napa Valley, he discovered this property and in 1969 purchased it. This land is located in the steep Chiles Canyon near Chiles Valley, about a 20-minute drive east of the valley floor. By this time, he already had experience working in the wine industry with stints in Bordeaux, France and selling wine in New York City (where he was raised) for Sherry-Lehman, Inc. However, he did not purchase the property with the intent on making wine – that came later as it has for a number of other generations who moved to the region and become "bitten" with the allure of Napa Valley.
Grapes had been planted on the property long before Jay purchased it, with vines first planted in the 1890s from when the property was part of the original Rancho Catacula land grant. Jay bonded his winery in 1977 and also made his first vintage of wine that same year; (300 cases of 1977 Zinfandel, all pressed in a basket press and bottled by hand). Incidentally, this was the same year as Grgich Hills was founded; at that time, there were under 30 wineries in operation in the Napa Valley. The limited numbers of wineries in the valley were a direct result of Prohibition which ended some 46 years earlier. Since Jay started Green & Red, things have certainly changed in a mere 540 years with now more than 1,000 'producers' making wine commercially based in Napa Valley of which there are some 500+ physical wineries.
Jay tasted plenty of Cabernet Sauvignon based wines by the early 1970's but it was several Zinfandels that caught his attention. He tried two late 1960's vintages of Zinfandel – impressive wines that helped persuade him to move to the Napa area; one was from at that time the newly reborn Mayacamas Winery and the other was from Sutter Home, made from purchased fruit from the very historic Deaver Vineyard in Amador County.
Today the majority of Green & Red's vineyards are planted to Zinfandel; additional varieties include Sauvignon Blanc, Petite Sirah, Syrah and a very tiny block of Viognier. Green & Red does not grow or make Cabernet Sauvignon. Jay planted his first Zinfandel vines in 1972 – on their own rootstock. Ultimately these first vines were infected with phylloxera requiring a full replant to phylloxera resistant rootstock. One vine however survived – the one that was planted on a resistant rootstock – and continues to produce, some 45+ years later.
Initially Jay made home wine from his fruit and sold grapes to other producers including Cuvaison and to Philip Togni. Today Green & Red Vineyard still sells grapes to the who's who of primarily Zinfandel producers including Turley, Biale Vineyards, Ridge Vineyards and nearby Brown Estate.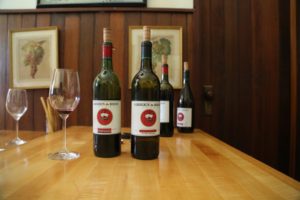 Green & Red is the only winery in Chiles Canyon; the property is just under 200 acres of which about 31 are planted to vines distinguished between three unique vineyards – all at different elevations and exposures; Chiles Mill (the first vineyard Jay planted), Catacula (the second vineyard planted) and lastly, Tip Top (named for its highest elevation). Green & Red is very terroir driven winery, even their name reflects their sense of place. The color green refers to the greenish serpentine in their soils and the red is reflective of the reddish iron rich soils (decomposed chert material). Some of the nearby hills that surround their vineyards are extremely red. Seen in person, these reddish hills dominate above the vineyard and are among the reddest hills we have seen in Napa County. The vineyards range in elevation from 900 to 1800 feet. Because of this elevation spread, fog sometimes is a moderating influence on the lower vineyards as it rolls up the canyon.
Compared to the heart of the Napa Valley Chiles Canyon has remained fairly unchanged. Airline miles, it's not that far from the actual valley floor, but narrow winding roads, the steep canyon and its eastern location help ensure that this part of Napa has and will remain fairly undeveloped.
Jay was a pioneer grape grower in this part of Napa – he was one of the first of the "modern" growers to move into the area (grapes were grown in nearby Chiles Valley dating back to the 1870's). He was instrumental in securing an American Viticultural Area (AVA) for this region in 1999, called Chiles Valley. His upper most vineyard (Tip Top) at 1,800 feet is the highest vineyard in Chiles Valley.
Solar panels on site help power irrigation and other vineyard needs. The winery & cave is small, about 6000 cases are produced annually with the bulk of that production being Zinfandel with much more limited production wines of Sauvignon Blanc, Syrah and Petite Sirah.
Select Wines
A special barrel room is used only for their select white wines. The 2020 Green & Red Vineyard Napa Valley Viognier, Catacula Vineyard is a northeast facing vineyard ranging in elevation from 1200 to 1400 feet above sea level. Only 1/2 an acre of this variety is planted so production is extremely limited each year. This wine is deep straw in color with very forward floral aromatics of jasmine and citrus blossom. Also, there is a sweeter honey dew melon note, especially as the wine evolves in the glass. Soft with a slightly creamy texture across the palate – its mouth feel is complemented nicely by the brightness of acidity and minerality nuances. Offers flavors of lemon/lime (without being tart or grassy), green apple and kiwi. The liveliness on the finish is an appealing characteristic of this wine.
The 2019 Green & Red Vineyard Napa Valley Sauvignon Blanc is planted in a two-acre block in their Catacula Vineyard at 1400 feet. This wine is entirely Sauvignon Musqué clone. Pale to medium gold in color the bouquet offers aromas of a recently mowed lawn, citrus blossom, pomelo and green apple, opening as the wine breathes to some floral notes including jasmine and honeysuckle. This wine preserves the freshness of the varietal characteristics quite well, while simultaneously showcasing the sunshine of Napa Valley on the palate, rather than an expected leaner style flavor profile. Very well balanced with flavors of Golden Delicious apple, pear and mandarin. Bright on the finish, the wine begs another sip.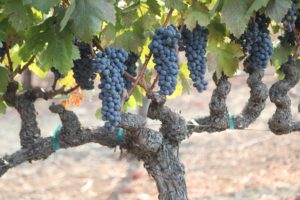 The 2018 Green & Red Vineyard Napa Valley Zinfandel Chiles Canyon Vineyards is a blend of all three of Green & Red Vineyard's sites. The wine is dark ruby in color; offers a mix of both dark fruits and darker spices along with aromas of old cedar box and pepper. Hints of mocha show, deeper into the aromatics. Somewhat savory in its aromatic profile. Shows a little heat on the finish (15.1% alcohol), but overall, this is a balanced wine that tastes like Zinfandel. Offers flavors of red cherry and red licorice. The palate is not as savory as the bouquet. The light grip of tannins is earthy, rounded and very well integrated on the finish.
The 2016 Green & Red Vineyard Napa Valley Syrah Tip Top Vineyard is inky dark ruby/purple in the glass. This wine is from a 2-acre terraced block with vines growing in red and rocky soils. The aromatics are powerful with darker fruits including spicy plum, ripe blackberry and blueberry along with notes of black pepper and old cedar box. Also shows aromas of Asian five-star spices. Features plenty of fruit across the palate including of plum and black licorice. Lingers with darker tannins showing a reasonable amount of grip along with notes of black pepper and toasted cedar. Features a savory and mouthwatering finish. Fire up the flame, cover the grill with tri-tip, cook to perfection and drink copious amounts of this wine.
The 2016 Green & Red Vineyard Napa Valley Petite Sirah Tip Top Vineyard is from a 2-acre block planted at 1700 feet elevation on terraced slopes. The wine is medium to deep purple in color; the aromatics are simultaneously dark and fruit forward showing notes of mushroom, old leather, ripe plum, juicy blackberry and cracked peppercorn. Offers plenty of aromatic layering and becomes more fruit dominated as the wine evolves in the glass. Succulent across the palate, offers a richness of flavor without the heavy hand of tannins that sometimes one associates with this variety. Lingers with some bright berry flavors and noticeable mouth-watering freshness of acidity, along with a rounded medium grip of slightly chewy tannins. Lovely texture.
The 2015 Green & Red Vineyard Sauvignon Blanc is from a part of the property at about 1400 feet in elevation (the Catacula Vineyard) and this wine is made from the Musqué Clone of Sauvignon Blanc. Medium golden in the glass, the bouquet sports aromatics of dried straw, a lemon lime zest, paraffin, grapefruit, citrus blossom and a steely minerality. On the palate, offers a supple texture – rounded and soft with flavors of green apple, mandarin, orange and kiwi. Finishes bright with lemongrass and notes of lemon. Not tart – very balanced and drinks quite nicely by itself. Good acid but not bracingly so. Five years of age has been quite nice to this properly stored wine, and this is a good example that when made thoughtfully, Sauvignon Blanc can certainly age. Probably the best quality to price point Sauvignon Blanc consistently coming out of the Napa Valley.
The 2015 Green & Red Vineyard Napa Valley Zinfandel Tip Top Vineyard is dark ruby in color; offers intense aromatics, meaty, gamey with notes of mushroom, old cedar plank, pepper and spicy plum. More fruit opens as the wine breathes in the glass. Smells like the variety. Opulent and juicy, this is a mouth filling expression of the richness of this variety. Offers plenty of spice notes across the palate including of pepper along with flavors of plum, blackberry and dark licorice. The tannins are earthy and feature a medium grip. They are persistent, but not course in their textural feel. A mouthwatering acidity lingers on the finish. We tried this six years post vintage date; it obviously has loads of life ahead of it still.
The 2014 Green & Red Chiles Mill Vineyard Zinfandel reveals a very elegant bouquet in its youth – aromas of blackberry and raspberry are complemented by floral notes and a hint of vanilla. The aromas are about the fruit rather than the oak. Bright fruit on the plate includes raspberry and plum with an earth driven characteristic (hints of pepper and dried herbs). Well integrated slightly dusty tannins and a peppercorn spiciness – along with a kiss of mocha anchor a pleasing and very smooth finish. This is a very well-balanced wine.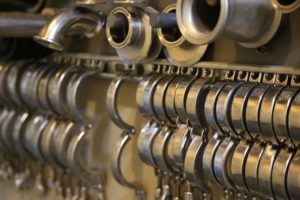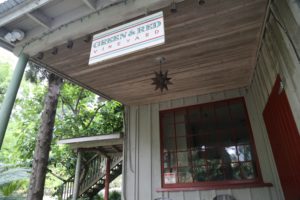 The 2007 Green & Red Sauvignon Blanc has nice floral notes on the bouquet with notes of mineralites from their unique terroir. This is followed by crisp pear and apple flavors on the palate with a hint of pineapple and spice towards the pleasing lingering finish. The wine was not put through malolactic fermentation, and it was was stirred on the lees during the barrel aging. This helps bring a nice weight to the palate.
The 2006 Green & Red Chiles Mill Vineyard Zinfandel offers pleasing spices on the nose including notes of black pepper and cloves and even a hint of rose petal. The spices continue on the palate, perhaps a little ginger with also some blackberry and plum flavors including a similar spiciness found in the skins of a Santa Rosa plum.
This vineyard and wine are named after the original wooden Chiles Grist Mill on site, built in 1845 but unfortunately burned down in the 1960s (this vineyard overlooks that site). Only the remains of the foundation are still standing on both sides of Chiles Creek. Historical state landmark plaque number 547 marking the Chiles Grist Mill is located within a few feet of Lower Chiles Road just up a small hill (coordinates: 38.535259,-122.337216).
The Bale Grist Mill north of St. Helena is the mill that comes to mind when referring to Napa Valley grist mills, but in actuality the Chiles Grist Mill had a much larger production during its operation. Another Napa Valley grist mill was George Yount's mill near Yountville; two of the grinding stones from his Star of the Pacific Mill survived and are on display for the general public, outdoors in front of the Yountville Community Center.
The label is Greek in origin adapted from a wine chalice that was painted in the 6th century B.C.
For the quality to price ratio, there is absolutely no question here – these are some of the best value limited-production wines in the entire Napa Valley.
Most of their production goes into restaurant and retail distribution in select markets across the country with lesser amounts sold direct. One of their noted restaurant accounts is the acclaimed Chez Panisse Restaurant in Berkeley, California. Chez Panisse, co-founded by noted chef Alice Waters celebrated their 50th anniversary in 2021, incidentally the same year we visited this restaurant for the first time due to their strong connection with Green & Red Vineyard.
Visits to Green & Red are by appointment and are scheduled around their winemaker or assistant winemaker's schedule. In 2023, Green & Red began a wine club with two lovels of membership available – appropriately called the Green Tier (6 bottles, four times a years) and the Red Tier (12 bottles, four times a year). For more information and to join their mailing list, visit: www.greenandred.com