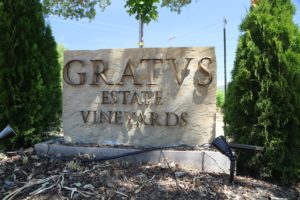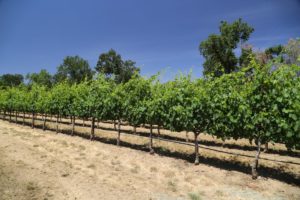 GRATUS Vineyards was founded by Thomas and Victoria Wargovich. Thomas is originally from Pennsylvania and Victoria is from Virginia; both met on a blind date through Victoria's sister who worked in Thomas' medical office. Each has left prior careers, Thomas as a cardiac surgeon (along with teaching at the University of Florida for 10 years) and Victoria in mortgage banking. As a small producer, they are actively involved in all operations of their business; Thomas helps oversee their vineyards and Victoria handles their sales and marketing.
Thomas first came to Napa Valley in the 1990s as part of a group attending a medical conference in San Francisco. Taking a day off from the conference the doctors came up to the Napa Valley for wine tasting. This was in the summer and Thomas remembers enjoying the moderate temperatures coupled with the lack of humidity. He was living in Florida at the time; summers in that state can be highly miserable with its high humidity and mosquitoes (we camped out in the Everglades, tent-less one July – not something we will ever repeat).
Looking to move to Napa Valley – Thomas had his eye on working at St. Helena hospital. He liked the feel of the remoteness of Pope Valley and the relatively short drive to St. Helena Hospital: in 2001 he purchased 27 acres (although ultimately, he never worked at the hospital). When he acquired the land, it was still pasture fields – prior owners had put in a small pond for cattle, no one was living on site and the property had never been planted to vineyards. The surrounding land is a mix of oaks and grassland along with what is arguably the most famous vineyard in Pope Valley, the Juliana Vineyard (owned by the Terlato family from Chicago).
This is a quieter part of the Napa Valley that few first-time tourists to the region ever see – a part of the county that is certainly worth seeking out. It is rural with few wineries and a nice balance of natural landscape and vineyards. It is more likely you will hear birds rather than the noises of passing vehicles.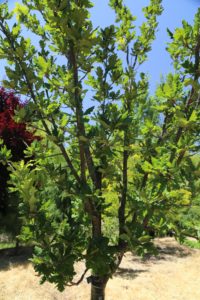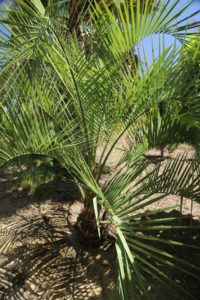 Thomas realized he had a passion for the natural world as a child. His undergraduate degree was in Botany/Biology from West Virginia University. The transformation of the property is rather remarkable in such relatively short time. Today over 1000 (often unique and rare) trees are planted on the property including some 300 specifies of conifers (Thomas is quick to point that that there are only 30 native conifer species growing in California) and over 50 species of oak. Some of the trees are listed on the International Union for Conservation of Nature (IUCN) critically endangered species list. One such tree is the Wollemi Pine – less then 100 adult trees are known to exist on the planet.
Wanting to learn more about vineyard management and wine making (coupled with the fact that it took nearly 5 years to secure the required permits to plant the vineyard), Thomas enrolled at Napa Valley College and completed their two-year program with courses in both viticulture and enology. He also worked for GeoVit a small Napa based vineyard management and irrigation services company. One day he spotted a flyer on a bulletin board at Napa College advertising an internship at a winery on Howell Mountain. He called the number and spoke to winemaker Sean Capiaux at O'Shaughnessy Estate. His 34-page Curriculum Vitae, despite no winery experience must have made an impression – Sean soon hired Thomas as his 50-year-old intern.
Thomas planted a good portion of the vineyard himself – today the vines are managed by Doug Wight of Wight Vineyard Management. The vineyard is planted to Cabernet Sauvignon, Malbec, Petite Sirah and a tiny block of Cabernet Franc and several white Rhône varieties.
It was through his time working at O'Shaughnessy that Sean introduced Thomas and Victoria to winemaker Robbie Meyer (co-owner of Peirson Meyer Wines and longtime consulting winemaker to a number of premium, often Napa based producers). Robbie has made their wine since the inaugural vintage of 2012.
When deciding to plant white varieties – the common consensus among friends and neighbors was to plant Sauvignon Blanc especially since Pope Valley has developed a reputation for growing this variety. Refreshingly, they opted to plant Rhône white varieties including Grenache Blanc, Marsanne Blanc, Roussanne and Viognier. Thomas points out how fast trees grow on the property – so do the grapevines; fruit from the white varieties was harvested only after the second leaf – and a tiny production of the inaugural estate white wine blend was produced from the 2016 vintage.
Select Wines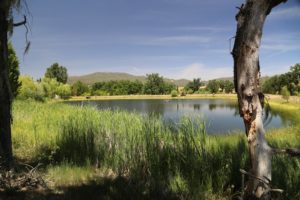 The Gratus rosé features an image of a woman sitting in a cafe in Paris looking posh and sophisticated while enjoying a glass of wine. The woman is Victoria. She also chose the name for this wine – L'ovey, a term of endearment that she often calls Thomas. The 2016 GRATUS Vineyards Rosé is predominately Cabernet Sauvignon with a small amount of Malbec. The wine was created by Saignée – a process of producing this lighter style wine where a portion of the juice is removed prior to the primary fermentation of the red wine and allowed to ferment separately. This vintage is dark salmon color in the glass with succinct aromas of strawberry, raspberry and dried rose petal. Rounded and clean on the palate shows flavors of strawberry and hints of mineralities. Drinks very easily by itself, refreshing – one sip quickly begs another.
The 2017 GRATUS Vineyards White Blend was fermented partly using indigenous yeast (non-inoculated) and partly with commercial wine yeast. It was aged sur lie in neutral barrel. Shows golden in the glass; aromatically pretty it reveals floral aromas including notes of honeysuckle (showing even more as the wine has time to open) along with a sweetness of tropical fruit including pineapple, honey and an orange peel zest. Rounded and supple across the palate – immediately noticeable is the persistence and intensity of flavor through the long finish. Plenty of depth on the palate. A hint of almond and a minerality nuance on the finish. Drinks very well by itself.
It is not often we get to try 100% varietal Malbec from the Napa Valley. This one is special – The 2015 GRATUS Vineyards Malbec is dark ruby red in the glass. Intriguing on the bouquet – it is very aromatic showing notes of blackberry and boysenberry, cloves, cinnamon, dried rose petals and cedar box. While the secondary characteristics are present; the bouquet is really about the intensity of fruit. Seamless across the palate this wine has no harsh edges. Perfectly balanced with somewhat dusty well-integrated tannins lingering softly along with baking spices and hints of mocha and coffee. Good acidity with a lively finish.
Their Petite Sirah vines tend to produce more fruit then is in balance and as a result they often drop up to half the original crop each year. Inky dark in the glass, the 2015 GRATUS Vineyards Estate Petite Sirah shows notes of sage, hints of toasted oak, dark chocolate and a generous helping of rich and layered dark fruit aromatics. Powerful and intense on the bouquet, yet simultaneously showing an elegant sweetness of fruit. Somewhat juicy on the palate shows expansive flavors (plum and blackberry) that linger for a long time – but not the heavy tannins that this variety is often known for.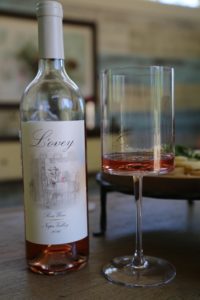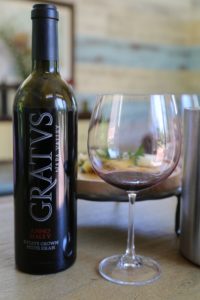 The 2015 GRATUS Vineyards Estate Red Wine (their flagship wine) is a blend of 75% Cabernet Sauvignon with Malbec and a tiny amount of Petit Sirah. Very dark in the glass offering bright fruit aromatics including sweet blackberry and plum tinged with mocha, a floral note (perhaps lavender), mint and cedar notes. Smooth and supple across the palate – shows earthy nuances, noticeable but not harsh tannins and a white pepper spice on the finish. Long lasting in both flavor and texture.
—
Using the common language of botanists worldwide (Latin), Thomas and Victoria chose to call their wine GRATUS – which is Latin for grateful. And even the back label on a number of their wines is written in Latin. Both are grateful for the relationships cultivated in the Napa Valley including those who have become friends and imparted some of their wine advice. And grateful knowing they own a special slice of Napa Valley.
For the quality to price ratio, this is one of the nicer choices coming out of Napa Valley. Their production is tiny – around 500 cases per year although they do sell fruit to select vintners. The wines are sometimes available locally at Sam's Social in Calistoga, ACME Fine Wines in St. Helena and at R&D Kitchen in Yountville. Tastings can be arranged by appointment at the winery just south of Calistoga where their production takes place. For more information and or to join their wine club, visit: www.gratusvineyards.com