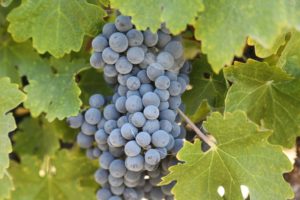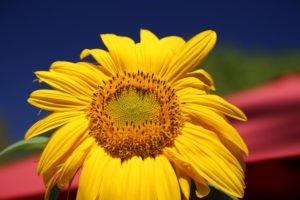 The Grade Cellars is located in Calistoga and was founded with the purchase of 32 acres by husband and wife, Tom Thorton and Brenda Mixson. Both were living in New York City at the time of this purchase (1997) where Tom was a practicing architect as part of a larger firm. Their first trip to Napa was in 1995 where they met a number of winemakers and others in the business.
Initially they began looking at what would be a good investment; they did not live in the valley and had no intent on making wine. However, they spent some serious time looking for property in both Sonoma and Napa; in hindsight Tom reflects how fortunate they were to have purchased this particular vineyard location. Winemakers, vineyard management practices, vineyard managers and a number of related facets to the business are in a constant state of change; however, your land is the constant in all this.
Tom told us, that as an architect "you are always starting your next project" – he equates his professional work with their vineyard; he certainly brought a keen sense of adventure with him when developing this property to its full potential. As an architect you take a number of steps during a project and eventually the building is completed. Not so with the wine industry, they initially (somewhat jokingly) thought once their vineyard was replanted that was going to be the end of their work.
However, as it happens often, Napa has a special effect on landowners over time. Tom and Brenda initially planned to spend some time in the valley for vacation, during their early years in the valley they were flying in many times to help with vineyard decisions, then it became a retirement destination, then they moved here full time and soon invested more and more into managing their vineyard with all of their grapes being sold to some well-regarded wineries. But ultimately, they started making wine commercially; their first vintage was from 2004. Their founding winemaker was Rudy Zuidema. Today they continue to sell their grapes to other wineries and produce merely around 500 cases for The Grade Cellars. Plans call for increasing production in the coming years.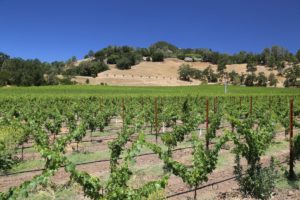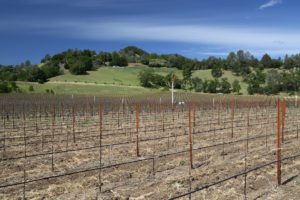 Tom borrows a term from his architectural toolbox and calls their vineyard location the "mezzanine" of the valley. The vineyard is not quite valley floor and not quite hillside either. Rather is sits just above the valley upon alluvial fan soils that have eroded down from Mt. St. Helena and the Palisades (nearby rocky ridges) over the centuries.
Despite only 12 acres, the vineyard has a number of different soil types. During the original soil pit testing, each pit produced a different soil type. The vineyard is separated into 7 distinctive blocks – almost like 7 unique mini vineyards. They source from the same block for their Cabernet Sauvignon each year. They truly value these vineyard variations and soil differences; these differing characteristics allow them to have additional "tools" and and unique nuances from each block. This 'spice rack' is especially important during blending sessions.
The property used to be an old almond orchard, was planted to Gamay Beaujolais at one point and when they acquired it, was planted to old Sauvignon Blanc. For the first few years after their purchase, they sold these grapes – then in 2000 they replanted the vineyard entirely to several clones of Cabernet Sauvignon.
In addition, the micro-climates on such a small property are rather surprising. One corner of the vineyard butts up against the hillside, is more protected and tends to be warmer, while another corner of the vineyard sees cooling breezes coming out of the nearby Jericho Canyon (Brenda describes walking from one part of the vineyard to another on a summer evening and being like walking from warm air into cold water – the temperature was so dramatically different).
The name "Grade Cellars" is an appropriate one based on the location of their vineyard at the entrance to Lawley Toll Road in the northern part of the valley. The famed writer Robert Louis Stevenson discovered this part of the valley because he ran out of money on his honeymoon. Active quicksilver mines were located in the hills above the valley floor, and he spent some time at these mines in what is now the abandoned town of Silverado.
Mr. Stevenson describes their vineyard location in his book, The Silverado Squatters; this was the initial grade leading up the old Stagecoach Road up the side of Mt. St. Helena. And at one point this was a toll road.
Select Wines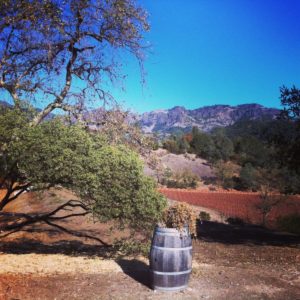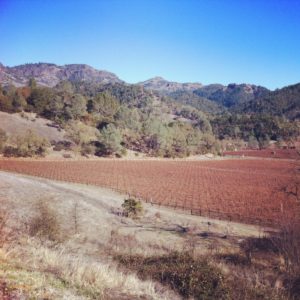 They produce several proprietary named Cabernet Sauvignon wines annually, along with one Sauvignon Blanc. Their 100% Estate Cabernet Sauvignon is made from multiple clones and their Sauvignon Blanc is sourced from a vineyard nearly across the street from their own vineyard.
The 2012 Grade Cellars SEA-FOG Sauvignon Blanc is named for a chapter title in Robert Louis Stevenson's book The Silverado Squatters. However, this name could also apply to the cooling influences originating from "sea fog" that often come through this part of the valley in the evenings from the nearby Chalk Hill Gap, a low point in the Mayacamas mountains that allows a coastal influence to often cool this part of the valley significantly during the summer evenings. Sauvignon Blanc is one of Brenda's favorite varieties and after a few years of making only a Cabernet Sauvignon they realized they needed a companion white to add to their portfolio. They conducted initial research on this variety by tasting through some of the finest Sauvignon Blanc wines in Napa including Lail Vineyards as well abroad including the Bordeaux powerhouse, Chateau d'Yquem.
They found a style of this variety that they like, one that is balanced, with good acidity and as luck would have it their vineyard neighbors have a vineyard of this variety. The 2012 Grade Cellars SEA-FOG Sauvignon Blanc has beautiful aromatics; the wine needs time to breath but when it does, it reveals layered juicy fruit including melon, honeysuckle, white peach and a red apple component. The mouth feel is light on the palate with clean variety flavors – and some mineralities on the finish.
The 2010 Grade Cellars single vineyard, single clone Cabernet Sauvignon shows dark color in the glass and reveals bright and lively fruit aromatics. The bouquet is more about the fruit than the barrel influence, although traces of mocha and vanilla linger slightly in the deepest reaches of the aromas. Armas of blackberry and dark cherry also show. The palate is clean, with a dusty component mid palate. The tannins are certainly there but they are a part of the wine, well integrated, rather than being a distraction on the finish.
Like with a number of other small producers we have met with, The Grade Cellars did not release their 2011 vintage. This was a challenging year and along with their winemaker, they decided this vintage did not meet their exacting specifications.
And we tried their inaugural production, the 2004 The Grade Cellars Cabernet Sauvignon some 19 years post vintage. This rare bottling has held up remarkably well and still showed a noticeable freshness, liveliness and a long tasting textural grip. Those who say Napa wines do not age well would not be able to say that about this particular wine.
—
Tastings are by referral and or for serious wine enthusiasts or collectors and weather permitting are held on an overlook above their vineyards with excellent views of the northern part of the valley. An added feature is their 1971 vintage airstream trailer, which is in impeccable condition.
For a number of years, The Grade Cellars held tastings in a beautifully renovated tasting salon in downtown Calistoga (by appointment) within a house originally built in 1905. However, as of summer 2020, this tasting room is now permanently closed and all signage for The Grade Cellars has been removed from the property.
For more information, to join their mailing list or wine club visit: www.thegradecellars.com
Old Tasting Room, Calistoga (permanently closed)

We watch a lot of videos about Napa wineries – this is one of the best we have seen: