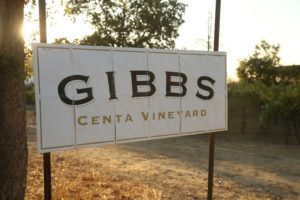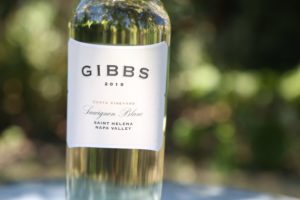 Gibbs Napa Valley is owned and operated by winemaker and label designer Craig Handly and his son Spencer. Craig's first brand was Terroir Napa Valley (which are the wines we originally reviewed when we met with him) – in conjunction with the Terroir Napa Valley wines, he also made wine under the Sentall label.
Craig was a commercial fisherman in Kodiak Bay, Alaska for several years before moving back to San Diego. Quickly tiring of the "urban lifestyle and freeways", as he puts it – he made a career and lifestyle change by moving to the Napa Valley. He recalls he arrived with only $160, spent a night camped out on the Beringer property but soon found work creating signs for Hauschchildt Ice Cream Parlor in Calistoga (located in the stand-alone building that now houses the tasting room for Lawyer Estate).
He soon met Ben Sharpsteen, an animator at Walt Disney Studios for more than 30 years. Ben donated the Sharpsteen Museum in Calistoga and Craig created the graphic design work for the large diorama and several of the designs at this museum. After lending his artistic talents to the Sharpsteen Museum Craig then worked at a local wine label design studio helping create labels for wineries such as Beringer and the Italian Swiss Colony (no longer in business). Eventually he branched out on his own and in 1983 founded his own commercial art studio. Over the years he has designed and created labels for a number of premium producers in the valley including Robert Craig, Elyse and Boeschen Estate.
He became a winemaker by "doing" from hands on experience – learning from a number of well-established vintners in the valley. Craig remembers working with French Colombard in the late 1970s (not a variety one finds much of in the valley anymore). In addition to helping make the Gibbs wines, Craig is also involved with a variety of wine related projects. He makes wines for several producers, exports wine, is involved in a number of private label projects (currently totally about 70,000 cases per year) including wines for gift baskets, still designs labels and was one of the partners in Savour St. Helena – a short-lived cooperative tasting room in St. Helena.
The first vintage of Terroir Napa Valley was from 2001; the focus of their production was on Chardonnay and Cabernet Sauvignon. The 2009 Terroir Napa Valley Chardonnay is a vineyard designate (P&J Vineyard); this wine was barrel fermented and aged on the lees for 16 weeks. It has nice viscosity, a rounded layered entry on the palate with rich fruit and a bit of toasted oak that rounds out the finish.
There are some noticeable differences between the 2007 and 2008 Terroir Napa Valley Cabernet Sauvignon vintages. The 2007 vintage is a blend of several Cabernet clones along with Merlot and Syrah. This wine has good color. The bouquet is decidedly floral – somewhat sweet in its aromatic approach. The palate is all about the fruit (black berry, red currant) with lingering soft dry tannins anchoring the finish. The 2008 is 100% varietal from two vineyards and the bouquet is less floral than the prior vintage. Aromas of sweet red and black cherry show along with a hint of baking spice. It is a "bigger" wine than the 2007 vintage.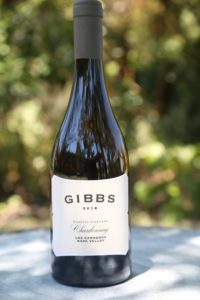 As Craig told us, to use a name like this on his label, one must truly understand the meaning of terroir. Ideas for wine labels come at interesting times; he thought of the name "Terroir Napa Valley" when driving by The Grape Crusher statue located next to the highway just south of Napa.
In 2013 Craig and Spencer launched Gibbs Wines – using both estate and purchased fruit from other area vineyards. Gibbs is named in honor of Dr. Lewis Gibbs Carpenter Jr. a farmer and psychologist who moved to St. Helena in the 1950s to work at Napa State Hospital. Craig is Dr. Lewis's son-in-law. Dr. Lewis farmed his land to a variety of walnuts and other fruit trees until planting gapes in the 1960s. Three rows of the original walnut orchard remain growing among the vines – with English walnut grafted onto hardy black walnut rootstock.
The family owns two vineyards in the Napa Valley; The Cross Creek Vineyard is located in a part of Napa that few visitors ever see – tiny Pratt Valley sandwiched between Howell Mountain and Glass Mountain just off of Crystal Springs Road. Glass Mountain is appropriately named for its concentration of obsidian rock – it was used extensively by Native Americans for trade and for making arrowheads. And this black rock is found in their vineyards.
This part of the valley feels like 'old Napa', a slower pace of life where things don't seem to change very quickly. While not far from the main valley floor, it feels worlds away. It is quiet here, neighbors commonly walk on the little traveled Crystal Springs Road, they wave to you with a friendly smile – and the few homes in the area are tucked against the edges of where the hills meet the valley floor.
The Cross Creek Vineyard is on site of the original property that Dr. Lewis purchased when he moved to the Napa Valley (he lived here, well into his 90s until his death in 2013).
And the Centa Vineyard is named in honor of Susan (her middle name) and is located on Lodi Lane. The property is in the narrowest part of the Napa Valley – only about 3,500 feet in width between the Mayacamas and Vaca mountain ranges. The site is approximately located between Duckhorn Winery and Titus Vineyards and is planted to both Cabernet Sauvignon and Sauvignon Blanc. It is a historic piece of property – first planted to vines by Eli McLean York who later built the stone York Winery on site in 1880 (severely damaged in the 1989 Loma Prieta earthquake). This old winery can still be seen from Lodi Lane but has long since been renovated and converted into a residence.
Over the years wineries such as Louis Martini, Cakebread and Chappellet among others have sourced fruit from their vineyards. The Gibbs wines are made at a custom crush facility just north of their Lodi Lane property. Craig is the primary winemaker although a consulting winemaker is also employed.
Select Wines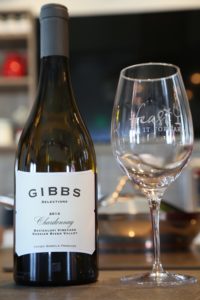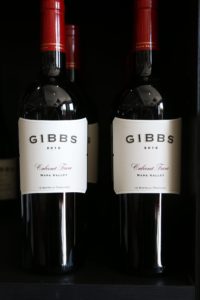 One of their more popular wines is Sauvignon Blanc. The 2017 Gibbs Sauvignon Blanc is 100% varietal and was fermented and aged in stainless steel. Some of this wine was aged in neutral oak and then blended with the wine aged in the stainless steel. The bouquet is highly aromatic with aromas of lychee, lime zest and green apple. This wine sports a noticeable zest and acidity on the palate but without being to tart – or phrased slightly differently, this wine does not hit the operatic high notes featured in some wines of this variety (we are referring to bracing acidity). Shows flavors of green apple, pear and citrus with a very flavorful finish.
The 2018 Gibbs Corotto Vineyard Chardonnay (Napa Carneros) is medium to dark gold in color. Barrel fermented and continued its aging in French oak for 6 months. Attractive aromatics of pineapple, a lemon zest, honeycomb, crème Brule, popcorn butter, banana and vanilla. Supple across the palate with a slight creamy texture. Richly flavored with notes of melon, peach, pear and dessert spices. Finishes bright with lingering acidity (but not crisp) and notes of almond, hazelnut and hints of butter. Beautifully balanced with a nice interplay between both fruit and barrel influences. 100% varietal.
The 2019 Gibbs Centa Vineyard Sauvignon Blanc (100% varietal) is pale yellow in the glass. Offers aromas of lemon lime, gooseberry, cut grass and the smells of juice from freshly picked green apples run through our apple corer. As the wine opens further, a citrus blossom and honeysuckle sweet note show on the bouquet. A refreshing crispness runs the breadth of the palate but without any tart sharpness. Shows a gentle roundness of texture with flavors of apple, pear, lime and grapefruit. Finishes clean with perhaps a very elegant note of sweetness that shows well towards the end of the finish. Aged 5 months in stainless steel.
The 2014 Gibbs Chardonnay Bacigalupi Vineyard, Russian River Valley is deep yellow in color; the bouquet is intensely and sweetly fruited and offers aromas of Golden Delicious apple, pineapple, ripe papaya, mango, honey, warm butter, baked apples, crème Brule, caramel, toffee and vanilla. Simply put, this bouquet is very well endowed. The palate is a crowd pleasure with rich flavors of pineapple, yellow nectarine, honeycomb, butterscotch and butter. Its texture is supply and creamy The finish is long lasting with a subtle note of toasted oak. While intensely flavored, this wine stays away from being too oaky and buttery. This wine was fermented in fifteen barrels of which 60% was new French oak with regular stirring of the lees during its aging. For reference, we tasted this wine 9 years post vintage. It is showing extremely well at this age. Of historical interest: the Bacigalupi Vineyard provided the majority of the Chardonnay grapes for Chateau Montelena's award winning Chardonnay in the Paris Tasting of 1976.
The 2017 Gibbs Pinot Noir Los Carneros, Napa Valley is medium ruby in color; we tasted this wine 6 years post vintage and its showing a slight bottle bouquet. The aromatics offer ripe dark raspberry, a hint of leather, a cardamom spice, chocolate, and an earth/dark note that somehow reminded us of the smells we associate with swimming on a hot summer day underneath overhanging willow trees on the edge of the Russian River in neighboring Sonoma County (a combination of smells from the water, the trees and the damp silt on the sides of the river). This wine is extremely well balanced with not one aspect standing out between flavor, acidity and texture. Lingers with flavors of cherry cola, raspberry, some light baking spices and a lasting hint of pipe tobacco.
The 2017 Gibbs Dusty Red Napa Valley Red Wine is deep ruby in color; the bouquet is distinctive, we initially wrote a tomato basil based pasta to describe our first aromatic impressions or maybe that is just one of the many dishes we want to pair it with! It also offers scents of pine branch, red cherry, old cedar box, juniper wood, thyme/oregano and raspberry. If you call this bouquet savory, we would certainly agree. The palate offers flavors of cherry, red plum, blackberry and dark currant. The finish lingers with lightly grainy textured tannins, dark pepper and dried herbs. This wine is drinking very nicely 6 years post vintage at the time of our tasting. We wouldn't mind hanging out with the Gibbs guys at their Cross Creek Vineyard some summer evening drinking this wine paired with something well-marbled on the BBQ.
The 2016 Gibbs Cabernet Franc was sourced from Coombsville (east of the city of Napa). It is 100% varietal; shows bright aromatics without any of the vegetative characteristics that sometimes this variety is known for. Offers aromas of plum, blackberry and dark cherry along with a noticeable spicy nuance (white pepper). Balanced across the palate with fairly well integrated tannins the finish lingers for some time with both fruit and darker spices.
The 2015 Gibbs Merlot Napa Valley is medium to deep ruby in color; the aromatics are savory showing light notes of jalapeno peppers, herbs de Provence, sweet tobacco, blackberry and mulberry. A kiss of vanilla is layered more in the background on the bouquet but still noticeable. The palate offers a soft and supple texture with finely woven and well-integrated tannins. This wine shows flavors of red cherry, blackberry and a lingering barrel influenced darker spice and an old cedar characteristic. This wine was aged for 18 months in 35% new French oak barrels. This wine is showing very well and continues to hold on to its freshness 8 years post vintage at the time of our tasting.
The 2014 Gibbs Napa Valley Cabernet Sauvignon Centa Vineyard Reserve is deep ruby in color/brickish red. For reference we tasted this wine 9 years post vintage. The bouquet is initially shy (light to medium intensity) and needs some time to open to fully expose each of the aromatic layers. It offers a union of both primary, secondary and some light tertiary spices including scents of plum and blackberry along with dried jerky, old cedar box, suede jacket, pipe tobacco and mocha. The palate reveals flavors of dark plum, ripe black cherry, chocolate and lingers with a roasted coffee bean note and light toast nuance. The rounded tannins are broadly distributed across the palate and display a chalk-like texture with a light but lingering dry grip. Medium acidity. This wine is only made during years which produce grapes of exceptional quality. It was aged for 32 months in French oak barrels.
The Studio by Feast it Forward
Gibbs was one of up to sixteen vintners featured in The Studio by Feast it Forward (opened in June 2018). While the Gibbs wines are no longer available for tasting or purchase here, we keep our notes here for historical reference. This showroom is located directly across from the Oxbow Public Market in downtown Napa and packs numerous experiences into a small space. This two-story building houses an "experiential showroom", as founder Katie Hamilton Shaffer calls it – with a focus on wine, food and music.
Each vintner represented offers several wines – several of the showroom's sponsors have prominent placement including guitars from Gibson Brands, Inc. and furniture from Crosley. A Chocolate tasting is also offered oddly enough sponsored by Sherman Williams and a vinyl station if offered for playing a variety of old records. Upstairs features a demo kitchen – when shows are being filmed here, televisions downstairs broadcast the live feed. This kitchen can also be used for guest chefs to offer culinary classes.
The site can be used for a number of events – they have plenty of space in the back of the building. The Ultimate Airstream Film Lounge trailer is often be parked in the back – they use this trailer when they are on the road hosting unique lifestyle events, and it also serves for private tastings on site or for special events. One such event at the showroom might be the "Terrible Tuesdays" in which bad films with cult like followings are shown.
The second floor features a sizable surround building deck – and a swinging 'bed'. This is an ideal perch to watch passerbys going to Oxbow Public Market or those enjoying the park next to the Napa River. These are also some of the best seats in the area to watch live performances at the nearby green. The Gibbs lounge in the back of the building and is a dedicated space for showcasing the Gibbs wines during tastings.
And for those who want a more intimate Gibbs experience – a private vineyard tour is offered at the Cross Creek Vineyard (by appointment only).
As of our latest update to this review, their total production is around 3,500 cases. Locally the wines can be found at Napa Valley Wine & Cigar in the city of Napa and perhaps at the Calistoga Wine Mart in downtown Calistoga. For the quality, all of their wines are offered at some of Napa's best price to quality ratio. For more information or to join the mailing list, visit: www.gibbsnapavalley.com
Cross Creek Vineyard

Centa Vineyard

Sharpsteen Museum, Calistoga – murals-dioramas