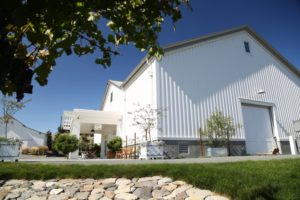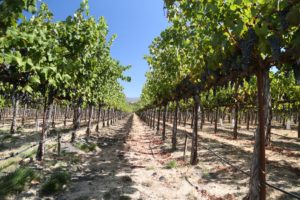 Gamble Family Vineyards is owned by Tom and Colette Gamble; Tom's family has a long history of ranching and farming in the Napa Valley dating back to 1916 and Colette's family dates even further back to the 1870s. Tom's great-great-grandfather, James (a soap maker from Ireland) co-founded Procter and Gamble in Cincinnati, Ohio in 1837 with William Procter (also from the UK). Both men met when they married sisters. The company is still headquartered in downtown Cincinnati and specializes in a variety of consumer health focused goods including numerous well-known brands such as Ivory soap, Crisco, Downy, Head & Shoulders, Pampers and numerous others. And over the decades the company has also owned many other household name products. They operate manufacturing locations around the world and employ around 100,000 people and will celebrate their 200th milestone year in 2037.
Tom's father owned 20,000 acres in the Napa Valley at one point and while growing up, Tom used to help out on the ranch. And Tom's mother Mary Ann McGuire, was involved in the push to establish the country's first Agricultural Preserve, the Williamson Act from 1968 (limiting urban growth and preserving agriculture in the Napa Valley).
Today the Gamble's still own a sizable amount of vineyard acreage in the valley spanning some of Napa's most well known terroir – including Yountville, Oakville, Rutherford, Mt. Veeder, St. Helena and a sizable ranch near Lake Berryessa in eastern Napa County. They also farm significantly more land, selling grapes to a number of premium producers in the valley. The first vintage bottled as Gamble Family Vineyards was from 2005.
The Gamble Vineyard is bordered by both the Napa River and Conn Creek in the northern part of the Yountville appellation. Over the years, each of these creeks has produced rich silted flood-plain deposited soils. Sauvignon Blanc thrives in these soils as well as the specific growing climate that is found in this part of Yountville. Their vineyards are farmed organically. They pick several times during harvest typically ranging from 2-8 weeks. Fermentation is always conducted with natural yeast.
The "Heart Block" appropriately named because of its geographic position in the center of the vineyard is also a sweet spot for growing Sauvignon blanc and is the source for their own Sauvignon Blanc each year. Two clones are planted originating from France including one from Graves and other originating in the Loire Valley. Sauvignon Blanc is a varietal that if allowed to produce grapes in the right conditions (warm climate, deep fertile soils can produce 8-12 tons per acre). That is not the case here – Gamble Family Vineyard micro manages these vines and thins to only one cluster per shoot increasing the intensity of the fruit and allowing them to harvest at maturity with lower sugar levels. Rather then the high tonnage per acre, their vines usually produce only about one ton per acre.
Select Wines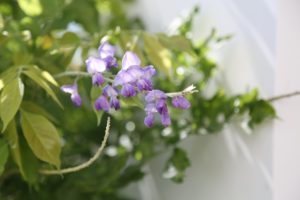 In our opinion, there are only a handful of Napa based wineries producing exceptional Sauvignon Blanc. Gamble Vineyards Heartblock is one of these. The 2013 Heart Block Sauvignon Blanc undergoes 100% malolactic fermentation. It shows some pretty dessert spices aromatically with tropical nuances including honeysuckle. This wine feels like velvet on the palate and is slightly creamy. It has acidity but with weight. This is a layered not a linear nor light Sauvignon Blanc – either in flavor or structure. But there is balance to. A noticeable minerality or flinty note shows on the palate along with flavors of melon and a crisp lemon lime note on the finish. Drinks very well by itself. And note the label that appears on this wine and some of their other wines – it is a photograph of Tom when he was a child in 1965 taken on their property in Oakville.
It is interesting to note that Gamble Family Vineyards is perhaps most known for their Sauvignon Blanc – however this is the only white wine they make. They produce a number of single vineyard reds and small production wines.
The 2004 Paramount which is a blend of Merlot, Cabernet Sauvignon, Petit Verdot and a touch of Cabernet Franc. This is a wine made from free run juice (the highest quality juice you can extract from a grape) and it is smooth with a velvety texture and notes of blackberry and chocolate on the palate.
It is noteworthy to notice the differences between their 100% varietal Cabernet Sauvignon Family Home Cabernet Sauvignon and the Cairo 100% Cabernet Sauvignon – both wines are made from the same clone of Cab (337 – produces small intensely flavored grapes) and are growing in two vineyards only about 2 miles from each other – but in significantly different soils. Just the color alone differentiates between the two wines. The appropriately named Family Home is in tribute to Tom's childhood home and vineyard.
The 2012 Family Home Cabernet Sauvignon is a softer styled wine of this varietal. The bouquet shows a mix of both fruit (raspberry, red currant, blackberry, plum) with some floral notes. The wine is well balanced with rounded very well integrated tannins. Drinks quite well young.
—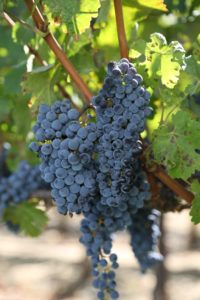 They started producing another 100% Cabernet Sauvignon in 2009 named after one of Tom's rescue dogs (Cairo) since passed but lived to the ripe old age of 17 years. The label depicts both Tom and his beloved canine.
In 2012 a new winery was built at a historic ranching property in the Oakville appellation – just off of Highway 29. The old barns here are more then 100 years old and provide a nice visual contrast to the modern winery. This property also features some interesting history as it relates to the 16th president of the United States. Several of President Abraham Lincoln's descendants lived in the old house (adjacent to the winery) over the years – most recent as 2013. The old house was transported from Calistoga in the north to its current location many years ago. Not a bad vineyard neighborhood, nearby neighbors including Screaming Eagle, Tench Vineyard, Silver Oak and Piazza del Dotto.
Gamble Family has hosted a charity auction for the past several years, "WineaPAWlooza" supporting the Jameson Animal Rescue Ranch. This event features some of Napa's most premium wines and usually raises between 1 to 2 million each event – in only a few years WineaPAWlooza has become one of the larger wine auctions in the country.
Their total production each year is around 4,000 cases per year, most sold direct through their mailing list. For more information, to become a member or to join their mailing list, please visit: www.gamblefamilyvineyards.com
NOTE: this review has been identified as needing a major update.
Winery

Gamble House, Pasadena