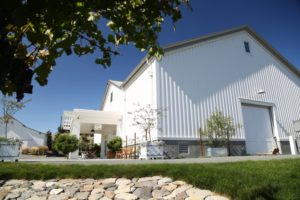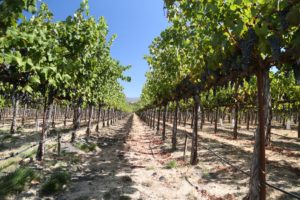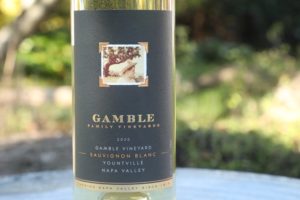 Gamble Family Vineyards is owned by Tom and Colette Gamble; we first met with Tom at his home in near Yountville, years ago. Tom's family has a long history of ranching and farming in Napa Valley dating back to 1916 and Colette's family dates even further back to the 1870s. Tom's great-great-grandfather, James (a soap maker from Ireland) co-founded Procter and Gamble in Cincinnati, Ohio in 1837 with William Procter (also from the UK). Both men met when they married sisters. The company is still headquartered in downtown Cincinnati and specializes in a variety of consumer health focused goods including numerous well-known brands such as Ivory soap, Crisco, Downy, Head & Shoulders, Pampers and numerous others. And over the decades the company has also owned many other household name products. They operate manufacturing locations around the world and employ around 100,000 people and will celebrate their 200th milestone year in 2037.
Tom's grandfather Launcelot Gamble began farming and cattle ranching in Napa Valley in 1916. At the height of his land ownership in Napa Valley, Tom's father George owned 20,000 acres but over the years sold much of it including 3,000 acres to the U.S. Government when Monticello Dam was built for Lake Berryessa. While growing up, Tom used to help out on his father's ranch. With several partners, Tom purchased his first vineyard in Napa Valley in 1981 at age 20. In addition to ranching Tom was involved with Hollywood for a number of years; in 1999 he produced, Abilene, a drama film primarily shot in the Texas panhandle. But Tom is a farmer first – having grown and sold grapes from various properties in the valley for more than 40 years. He has also served as President of the Napa County Farm Bureau.
And Tom's mother Mary Ann Gamble (maiden name, McGuire), was involved in the push to establish the country's first Agricultural Preserve, the Williamson Act from 1968 (limiting urban growth and preserving agriculture in the Napa Valley). She visited China in 1979 and wrote several fascinating articles in the October 8, and 9th issues of the Napa Register including noting the following: "If China has progressed as far as she has in 46 years, these people probably will push their country forward by leaps and bounds through the general education of the masses."
Today the Gamble's still own a sizable amount of vineyard acreage in the valley spanning some of Napa's most well-known terroir – including Yountville, Rutherford, Mt. Veeder, St. Helena and a sizable ranch near Lake Berryessa in eastern Napa County. They are one of the largest vineyard land holders in Oakville. The family also farms significantly more land, selling grapes to a number of premium producers in the valley. The first vintage bottled as Gamble Family Vineyards was from 2005.
The Gamble Vineyard is bordered by both the Napa River and Conn Creek in the northern part of the Yountville appellation. Over the years, each of these creeks has produced rich silted flood-plain deposited soils. Sauvignon Blanc thrives in these soils as well as the specific growing climate that is found in this part of Yountville. Their vineyards are farmed organically and are certified both Fish Friendly Farming and Napa Green. Harvest typically involves numerous picks ranging from 2-8 weeks. Fermentation is always conducted with natural yeast.
In addition, the winery is also certified Napa Green. 100% of water used in the winery and hospitality operations is recycled and all of the left-over pomace, post-harvest is composted and put back in the vineyards. 50% of their energy uses are from renewable energy sources.
The "Heart Block" appropriately named because of its geographic position in the center of the vineyard is also a sweet spot for growing Sauvignon Blanc and is the source for their own Sauvignon Blanc each year. Several clones are planted originating from France including the Preston clone from Graves and Sauvignon Musqué, originating in the Loire Valley. If allowed to produce grapes in the right conditions (warm climate, deep fertile soils), Sauvignon Blanc can produce 8-12 tons per acre). That is not the case here – Gamble Family Vineyard micromanages these vines and thins to only one cluster per shoot increasing the intensity of the fruit and allowing them to harvest at maturity with lower sugar levels. Rather than farming for a higher tonnage per acre, their vines are usually cropped to produce only about one ton per acre.
Select Wines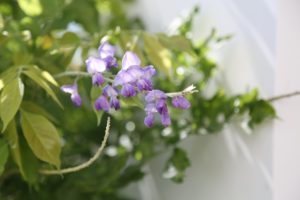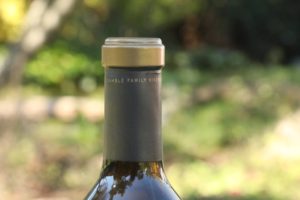 In our opinion, there are only a handful of Napa Valley based wineries producing exceptional Sauvignon Blanc. The Gamble Heartblock is one of these. The 2013 Gamble Family Vineyards Heart Block Sauvignon Blanc undergoes 100% malolactic fermentation. It shows some pretty dessert spices on the bouquet with tropical nuances including honeysuckle. This wine feels like velvet on the palate and is slightly creamy. It has acidity but with weight. This is a layered, not a linear nor light Sauvignon Blanc – either in flavor or structure. But there is balance to. A noticeable minerality or flinty note shows on the palate along with flavors of melon and a crisp lemon lime note on the finish. Drinks very well by itself. And note the label that appears on this wine and some of their other wines is a photograph of Tom when he was a child, taken in 1965 on their property in Oakville.
The 2020 Gamble Family Vineyards Sauvignon Blanc, Yountville Napa Valley is pale to medium yellow in the glass; its bouquet is diverse with aromas of pineapple, red apple, honeycomb, pear, star jasmine and deeper into the aromatics, notes of vanilla and toffee candy. This bottling is lighter in its stylistic approach than the Heartblock Sauvignon Blanc, both in texture and intensity of flavor. Easy drinking and very balanced, this wine offers flavors of Babcock peach, gooseberry, kiwi and a bright and long-lasting finish with notes of lemon and lime. Not grassy. 2,190 cases were produced, the most of any of the Gamble Family wines. This wine is a blend of four Sauvignon Blanc clones, fermented entirely by indigenous yeast, 75% in barrel and 25% in stainless steel. We enjoyed this with both a spicy Thai style raw salmon salad and baby scallops (cooked on our Hestan Nanobond 11″ skillet), an ideal pairing in our humble opinion.
It is interesting to note that Gamble Family Vineyards is perhaps best known for their Sauvignon Blanc – however this is the only white wine they make. They produce a number of single vineyard reds and small production wines.
The Gamble Family Vineyards 2016 Cabernet Franc, Napa Valley (100% varietal) is deep garnet with purplish tinges on the rim; offers opulent, inviting and dark aromatics including a blackberry core framed by a layered diversity of dessert spices including cardamom, hints of nutmeg and clove. Also shows notes of dried herbs, Graham Cracker and toasted cedar. Simply put, this bouquet is beautiful. Offers flavors of blackberry, Santa Rosa plum and a darker, slightly savory finish. This wine is very balanced and supple across the palate featuring fine circular shaped and well-integrated tannins. This wine was aged for 20 months in 38% new French oak barrels. 795 cases were produced.
The Gamble Family Vineyards 2017 Cabernet Sauvignon, Napa Valley is a blend of 89% Cabernet Sauvignon, 8% Petit Verdot, 2% Malbec and 1% Merlot. It is deep ruby with purplish tinges on the rim; offers aromatics of dusty blackberry, black fig, brown chocolate, dark licorice, violets and some darker dessert spices which show more as the wine opens along with soy sauce, espresso and coffee bean. Features flavors of blueberry, blackberry, clove and nutmeg. Broad based earthy tannins show a moderate but approachable grip on the finish. Decent acidity. This is the most produced Gamble red wine each year – 1995 cases were crafted this vintage.
It is noteworthy to notice the differences between the 100% varietal Family Home Cabernet Sauvignon and the Cairo 100% Cabernet Sauvignon – both wines are made from the same clone of Cabernet Sauvignon (337, which produces small intensely flavored grapes) and are growing in two vineyards only about 2 miles from each other, but in significantly different soils. Just the color alone differentiates between the two wines. The appropriately named Family Home is in tribute to Tom's childhood home and vineyard.
The 2012 Gamble Family Vineyards, Family Home Cabernet Sauvignon is a softer styled wine of this varietal. The bouquet shows a mix of both fruit (raspberry, red currant, blackberry, plum) with some floral notes. The wine is well balanced with rounded very well integrated tannins. Drinks quite well young.
The 2004 Gamble Family Vineyards Paramount which is a blend of Merlot, Cabernet Sauvignon, Petit Verdot and a touch of Cabernet Franc. This is a wine made from free run juice (the highest quality juice extracted from grapes) and features a smooth and velvety texture with notes of blackberry and chocolate on the palate.
In 2009, Gamble Family Vineyards began producing another 100% Cabernet Sauvignon, named after one of Tom's rescue dogs (Cairo) since passed but lived to the ripe old age of 17 years. The label depicts both Tom and his beloved canine.
Mill Keeper
In 2022 Gamble Family Vineyards launched another label called Mill Keeper, a wine brand focusing on quality wines available at competitive price points. Several early mills in Napa Valley were the inspiration for Mill Keeper including George Yount's original grist mill built in 1843 (the first in Napa Valley) which no longer is in existence. However, two of the grinding stones from his Star of the Pacific Mill survived and are on display for the general public, outdoors in front of the Yountville Community Center.
Another grist mill still stands in Napa Valley; the Bale Grist Mill (built in 1849) is located north of St. Helena. These weren't the only grist mills in the valley, another early mill was built by Joseph Chiles although Chiles Mill is no longer in existence.
The stand-out historic looking images used for the Mill Keeper labels were designed by artist Mark Summers whose design uses scratchboard techniques. 2019 was the inaugural vintage of Mill Keeper. As of mid 2023, select bottlings of these wines are available for tastings and purchase at Feast it Forward, located in downtown Napa. Feast it Forward is a lifestyle space and winery collective featuring a maximum of 16 small producers, primarily but not always Napa Valley based producers.
The 2020 The Mill Keeper White Wine Napa Valley is a blend of 70% Sauvignon Blanc and 30% Chardonnay. This wine was aged for 10 months in oak barrels of which 21% were new. It is medium yellow in color; the bouquet offers aromas of lemongrass, lemon zest, grapefruit, flint, gooseberry, young spruce tip and light scents of green pine pitch. Balanced, bright and lively across the palate, its fresh acidity counterbalances its creamy texture. More fruit starts showing after this wine has had time to breath including of Golden delicious apple, pineapple and a hint of vanilla. It revels flavors of ruby red grapefruit, pineapple, and red apple. The long finish lingers with a zesty burst of energy and plenty of persistent primarily citrus flavors. This wine overdelivers for the price and of the three bottlings we tried, is the clear favorite.
The Mill Keeper multi vintage California Chardonnay (for reference, tasted in mid 2023) is medium gold in color; this wine offers aromas of warm butter, assorted baking spices, ripe pear, honeysuckle, crème Brule, a touch of caramel and stone fruits including apricot and yellow peach. Aromatically its not weak, nor is it like some of the ripe and more opulent bouquets from Chardonnay's we have recently tried – but rather, somewhere in between. Creamy with a supple almost oily mouth feel, this wine delivers flavors of tangerine, honeydew melon and red apple; the finish lingers with a light but persistent bitter note. We favored the bouquet more than the palate.
The Mill Keeper multi vintage California Cabernet Sauvignon (tasted in mid 2023) is medium to deep ruby in color; the bouquet sports aromas of violets, cherries, raspberries and blackberries with a darker and savory aromatic layer including toasted oak, dark olive, dried tobacco leaf and dried herbs including sage. The bouquet was a bit restrained after the bottle was opened but with time it became more expressive. The palate is more savory than the bouquet – its dark with flavors of plum, crushed peppercorn, a woodsy spice and a lingering dryness. The tannins are gravelly and continue to persist well after the fruit has dropped off – they are felt more on the front and sides of the palate than on the back.
—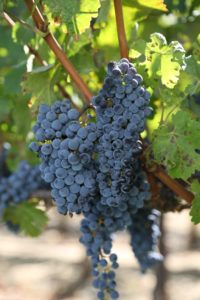 In 2012 a new winery was built at a historic ranching property in the Oakville appellation – just off of Highway 29. The old barns here are more then 100 years old and provide a nice visual contrast to the modern winery. This property also features some interesting history as it relates to the 16th president of the United States. Several of President Abraham Lincoln's descendants lived in the old house (adjacent to the winery) over the years – most recent as 2013. The old house was transported from Calistoga in the north to its current location many years ago. This is not a bad vineyard neighborhood; nearby neighbors include Screaming Eagle, Tench Vineyard, Silver Oak and Piazza del Dotto.
Gamble Family has hosted a charity auction for the past several years, "WineaPAWlooza" supporting the Jameson Animal Rescue Ranch. This event features some of Napa's most premium wines and usually raises between 1 to 2 million each event – in only a few years WineaPAWlooza has become one of the larger wine auctions in the country.
In 2022 Tom Gamble along with several others and the Napa County Resource Conservation District (RCD) announced the launch of Million Trees Napa, a nonprofit organization inspired based on the devastation wreaked by the fires of 2017 and 2020. Its mission is to plant more trees among Napa County's forests and to provide environmental education in regard to forest management and restoration efforts. Partners in their efforts including the County of Napa, the City of Napa and Cal Fire.
—
Visits are by appointment and usually include a walk over to some of the closest vines followed by a private tasting curated by one of their wine educators in one of their hospitality rooms. Gamble Family Vineyards produces wines available in select retail and restaurant locations but also offers a limited production of wines only available for tasting through visits and or through their membership offerings.
Total production each year is around 8,000 cases per year, most sold direct through their mailing list. For more information, to become a member or to join their mailing list, please visit: www.gamblefamilyvineyards.com
Winery

Gamble House, Pasadena