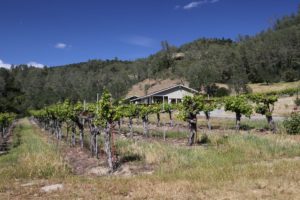 g Cook Family Winery was nestled next to the hills in the northern part of the Napa Valley (sold in 2017). Because the valley narrows down as you drive north there are lots of neat little side canyons and inlets against the hills. This winery was near several of these which really gives it is own "secluded" feel compared the main part of the valley floor.
g Cook is owned by Glen and Gayle Cook. Glen is a retired dentist and Gayle is currently a flight attendant. They originally purchased the property in the mid 1980's with the intent to hold it for a few years and then turn around and sell it for profit. They had no intention of moving here, building a winery, growing grapes, much less making wine. Well the "Napa Allure" took hold and didn't let go!
They moved up from the Bay Area, and built a small winery which today serves as a custom crush location for a variety of very small producers – some as low as producing just a few barrels. Small personal family owned custom crush wineries such as this one are far and few between in the Napa area and they have a waiting list of prospective clients.
Three planted acres of surround the winery (all hillside). For many years they farmed and managed the custom crush facility but never made their own wine. This changed in 2004 with the release of their first wine, (only 200 cases), a Cabernet Sauvignon. As of the time of this review each of their wines are typically produced in amounts of about several hundred cases.
The 2004 Cabernet Sauvignon is dark and rich in color. The aromas are earthy and full of ripe fruit with almost a slight port characteristic; however this rich ripeness in aroma is tempered in the very well balanced fruit flavors which are complemented with hints of oak, cedar, and mocha. Their non vintage "Ain't your Daddy's Zinfandel" is already a crowd pleaser with its taste as well as the cute label. This wine is essentially a field blend, with several different varietals including Syrah and even white varietals blended into the wine. These "other" varietals are found in only very small quantities. By far the majority varietal is Zinfandel (90%) with also 10% Merlot. As a result, the name of this wine describes it perfectly. It is a non traditional Zinfandel – not your "normal" Zin! It is a lighter styled fruit driven wine with great berry aromas which carry onto the palate. It is great with BBQ or chicken.
The 2005 Merlot is made with Merlot grapes from their property as well as Cabernet Sauvignon from the cooler Coombsville region in the southern part of the Napa Valley. This is a rich yet elegant wine that is very well balanced. The finish is long with a well structured backbone in part from the addition of the Cabernet Sauvignon. Look for a Sauvignon Blanc sourced from Yountville to be soon added to their repertoire. We should also mention their pricing; for hand crafted Napa wines you cannot beat the excellent prices. Napa hillside grown, hand crafted 100% Cabernet Sauvignon for under $40. Nice!
A hummingbird is found on their labels; during certain times of the years up to 100 hummingbirds at any one time will be flying around the many feeders located on the property. Visits are on an individual appointment only basis. An energizing and busy time to visit is during the harvest crush with many of the small producers working on site during various days….a great chance to see small producers in action. You can find their wine locally at Enoteca in Calistoga and at the St. Helena Wine Center in downtown St. Helena. Visit: www.cookwinery.com
NOTE: this review has been identified as needing a major update. As of 2017, g Cook Winery has sold and the Cooks no longer be see visitors here for tastings. We have heard that they have significantly downsized their production and perhaps may no longer be producing wines in the not so distance future. We will keep a close eye on the status of this wine brand and will archive this review if needed. We will update or archive this review once we have more information.