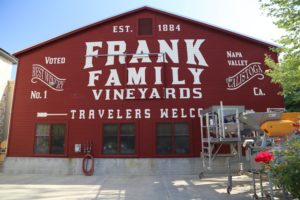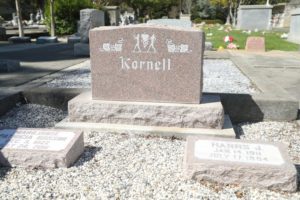 Frank Family Vineyards is located on sleepy Larkmead Lane, one of several crossroads in the northern part of the valley connecting Highway 128 to the Silverado Trail. The winery property features a rich history; the original stone winery was founded in 1884 by S.P. Connor as Larkmead Winery and is listed on the National Register of Historical Places. Incidentally, the current Larkmead Winery is located a few hundred feet to the west.
Since its founding the property has changed owners a number of times. One of its most prominent wine making periods was from 1958 until 1990 when the winery was home to Kornell Champagne Cellars, founded by Hanns Kornell and his wife Marylouise. Stories like Hanns are certainly of another generation. He survived a year in Germany's Dachau Concentration Camp, was released after appeals by the British Consul, fled to the UK, came to the USA but was on a ship that was torpedoed by a German Submarine boat and after arriving safely in New York City, eventually hitchhiked his way to California. He made sparkling wine for other producers both in California and other states before founding Hanns Kornell Third Generation in 1952 initially making his wine in neighboring Sonoma County at Fountain Grove Winery and later operated his own winery on site of what is now the Safeway shopping center on W. Napa Street in the town of Sonoma. His daughter Paula worked at the winery for years and today operates Paula Kornell Sparkling Wine.
And when the train tracks used to run up to Calistoga, the tracks passed through what is now part of the current parking lot, with the nearest stop being Larkmead Station (long since gone). The northern part of the train tracks was removed in the 1970s; the tracks currently end in on the grounds of Charles Krug Winery in St. Helena and are used by the Wine Train for food & wine journeys from the city of Napa to St. Helena.
NOTE: In late 2021 Frank Family Vineyards sold to Treasury Wine Estates and the transition in ownership includes both the winery and tasting room and property, along with the Benjamin Vineyard in Rutherford and the S&J Vineyard in Capell Valley. The change in ownership does not include either the Winston Vineyard in Rutherford or the Lewis Vineyard in Carneros although Frank Family Vineyards continues to source grapes from these sites. See our notes on Treasury Estate including our visit to their headquarters in Melbourne Australia at the end of this review.
Fast forward many years; Frank Family Vineyards founder Rich Frank's first Napa Valley acquisition was in 1990 when he purchased a home on the hills overlooking Rutherford including property that would eventually become the winery's signature property – Winston Hill Vineyard.
Rich recalls the early developments that led to Frank Family. It was during a dinner at the old Tra Vigne restaurant in St. Helena. He was enjoying a particular chardonnay with his meal and asked his server for more information about the wine. It was a Rombauer produced Chardonnay; his server encouraged him to go talk to Koerner Rombauer for more information. So, the next day Rich did so – visiting Rombauer Winery but Koerner wasn't there so he was directed to Koerner's home. He showed up unannounced and found Koerner watching a ballgame – having never met each other, they soon spent the next three hours discussing the wine business.
Two years after their initial meeting, Koerner informed Rich about a property in foreclosure (Kornell Champagne Cellars) and encouraged him to put in an offer. When Rich heard the asking price, he asked Koerner to put in an offer on his behalf for 1/2 the price. Koerner called Rich the next day saying, "Congratulations you now own a Napa winery". In 1992 both men partnered to purchase Kornell Champagne Cellars. They named their new venture Frank-Rombauer (and made several vintages with this name) but it soon became clear that this name was causing confusion among consumers with the already well-established Rombauer Winery. The name was changed to Frank Family and by 2007 Koerner sold all of his shares and is no longer involved with Frank Family Vineyards (unfortunately Koerner died in 2018 and is sorely missed by many in the valley).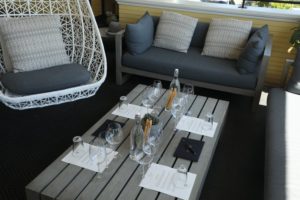 In 2000 a major wine warehouse fire on the property destroyed tens of thousands of cases of wine including not only their own existing inventory, but older vintages of Kornell Champagne Cellars as well as wines from a number of custom-crush clients who were storing their wines here. Incidentally this was not the first major fire to occur on this property; in 1909 a fire most likely caused by a problem with a chimney, burned down the handsome two-story residence on the property including destroying some 22,000 gallons of wine and various oak barrels. Reference our review on Larkmead Vineyards for more detailed history about this property.
Until the sale to Treasury Wine Estates, Rich oversaw the winery operations with his wife Leslie (his two boys, Paul and Darryl are also involved). Rich is the former President of Walt Disney Studios and Chairman of Walt Disney Television and Telecommunications. This isn't the only Disney connection to Napa Valley. Walt Disney's only child, Diane (now deceased) and her husband Ron used to own a Napa Valley Winery – Silverado Vineyards.
Rich had a storied career in Hollywood overseeing hit films such as Dead Poet's Society, Pretty Woman, Aladdin, and The Lion King among many others. When one meets Rich, one is soon impressed by the multitude of stories relating to films and actors that he has accumulated during his long career in the industry. For example, Pretty Woman was going to be released under the name 3000 but Rich heard Roy Orbison's song Pretty Woman playing at a café in Paris and decided that would be a much more marketable name for the film. Or the time he recalls Robin Williams doing an impromptu performance of Shakespeare during a meal – jumping up on a table and shocking other patrons with his dramatic flair.
Long time fans of Frank Family may remember tasting in their trailer type space many years ago (sometimes referred to as the 'shack'). Today tasting is in the 1930s yellow exterior craftsman style home which features both a bar tasting room, a walled off private sit down room and two additional rooms (the Patriarch Room named in honor of Rich's father, a WWII veteran) and the Hollywood Room which displays some of Rich's film awards from his career in Hollywood, some sports memorabilia as well as an Emmy that Leslie earned during her time in broadcasting (news reporting including first hand reports from Hurricane Katrina and 9/11). After many years, the tasting salon was remodeled in the summer of 2017 by locally acclaimed interior designer, Erin Martin of Martin Design.
Weather permitting (helped in part by heat lamps permanently fastened to the ceiling), the outdoor deck is an ideal place to relax with views of the lawn and vineyards in the background. The deck features a number of places to enjoy wine including at tables, couch type seating and even swinging chairs. Picnic tables are available directly outside the tasting room and tastings are sometimes conducted here.
Officially opened in March 2023 the 2,300 square foot Miller House is located to the rear of the hospitality space and next to the Member's Lawn. This space was designed by architect Howard Backen and is available for hosting larger private groups for tastings. Several fire pits are located outside. And this space is also used for the Miller House Elevated Experience, pairing seasonally sourced bites including fresh fruits and vegetables from the Frank Family properties with select Frank Family wines.
Part of the interior contains a dedicated commercial kitchen. This building is named the Miller House in honor of Leslie; her maiden name was Miller. And the site has special significance to Leslie as it near where she and Rich were married. The red wooden barn next to the Miller House is not part of the Frank Family Viineyards property but rather is owned by Larkmead Vineyards.
Miller House

The winery was completely remodeled in 2008 and it has become one of the more photogenic wineries in the northern part of Napa Valley. As of our latest visit, Frank Family owns approximately 380 acres within Napa Valley (250 of which are planted to vines), ranging from cooler weather Carneros (their Chardonnay comes from here) to the little known Capell Valley region in eastern Napa County and in Rutherford, Winston Hill and the Benjamin Vineyards. Incidentally, Benjamin Vineyards was formerly known as the Wood's Ranch – farmed for three generations by the Wood family including Laurie Wood who was a pioneer in Napa Valley farming.
Interestingly, Frank Family does not own vineyards where the winery and tasting room are located (other than three short rows located immediately to the right as you enter from the parking lot). In addition to vineyards they own, General Manager and Winemaker Todd Graff estimates they purchase around 40% of their grapes from premium vineyards they do not own.
For being so far north in the valley, where wineries are fewer in number, their tasting room is often quite busy. The wine educators are informative and friendly. Their first employee and very well-liked tasting room manager, Dennis Zablosky (who used to work for Hanns Kornell) passed away in 2016. We met him several times during visits to the winery; he was a special man known for his welcoming personality.
In the spirit of Hollywood and a homage to Rich's background – a short red carpet and red rope along with a backdrop of Frank Family vineyard and wine related names greets visitors entering from the parking lot. Often popular with visitors for Instagram type selfie poses. Notice the old bell next to the main entrance – this was from the Larkmead Train station depot that used to be located nearby.
Visitors will often describe their experience here with the word "fun" and compared to some wineries an experience here is more about the drinking and tasting, rather than just tasting (and yes there is a difference). The atmosphere is welcoming and very social with strangers often making new friends during the tastings. Rich is often here as well; he does not run this winery from a distance. And Rich and Leslie's rescue dog, appropriately named Magnum sometimes wanders the grounds.
Select Wines

Compared to the number of commercial still wine producers in Napa there are an extremely small number of sparkling producers. This is one of the rare wineries in the valley that produces both multiple sparkling wines along with still wines. As of our latest update to this review, Frank Family Vineyards produces four sparkling wines which comprise about 5,000 cases each year.
Frank Family Vineyards produced a "signature brut" for several vintages in the late 1990s. Normally the word signature refers to a flagship wine and it was one of their premium sparkling wines, but it also holds an additional meaning as Rich's signature is printed on the label. This wine is in a Cava style bottle (pronounced Kava – the name for sparkling wine produced in Spain) which means it won't fit in normal size wine shipping boxes. While no longer making this wine, one may be able to find a few bottles for sale online.
In 1919 a treaty was signed in Paris indicating that only producers from the Champagne region in France could bottle and label their sparkling wines as Champagne. The USA was in the midst of the early prohibition years and never signed this. As a result, U.S. based producers technically can bottle their sparkling wines with the word Champagne. As respect to the French most American producers do not. Frank Family used to label their wines Champagne but are now labeled with proprietary names.
The 2017 Frank Family Vineyards Sparkling Brut Rosé undergoes secondary fermentation, spends 36 months aging on the lees and then another 2 years in bottle. As a result this wine is already between 5 and 6 years old upon release. This wine is a blend of primarily Pinot Noir but also some Chardonnay, with both varieties from their Lewis Vineyard in Carneros. This wine is pale salmon in color; the bouquet offers aromas of lemon and lime, citrus blossom, wild strawberry and as it continue to evolve in the glass, scents of apple. The bouquet smells fresh and bright. It is crisp and full of energy on the palate, dancing with its lively acidity. It shows some mineralities along with flavors of red apple, lemon juice and other citrus notes on the finish.
The 2020 Frank Family Vineyards Lewis Vineyard Chardonnay (Carneros and its namesake is in honor of Rich's oldest grandson Lewis) is medium to deep gold in color; the bouquet offers a diversity of aromas including lychee, yellow peach (almost like a peach in light syrup), apricot, honeysuckle, hazelnut and warm butter. We noted how beautifully the oak complements the fruit and how integrated it is in the bouquet. The palate offers a creamy and velvety texture with some noticeable weight. This bottling offers flavors of stone fruit, somewhat mirroring the aromas and includes peach, apricot and nectarine along with pineapple, mandarin and a hint of hazelnut. This finish is richly flavor, lengthy and bright. We suspect that as this wine ages it will offer additional notes of hazelnut and crème brute.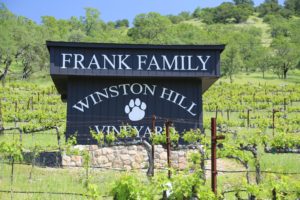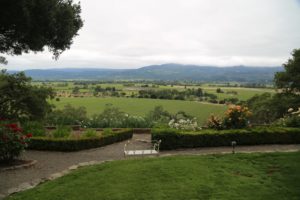 The 2019 Frank Family Napa Valley Zinfandel is sourced from vineyards in both Chiles and Capell valleys including the S&J Vineyard in Capell Valley which is named after two of Rich's grandchildren, Stella and Jeremy. This bottling is 82% Zinfandel and 12% Petite Sirah. It is medium to dark ruby in color; the bouquet is a union of both darker spices and bright fruits including raspberry and white pepper. It also offer scents of dried herbs including sage and thyme. The palate reveals flavors of red licorice, red plum and cherry. Shows medium acidity. Balanced. Drinks easily and quickly. The tannins are smooth and rounded and well integrated, lingering softly with hint of darker lingering spices.
The 2019 Frank Family RHG (Rich Harvey Frank) Cabernet Sauvignon is 95% Cabernet Sauvignon with the balance being small percentages of Merlot, Cabernet Franc and Petit Verdot. This wine is made from grapes from both the Winston Hill and Benjamin vineyards (named after Rich's second grandson). It is deep ruby in color; the aromatics offer light scents of jalapeno peppers, tobacco spices, plum skin and dark pepper. As the wine evolves it reveals more fruit including of blackberry and boysenberry. The palate offer bright red and darker fruits including of plum, cherry and blackberry. Some of the savory characters on the bouquet are also found on the palate. The tannins are well-integrated and already nicely polished in their youth. This wine lingers with a note of toasted oak, a dry earthy note and a hint of tobacco spice.
Patriarch is Frank Family's premium Cabernet Sauvignon, crafted in tribute to Rich's father. Each bottle of this limited production coveted wine is wrapped in tissue with newspaper print from the front page of the New York Times, the day after D Day in World War II. Rich's father Hyman (Hy) Frank played infield for the Brooklyn Dodgers baseball team before leaving his sports career to serve in World War II under General Patton and was in Normandy and Omaha Beach during D-Day. Hy was able to briefly enjoy the first vintage of this wine in 2015 before he passed at nearly 99 years young.
Hy was also a partner with his friend Gus in a meat packing business in Williamsburg, next to Brooklyn called Heide Meat Company.
The 2018 Frank Family Patriarch is 100% varietal from what is referred to as the 'heart block', a section of the hillside Winston Vineyard located towards its uppermost reaches. This wine is deep ruby in color; the bouquet features darker aromatics including of bramble, blackberry, chocolate, a floral component (violets) and some darker spices. Be patient with the bouquet as this wine needs plenty of time to fully open. We used two words to immedtley describe the palate: layered balance. The textural grip is noticeable but without any overt heaviness of mouth drying tannins. This wine offers flavors of Santa Rosa plum and blackberry and lingers savory with notes of crushed peppercorn and a hint of dried tobacco leaf to accompany the mouth watering brightness of acidity. This wine is drinking nicely in its youth but has plenty of stuffing to continue to age and develop for the next at least two decades.
During an epic retrospective tasting celebrating Frank Family's 25th anniversary in 2018, bottles of Winston Hill Cabernet Sauvignon were opened during the odd years from 1999 through 2013. Incidentally, Winston Hill was named for Rich's former English Springer-Spaniel, Winston who is buried in the upper part of the vineyard. Regardless of vintage, the wines show good acidity, balance and are age-worthy with some of the older vintages still showing a liveliness of fruit. These are the consistent threads throughout the wines, however each vintage tasted different from the others, dramatically so at times, and all are unique wines. Several of our favorites among these years are the following:
The 1999 Frank Family Winston Hill is fairly dark ruby in the glass – the color has held up very well over nearly 20 years at the time of our tasting. It shows an immediate noticeable sweetness that permeates throughout the bouquet with notes of cinnamon, other baking spices, a nutty nuance and tobacco leaf. As the wine opens shows a bit of chocolate and ripe prune characteristics. This wine has aged well – soft across the palate shows pleasing flavors of plum and currant – with a mouthwatering finish and tannins that are supple in feel.
Only 2 years removed in age, the 2001 Frank Family Winston Hill is a remarkably different wine. Lighter in color then the 1999 this wine smells and tastes younger than its actual age. Shows darker fruit on the bouquet and on the palate. Features dry dusty somewhat robust tannins still anchored by great acidity. This wine is a testament to how well their wines can age and could almost be mistaken as being a current release.
Perhaps our favorite of the wines was the 2005 Frank Family Winston Hill. Reveals an elegant nose showing black licorice, plum, an herbal note and hints of sage. Superbly balanced, this wine is seamless across the palate; if there is one component that stands out, it is the wine's intense flavor – mostly dark fruit. Dusty tannins anchor a long finish that is mostly about the fruit and the acid (mouthwatering cherry tartness) along with hints of mocha. Drinks very well 13 years after the vintage date.
We love writing about the 2011 vintage because it is such an outlier vintage compared to the Napa norm. Winemaker Todd Graff describes harvest time this year as "get it or lose it" with rain coming early in September followed by humid conditions (optimum conditions for botrytis and terrible conditions for making non dessert wines). The 2011 Frank Family Winston Hill shows a smoky elegance on the bouquet with notes of jalapeno and floral nuances (violets). Has a nice depth of aroma that keeps evolving nicely as the wine opens. Fairly supple across the palate will well-buffed out tannins.
The upper block of Winston Hill Vineyard is planted to small amounts of Sangiovese – a very limited production wine is produced from this varietal each year. And several non-vintage dessert wines are also produced each year.
—
Frank Family tries to accommodate all guests regardless of whether they have a reservation. If its too crowded (more likely on busy weekends) guests without a reservation may be offered a glass of wine rather than being able to do a full sit down tasting.
The winery is very dog friendly.
Total production each year is around 150,000 cases. This is a remarkable trajectory considering Frank Family only produced 200 cases during their first vintage. For more information and or to join one of their numerous wine clubs, visit: www.frankfamilyvineyards.com
Stone Cellar/Grounds

Tasting Salon

Richard and Leslie Frank Center for Leadership and Innovation in Media
In 2020 Rich and Leslie donated 7.5 million dollars to Rich's alma mater, University of Illinois at Urbana-Champaign. Referred to as the Frank Center at College of Media. We will visit this center on campus in the next few years and will update our notes here accordingly.
Treasury Wine Estates
Treasury Wine Estates is currently the 4th largest wine company on the planet. Treasury was formerly the wine division of the Australian based Foster's Group and was founded in 2011 – although its roots can be traced back to the mid 1990s when Foster's began to build out their wine division. Treasury Wine Estates owns or manages some 22,000+ acres of vineyards in Australia and New Zealand and nearly 10,000 acres of vineyards in the USA (mostly in the Napa Valley, Sonoma County and California's central coast).
As of our latest update to this review they are the largest controlling entity of vineyards in the Napa Valley through mostly leased land. They own several of the Napa Valley's most iconic, historical and storied producers including the following other five wineries: Beaulieu Vineyard, Beringer Vineyards, Etude, Stags' Leap Winery and Sterling. In addition, they own the Napa Valley brands Acacia and Hewitt. And of the other brands under their ownership, Penfolds in the Barossa Valley, Australia is arguably the most famous.
Headquartered in Melbourne, Australia the company also maintains offices in Napa, Oakland, London, Shanghai and Singapore. In 2019 the company moved its headquarters to one of the uppermost floors in one of Melbourne's most iconic buildings, the T&G Building located on Collins Street a few minutes' walk from the Flinders Street Railway Station.
The T&G building, named after the T&G Mutual Life Assurance Society was built in 1928 and features a gorgeous atrium like setting and high-end retail shops on the ground floor as well as 10 floors of office space. This was one of Melbourne's first large scale office buildings. Despite being one of Melbourne's prominent and historical buildings, Treasury Wine Estates keeps a very low profile and has no signage.