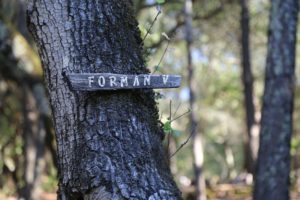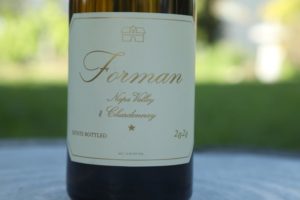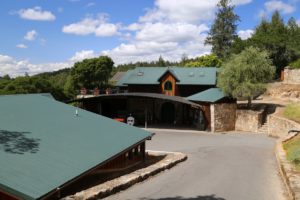 Forman Vineyard was started by long time and well respected Napa Valley vintner Ric Forman in 1983 (his first vintage). Ric grew up in Oakland and later studied at UC Davis in the late 1960s and was part of the era at Davis that produced top local winemakers including Justin Meyer at Silver Oak Cellars and Nils Venge (Groth, Saddleback and others).
Ric initially starting working at wineries in Napa Valley including the 1967 harvest at Stony Hill (through a connection to the McCrae's made by his professor Maynard Amerine) and the 1968 harvest at Robert Mondavi Winery (only 2 years after that iconic winery was founded) and much later in the early 1980s helped out Sonoma County based, Kendall-Jackson by advising the style of Chardonnay that would become so popular for that winery. Early in his career he began working with Peter Newton (well-known for founding Napa's Sterling and Newton Vineyards). Ric was the winemaker at Sterling for 10 years and helped designed the winery as well as Newton's other winery Newton Vineyards – after Newton sold Sterling to Coca Cola in 1978.
While at Sterling, Peter sent Ric to France to study some of their wine making techniques, a trip that would truly influence Ric's career. While there, Ric took copious notes (his original notes and notepads are still on hand at Forman's tasting room). Ric was a pioneer winemaker in Napa; he introduced a number of techniques to the valley including barrel to barrel racking, one of the first vintage dated Merlots (from the 1969 vintage while at Sterling Vineyards), fermenting Chardonnay to barrel while still sweet (letting the fermentation take place in the barrel rather than in tank) and a number of viticultural practices. His early influences were definitely Bordeaux in nature and today both his viticultural practices and wine making reflect that.
And with a remarkable career that has spanned some 50+ years and left an integral mark in the Napa Valley, Ric's expertise has been invaluable to a number of now well-known and well-established wineries, including providing early advice to Spottswoode Winery to focus on Cabernet Sauvignon, introducing Duckhorn Winery's co-founder, Dan Duckhorn to the acclaimed Three-Palms Vineyard and to their founding winemaker, Tom Rinaldi, hiring Mike Chelini who was winemaker at Stony Hill for decades, and helping revive and remodeling the old Brun & Chaix Winery on Howell Mountain for its owners at the time, Francis and Françoise DeWavrin-Woltner of Chateau Woltner.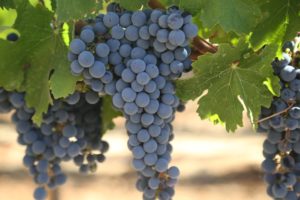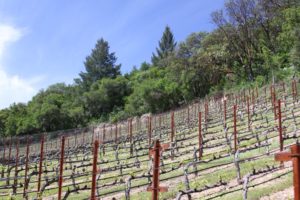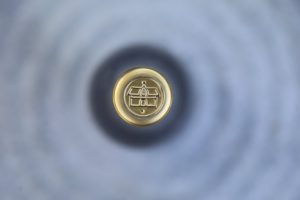 Presently Forman produces merely 3000 cases (about 2000 cases of Cabernet Sauvignon and 1000 cases of the Chardonnay) – that number is reached because it is the caseload amount that Ric can physically produce. Not only is he the winemaker (his son Toby is the assistant winemaker – Toby also has his own wine brand with his wife Dawn called Tobias Vineyards), but he is also responsible for managing his entire vineyard on the 40 acres that surround his winery. He is a very hands-on winemaker preferring to do even the most mundane wine making tasks himself.
By doing everything himself and producing small quantities he ensures that each bottle of wine is truly handmade while helps maintain a very high standard of quality. Ric is/was also a partner in several other premium Napa vineyards including the Rutherford Star Vineyard (source of his Chardonnay) and also the premium Thorevilos Vineyard located not far from Ric's own property (now called Ecotone Vineyard). Incidentally, Ric co-founded David Abreu Vineyard Management with David Abreu in 1980 and made the Abreu wines on site through the 2000 vintage.
Ric spent significant time looking for the "right" type of property in Napa in the late 1970s. After three years he located and purchased his existing ridge location at the base of Howell Mountain in 1978 off of what is appropriately called Big Rock Road. Some old existing vines were still growing on site when Ric acquired the property. However, some intense labor was required before the vineyards and the winery could be built. Ric set-off many sticks of dynamite (not all at once) using a significant amount of blasting powder which was needed to plant the vineyard in these extremely rocky soils (the first vines were planted in 1979). Ric was able to plant nearly 9 acres of vines in a vineyard he calls Grande Roche, meaning big rock in French at an elevation of approximately 650 feet. An extensive network of tunnels under his house and winery were later drilled and are used for barrel aging the wines. And he built his winery from rocks removed from his vineyards.
Villa Remi Winery

Before the current winery was built in 1985, Ric's first wines (beginning with the inaugural vintage in 1982) were made in the cellar of the old Villa Remi (Chabot) Winery, built in 1881.
The vineyard (separated into three blocks, each at a slightly different elevation) sits on an ancient up lifted riverbed so there are plenty of rocks, but despite this, the soil itself is rather deep and well drained (including both river gravel and decomposed volcanic tufa). The vines are planted very close to each other on non-terraced hillsides. During bud break its fairly easy to see the different varietal blocks within the vineyard based on the differences in each varietal's growth patterns. Having walked through several blocks we can say that these vineyards are immaculate – each vine is carefully managed multiple times throughout the year.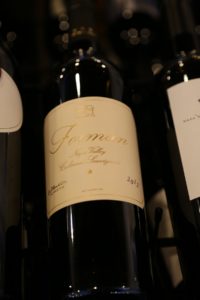 While Ric used to make Merlot from the site, today Forman focuses on merely two wines each vintage, a primary only (no malolactic) fermented Chablis style Chardonnay from a vineyard Ric owns on the Rutherford Bench and a Bordeaux styled red blend. Due to the high demand for the Chardonnay, it is often sold out although may selectively be found in the valley including at Gary's Wine in St. Helena. The red blend is made from grapes grown on site including Cabernet Sauvignon, Cabernet Franc, Merlot and Petit Verdot.
Harvest is always done by hand with the processing of the fruit starting almost immediately as the winery is located right next to the actual vines. The red wines are all fermented in small steel tanks; the small size helps ensure quality control. The red blend is typically aged in 80% new French oak. Blends are decided upon soon after fermentation.
A nice characteristic about Forman's wines are their balance and approachability in their youth.
Select Wines
The 2020 Forman Napa Valley Chardonnay (sourced from the Star Vineyard in Rutherford) is medium gold color in the glass; offer aromas of honeysuckle and honeycomb along with warm butter, vanilla bean and notes of toffee and caramel. The aromatics are also tropical showing mango and pineapple. Features a creamy almost briny mouth feel across the palate with flavors of Golden Delicious apple, yellow pineapple and mandarin. There is some oak spice on the palate but it's not overt. What brings this wine to life is not only the intense flavors and pleasing texture, but also the bright acidity and mineral laden finish which persists for some time. This wine was whole cluster pressed to Burgundian barrels. After fermentation, this wine was aged in older barrels for 9 months of which 7 months were on the lees; it was only racked once prior to bottling.
The 2006 Forman Napa Valley Cabernet Sauvignon we tried had just been released about a week before and while very young it already showed a beautiful elegance and structure. The bouquet is very fruit forward with a noticeably earth-driven terroir character present both as aromas and on the palate. Hints of dust, gravel and mocha develop, adding additional nuances to the fruit aromas as the wine opens up. The palate is balanced and offers pretty spices but it's really all about the fruit and the mouth feel – featuring a noticeable suppleness and balance from start to finish. The finish is long, slightly smoky with structured, ripe and fine-grained tannins.
—
Visits to Forman Vineyard are strictly by appointment and are for serious wine enthusiasts and collectors. While priced accordingly for the high quality and hands on work that goes into making these wines, they are certainly not priced like some of the regional 'cult' wines.
With a production of only 3000 cases per year there is not a lot of wine to go around. Much of it is distributed directly through their mailing list. Locally however, they do have excellent distribution and are found in a number of restaurants in the Napa Valley as well as several wine shops including the St. Helena Wine Center (located in downtown St. Helena). In additional they have limited distribution overseas including in parts of Europe and Asia.
Rossi-Wallace
And Ric is also a partner with his wife Cheryl Emmolo in Rossi-Wallace, a very limited production Napa Valley Pinot Noir sold primarily through their mailing list (and usually quickly sold out once it is released). The wines are made at Forman Vineyards. Cheryl has a long heritage in the Napa Valley – her grandfather Salvatore Emmolo founded Emmolo Nursery in St. Helena, later operated by her father Frank Emmolo. This nursery was one of the go to rootstock suppliers for Napa Valley based wineries for decades.
In 1994 she began her own wine brand, Emmolo Sauvignon Blanc (we first tasted this many years ago when Cheryl was pouring this at a tasting in San Francisco). Twenty years after founding this label Cheryl passed the brand to her daughter, Jenny and it is one of the labels under the Caymus Wagner Family of Wines (Cheryl used to be married to Chuck Wagner). Rossi-Wallace is named in tribute of the mothers of both Cheryl (Annie Rossi) and Ric (Roz Wallace).
—
For more information, to join the Forman mailing list or to schedule a tasting, visit: www.formanvineyard.com