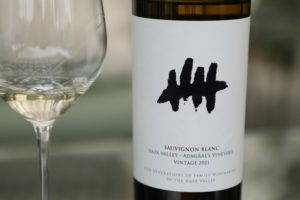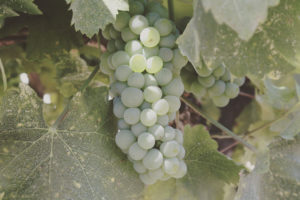 Five Vintners was founded by winemaker Krisi Raymond with her first vintage in 2001. Her winemaking heritage is deeply rooted in Napa Valley. Her great, great grandfather Jacob Beringer, along with his brother Frederic founded what is now Napa Valley's oldest continuously producing winery, Beringer Vineyards in 1876. The impetus for starting her own brand exactly 125 years after her great, great grandfather began producing wines in Napa Valley was both rooted in heritage but also the fact her father kept encouraging her to do so.
She grew up in St. Helena, lived one year in her youth on the old ranch house at Raymond Winery (which still exists) and worked at the winery every summer. Over the years she held a variety of jobs including working the bottling line and numerous cellar duties. When her father asked her to help form a sales team for territory east of the Rocky Mountains, she moved into sales. But ultimately it wasn't what motivated her to keep working in the wine industry. After taking 6 months off to clear her head including a trekking trip to Nepal, she returned to production, this time working with assistant winemaker at the time, Kathy George where she learned about the decisions and the timing behind all the viticultural and cellar work, she had been doing for years.
When deciding on an image for her wine, Krisi knew she wanted something that represented the number five, referring to 5 generations of winemakers. Tony Auston of Auston Design Group provided her at least 12 different designs. His company has produced numerous labels for wineries over the years including in Napa Valley, Darioush, Ehler's Estate, James Cole, Palmaz, T-Vine and Trinchero, among others.
One of Tony's employees simply drew five lines on a paper towel using a thick felt tip pen. The resulting image is clean, simple and quickly draws one's glance to her bottles. Each of the four vertical lines represents one of Krisi's family with the horizontal line representing herself. Including herself, the back label lists five vintners: Jacob Beringer (along with his brother, the founders of Beringer Vineyards), Otto Beringer Sr (oversaw production at Beringer Vineyards during Prohibition with wine produced for medicinal and sacramental use), Roy Raymond Sr. and Martha Jane Beringer (the Beringer/Raymond connection – they married in 1936) and Walter Raymond (Krisi's father and the founder of Raymond Vineyards after the sale of Beringer to Nestle Corporation in 1970). Raymond's first vintage was in 1974.
Select Wines
The focus of Five Vintners production each year is on wines from Krisi's favorite grape varieties including Sauvignon Blanc, Cabernet Sauvignon and Zinfandel.
The 2021 Five Vintners Sauvignon Blanc Admiral's Vineyard is medium yellow in color; the bouquet offers aromas of haystack, citrus blossom, lime, some mineralities and as it continues to breath, it shows an attractive floral note including of star jasmine and honeysuckle. This wine sports a creamy texture which nicely complements its balanced acidity. It reveals flavors of pineapple, melon, red apple, mango and papaya. Depending both on where it is grown and the winemaker's style/i.e., harvest decisions, this variety can often be overtly green and grassy or riper and more tropical in nature. Refreshingly, this bottling straddles the line between both; one word best summarizes its character: balance. With that said, Krisi told us that this particular bottling is a bit riper than some of her recent vintages. Regardless, it drinks very well by itself, and you will find yourself quickly reaching for the bottle again to refill your glass.
Krisi picks her Sauvignon Blanc for flavor; the vineyard is usually completely harvested by the end of August with measured sugars usually between 23 to 23.5 brix. She ferments cold with fermentation often lasting about 30 days. The wine is fermented and remains in stainless steel, post fermentation for 3 to 4 months before being bottled.
The source vineyard for the Five Vintner's Sauvignon Blanc is merely an acre of vines owned by Dave Zumwalt the former owner of what was Zumwalt Ford in St. Helena (now Sager Ford). For 40 years this plot of land in Rutherford grew a variety of weeds and was not used for agricultural purposes. Dave would often ask Krisi's father Walt if Raymond Vineyards wanted to plant the site, but he never did because it was not adjacent to Raymond's own vineyards. Finally in 2002, a year after Krisi started Five Vintners the site was planted. She walked the property with Mark Neal (Neal Vineyard Management); because of its high clay content and water holding retention, he recommended it be planted to Sauvignon Blanc. The site is trellised as a quadrilateral lyre system allowing for plenty of air flow and canopy management. All the vines are clone 1 although for some time a single red wine grape was growing in the vineyard. It's a fairly high yielding site with usually around 7 tons harvested each year.
Five Vintner's first vintage from this site was in 2005. The name of the tiny vineyard, Admiral is a nickname that friends bestowed upon Dave. And while no immediate relation, Admiral Elmo Zumwalt was Chief of Naval Operations for the U.S. military in the early 1970s.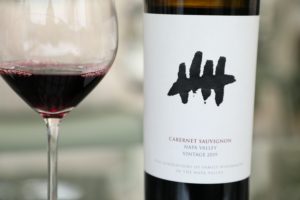 The 2019 Five Vintners Cabernet Sauvignon Napa Valley is sourced from two vineyards, including in St Helena and in Rutherford. Grapes from each vineyard site are fermented and then barrel aged separately from each other until Krisi creates the final blend. She uses as she puts it, "a gentle expression of oak" with both new (40%), once used and neutral barrels. This wine is deep ruby in color with some lighter purplish tinges on the rim; the bouquet initially offers aromas of old cedar box, a light pepper spice, tobacco, sage, bramble, dark plum and as it opens, a hint of chocolate. It needs time to fully express its core fruit aromatics. Its texture offers grainy, dusty and earthy tannins which are well-integrated into the dark, savory, juicy and mouthwatering finish. Some of the cedar notes on the bouquet are also mirrored towards the back of the palate.
Krisi used to produce a Syrah; she bottled a Zinfandel from Dry Creek in neighboring Sonoma County for a number of years but stopped from 2017 through 2021 due to vine health and the vineyard needing some replanting. However, she resumed producing Zinfandel in 2022.
Krisi told us she makes her wine like her father did with food (she loves to cook) and family in mind. And it shows. The two wines we tried are fresh, vibrant and have varietal character – components which are often stripped out of riper more fruit forward showings.
—
The wines are sold both direct to consumer and through selective distribution in parts of Texas, New York, New Jersey and in the Midwest. For more information, to join one of several Five Vintners wine club offerings, to join the mailing list or to purchase wine, visit: www.fivevintners.com