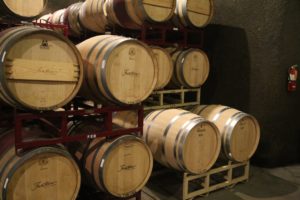 Fantesca Winery is located on a very historical property in the less traveled Spring Mountain District, in the lower Mayacamas mountains a few minute drive west of the town of St. Helena. Grapes were originally planted on the property in the 1860s which was part of a dowry from Caroline Bale when she married Charles Krug; reference the nearby Bale Grist Mill and Charles Krug is one of Napa Valley's most historical wineries. Fantesca is a special winery for a number of reasons, not the least of which are their premium wines.
Fantesca's ownership origins can be traced to a series of stores in Minnesota called the Sound of Music specializing in audio equipment. In 1981 one of their stores was hit by a tornado, taking off the roof but not damaging their inventory. Looking to liquidate products quickly, owner Richard Schulze offered a "tornado sale" placing "best buy" tags on items in their inventory. This sale was an immediate success. By 1983 Richard had renamed the company to Best Buy and began offering a greater diversity of products.
Founders Susan and Duane Hoff were both working very high paced jobs at Best Buy (Susan is Richard's daughter) and were looking for something that would allow them to slow down a bit and enjoy a more rural lifestyle in contrast to their hectic work and travel schedules. For three years they searched for property in Napa Valley; they were specifically looking for planted vineyards with an established bonded winery. Finally in 2004 they located "the" winery and named it Fantesca after the popular female character La Fantesca in traveling comedy shows during the Renaissance period in Italy. This character also inspired Cirque Du Soleil. And when the Hoff's heard La Fantesca described as "Sexy, smart, and unpretentious", they couldn't help but fall in love with the character.
The property is 53 acres. The hillside vineyards are managed by Barbour Vineyard Management Company; they are separated into a number of blocks each with its own soil, water, rootstock or variety characteristics. The 10-acre vineyard is a mosaic of different vine ages but is primarily planted to Cabernet Sauvignon with a small 0.65 acre block of Petit Verdot planted near the gated entrance. The non estate wines, a Chardonnay and a Pinot Noir are sourced from the cooler Russian River area in neighboring Sonoma County. Well-known winemaker Heidi Peterson Barrett has been Fantesca's winemaker since 2008. When the Hoff's purchased the winery vintages were still in barrel from the prior owner (Shadow Lace); the first vintage released under the Fantesca label was 2002, and the first vintage completely under their control was in 2004. In their relatively short history of making wine, they have already employed top winemakers including their original winemakers, father son duo of Nils and Kirk Venge.
Their cave was built during a time when Napa County had implemented strict controls on new cave construction. However, one way around this was using your mineral rights in the name of digging a cave. The previous owner decided to "look" for silver but after digging a main tunnel through the mountain and several "exploratory" shafts he never found what he was looking for. Today this small but functional cave serves to age their own wines as well as several other premium brands who custom crush on site. It also serves as a conduit between the physical winery and Duane and Susan's home.
Like other wineries on Spring Mountain, the devastating Glass Fire of 2020 burned through their property but fortunately did not burn the winery and remarkably no vines were lost. The vineyard helped as a fire break and only their wooden deck burned.
Select Wines
Whites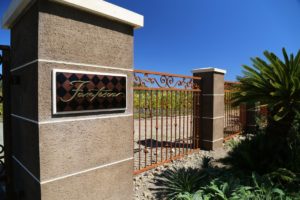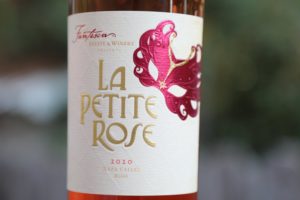 The Fantesca Rosé of Cabernet Sauvignon is a rare bottling; they have only produced this wine twice – once in 2011 (a cooler and rainy year) and in 2020 (the year of the devastating fires and resulting smoke filled skies). The 2020 Fantesca La Petite Rosé is 100% varietal Cabernet Sauvignon. This wine is deep salmon in color; the bouquet offers aromas of rose petals, strawberries and raspberry. A sweeter fruit driven layer also runs through the bouquet, flirting with some tropical notes including lychee, melon and mango. Bright, richly flavored and texturally well-endowed, this is a serious rosé with some staying power, especially on the finish. The palate somewhat mirrors the bouquet and offers a diversity of flavors including raspberry, strawberry, pineapple (not a flavor we commonly find in Napa Valley rosé bottlings), mandarin, red apple and lemon juice. And following the primary finish is a sweet and persistent fennel note which continues to linger for some time. The mouth feel is supple, creamy and moves over one's palate similar to one running their fingers over soft velvet. One of our favorite rosé bottlings in Napa Valley is also made by Barrett, the Amuse Bouche Prêt à Boire Napa Valley Rosé; this bottling rivals that one.
Heidi Barrett is not known for her Chardonnays; in fact prior to the Hoff's request that she produce a Fantesca bottled Chardonnay she only made red wines. When agreeing upon making wine from this variety she had two stipulations: one she would source the fruit from a grower she already had a working relationship with and two, she would make a style of Chardonnay that she enjoys drinking. Her style is more Chablis in that it showcases the inherent varietal characteristics but without additional manipulation in the cellar, i.e. this wine never goes through malolactic fermentation and ages with a judicious and thoughtful oak regiment with oak playing a supporting role rather than a dominating one.
The 2020 Fantesca Chardonnay Russian River is pale gold in the glass; the bouquet offers a diversity of aromas including apricot, pineapple, vanilla, honeydew melon, an orange peel zest and crème Brule. The palate is both bright and balanced. The rounded texture feels lightly creamy which balances nicely with the refreshing acidity. This bottling reveals flavors of mandarin orange, vanilla wafer, pear, red apple, apricot, peach and pineapple. Those who have been dissatisfied to date with Chardonnay might actually change their perception of the variety after trying this bottling.
Paris Block, Bacigalupi Vineyard

In 2020 Fantesca began working with the original Paris Block at the Bacigalupi Vineyard in the Russian River Valley of neighboring Sonoma County. This section of that vineyard produced some of the Chardonnay for the 1973 winning entry from Chateau Montelena for white wines in the 1976 Judgment of Paris Tasting. We have visited this old block; some of the original vines are still growing, albeit with yields that are tiny. Visit our reviews of Chateau Montelena or Edge Hill Winery for more information about this special site. Mike Grgich was the winemaker at Chateau Montelena at the time and produced this wine; Bo Barrett was part of the cellar team. It is interesting to note that the winemaker for the Fantesca bottling is Bo Barret's wife Heidi. And it is not a wine that is produced every year – only when the vintage dictates the highest quality.
The 2021 Fantesca Chardonnay Bacigalupi Vineyard Russian River Valley is medium golden in color; the bouquet is layered with attractive aromas of citrus blossom, honeysuckle, white peach and slate rock. The aromatics are consistent and stay present even as the wine continues to open. The cohesiveness between flavor, acid and texture creates a balanced and elegant bottling. It reveals flavors of pineapple, pear, red apple and white nectarine with a light nutty character accompanying, perhaps hazelnut. This latter note will probably become more prominent as the wine continues to age. This wine's texture is supple and glides easily across the palate. We forgot to time the finish during our tasting but it is lengthy and we noted its persistence. To date this very limited and special production wine has only been bottled in magnums.
Reds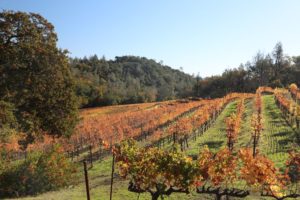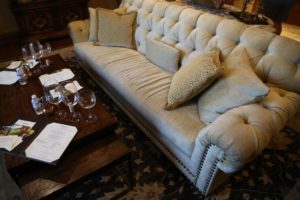 The 2019 Fantesca Cabernet Sauvignon Spring Mountain District is primarily Cabernet Sauvignon with a small percentage of Cabernet Franc in the blend. This is the flagship wine of the property, with a singular focus on crafting the best wine each year from the estate representative of its vintage. This wine is deep ruby in the glass; its aromas are immediately open and expressive highlighting both primary and accompanying secondary scents. These include notes of blackberry, boysenberry, bramble and dark raspberry along with milk chocolate and molasses. There are some savory darker spice notes at play here as well including a woodsy note of cedar box, dried red chili pepper flakes, dried herbs and a very subtle note of jalapeno. Bright, fresh and red fruited across the palate, this bottling sports flavors of cherry, plum and currant. The tannins are broadly distributed with a light gravelly but already integrated texture and a finishing note of cedar spice. This is a Rockstar bottling with a gracious and vivacious personality. It shows youthful at the time of our tasting 4 years post vintage. Give it some time. This is a highly age worthy bottling.
The 2004 Fantesca Estate Cabernet Sauvignon is blended slightly with Petit Verdot which in this case helps flesh out the mid palate by providing additional structure and flavor. This is a very rich full-bodied wine with an appealing nose that includes a certain smokiness integrated with fruit. It has a wide depth of flavor from wild blackberries to elegant spices on the very long seductively lingering finish.
Susan's father Richard is not always able to enjoy robust red wines (for health reasons), so the Fantesca Pinot Noir was initially created for him and thoughtfully carries his first name on the bottle. Barrett wasn't interested in producing a Pinot Noir so she introduced the Hoff's to someone who was. They tasted with winemaker Tony Arcudi for an hour; that was all they needed to realize his style and philosophy of Pinot Noir matched their own. His first vintage and the first Pinot Noir bottled by Fantesca was in 2006. This is the one and only wine he produces for Fantesca. A typical production is generally only around 3 barrels a year.
The 2017 Fantesca King Richard Reserve Pinot Noir is medium ruby in color; the bouquet offers aromas of raspberry, cherry and plum with other more subtle layers including cedar, mesquite, dried herbs, white pepper, cardamom and a note of nutmeg. The palate is well-layered with flavors of cherry, assorted red berries, raspberry, currant, red plum and blood orange. The finish lingers with a note of baking spice. Noteworthy is the wine's texture; the tannins are velvety in their feel and glide across the palate as gracefully and smoothly as Kristi Yamaguichi performed in the 1992 Winter Olympics.
One of the wines Fantesca is most known for and have created a strong following for every vintage is All Great Things. The first vintage of this wine was in 2009. Its name comes from a quote by Winston Churchill: "All great things are simple and can often be expressed in a single word. Freedom, Justice, Honor, Duty, Mercy, Hope." Each vintage is dedicated to each of these words with an associated individually designed back label. This wine was created to express two things: give Heidi creative freedom to craft a wine each year regardless of site or variety and showcase Napa Valley. Vineyard sources may change including the source sub AVA's. Some of vintages of the All Great Things have included grapes from both Howell Mountain and Atlas Peak.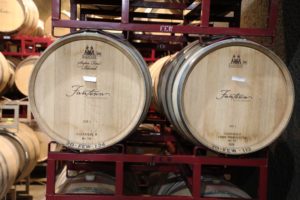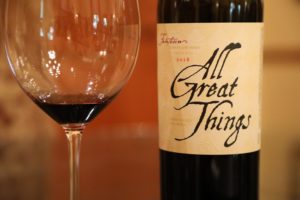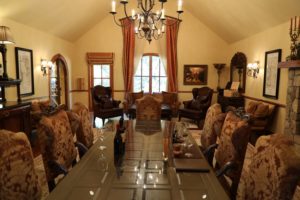 The 2018 Fantesca All Great Things is a blend of 96% Cabernet Sauvignon and 4% Cabernet Franc. This wine is deep ruby in color and nearly opaque; the bouquet offers a diversity of aromas including sweetly fruited notes of blackberry, dark cherry, boysenberry and plum. It also shows notes of petrichor, violets, old cedar box and as it breathes, a note of toffee appears. The first two words we used to describe the palate were: mouthwatering freshness. This wine is juicy and bright with flavors of red plum, cherry and currant. The finish is savory lingering with light notes of both tobacco spice and a persistent drying character. The tannins are broadly distributed, showing a gravelly texture.
The 2019 Fantesca All Great Things is 96% Cabernet Sauvignon, 2% Cabernet Franc and 2% Petit Verdot. This wine is deep ruby in color; the bouquet offers some intriguing aromatics including dried red chili powder, and a note that become obvious once it was pointed out to us – bubblegum which reminded us of when we were a child opening boxes of Topps baseball cards and the resulting smell of the inserted stick of pink gum. There are also scents of plum, boysenberry, old cedar box and as the nose evolves, a hint of mocha. This wine has plenty of depth in terms of both flavor and texture. The palate reveals flavors of dark cherry and assorted red berry fruits. The gravelly rounded tannins and fruit pace each other for quite some time on the extended, juicy and mouthwatering finish. There is also a light note of tobacco spice.
Annual production of all their wines is around 3,500 cases including the limited production bottlings of several of their wines typically reserved for club member allocations.
—
Fête du Fall Hands on Harvest Event
Of special note is their annual exclusive "Hands on Harvest" event held every early fall. This event is ideal for those looking for a unique small winery experience, located off the beaten path which incorporates plenty of fun, good food and wine. It is the only open to the public event (by appointment) and is an excellent opportunity to meet and learn from those directly involved in making the wine at Fantesca. And gain some experience working a tiny portion of their harvest.
Fuel out your day early with delicious breakfast delights and then head straight to the vineyards where your team will pick about 1,000 pounds of Cabernet Sauvignon (sounds worse than it is as this usually takes under an hour). The grapes are then hauled to the winery for processing; you will help with the sorting after they have gone through the destemmer; Fantesca uses a rare triple sorting system to ensure only the highest quality grapes will see fermentation. Help or watch grapes being punched and pump-overs (integral parts of wine making during harvest).
After the "hard work" of processing 1000 pounds of wine grapes, guests will walk through the cave to an outdoor area where they will be treated to a delicious catered lunch. This is a great opportunity to taste through the current releases as well as some of their limited quantity "special" wines. By the end of the day, you will be a proud owner of a "harvest crew" shirt. During the Hands on Harvest event we worked, our harvest shirt boasted a fine quote, "it ain't life until you put a girl in it" – a reference to the girl that appears in some of their branding.
—
And the Fantesca "fortune corkies" was an innovative idea that Duane and Susan's daughter Chelsea (8 years old at the time) presented after eating at a Chinese restaurant…put fortunes on wine corks. These feature short quotes about wine and love. Every year the winery holds a contest in which they pick one favorite quote from fans, customers or other wine aficionados. Should your quote be chosen, you will win a Magnum of their latest release. Chelsea also operates her own wine label called Fearless; the initial focus was on a rosé of Grenache but today she produces several wines including a Chenin Blanc.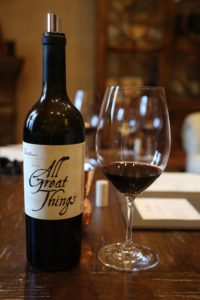 Fantesca offers several very special events for club members. They always participate in Mardis Gras in New Orleans; through the Krewe of Mid-City, the fifth oldest krewe in New Orleans, guests of Fantesca will join in on the fun by riding the Mid-City float and tossing beads to onlookers on packed streets. We did this once at Mardis Gras in Biloxi, MS; it is loads of excitement and a pleasurable adrenaline rush which comes from passing hundreds of outstretched hands all expecting beads. And also for members, Fantesca always joins the annual running of the Kentucky Derby in Churchill Downs.
Years ago Fantesca created the popular and educational Adopt a Grape (no longer active). Essentially the premise of this program was to "adopt a grape" and follow its life cycle online from bud break to its aging in barrel.
Their bottles always stand out in a "crowd" – they are etched with diamonds in vertical patterns creating a unique textured effect.
For a short period of time Fantesca hosted private tastings in their business office in the Kettlewell Building in downtown St. Helena only about a 5-minute drive from the winery.
Visits to the winery are for serious wine enthusiasts and weather permitting, include a walk out to an overlook above their vineyard, followed by a visit to the wine cave, finishing with a private tasting led by the wine host. Exciting plans are in the works for additional tasting experiences including taking advantage of one of their hills and its panoramic vistas as well as potentially offering some food pairings. We will update our notes once these experiences are available.
Fantesca generally does not distribute much wine, although one might be able to find a limited number of their wines locally at ACME Wines in St. Helena. Their sales are primarily from on-site visits and through their membership program. Large format bottles ranging from magnums up to 6 liters are available for purchase and a limited number of library vintages are available. For more information, to purchase wine, to become a member or to schedule an appointment, visit: www.fantesca.com
Vineyards

Winemaking

Kettlewell Building, St. Helena