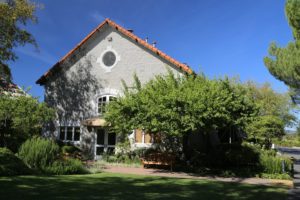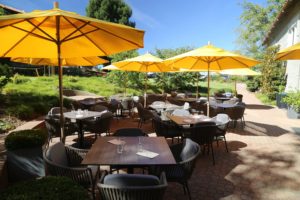 Etude was founded in 1982 (with the production of a single Pinot Noir) by well-regarded vintner Tony Soter. Soter's career is a compelling one spanning more than 4 decades in the wine industry. He was never formally trained as a wine maker when starting his career in the wine industry (his undergraduate degree was in Philosophy from Pomona College). He began in 1975 working in the cellar at Stag's Leap Wine Cellars merely 3 years after that iconic winery began operations and ultimately worked with some of Napa's biggest winery names in the 1980's and 1990's including Araujo (now Eisele Vineyard) Chappellet, Dalla Valle, Shafer, Spottswood and Viader Winery among others. Tony was also a mentor to a number of prominent Napa Valley based winemakers including (Greg Brown, now deceased) and Mia Klein.
Currently associated with both Napa and Sonoma sides of Carneros, Tony's first Etude wines were actually made at a winery off of Big Ranch Road in what is now the Oak Knoll District just north of the city of Napa (that old winery is now home to Lewis Cellars). Their first Pinot Noir in 1982 was purchased from a vineyard grown near what is now Silenus Winery (the old Koves-Newland property). And Lee Hudson's Carneros Vineyard played a prominent role in their early Pinot Noir wines.
Tony sold Etude in 2000 and today Etude Winery is a part of Treasury Wine Estates (one of the world's largest wine companies). Treasury is based in Melbourne, Australia with a focus on wine making and wine distribution owning wineries in select parts of the world (including a number in the Napa Valley – see our notes at the bottom of this review for more details).
When Tony sold, the wise decision was made to keep him on board for a period of time during the transition after the purchase of the winery (he ended up remaining in a consulting role until 2007). In the 35+ years since Etude was founded, the winery has only had two winemakers – Tony Soter and currently Jon Priest. It is remarkable the growth that this winery has experienced over the years (both in production, available vineyards sites, a sizable winery and number of employees – compared to the first 10+ years when only Tony and at times one or two other people were involved and they did not yet own a physical winery.
Tony founded Soter Vineyards in 1997, moved to Oregon's Willamette Valley (he was born in Portland and his wife Michelle is from Oregon, she died in October 2019) where he now focuses on Pinot Noir and operates a winery and a tasting room and is crafting some of the finest Pinot Noir we have tried from the state of Oregon. The Soter Winery sits on top of a hill in a scenic location on their 240-acre Mineral Springs Ranch with a small but beautiful hospitality center for guests to enjoy tastings inside during inclement weather or outside weather permitting (see our photographs of this winery at the end of this review).
Etude means "study" in French and with a direct correlation to classical music – it refers to a musical composition often created to provide a practice piece for working on a particular musical skill.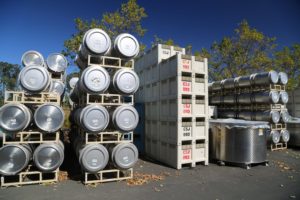 And some fascinating history: the site of Etude's winery and hospitality center used to be the home to RMS Brandy Distillery, a joint venture between Remy-Martin and Schramsberg Vineyards that was founded in 1982. Supposedly this was the first distillery built in California since prohibition. Ultimately the venture did not work out and they closed in 2002. One of their brandy's was judged as the best brandy in the world at the 2002 International Wine and Spirits Competition. The good news is Etude acquired their collection of brandy after they closed – and some of these older brandy's are still available for sale in the tasting room. Because of permitting, guests cannot taste the brandy, but can smell them and certainly buy bottles.
The tasting room is located among several historical looking grey-stone orange tiled buildings. The Barrel Still House building was somewhat damaged in the August 2014 Napa centered earthquake – because of this earthquake, it was partially renovated and received a new roof in late 2017. This building is used for special events.
As guests enter the property, one needs to drive all the way to either the side or back of the winery to reach the visitor's entrance to the tasting room.
Vineyards
Etude's focus is on two types of wine, Pinot Noir and Cabernet Sauvignon, although they do make other varieties produced in very small quantities. In fact, they have almost 20 different Pinot Noir clones planted on site. Their vineyards are somewhat unique in the Carneros appellation. The reason being is the soils are volcanic in origin rather than the soils found in the rest of the Carneros area which are mostly clay, originally soils formed from marine sediments.
Etude has conducted extensive soils analysis on their Carneros property and planted their clones in small blocks based on the soil types. The soil types vary even by small distances so as a result they have a number of very small blocks planted to specific clones. Also of note is their bird defense program around harvest time. They use trained falconers to keep the hungry flocks of starlings away; these birds can be fairly common in parts of Napa's Carneros region.
Grace Benoist (pronounced ben wah) Ranch, a sizable property is located on the Sonoma side of Carneros (bordering part of the famous Durrell Vineyard) and is the source for a number of Etude's wines. During several stops at this vineyard in the spring – we have seen sheep grazing among the vines. While still in Carneros the temperatures at this vineyard are heavily influenced by the coast – specifically from air blowing through the nearby Petaluma gap. Several earthquake fault lines either run through the property or nearby – including the Bennett Valley Fault (underneath their property) and the nearby Rogers Creek Fault (which actually runs through Santa Rosa) and is a likely source of the 'next big quake' in Sonoma County. And fortuitously named, one of their Pinot Noir's is called the Temblor.
A small block of very unusual for Napa varieties are planted in several rows next to their primary vineyard (near the parking lot on the west side of the tasting room). It is worth taking a short walk over to this section of the vineyard especially if it is late summer or into fall when the grapes are ripe. Varieties growing here include Chenin Blanc, Folle Blanche, Muscat, Palomino and Ugni Blanc. These were varieties used by RMS Brandy Distillery.
Select Wines
Walk-in guests (without prior appointments) can choose from two tasting flights. As of our latest visit, the Etude Tasting features current release wines including some of their much larger distributed wines and the Collector's Flight (reservations recommended especially for busier times such as summer and fall weekends) and includes limited production wines (often just several hundred cases) usually from specific appellations. If not too crowded, outside seating is also available in their patio. An informative color map of their various vineyard sources will be shown by hosts to visiting guests.
The 2015 Etude Pinot Gris simply smells inviting with aromas of honeysuckle, mandarin and citrus blossom. It is balanced on the palate with a noticeable crispness. Young and lively this wine reveals flavors of lime, grapefruit and hints of apricot. Very good acidity and a clean finish. The fruit is all from the Sonoma side of Carneros – from both the Grace Benoist Ranch and the well-regarded Cold Creek Vineyard.
The 2014 Temblor Pinot Noir shows pretty notes of raspberry, ripe cranberry and a dessert spice component on the bouquet along with notes of white pepper. There is also a sweetness of fruit. Very balanced on the palate with excellent acidity. Hints of mushrooms along with lively fruit. Very clean delicate finish. Drinks very well by itself.
The 2013 Napa Valley Cabernet Sauvignon shows notes of tobacco smoke on the bouquet, with dried rose petal and hints of mocha. This wine is very dark in the glass. Exhibits flavors of dark cherry and blackberry with layered tannins that persist for some time.
The 2013 St. Helena Cabernet Sauvignon is immediately inviting on the bouquet with notes of red cherry and a spicy plum nuance. Feels good on the palate – somewhat chalky long-lasting tannins make for a memorable finish. Should be quite age worthy.
Etude also works with some of Napa's most acclaimed vineyard sites including Morisoli, Vine Hill Ranch and the Gamble Family Vineyards.
Hospitality
Tastings in the elegant tasting room are by walk-in and the several times we have been here we've seen a number of bicycles parked in front as this tasting room is on the radar of several local bike rental companies including Backroads (a tour operator based in Berkeley, California). Backroads often makes a stop here to treat their guests to lunch paired with Etude wines.
Guests can also make appointments for The Study of Pinot Noir, their popular sit down tasting and examination of this variety. This was our first introduction to Etude many years ago – and winemaker Jon Priest actually stopped in to say hello. Many wineries in Carneros produce Pinot Noir but not many go in depth with this variety like this particular tasting.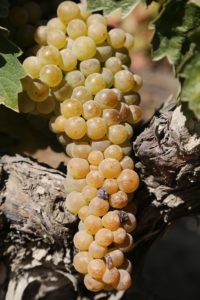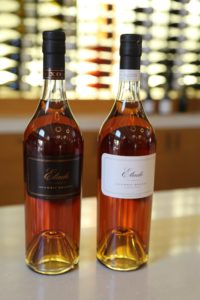 The room where they hold this tasting has changed since our first visit; today it is held in the Heirloom Room located across from the main tasting bar and features a number of maps on the walls. Your host will discuss how terroir effects various characteristics of the wine including the aroma, taste and structure. And this tasting is a good opportunity to try Pinot Noir from a variety of regions including Carneros, Santa Barbara, Sonoma Coast and Willamette Valley. Out of our numerous Napa winery tastings, this tasting had the most wine glasses on a single table that we had ever seen for a consumer tasting.
In early 2018, Etude rolled out the Cabernet Focus tasting – highlighting several of their Cabernet Sauvignon wines from unique sites – each wine represents a specific sub appellation within Napa. This tasting is semi-private, held in their Angels' Loft above the winery – and also includes a food pairing and a short tour of the winery.
Etude is also on the radar of Japanese visitors – an image of an older Etude bottle of wine is depicted in a popular comic styled Japanese series with 439 chapters spanning 44 volumes about wine called Kami no Shizuku or "Drops of God". An image of Etude's 2000 Pinot Noir is shown in one of the chapters with a mention of Tony Soter and his role in consulting for many famous Napa wineries (see our image of this page below).
—
Treasury Wine Estates
Treasury Wine Estates is currently the 4th largest wine company on the planet. Treasury was formerly the wine division of the Australian based Foster's Group and was founded in 2011 – although its roots can be traced back to the mid 1990s when Foster's began to build out their wine division. Treasury Wine Estates owns or manages some 22,000+ acres of vineyards in Australia and New Zealand and nearly 10,000 acres of vineyards in the USA (mostly in the Napa Valley, Sonoma County and California's central coast).
As of our latest update to this review they are the largest controlling entity of vineyards in the Napa Valley through mostly leased land. They own several of the Napa Valley's most iconic, historical and storied producers including the following other five wineries: Beaulieu Vineyard, Beringer Vineyards, Frank Family, Stags' Leap Winery and Sterling. In addition, they own the Napa Valley brands Acacia and Hewitt. And of the other brands under their ownership, Penfolds in the Barossa Valley, Australia is arguably the most famous.
Headquartered in Melbourne, Australia the company also maintains offices in Napa, Oakland, London, Shanghai and Singapore. In 2019 the company moved its headquarters to one of the uppermost floors in one of Melbourne's most iconic buildings, the T&G Building located on Collins Street a few minutes' walk from the Flinders Street Railway Station.
The T&G building, named after the T&G Mutual Life Assurance Society was built in 1928 and features a gorgeous atrium like setting and high-end retail shops on the ground floor as well as 10 floors of office space. This was one of Melbourne's first large scale office buildings. Despite being one of Melbourne's prominent and historical buildings, Treasury Wine Estates keeps a very low profile and has no signage.
—
Total production as of our last update is around 32,000 cases. For more information and or to join one of their wine clubs, visit: www.etudewines.com
Etude Winery & Property

Grace-Benoist Ranch

SOTER VINEYARDS, WILLAMETTE VALLEY OREGON (NOT associated with Etude Winery)
Hospitality

Exterior