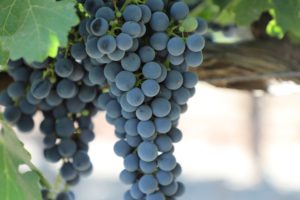 Emerson Brown was founded in 2005 by winemakers Keith Emerson and Brian Brown. Both grew up around fine dining with family's involved in the restaurant industry. Keith is from Boston and was planning to attend culinary school to become a chef when he came across an article mentioning the possibility of going to school to learn wine making. This sparked his interest, so he moved to California, attended UC Davis and ultimately graduated with a degree in Fermentation Science with an emphasis on Enology and Viticulture.
After graduating, Keith came to Napa and worked his first harvest at Cakebread. From there he worked at Gundlach Bundschu winery (the oldest continuously operating family-owned winery in the state of California) in neighboring Sonoma County; he is currently their Executive winemaker. And later a wine maker friend referred him to a position at Vineyard 29 in St. Helena. While there, he hired Brian onto the wine making team and after three years of working together both decided to become vintner partners – combining their last names to create the name of their wine label. Today Keith is the Director of Wine making at Vineyard 29. In Napa Valley Brian has worked at Napa Wine Co, Trefethen Vineyards and later spent time helping make wine at Round Pond Winery.
Keith also runs a small label on his own, Sonría Wines which focuses on lighter style varieties including an Oregon Pinot Noir and a Rutherford produced Sauvignon Blanc. As Keith says, "Sonría will never see a Cabernet Sauvignon under the label." Cabernet Sauvignon is a variety he excels at working with yet is a wine he continuously tastes while on the job. The Sonría Wines are from non-Cabernet Sauvignon varieties that he enjoys drinking when he is not working.
While Brian and his wife Natalie live in Paso Robles, Keith lives in Napa and overseas the day-to-day wine making for Emerson Brown. Brian and Natalie own Willow Creek Wine Co. (see our notes at the end of this review for more information). Both Brian and Keith are involved in the blending decisions. Their wine making style puts the fruit forward while complementing the fruit during aging with a judicious use of oak. They never want the oak to overpower their wines and as a result these wines drink well soon after bottling as we discovered during a tasting with Keith. With that said, there is the acidity, structure and power of fruit to ensure they will age well for many years. Vineyard sources are always Napa Valley and are primarily from both bench land and valley floor sites.
From the early 2000s until 2013, Brian's father owned a vineyard in Oakville off of Skellenger Lane; at the time it was called the III Michaels Estate. This vineyard plus the heavier yields in 2005 were the genesis for the Emerson Brown wine. In 2013 the III Michaels Estate was sold to Bart and Daphne Araujo (Eisele Vineyard, Accendo Estate); the Araujo's renamed the property to Rancho Pequeño. Emerson-Brown retained the rights to some of the grapes after the sale and they continue to source from this vineyard.
In 2005, their original intent was to produce a high-quality Napa Cabernet Sauvignon which over delivered on price. Eventually the economics of doing so dictated the necessity for a second wine. In 2013, Emerson Brown began producing a Napa Valley Cabernet Sauvignon.
Note the long label on their Napa Valley Cabernet Sauvignon – it represents both of their fine dining backgrounds and was designed in honor of long white table cloths found at premium restaurants. Brian remembers first stocking wine bottles at age 12 and over the years recalling the difficulty of finding a bottle of wine in a wine cellar where all the ends of the label look the same. They made sure there would be no difficulties picking out their wine among stacked bottles; a bright logo of four poppy petals is engraved into the end of each wine bottle capsule. These poppies are a tribute to some of the Spanish Conquistadors who looked at the California poppy fields and called them "Copa de Oro" or in English, cup of gold.
Select Wines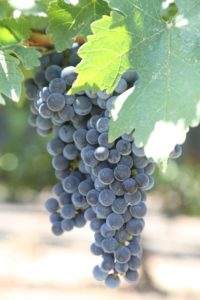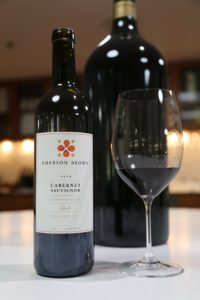 The 2020 Emerson Brown Napa Valley Cabernet Sauvignon is 94% Cabernet Sauvignon, 4% Merlot and 2% Petit Verdot. This wine deep ruby in color; the bouquet offers a diversity of aromatics including of blackberries and raspberry with lighter layers of secondary spices including mocha and espresso. The focus here is clearly in the fruit with the oak providing a supporting character. This wine is highly enjoyable and approachable in its youth. It offers flavors of plum, cherry and other berries. There is a density of tannins here but they do not dominate; their texture feel is grainy, rounded and broadly distributed. The finish lingers earthy with a dusty character along with notes of plum, cocoa powder and a light note of dried tobacco leaf. This wine was aged for 18 months in 50% new and 50% once-used French oak barrels. Typically they source from four unique sub appellations in Napa Valley for this wine, but in 2020 due to the fires and resulting persistent smoke filled skies, they were only able to source from three sub appellations – and this was the only wine they produced this year.
The 2019 Emerson Brown Rancho Pequeño Cabernet Sauvignon is deep ruby in color; the bouquet offers aromas of plum, dark cherry, blackberry and mulberry. As this wine evolves in the glass additional aromas begin to evolve including of chocolate, mocha and a hint of brown sugar. One of Keith Emerson's hallmark characteristics in his wines is balance; this wine is the perfect example of this. The palate reveals flavors of cherry and blackberry. The tannins are lightly grainy and beautifully integrated into the finish. It lingers with a light savory character and tannins paralleling the fruit before both dissipate. This wine was aged 18 months in 60% new French oak barrels.
The 2014 Emerson Brown Napa Valley Cabernet Sauvignon is blended slightly with small percentages of Petite Verdot and Malbec with the fruit sources from Calistoga, Rutherford and Oakville. This wine sees a higher production each year (usually in the 800-1000 case range) and is mainly distributed via wine shops and restaurants. The 2014 shows darker fruit on the bouquet which holds up consistently in aroma as the wine breathes. Generous aromatics include ripe plum, blackberry and a hint of dark cherry liqueur which lead to plush fruit on the palate. The tannins are fairly fine-grained lingering softly both on the front and back of the palate for some time.
The 2014 Emerson Brown Oakville Cabernet Sauvignon is 100% varietal. This is the wine they have made since day one and is mostly available direct via their mailing list. It tends to sell out quickly. Both Keith and Brian have worked with the III Michaels Estate for many years. They like its location – it's at the eastern edge of Oakville where some of red soil from the nearby slopes encroach into the vineyard. It is also in a windier part of the valley. The vineyard typically sees long hang time with even ripening. The vines consistently produce grapes with good natural acidity and even slow ripening after veraison occurs.
This 2014 bottling is noticeably dark ruby; the bouquet is elegant inviting and complex and evolves remarkably in the glass over a short period of time. It shows both dark fruit and floral characteristics including dried lavender and a more subtle earth characteristic. As it breathes an additional sweetness develops including notes of baking spice and toasted cedar. The palate shows a purity of fruit and is not dominated by oak. Structurally this wine feels nice on the palate – there is a certain grip of tannins but even at a young age, these tannins feel like they are already fairly well integrated.
—
At times their wines have been in prominent restaurants and continue to see distribution in fine dining establishments in select states including New York and Texas. In the past, their wine was on the French Laundry wine list in Yountville. Locally the wine is often available through the K. Laz Wine Collection in Yountville. Typical annual production between the two wines varies but is usually between 800 and 900 cases. For more information, to purchase current release wines and to join their mailing list, visit: www.emersonbrownwines.com
Willow Creek Wine Co., Paso Robles
Willow Creek at SōNA Estate is owned by winemakers Brian and Natalie Brown. In January 2016, they purchased 10 acres in the Willow Creek District of Paso Robles, about a 20 minute drive from downtown Paso Robles, west of the 101 freeway. This is a lovely drive through rolling hills passing by a number of other wineries. The name SōNA is an old Irish word referring to 'fortune through good luck'. And the winery takes its name from Willow Creek, a riparian zone that runs roughly through the center of the sub appellation. Willow Creek is also the name of a nearby road.
A year later Brian's parents, Dennis and Candice Brown purchased an adjacent 15 acres. At the time the 10-acre Willow Creek property had never been planted to wine grapes; its previous use was dry-farming grain. Their property is located about 10 miles as the crow flies from the Pacific Ocean; afternoons are generally breezy. Their winery including the production space and barrel room was finished in 2020. In addition to housing their own wines, the space is also used by several small brands for their own winemaking.
In 2017 the Browns soon planted 4 acres to Syrah and Petite Sirah. Today they also grow a diversity of other varieties, including tiny amounts of Grenache, Verdelho, Torrontés, Tempranillo and Cabernet Sauvignon. Including Brian's parent's property, they grow 12 acres of vines. Some of their cuttings came from the historic Library Vineyard in St. Helena, named for its location next to the St. Helena Public Library. This historic vineyard was planted between 1880 and 1920 to both red and white grapes. And other selections came from the UC Davis Foundation Plant Services program (FPS).
Visitors will enjoy the personalized service and limited production wines. These include Rococo, an exciting project of passion which focuses on several bottlings from old-vine central coast grown Chenin Blanc, Willow Creek which includes Rhône styled primarily blends bottled as both Soubrette and Ephemera (500ml very limited production bottlings) and In Medias Res, exclusively SōNA Estate Wines. Select Emerson Brown wines are also available for tasting.
Select Wines
The 2022 Willow Creek Rococo Los Alamos Chenin Blanc, Santa Barbara County was sourced from vines originally planted in 1974. The site used to be planted to 50 acres of this variety but now only 3 acres remain. The vines are own-rooted. This wine is fermented in stainless steel tanks, undergoes no malolactic fermentation, and is bottled early and usually released in January or February. This wine is medium straw in color; the bouquet smells crisp with scents of apple, honeysuckle, lemon grass, and an herbal note including mint. Minerally on the palate, it offers flavors of pomelo, grapefruit, lime and honeydew melon. Very balanced.
The 2022 Willow Creek Optical Delusion Roussane (100% varietal) will immediately seduce you with its highly expressive fruit forward aromatics. The bouquet offers aromas of honey and ripe fruits including apricot, peaches in light syrup and pineapple. The texture is rounded but not creamy and pairs nicely with this wine's bright acidity. The palate mirrors the bouquet to some extent and reveals flavors of pineapple, apricot and peach. This wine drinks far too easily by itself.
The 2022 Willow Creek Cinsault, Happy Canyon Santa Ynez Valley was made from a heavy saignée and its resulting color is pink/purple. Brian and Natalie recommend serving this bottling slightly chilled for optimum results. It offers aromas of violets, blood orange, raspberry and a hint of chocolate. It offers flavors of cranberry, strawberry, dried herbs – it's flavors are accompanied by a slightly creamy texture. We also noted its light savory characteristics. This is an easy drinking, fun and highly enjoyable wine by itself. Cinsaut is one of France's most widely planted varieties; it is often used to produce rosé wines and or blended with Grenache and Carignan.
The 2021 Willow Creek GSM, Central Coast is a blend of 40% Happy Canyon Mourvèdre, 40% Alisos Canyon Syrah, and 20% Willow Creek Grenache. The bouquet is immediately savory but needs time to fully evolve in the glass. It offers scents of plum, blackberry and tilled soil. Its acidity is bright and lively; the savory notes on the bouquet are also echoed on the palate. It offers flavors of red plum, dried herbs a hint of crushed pepper and other lingering darker spices. The tannins are gravelly textured. We immediately thought of pairing this wine with a BBQ pork.
The 2020 In Medias Res Eunoia Red Blend is 70% Syrah and 30% Petite Sirah. This wine is deep ruby with an amaranthine rim; the bouquet offers an attractive union of both primary fruit characteristics and secondary barrel aromas. It sports scents of plum, blackberry, dark cherry and boysenberry accompanied by dark chocolate, cardamom, nutmeg, cinnamon stick and cocoa powder. This wine reveals flavors of plum, licorice, dark raspberry, blackberry, strawberry and some dried herbs. The finish is mouth watering and savory showcasing a pleasing balance between texture, fruit and acidity.
—
For more information, to purchase current release wines and to schedule a tasting, visit: www.willowcreekwineco.com
Vineyard

Winery

Hospitality