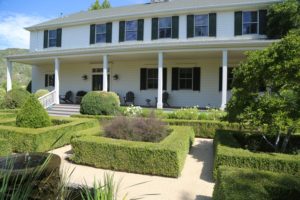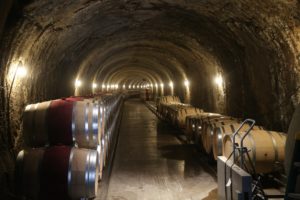 Eisele Vineyard was founded as Araujo Estate in 1990 by Bart and Daphne Araujo; their first vintage was an Eisele Vineyard designate Cabernet Sauvignon from 1991. While the Araujo's were new to the valley, their vineyard was not. The historical Eisele Vineyard had produced quality fruit for several wineries including Joseph Phelps and Robert Mondavi and was also the source for a 1971 Ridge Cabernet Sauvignon – one of California's earliest vineyard designated wines. The 1971 was the only vintage that Ridge winemaker at that time, Paul Draper ever produced from the Eisele Vineyard. The 1975 and 1975 Joseph Phelps Eisele Vineyard designate wines are considered two of the benchmark vintages from this vineyard.
The vineyard also produced wine in a roundabout way for one of Conn Creek's earliest releases. Lyncrest Vineyard on Spring Mountain (now the site of Marston Vineyards) ultimately closed down in 1974 (the last year of their production) due to bankruptcy. Lyncrest Vineyard had purchased and already had wine in barrel from the Eisele Vineyard when they offered several lots of wine at an auction. Conn Creek Vineyards purchased a 1974 Cabernet Sauvignon made by Lyncrest Vineyard from the Eisele Vineyard – and along with a 1973 Steltzner Vineyard wine, Conn Creek bottled these as their first ever releases.
However, the history of viticulture on the property dates back much further; the Eisele Vineyard was first planted to grapes in 1886 – at that time to Zinfandel and Riesling. Riesling has nearly vanished from this part of the valley however there are still a number of old vine head pruned Zinfandel vineyards in the Calistoga sub-appellation. These varieties are no longer are planted in the vineyard; Cabernet Sauvignon was first planted here in 1964.
Prior Ownership
Milt and Barbara Eisele first purchased the property in 1969 when Milt (an executive at Kaiser Corporation was nearing retirement). After they decided to sell, they initially offered it to Joseph Phelps who had already made numerous vintages from the property. As it were, he was busy with his own winery and vineyards and declined the offer. The Araujos had enlisted the help of a local real estate agent, Jean Philips (founder of Screaming Eagle) and had instructed her to offer them any well-known vineyard properties as they came on the market.
Bart Araujo is a native of San Francisco who attended the University of Southern California (USC) and also Harvard Business School. From his home base in Los Angeles, he co-founded A-M Homes, a successful home construction company which he sold a majority interest in the late 1980s to Jennings Group Ltd. of Australia and in 1992 the company was again sold including Araujo's ownership to Pacific Greystone. Daphne is a retired landscape architect. Upon selling their company, the Araujo's began their search for vineyard property specifically in the Napa Valley.
After they acquired the Eisele Vineyard, the Araujo's replanted much of the vineyard and in 2000 finally removed, due to virus, the oldest Cabernet Sauvignon vines dating to 1964. The Araujo's also built a winery, tunneled caves into the nearby hillside and constructed a beautiful home.
Current Ownership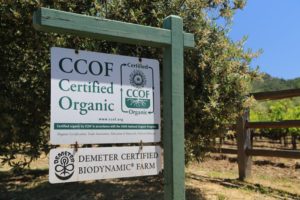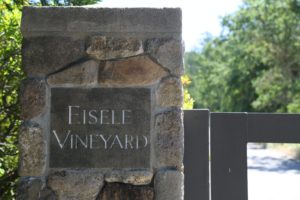 In 2013, the Araujo's sold the winery, property and brand to the Artemis Group, founded in 1990 by French businessman François-Henri Pinault, who incidentally is married to the American-Mexican actress Salma Hayek. This was their first purchase in the United States; the Artemis Group also owns First Growth Château Latour in Pauillac in the Médoc region, Domaine d'Eugénie, located south of Dijon, France, Château Grillet in the Rhone region, Chateau Siaurac in Pomerol and Clos de Tart in Burgundy. In addition, they own Christie's, the long running auction house with primary offices in London and New York.
When they acquired the property, the 2012 vintage was in barrel but had not yet been bottled. 2012 was the last vintage that the wines were bottled under the Araujo Estate label.
After the purchase, they changed the name of the winery from Araujo Estate to the Eisele Vineyard (taking the namesake as their actual vineyard). But their changes reflect an even greater level of precision to the property with detailed and complete integration between both the vineyard and the cellar. Something as simple as harvesting slower or a gentler approach to harvesting grapes – using scissors to cut the bunches of grapes rather than pruning knives. And decreasing the sulfur inputs throughout the year. Furthermore, honing in on harvesting even smaller sections within vineyard blocks, fermenting these separately from each other and then blending fairly early on in the wine's aging. And bringing expertise from France in regard to their barrel program and selection of coopers and toast levels.
And after the sale, the Araujo's remained in the wine industry – having founded Wheeler Farms, home to their own Accendo Cellars as well as a production winery for select other premium brands.
The Estate
This north valley site is 162 acres of which 38 acres are planted to vine – located mere minutes from Calistoga. This part of the valley has some of the greatest diurnal temperature changes – often up to 40-50 degrees Fahrenheit during certain times of the year. And based on its proximity to Sonoma County and a gap in the nearby Mayacamas mountains, it is not uncommon (especially in the afternoon) to receive cooling breezes attributed to the Pacific Ocean's influence – coming from a north westerly direction.
Much of the property is steep forested hillsides. Nearby neighbors include Kenefick Ranch, Kelly Fleming Winery and the historic Frediani Vineyard (with some vines dating back to the 1920s). About half of the Eisele Vineyard wine produced annually is the Eisele Vineyard Cabernet Sauvignon. A second Cabernet Sauvignon is Altagracia and they also produce a Syrah and a Sauvignon Blanc. Total production is usually around 5,000 cases annually.
Walking the vineyard, one can find rocks – although not nearly as many today on the surface as there used to be. The shallow soils sit over an old creek bed with rounded alluvial rocks. The vineyard is fairly flat but lies at the lower part of an impressive rocky part of the Palisades – a series of jagged rock outcrops in this part of the Vaca mountain range. Over time water, wind and gravity have moved and eroded sediments and volcanic rock from the mountains into two alluvial fans – which spread out and encompass not only the Eisele vineyard but other nearby vineyards.
The vineyards are categorized into 12 primary vineyard blocks – which were originally numbered but are now named. Some of the best terroir on the property borders the winery and is bisected by Simmons Creek. And 450 olive trees grow on site – some in several small groves but others primarily lining the edges of the property (they do produce small amounts of olive oil from these trees).
All Eisele Vineyard wines are estate grown – the vineyard is primarily planted to Cabernet Sauvignon along (75%) with Cabernet Franc, Petit Verdot and Merlot with smaller blocks of Sauvignon Blanc and Sauvignon Musqué. Astute followers of the Araujo Estate wines will remember very limited bottlings of what used to be estate grown Viognier (the last vintage was in 2014; these vines have since been pulled out and wines from this varietal are no longer made).
In early 2023, Eisele Vineyard purchased the neighboring nearly 28-acre Alfred Frediani Vineyard (21 acres planted to vines). Alfred died in 2018 at age 96. The nearby Frediani Vineyard located along Silverado Trail was not part of this purchase.
Select Wines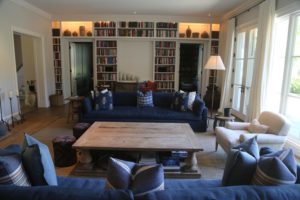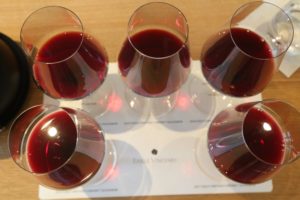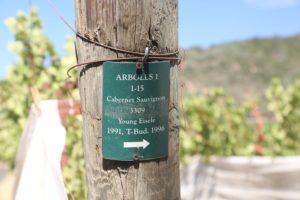 Whites
The 2021 Eisele Vineyard Sauvignon Blanc is 100% varietal but a blend of two clones: Sauvignon Musqué (75%) and Sauvignon Blanc (25%). This wine is medium straw in color; some initial aromatics briefly show and then disappear including recently wet haybale and a light note of petrol. As the wine evolves it opens further to scents of jasmine and citrus blossom accompanied by a light non green or grassy herbal note similar to the fresh tip of a spruce branch. This wine offers a creamy and rounded texture across the palate accompanied by flavors of kiwi, apple, guava, pineapple and grapefruit. The finish is refreshing, lively and long lasting. Superbly balanced. It was aged on the lees in 21% stainless-steel eggs, 22% concrete eggs, 30% used oak and 27% in new oak barrels.
The 2018 Eisele Vineyard Sauvignon Blanc was aged on its lees in stainless steel drums (35%), concrete eggs (12%), used oak (33%) and new oak (20%). The aging has been extended with the recent vintages – now it ages for 12 months before being bottled rather than the previous 6 months. And battonage occurs frequently during the aging. This wine is composed of 18% Sauvignon Blanc and 82% Sauvignon Musqué clone. The musqué clone in large part, contributes the beautiful floral aromatics. Offers an elegant aromatic union of honeysuckle, jasmine, and citrus blossom. On the palate, the texture is supple, gentle and rounded. Continues with a noticeable viscosity complemented by a bright energy of acid which continues to linger for some time. Flavors of mandarin with hints of vanilla towards the back of the palate. Antoine Donnedieu de Vabres, Eisele Vineyard's Managing Director refers to this wine as having a double personality – the exuberance of the bouquet tethered to the balance and freshness of the palate. This is one of the finer Sauvignon Blanc wines we have tried in Napa Valley.
Reds
The 2019 Eisele Vineyard Cabernet Sauvignon is deep ruby and opaque in the glass; let this wine breath as its layered and elegant aromatics need some time to fully open and express themselves. The bouquet reveals aromas of dark raspberry, cherry, violets, a hint of mocha, old cedar box and some dust nuances. It offers layers of flavor including mulberry, blackberry, blueberry and towards the finish some subtle notes of vanilla and chocolate. The tannins are rounded, fine grained and slightly chalky in their textural feel. Their integration can best be described as seamless, like the rest of the characteristics in this wine. Both flavor and tannins run in parallel to each other on the lengthy finish, neither giving way. Nothing dominates, either on the bouquet or the palate and that is what contributes to the beauty of this bottling. This wine was aged for 19 months in 100% new French oak including 93% French oak barrels and 7% Austrian oak foudres.
The 2017 Eisele Vineyard Cabernet Sauvignon presents darker fruits, violets, along with some baking spices on the bouquet; shows a bit more barrel influence than previous vintage. On the palate, tastes and feels the most youthful of the vintages we tried. An initial softness leads to layers of flavor and texture. Its richness is clearly evident. Lingers with a youthful grip of tannins, somewhat gravelly in feel, but nonetheless, features a memorable long-lasting finish. This wine was aged for 20 months in 100% new French oak.
The 2016 Eisele Vineyard Cabernet Sauvignon offers intriguing aromatics of darker fruit, primarily blackberry and plum with some sweeter spices along with cassis and white chocolate. This wine has a special density centered around layers of fruit and structure. The feel of the tannins across the palate is arguably a core highlight, among others. Offers a finish that features polished yet firmly defined tannins. No edges here. Great acidity. Like the 2014, this is an exceptional wine but with even more complexity.
The 2015 Eisele Vineyard Cabernet Sauvignon (was a warmer vintage) and one can smell this in the bouquet with its sweeter riper fruit aromatics (plum, blackberry). Also hints of dried tobacco leaf, and cardamom found deeper into the aromatics. For a warmer vintage, the wine shows plenty of life – with an energetic finish anchored by robust gravelly and very long-lasting tannins. This wine has the depth and character to go many years in the bottle with proper cellaring.
The 2014 Eisele Vineyard Cabernet Sauvignon is 99% Cabernet Sauvignon and 1% Petite Verdot. Shows notes of dust, dried herbs and a hint of cedar along with a floral component (violets) – the bouquet is refined and elegant. Offers a profile with a wide appeal – the definition of seamless. A brightness of fruit on the finish is complemented nicely by finely woven tannins – slightly chalky in their textural feel. This vintage in general was fairly approachable in its youth – and this wine is a testament to how nicely it continues to evolve.
The 2013 Eisele Vineyard Cabernet Sauvignon (tasted 7 years after vintage) is dark ruby in the glass with initial aromatics showcasing some secondary aromas from its bottle age including a sweetness of fruit, dark licorice and cocoa powder. A robust vintage, this wine has aged very well – like the 2011 vintage in general, this vintage has needed time, but for different reasons. Continues harmoniously across the palate with rounded well-integrated tannins.
Bart used to describe the magic of this vineyard as producing estate wines that have "weight but without heaviness". And one can clearly notice that on the palate – with a certain density and appealing tannin texture throughout all these wines, but also with some vintage variation to add additional intrigue.

These are wines with integrity, paying full attention to the site – and dare we say, resulting in some of the more elegant and sophisticated wines being produced from contemporary Napa Valley.
OTHER DOMAINES UNDER ARTEMIS GROUP OWNERSHIP
Château Latour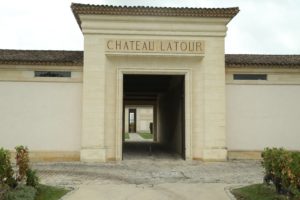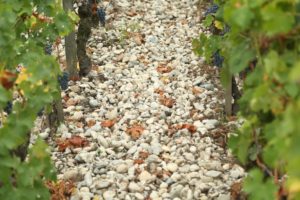 This storied estate was first planted to vines in the 14th century – its iconic stone tower (La Tour de Saint-Lambert) dates from the 1620's and replaced an earlier tower that was built here in the 1300s. Château Latour focuses on three wines – their primary offering, the Grand vin, a second label, Les Forts de Latour, and a third wine called Le Pauillac de Château Latour.
The soils surrounding the chateau are remarkably rocky (river washed and rounded cobble). The varieties grown here include a majority of Cabernet Sauvignon, with smaller amounts of Merlot, Cabernet Franc and Petit Verdot. The chateau on site dates from 1864. Located in Pauillac, Château Latour (closed to the public) is only a short distance from at times, the large buses and tour groups that stop and admire the nearby stunning property of Château Pichon Baron.
Note: visits to other properties under the Artemis Group ownership coming as time and budget permit.
—
Eisele Vineyard is one of only several Napa Valley based wineries to be partners of Ficofi, a luxury group that provides access for serious wine collectors to wines primarily from the finest château's and domaines in France. However, select members are from the Napa Valley, often with connections to France; other Napa notable members include Harlan Estate, Screaming Eagle, Colgin and Opus One. Ficofi hosts select wine and art experiences worldwide, offers wine storage services and maintains offices in Paris, Bordeaux, Hong Kong and Singapore.
Roughly half the wines are sold direct to consumer and the remainder is sold through various distribution channels with wines available at fine restaurants and retail outlets. And they are selectively distributed internationally. Locally one can sometimes find select wines/vintages at ACME Fine Wines in St. Helena, at K. Laz Wine Collection in Yountville and the Bounty Hunter in Napa.
Visits to the property are reserved for allocation members. For more information and to join the Eisele Vineyard waiting list for an opportunity to join the allocation list, visit: www.eiselevineyard.com