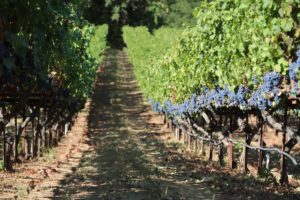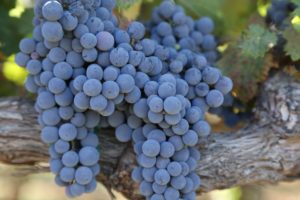 Eagle Eye Wine was founded by Bill & Roxanne Wolf in 2003 after they left previous careers. Unlike some who come to the Napa Valley and start a winery with a dream in the eye and leave much of the work to others, both Bill and Roxanne entered the wine business with a determination to learn by doing. Before they actually started their wine label, they certainly did their homework by taking numerous classes at UC Davis, gaining other wine certification as well as spending significant learning time in the vineyards not only locally but also in international wine regions.
They manage about 9 planted acres in Gordon Valley (the total property is 13 acres), located in eastern Napa County. They are Napa's easternmost commercial wine producer. Their vineyard is only several miles from the Solano County line and about 8 miles from the city of Fairfield. Driving through this part of Napa feels far removed from the valley floor. There are 1000 acres planted between both Gordon and Wooden Valleys, but this part of Napa is where the natural land still far out numbers the number of grapes planted here. And compared to the valley floor, roads are generally much less traveled.
Both valleys produce grapes that are sought after by some of Napa's big names including Caymus, Michael Mondavi and Pahlmeyer. This is not a part of Napa where are there many physical wineries – Altamura is Eagle's Eye's closest Napa winery neighbor and they are five miles down the road.
Their vineyard is planted to select varietals including several clones of Cabernet Sauvignon, Petit Verdot and Cabernet Franc. This vineyard was the site of a very old walnut orchard. Before planting, the walnut trees were removed including all their root systems; if left buried, the roots will carry a fungus detrimental to grapes. Holes up to 14 feet deep for each tree had to be dug in order to properly ensure the removal of the root systems! Alaska humus was brought down specially from Alaska; this highly prized nutrient rich soil has been formed by nearly 10,000 years of post-ice age decomposition. It is soil that because of the long winters does not see the extent of microbial breakdown that if found in warmer climates.
The vineyard is trellised with a U-Lyre system – (if you stand in front of a row and look down the row it looks like a goalie post of a football field). Bill uses this system for a variety of reasons: it is open in the center and allows good air flow through the canopy, allows for carrying more fruit without compromising quality, it helps trap heat near the clusters of grapes and is a system that promote beneficial predators.
Their vineyard is farmed organically; Bill was on the forefront in Napa for using compost tea on wine grapes. Compost tea involves decomposing organic matter and then putting this material back into the soil – which introduces additional nutrients to the vines. Their vineyard and property are certified Fish Friendly and Napa Green and Sustainable.
In addition to their own vineyard, they source fruit from select premium vineyards exclusively in the Napa area. While they produce single varietal wines, they also make blended wines, often coming up with some unique blends that you will not find anywhere else. Their original labels were based on "eagle eye" paintings by Roxanne – today the labels creatively look like a Tuxedo, are distinctive and certainly stand out among other wine labels.
Eagle Eye has shown amazing resilience – especially in their early years. In 2005 (merely a year after they started making wine) a huge warehouse storing several vintages of their wines completely burnt down in Vallejo due to arson (all told, 4.5 million bottles of wine were lost in that fire including inventory from numerous Napa based producers). All their wine was lost – which effectively put them out of business – a devastating setback for a young producer. Despite the fire and incredible loss, they still had the sources for the grapes and their own vineyard; it took a few years until they were able to fully resume operations. Today they typically produce several red wines annually. Current releases are generally a few years behind most wineries – one of a select number of Napa wineries who hold their wines for a bit longer than the industry norm.
Select Wines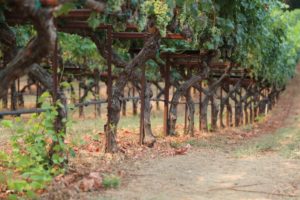 The 2012 Eagle Eye Rosé is a unique wine; it is 75% Cabernet Franc and 25% Petit Verdot. During winemaking, the juice is left in contact with the skins for about 24 hours and then is bled off. It is fermented to dryness. This wine is a darker color in the glass – sweet notes of plum and raspberry on the bouquet – with bright fruit up front on the rounded palate. The palate is pleasing – "delicious" is an apt word for describing this wine. It is not a light rose – it has some structure.
The 2009 Eagle Eye Estate Cabernet Franc has an opulent nose – it is ripe fruit along with nice notes of earthiness. As the wine opens it becomes more elegant – blackberry, sandal wood, dried rose petal. This wine has good depth of flavor.
The 2008 Eagle Eye Petit Verdot is dark in the glass, as expected of this varietal. Dark fruit, big fruit and big structure. However, the structure holds up well on the palate – despite being a big wine it has balance. And good acidity. The nose is intriguing, offering a mix of holiday spice and ripe fruit. The finish is very long.
—
As Bill says, "our wines do not overwhelm food". Along with this statement we can add, "their wines will not "overwhelm" your wallet as all are affordably priced, especially by Napa standards.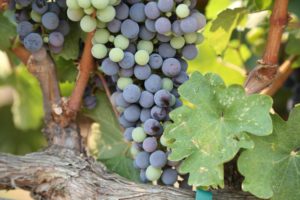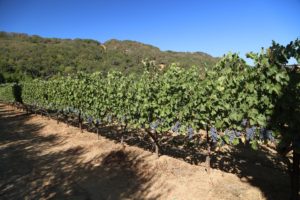 With 300 olive trees planted on site (6 different Italian varietals), they also produce their own olive oil. Hauling their olives to Marin County has become a thing of the past – a production facility offers milling services in nearby in Solano County. However, for their unique packaging, they had to look much further afield – to Austria in fact. Tasting some of Napa's hand produced olive oils is always an eye opener especially when you compare the flavors and aromas to many of the mass produced generic stripped-of-flavor olive oils you find in the supermarkets.
Bill enjoys talking about his vineyard and the hard work that he has put in over the years to bring it to this level. An understandably so – the number of details relating to managing and maintaining premium grape vines is rather remarkable.
All their labels are displayed on what they call the "label wall" – these are Roxanne's original paintings. In the last few years, she has also started creating custom jewelry made from a variety of stones.
For more information or to purchase wines, visit: www.eagleeyewine.com