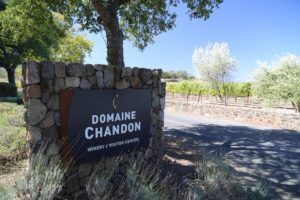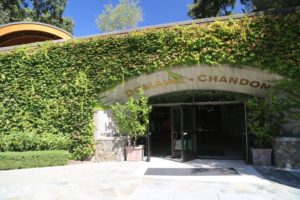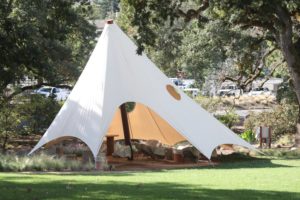 Domaine Chandon is one of Napa Valley's iconic and well- visited wineries; they are only one of four Napa Valley based wineries that focus on sparkling wine production, i.e. Champagne style wines (the others being Mumm Napa Valley, Domain Carneros and Schramsberg). The winery is owned by Louis Vuitton Moët Hennessy (LVMH for short); LVMH also owns or has part ownership of several other Napa Valley based wineries including Newton Vineyards, Colgin Cellars and Joseph Phelps, among approximately 70 wineries the company oversees in select wine regions around the world. This global empire is not only limited to wine; under company ownership are numerous iconic and well-known fashion, perfume, jewelry and other lifestyle products. LVMH was formed in 1987 between Louis Vuitton (founded 1854) and Moët Hennessy (founded 1971 as the result of a merger between Moët & Chandon and Hennessy); the company's reach is global in scope.
"This willingness to innovate – as long as, and only if, quality can be maintained – is reflected in the character of its Californian daughter, Domaine Chandon". ~ Patrick Forbes: Rising Star – Domaine Chandon: A Decade of Sparkle
Domaine Chandon was founded in 1973, initially as M & H Vineyards to honor the parent company Moët-Hennessy; two men playing an early critical role in deciding to move forward with operations in the Napa Valley for the first time ever; former President at the time of Moet & Chandon, Bertrand Mure and another executive, Alain Chevalier. The 'boots on the ground' person who oversaw the development of Domaine Chandon in all aspects was founding chairman and president John Wright. John was an international consultant for Arthur D. Little who transferred internally within the company to their San Francisco office. And he oversaw creating a study called Wine America for several clients including Robert Mondavi Winery – a look at the state of the wine industry in the United States at that time and its future. It was this study that was brought to the attention of Moët-Hennessy in the early 1970s.
French based Edmond Maudiére was their consulting winemaker, flying over several times a year for 20+ years. Incidentally, John's first vineyard introduction to the Napa Valley was as a limited partner in Lyncrest Vineyards (now the site of Marston Family Vineyard). Later John and his brother owned a vineyard on Mt. Veeder which they called Kittyhawk (much later owned by several Hollywood couples who for a short while produced Longtable wines from this site). It was John's house and vineyard site that stood in as Domaine Chandon's first address (prior to the winery being built) – located at 1743 Mt. Veeder Road.
The first crush for Domaine Chandon was in 1973 at Mt. Veeder Winery; the resulting wines from this year were then saved to be used for blending in future vintages. The 1974 harvest was their first commercial harvest creating a cuvée (they were not yet producing vintage-dated wines). This wine was bottled as a California Chardonnay and labeled as "Fred's Friends" in homage to Frederic Chandon, who eventually became chairman of Moët & Chandon.
Perhaps somewhat surprising, since there are hillsides at Domain Chandon is the property was never developed for wine caves. However, a 100 foot cave was tunneled into the hill near the winery. We are not sure if it is being used for anything these days.
In her book, From Bubbles to Boardrooms, then Vice President of Marketing and Communications for Domaine Chandon Michaela Rodena noted that employees and friends of the winery took 100 cases of this initial wine – so the decision was made to bottle the rest of the tank which resulted in 450 cases. Michaela also mentioned that since their wines were being made at Trefethen Winery at the time (not yet open to the public) and the Domaine Chandon Winery was not yet completed – orders would be fulfilled at a pre-arranged time at the entrance to the construction site.
The physical winery was designed by San Francisco based ROMA Design Group. Founded in 1968, remarkably vestiges of this firm are still in business – transitioned to ROMA Collaborative; other exiting projects they have been involved in include the Third Street Promenade shopping district in Santa Monica and the Ferry Building area in San Francisco among numerous others.
Domain Chandon was the first French-owned sparkling producer in the USA. And in a bit of Napa Valley historical trivia, for a short period from 1973 through harvest 1977 despite not producing sparkling wines, nearby Trefethen Winery was home to thousands of bottles of sparkling wine. The reason for this is that Domaine Chandon took over the second floor of Trefethen Winery for their own winemaking operations (before the winery buildings at Domaine Chandon were yet built).
415 Sansome Street, San Francisco

And according to author Jamie Laughridge in her book, Rising Star – Domaine Chandon: A Decade of Sparkle Groezinger's Wine Shop in Yountville (now Wine Country Connection) at that time wineries had to sign a contract with a retail outlet before they could legally sell wine. That contract was with Groezingers. And she also mentions that the first ever retail outlet that carried wines from Domaine Chandon was the old London Wine Bar at 415 Sansome Street in San Francisco (1974-2006) – now home to the Barrel Room.
Over the years a number of winemakers who now have their owner wineries or brands have worked here including Dawnine Dyer and Ernie Weir. In 1999 their long time "riddler" retired (a riddler is one who turns the bottles by hand in order to allow the yeast to slowly work its way out to the stem of the bottle where it can then be removed by a process called 'disgorging'). After his retirement, Domaine Chandon decided to begin making limited production still wines in addition to their sparkling wines. Yes, Domaine Chandon even produces a Napa Valley Cabernet Sauvignon. All the grapes for their still wines are grown in blocks completely separate from the grapes used for their sparkling wines.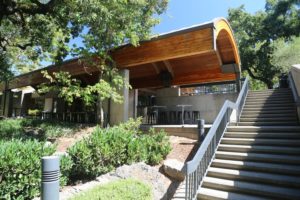 Riddling racks take up a lot of space and like most larger wineries producing sparkling wines, the riddling process is automated. Wineries often come up with creative names for their riddling machines like BOB at Mumm – the staff at Domaine Chandon simply calls their riddling machines, VLM for "very large machine". Their former riddling rack storage space is now used for barrel aging the still wines.
The winery uses three varieties for their sparkling wines – Chardonnay, Pinot Noir and Pinot Meunier. Domaine Chandon was the first California winery to use Pinot Meunier in their sparkling wines; this varietal is a lesser-known cousin of Pinot Noir. Today out of the 1,000+ commercial Napa Valley based wine producers that we have personally visited and tasted with, only a handful of wineries in Napa produce either a still or a sparkling wine from Pinot Meunier. Meunier means "miller" in French – referring to someone who mills flour. For those with a passion for etymology, when you look at the back of a leaf of Pinot Meunier, you will notice numerous fine white hairs – possibly resembling powdered flower to those who originally came up with this name. As a result, vineyards of this varietal are easily identifiable, even from afar – especially early in the growing season by their whitish grey looking leaves.
Domaine Chandon owns three estate vineyards in the Napa Valley including in Carneros (the largest in their portfolio at around 850 acres), Mount Veeder (located at an elevation of around 1,600 feet – above the fog line and about 60 acres) and Yountville (where the winery is located with about 130 acres). In addition, they purchase fruit from a variety of northern and central California coastal sites. All their wines from this particular Chandon are sold either in the United States or in Canada.
The property
Domaine Chandon has been voted Winery of the Year in past years by the California Tourism Association and most recently received a similar award in 2018 at the International Wine & Spirits Competition: Sommelier Challenge. The winery is located just off Highway 29 initially on the same road that leads to the Yountville Veteran's home slightly west of the town of Yountville (only a several minute drive from the center of Yountville). In prior years driving up Highway 29 from the town of Napa, one may have seen a billboard that prominently displayed a picture of a champagne cork and a regular wine cork with the line above saying, "which is more fun?!"
Guests who visited the winery in years past were also greeted with signs publicizing their own winery radio station; they were the only Napa winery to have their own station – at the time, it was broadcast on FM channel 88.1.
The property features pretty landscaping including rock sculptures held together with re bar and an intriguing rock "mushroom garden".
A rather lengthy parking lot is divided into an upper and a lower section. The long driveway enters the lower parking lot; if the first 2 or 3 spaces are free to your right-hand side, take these as they are shaded under the oaks, and one does not have to drive all the way through the long parking lot and around to exit when you leave. Rather if you back into these coveted spots, when you are ready to leave simply pull out; you will already be at the exit. The entrance to the winery is directly next to the lower parking lot – cross the small wooden bridge over the water and make the short walk to the visitor center entrance.
NOTE: For many years Domaine Chandon offered tours available to the general public by walk-in, but they no longer offer these tours; a tour was our first introduction to Domaine Chandon many years ago. As of our latest update, tours are still selectively offered to guests of the Wine Train and for clients of at least one group tour operator based in San Francisco. These tours last about 45 minutes. During one of their tours, we learned that bottles of sparkling wine contain about 56 million bubbles; apparently one of the French Champagne producers conducted extensive research on this.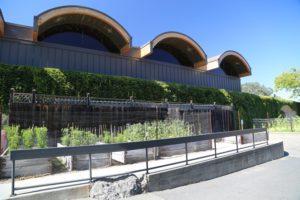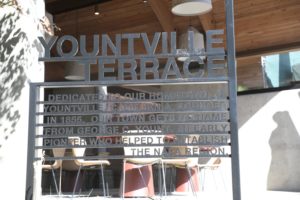 In 2023, celebrating the winery's 50th anniversary a major interior renovation was completed; outdoor spaces were also updated including private tent-like cabanas among the oak grove. The former Etoile restaurant space was also renovated and is now home to the Epicurean Hub. Available by reservation only, the Epicurean Hub offers a five-course farm to table meal paired with various Chandon sparkling and still wines.
The Chandon Garden features raised planter beds are located up the stairs and outside – near the primary tasting room. These beds are often planted with a sensory component in mind with plants representing similar odors commonly found in wine. A nearby small demonstration vineyard features primary varietals used in the making of sparkling wines.
Domaine Chandon features modern tasting spaces with both a bar and a lounge style setting. On warm days the entire glass wall behind the bar opens and one is treated to views and fresh air of the surrounding grounds. Part of the bar area is reserved for members only. Several unique tasting flights are offered. We always enjoy the "classic" taste – these wines are younger and a bit more fruit forward then their other tastings. Depending on the type of sparkling wine, Domaine Chandon ages the wines from one to eight years.
Tasting experiences evolve over time and some of these mentioned below which, most of which we have personally experienced may or may not still be offered at the time of your visit.
And while most people visit Domaine Chandon for their array of sparkling wines, tastings of their still wines (including Pinot Noir and a rare bottling of Pinot Meunier) are offered and bottles of these wines are also available for sale.
The small cocktail bar, located across from the main tasting bar counter is open only on the weekends. While the primary tasting counter serves flights of wines by the glass – the cocktail bar sells bottles of wines and a diversity of appetizer sized bites. A cocktail machine sometimes churns out pink frozé drinks during the warmer months and during the winter months serves holidays themed drinks such as mulled wine. Special sparkling wine cocktails are also available including some delicious mocktails (great for nondrinkers and for the always important designated driver). The Carneros Cooler is a fun one (if available) – one of the ingredients is honey harvested from their hives at their Carneros property. Weekends can be quite popular – Domaine Chandon can see up to 2,000 people on a busy weekend day.
This Chandon like the others we have visited inherently seems to be endowed with plenty of creativity – both with some of their specialized and more unique sparkling wine products as well as hospitality offerings. Domaine Chandon often holds fun events on a rotating basis. Of mention is the "Bubble & Oysters Hour" featuring fresh oysters from Hog Island Oyster company. In 2018, Domaine Chandon began offering Brunch in Bloom every Sunday – an experience where guests sit around a shared table with glasses of Chandon wines paired with a seasonal menu.
Select Wines
Sparkling
The Domaine Chandon Brut Reserve is medium gold in the glass; the nose offers aromas of toast, kiwi, lemon juice, lemon zest and citrus blossom. The creaminess on the palate is nicely balanced by its crisp character. It offers flavors of apple, pear, tangerine and lemon and lingers with a wake up and noticeable zippy acidity. After a long day this is just what the doctor ordered to go from tired to feeling refreshed. This wine is 63% Pinot Noir and 37% Chardonnay. Its primary fermentation took place in stainless steel tanks. It was aged for 36 months on the gross lees before being riddled and disgorged. This wine then aged for 6 more months in bottle before it was released.
The Domaine Chandon By the Bay, Carneros Vineyard Reserve Blanc de Blancs (a non-vintage wine of 92% Chardonnay and 8% Pinot Blanc) is medium gold in color; the bouquet offers aromas of cut green apple, freshly mowed grass, lemongrass, pear, and kumquat. This wine carries a lot of energy from its zesty character from its bright acidity. It offers flavors of lemon, grapefruit and red apple. It lingers with a citrus quality which is slightly tangy but not tart. 80% of its primary fermentation was conducted in stainless steel while the remaining 20% was fermented in French oak barrels. We immediately thought of pairing this wine with the Bibb lettuce salad served for decades at La Gare Restaurant in Old Railroad Square in Santa Rosa, CA.
The Domain Chandon California Brut Rosé is medium salmon in color; the bouquet smells fun and fruity with aromas of freshly muddled strawberries and light notes of scents similar to under ripe watermelon, but more so like snow algae, found on the surface of snow, usually at high elevation. The palate offers flavors of red cherry, strawberry and pomegranate framed by a light creamy texture. This bottling is not overly complex; it is very balanced with a lingering light berry fruit note along with bright acidity. It offers plenty of enjoyment and is easily and quickly consumed. It is bottled with a screw cap covered by a faux looking champagne cork plastic cap.
The Domaine Chandon California Brut is medium straw in color; the nose offers a diversity of aromas including a flint-like quality, lemon zest, citrus blossom, pear, honey and red apple. Texturally this sparkling wine floats across the palate with flavors of lemon, lime, and green apple. It lingers with firm and bright acidity and a light biscuit nuance; this is a refreshing everyday drinking wine. We immediately thought of pairing it with something very fresh from the sea, i.e., sashimi, and for some reason this wine made us also think of of a place … wandering the tiny streets of Kyoto in Japan in search of culinary excellence.
Still
The 2017 Domaine Chandon Carneros Pinot Meunier is pale ruby in color; displays aromatics of raspberry, strawberry, a slight juniper herbal note and and a pretty union of dessert nuances including mocha, vanilla and Graham cracker. Offers an appealing lightness across the palate – both in texture and flavor. The flavors somewhat mirror the aromas with raspberry, cherry and a darker dessert/earth spice – and almost a hint of cedar lingering on the finish. Just a touch of barrel influence sweetness lingers in the background. Very smooth and fruity (but no residual sugar) – glides across the palate.
The first dish we thought of to pair this wine with is a tomato-based pasta. Although switching gears completely, it probably would do well with a spicy Thai seafood dish. An interesting factoid: Domaine Chandon planted the first commercially used Pinot Meunier in the United States in 1984.
The 2016 Domaine Chandon Carneros Chardonnay is deep gold in color; offers plenty of aromatic depth including notes of lemon meringue, melon, butterscotch, butter, vanilla and a sweet tropical fruit nuance including mango, papaya and pineapple. Offers some initial mineralities on the front of the palate – rounded and creamy but not viscous or oaky – notes of popcorn butter and light dessert spices linger on the finish which is complemented nicely by a brightness of acidity. A very flavorful yet balanced showing.
And the Chandon Garden Spritz from Argentina was their first product marketed internationally at various Chandon wineries – and we have seen this sold at Chandon in Napa Valley.
Étoile restaurant (closed in 2015)
Étoile restaurant was highly rated and was the only fine dining restaurant located within an actual winery in Napa Valley. It opened in June of 1977 and unfortunately closed permanently at the end of 2014 and was converted to additional tasting room space. And two interesting side notes: the second chef at Étoile, Philippe Jeanty would go on to open the acclaimed Bistro Jeanty restaurant in Yountville and former restaurant manager at Étoile, Daniel Shanks would go on to become the food and beverage director at the White House – serving several administrations before retiring in 2018.
Étoile means "star" in French – yes there is a story about this name that dates back to the Benedictine monk, Dom Perignon who is often wrongly credited with founding the méthode Champenoise way of making sparkling wine. Supposedly while drinking his "accidental" Champagne he called to the other monks, "Come quickly, I am drinking the stars". This restaurant was also voted among the top winery restaurants in the world by the popular Travel & Leisure magazine.
For more information or to join their wine club (Club Chandon with its numerous perks), visit: www.chandon.com
Exterior + Grounds

Interior

Les Journées Particulières
LVMH has hosted Les Journées Particulières in 2011, 2013, 2016, 2018 and 2022. This multi-day global event hosts up to several hundred thousand visitors at LVMH owned spaces around the planet (including several of their Chandon properties) offering guests the opportunity to meet the designers and artisans behind the LVMH products. For more information, visit: www.lesjourneesparticulieres.com
—
One may think that Domaine Chandon is the only winery in the Chandon portfolio but in actuality this a very international focused company with wineries and or vineyards located in seven countries including Argentina (the first Chandon winery outside of France – 1959), Australia, Brazil, China, India, USA and the 'mothership', Moët et Chandon in Épernay, France.
MOET ET CHANDON, ÉPERNAY FRANCE
Moët et Chandon was founded in 1743 as Moët et Cie (Moët & Co) in Épernay by Claude Moët, a winemaker and wine merchant. Moët was the first winemaker in Champagne to focus entirely on sparkling wine production. The company took its current name in 1833. Long associated with luxury, some of the winery's first clients were some of the most well to do people in France. In 1987 Moët et Chandon merged with Louis Vuitton and became LVMH (Louis-Vuitton-Moët-Hennessy).
A visit to the maison is a world of elegance, opulence and refined luxury – framed by an inviting exterior, a lavish interior, endowed with the rich heritage of the company, complemented by well-dressed employees and the feeling of refinement one has when enjoying some of their nectareous products.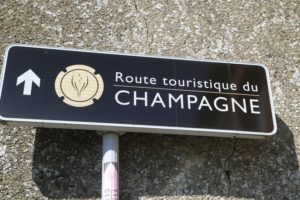 Moët et Chandon is located in the heart of Épernay (there are no vineyards on site – however the company owns some nearly 3,000 acres of vineyards in the Champagne region and purchases additional fruit from other growers). Visitors taking a tour of the historic caves can park across the street on one of the side streets (parking is metered). Prior to tours, guests will wait in the large salon. The highlight of the tour is a visit to the 28km of caves spanning several levels located directly below the maison and underneath numerous streets of the city spanning some 10 to 30 meters (30 to 100 feet) underground. Some of these original caves date back to 1743. One of the tour guides estimated there are around 1000 km of tunnels in Champagne. Like other caves in parts of Champagne the tunnels are carved out of a white chalk (one can feel the walls are slightly damp to the touch).
Of the millions of bottles produced each year approximately 20% are still riddled by hand including their large format bottles which do not fit into the Gyropalette (a machine that automates the riddling process). And only about 2% of their entire production are vintage bottlings.
At one point in the tour guests will be surrounded by bottles of aging Dom Perignon (some of the finest, most well-known and expensive bottles of Champagne in the world). Dom Perignon is a vintage Champagne and is only produced in years of exceptional quality – Moët et Chandon first produced this wine in 1921. It must age for a minimum of 12 years before being released. And while touring the caves guests will also see a large, engraved wine cask that was given as a gift to Jean Remy Moët (Claude Moët's grandson) by Napoleon (a friend and a client of the winery) in 1810.
After the tour guests will enjoy several Champagnes in a special tasting salon also located underground. Tours will culminate with a visit to the 'boutique', a high-end retail space showcasing their wines including vintages of Dom Perignon. Private tours can also be arranged in advance.
The spectacular Résidence de Trianon estate (orangerie) and gardens across the street were constructed between 1805 and 1817 for Jean-Rémy Moët's two children and were used as private residences for many years. Today this estate is often used for special events and as a reception area for VIPs. And Moët et Chandon has owned Château de Saran since 1801 – located about 15 minutes from the maison and used for hosting guests, private parties and other select events.
For more information and to reserve a tour & tasting, visit: www.moet.com
exterior

reception/entrance rooms

caves

the boutique

Épernay, France

Château de Saran, Champagne
This stately old building was built in 1801 as a hunting lodge for Jean-Rémy Moët, the grandson of the Moët & Chandon's founder. This property is only a 15-minute drive from Épernay. The property changed hands a number of times over the decades including to Jean-Rémy's son, Victor Moët who transformed the space into a chateau. In 1954 the property was sold to Moët & Chandon. The company made major renovations to the chateau for two years which were completed by 2019. Today, it is used for hosting VIP guests' (invitation-only in one of 12-luxurious and themed rooms) and private functions. The well-manicured grounds are stately and spacious.
Loge de Vigne du Mont Aigu, Moët et Chandon
This structure is perched on top of a hill within eyesight of and short drive from Château de Saran. Loges or vineyard huts were originally constructed to store materials for vineyard workers and also provide shelter. Many were not as nice as this one and were built built as basic structures. This one is constructed from brick and slate rock. Many of these shelters have since been torn down as modern vineyard management has dictated less of a need. But some have also been preserved. Not only limited to the Champagne region, we've personally seen these structures in other wine regions including in Switzerland.
Fort Chabrol – Institut de Recherche Viticole et Oenologique, Épernay
Founded in Épernay in 1900 by Moët et Chandon and known then as the Moët & Chandon Practical School of Viticulture, it would later play an important role in the fight against phylloxera. This site was added to the UNESCO's World Heritage List in 2015. A short path runs next to the vineyard in front of the institute with several informative plaques in French describing viticulture practices.
Moët et Chandon Production Winery, Mont Aigu
Moët et Chandon maintains a large production facility (nearly 65,000 square feet) about a 5-minute drive from the tiny town of Oiry and less than a 15-minute drive from Épernay. It was completed by 2016.
BODEGA CHANDON, MENDOZA ARGENTINA
This was the first Chandon winery founded outside of France – it was established in 1959 with the winery opening in Mendoza, Argentina in 1960. The vision behind Bodega Chandon was from Jean de Vogué, the Chairman of Moët & Chandon in the 1950s. He requested their winemaker at the time, Renaud Poirier to travel parts of the world and identify premium sparkling wine locations. He located the site of the present-day Bodega Chandon in Luján de Cuyo. Bodega Chandon is only about a 30-minute drive from central Mendoza.
The original office buildings still exist on site – a reminder of their beginnings – the satellite company was small at the time as only 15 people were employed. The winery property is 20 hectares, however Chandon owns some 80 hectares total in the Mendoza region ranging from elevations between 980 and 1,500 meters. There are currently 7 Chandon's worldwide – in order of their founding, these include Moët Chandon, Epernay France, Mendoza Argentina, Brazil, Napa Valley USA, Yarra Valley Australia, China and most recently, India.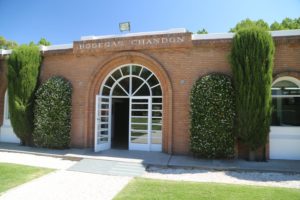 While there is a Chandon in the neighboring country of Brazil, it is the Mendoza Bodega Chandon that is responsible for distribution in Latin America. The Brazil Chandon only focuses on the Brazil market. And in Argentina, Bodega Chandon has about 60% of the domestic sparkling wine market.
Champagne is known for its wine of the same name; Cava is associated with Spain and Prosecco with Italy. When no regional word is used, the default terminology is sparkling wine. Argentina has not yet identified an iconic word for its sparkling wines – perhaps the word, burbujas (bubbles) comes the closest to identifying sparkling wines from the country. And perhaps not a surprise, this is the only Chandon that produce a sparkling wine from Malbec.
One of their more sought-after wines is Baron B, named in honor of the wineries' first president, Baron Bertrand de Ladoucette. This wine is limited production with no distribution outside of the winery. Bodega Chandon also produces several unique and intriguing sparkling wines including several products meant to be paired with ice. Take Delice (meaning delicious in French) for example, this is a wine created with the youthful palate in mind. It is a blend of Chardonnay and Pinot Noir with Sémillon, and Petit Manseng added later in a process called licor de expedición or dosing (a process that gives this wine its semi-sweetness).
The Apéritif is a sparkling fruity style wine made from Chardonnay, Pinot Noir and Sémillon but is infused with a variety of over 50 spices and herbs. Also slightly sweet, this wine is dangerous – one continues to reach for the glass due to its seductive profile on the palate! Unfortunately for the global market it is effectively unavailable – as it is only made at this particular Chandon.
Tours and tastings are available by appointment (allow about 75 minutes) and include an overview of the properties' history, a visit to a small demonstration vineyard on the grounds and a walk-through part of the winery. Tours are conducted in both Spanish and English if necessary. There is no cave at this Chandon, rather the cellar was dug out below ground and contains the aging wines – no riddling by hand occurs rather the wines are turned with gyropalletes.
The tour culminates with a tasting in a side room in the hospitality center. Private tastings can also be arranged following tours; these are hosted in a small house. Weather permitting, following the primary tasting, guests are allowed to bring their glasses outside and enjoy drinks among the beautiful gardens and grounds.
Like the former Étoile at Domaine Chandon in Yountville, Bodega Chandon offers lunch dining at the Bistro Chandon restaurant on site – including options for multi courses paired with a variety of their sparkling wines.
For more information or to arrange a visit, see: www.chandon.com.ar
exterior

hospitality

private tasting salon

winery

restaurant
caicayen vineyard

DOMAINE CHANDON, YARRA VALLEY AUSTRALIA
Domaine Chandon Australia is located about an hour's drive (with no traffic) from central Melbourne in the Yarra Valley. The winery and visitor center are located along the Maroodah Highway in an area known as the "golden mile" named for several premium producers located along this part of the highway.
The Yarra River Valley is well-known as a cooler climate wine region – similar to the Napa Valley grapes were first planted in the region in the 1830s. The number of wineries today has grown significantly especially over the past 20 years; today there are over 80 cellar doors in the Yarra Valley. Prominent varieties include Chardonnay and Pinot Noir along with Cabernet Sauvignon and Merlot among others.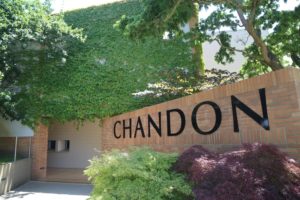 Domaine Chandon Yarra Valley was established in 1986. This Chandon was built on an old dairy farm called Green Point – the original house built in the 1880s used during the farming days was remodeled and still stands on the property.
Vineyards were first planted on site in the mid 1980s – a number of which can be seen surrounding the winery and visitor center. Guests can taste without needing an appointment at the 'splash bar' while private tasting experiences by appointment only are held upstairs in one of several rooms.
Tours are generally self-guided – a small wine tour route is located within several rooms and highlights some of the Chandon history and offers guests a peek through the windows into the riddling cellar. Guided tours, only offered on Sundays are appropriately called the Chandon Sunday School – offers a behind the scenes looking into the winery operations followed by a tasting.
Domaine Chandon Australia owns several vineyards in this part of Australia including the original Green Point Vineyard (on site of the winery) at an elevation of about 300 feet. The also own several other vineyards outside of the Yarra Valley in the King Valley and Strathbogie – both several hours drive from the Yarra Valley at elevations up to about 2,600 feet. In addition, they purchase grapes from more than 40 growers in the Yarra Valley.
Along with the Chandon in Mendoza, this is one of the only 2 Chandon's to offer a restaurant on site. During a recent visit we enjoyed freshly shipped in oysters from Tasmania, a delicious entree of lamb and sorbet and chocolate mousse for dessert. Several sparkling cocktails are offered with meals. While the food is delicious, so too are the views, especially on a clear spring or summer day – with seating both inside and outside on the terrace.
Grounds + Vineyards

Hospitality Center

Restaurant

Wine Tour

—
Note: due to the international scope of the Chandon properties – the significant time and expenses needed to properly write a review of this storied brand based on personally visiting and tasting at all their international properties, this review will be updated very slowly over a span of multiple years.
OTHER CHANDON WINERY PROPERTIES
CHANDON, GARIBALDI BRAZIL

Visit and photos coming at some point
CHANDON, NINGXIA CHINA

Visit and photos coming at some point
CHANDON, NASHIK INDIA

Visit and photos coming at some point