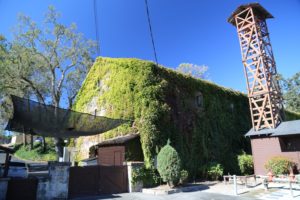 Del Dotto Vineyards has seen a remarkable amount of growth in the Napa Valley over a relatively short amount of time. This is their original winery property but not their original purchase in Napa Valley. In 1988 Dave and Yolanda Del Dotto were on vacation in Napa Valley when they spotted a vineyard for sale in Rutherford; they made an offer that same day which was approved by the seller. The Del Dotto family currently owns two other wineries in the valley, Del Dotto Vineyards in Rutherford and their newest winery, Piazza Del Dotto in Oakville along Highway 29 (just north north of Yountville) along with a third winery site (Villa del Lago) located high on the slopes of Pritchard Hill. They also own or lease several vineyard only properties. The Del Dotto family currently owns more than 435 vineyard acres spread over 7 unique properties, primarily in Napa Valley but with one holding, the Cinghiale Vineyard in Sonoma Coast.
Del Dotto Vineyards is located just down the street from the Silverado Country Club. There is very little signage in front but look for all the ivy covering a historic looking building on the west side of the road. This very historic building dates from 1885 and was founded by Morris M. Estee, a politician and the first president of the Napa Viticultural Society, serving in 1881 – and who also ran for governor of California against the eventual winner, James Budd (also reference Estee Lane, just north of the city of Napa). His winery was designed by noted architect, Hamden McIntyre, perhaps the Howard Backen of the times. Howard is a well-respected contemporary architect responsible for some of Napa's most creative and innovative wineries. Hamden designed a number of prominent wineries including Far Niente (also dating from 1885), the wooden Eschol Winery (now Trefethen Vineyards), Inglenook and the Greystone building housing what is now the Culinary Institute of America.
The winery was in operation until the start of Prohibition and then again after; from 1934 until 1949 it housed the Hedgside Winery & Distillery. An article in the February 1, 1934, issue of the Napa Valley Register indicated this distillery was the only government licensed whiskey distillery west of Peoria, Illinois. Bennedett Distilling Company of San Francisco invested a quarter million dollars to get the operations up and running. And the President of the company, P. De La Montanya said his company chose the site because of the quality of its producing limestone water from an existing well.
Their early product was a 93% proof straight corn produced whiskey called Cornhusker. For a number of years part of the winery was used for the production of the early vintages of Quail Ridge Winery. Quail Ridge was owned by South African born Elaine Wellesley who owned 10 acres of Chardonnay on Mt. Veeder; Quail Ridge shared the winery building with a woodworker. The Del Dotto family (under the name of Dave's father, John) – purchased the property in the early to mid 1990s and by 1995 had opened up a tasting room for their wines (there are no vineyards on site). Interestingly, the Christian Brothers owned this property for a very short time in 1988 before selling to Heublein in 1989.
However, Del Dotto began producing wine prior to occupying this space; their first vintage was in 1993 and until 1996 was made at Whitehall Lane Winery by winemaker Gary Galleron (a family that has deep roots in the Napa Valley, IE Galleron Lane in St. Helena)
Hospitality
Early on in our work on the Napa Wine Project we were tired of those in the Napa wine industry asking us if we've been to Del Dotto and only being able to reply in the negative. So, we finally joined one of their infamous tours. During our first and numerous subsequent visits, Botticelli arias were echoing throughout the winery. Sometimes those in the local wine industry will refer to their tour as "dumplotto" due to their tendency to provide lots of wine on the tour. Our tour guide even referred to this term during the tour.
The tour is approximately 90 minutes (sometimes guests spend up to 2+ hours here) and for most of it, you walk through the very historical caves which were hand dug in 1885. These are among the oldest caves in all of Napa Valley and among just a handful of hand-dug caves. For reference the other pre 1900 hand-dug caves in Napa Valley include: Beringer Vineyards, El Molino, Schramsberg, Stags' Leap Winery and Storybook Mountain.
Visitors wander around following the host from one wine barrel to the next sampling wine. That is the core of the tour. Because of this focus, one will taste plenty of wine here; if you like a particular wine, you can even request another taste (the correct terminology is 'revisit'). Each barrel that one tastes has laminated cards in front describing the wine – if you enjoy wine from a particular barrel take the card with you to reference later upon checkout.
Del Dotto knows how to create fun environments for guests. This is by far the most humorous tour that we've been on in Napa Valley. You will be laughing. If its busy there may be several tours circulating through the caves at once; all the tour guides seemed to be extremely happy with wide smiles across their faces. Our guide was clearly enjoying each barrel sample along with our group.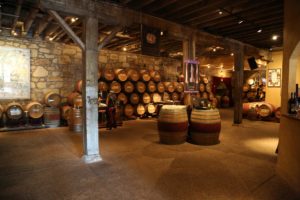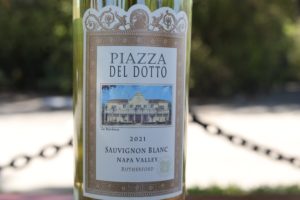 One side cave portal we entered was completely covered with slimy moss and our guide told us that if you lick it with your tongue, you would probably end up naked in a desert somewhere. Note their "mofo" barrel blends – which in this case is not a derogatory term, rather it stands for "Missouri oak, French oak" aged. Red stoppers in a barrel means that barrel is already sold out. One of their barrels is a Colbert barrel manufactured by the cooper Nadalie USA (at the time of one of our early visits many years ago was running about $1,600 each – these are certainly significantly more expensive now). The oak for these barrels is from France; only approximately 200 of these types of barrels are made every year.
The tour begins with an intriguing and educational display about oak barrels. Del Dotto has long been known for conducting significant amounts of experimentation with various oak and oak sources including not only from France and the USA but also from Russia, Hungary and Italy. Oak trees in France have to be at least 80 years old by law before they can be cut down. One of their French oak barrels has staves (wood) from 9 different coopers (suppliers).
Select Wines
These are high octane wines, often harvested riper resulting in higher alcohol, with plenty of flavor and youthful energy. With that said, they are seriously and carefully made. And in the moment, enjoying these bottlings combined with the sultry surroundings produces a highly addictive and memorable experience for guests. It is a powerful combination that creates lasting memories.
Del Dotto produces a wide diversity of wines from sparkling to robust and opulent reds. The highlights of the wines we have tasted here over the years are their Cabernet Sauvignon and various red blends. Their Cabernet Franc is also an intriguing bottling based on its Del Dotto style; one cannot always find robust and showy Napa Valley grown and produced Cabernet Franc. It is typically used as a blending varietal and more elegant in style.
The 2021 Piazza de Dotto Rosé of Pinot Noir, Fort Ross-Seaview Sonoma Coast is deep salmon in color; the bouquet offers aromas of raspberry, candied roasted nuts, dried rose petals and hints of ripe strawberry. As this wine evolves in the glass it reveals additional notes of cut grass. The palate shows some weight both in texture and flavor; this is not a light styled rosé. It offers flavors of strawberry, rhubarb, dried orange peel and a subtle note of watermelon jolly rancher. The texture is velvety and satin like. This rosé drinks very well by itself.
The 2021 Piazza del Dotto Sauvignon Blanc, Rutherford Napa Valley is medium gold in color; the abundant aromatics are immediately tropical including scents of pineapple, guava, dried mango, honeysuckle, citrus blossom and lemon curd. There are no varietal characteristics showing in the bouquet that one would typically find from a cooler climate grown Sauvignon Blanc. The mouth feel is fleshy, rounded and supple and is complemented with a richness of flavor which is especially noticeable on the finish. This bottling offers intense flavors including of pineapple and cantaloupe.
In addition, Del Dotto currently produces at least one dessert wine (they used to produce more). Del Dotto understands the importance of having top brandy fortified in their dessert wine. One of Napa Valley's best dessert wineries supplies the brandy which contributes to the high quality of these port-style wines – and it's not Prager. Hint, Del Dotto's brandy supplier is located high up on Spring Mountain.
Remarkably, Del Dotto used to offer an impressive collection of international wines for sale as well as small more difficult to find wines from other Napa Valley wineries. At one point they were probably the only winery in the valley to offer such a variety of wines to consumers.
Del Dotto began their operations as a small producer, however as they have acquired vineyard land in both Napa Valley and in Sonoma County as well as opened additional wineries, their production has certainly grown. And the number of wines produced has also significantly grown including more recently sparkling wines. As of our last update they are now producing approximately 20,000 cases of wine per year across all three of their wineries.
—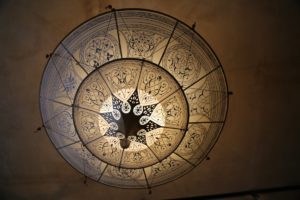 Dave Del Dotto traces his family back hundreds of years to Venice and honors his Italian cultural heritage in each of his wineries in a number of ways; often Italian music will be echoing throughout the spaces, much of the furnishing and décor in his wineries were imported from Italy and while using modern wine making techniques he also uses or has used old world traditional wine making techniques.
Prior to his work in the wine world, Dave was well-known for a nationally syndicated program featuring long infomercials shot in Hawaii. These aired late nights on national television about get-rich real-estate investment strategies. At one point, he developed quite a following for his Cash Flow System and his Millionaires' School. He even wrote a book titled How to Make Nothing but Money.
Based on other articles we have read about Del Dotto Vineyards, we have inferred that other wine writers also enjoy writing about Del Dotto due to Dave's creativity, ingenuity, fun experiences, style of wines, nod to heritage and over the top opulence of the physical spaces that he has created in each of his properties.
Cautionary note #1: When you pull into their street side parking area in front of the winery be aware that there is a steep drop off next to part of this parking area. We have waited out here several times to see cars totally bottom out as they drive off the road into the small parking strip. Move further down this parking strip and the steep drop off becomes much less pronounced. If parking is maxed out in front of the winery – note that there is plenty more parking on the south and western facing sides located behind the winery.
Cautionary note #2: And also be acutely aware that the part of Atlas Peak Road (in front of their driveway) is a divided road; don't make the mistake of pulling out of Del Dotto and driving the wrong direction (like we have witnessed several times during our numerous visits to this winery).
Dave and his family also own property and vineyards on Pritchard Hill; years ago, we heard plans about building a luxury 8-room boutique hotel on site, but those plans have since fallen through, as well as building a new winery on this property. We visited the property prior to Del Dotto's ownership and there was already an existing winery already on site.
For more information about their wines, to join either their wine club or the more coveted VIP membership or to schedule either a tasting or a tour + tasting, visit: www.deldottovineyards.com
Exterior

Interior