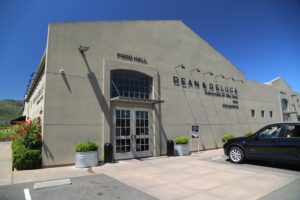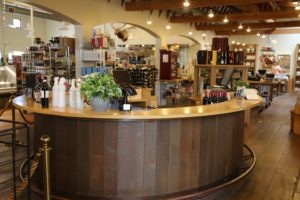 Dean & Deluca, St. Helena. With 20+ years in the Napa Valley (opened in 1997), the St. Helena Dean and Deluca (old timers may remember Tripoli Market that was here before Dean & Deluca – incidentally one of nearby Sutter Home's first retail outlets – or perhaps The Spot Restaurant next door, which is now Press Restaurant – or really old timers may remember the bowling alley) has become an integral part of the landscape – for both for the community and for tourists. Therefore we take notice when they present a new in-store feature, especially as it relates to wine. In early May 2017 they opened their first ever tasting bar located among the wine section of the store.
Wine Specialist William Wade grew up near Yountville, surrounded by vineyards and the wine world. Sometimes you need some perspective and experience outside of the valley – at 18 William moved to New York to work in restaurants and then moved back to San Francisco to study Psychology at the University of San Francisco. With a passion for both wine and psychology, eventually the allure of the wine world brought him back to the Napa Valley.
It was his idea to create this tasting bar and consumer experience. He has an excellent wine perspective of the valley – often meeting winemakers who stop in to talk, or chatting with serious wine consumers who are on the hunt for a specific style of wine or producer. He also sees the juxtaposition of clientele who look for a wide range of wines, styles and prices simply based on Dean & Deluca's central and popular location in the valley.
The 'cornerstone' of the wines represented here are from BOND in Oakville. Wade feels BOND is one of the best wineries in the valley to represent Napa as a whole – with their single vineyard wines sourced from premium hillside vineyards in select locations up and down the valley. He is drawn to both the quality of their wines but also the diversity of terroir they work with. He calls their attention to detail "remarkable and astonishing".
Visitors to the tasting bar and wine retail part of the store may notice the wooden cases of BOND wines stacked on top of each other. Bill Harlan, proprietor of BOND certainly did when he visited the store and the new tasting bar – three years after his last visit. He called that to the attention of William and said he had never been to a retail outlet before with cases of BOND stacked up. William explained that BOND's quality mirrors the philosophy and commitment to quality of their own wine program. And when you see these cases stacked up, among all the other quality producers represented – this certainly makes sense.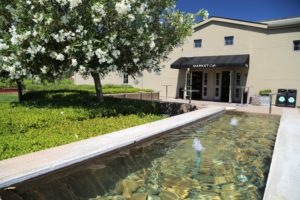 Their selection including an excellent array of mostly hard to find wines from premium boutique Napa producers. With that said, this is also a very unique opportunity to try wines (without needing an appointment) from some of Napa's most premium wineries – in some cases wineries that maintain a significant wait list to just get on the bottom of a mailing list to have a chance to buy the wine if there is still some available after those ahead of you have finished their purchasing.
A number of tastings are offered including a whites only, reds only, a BOND only and a very rare tasting that we have not seen anywhere else in the valley, the Premier Napa Valley tasting. This is a limited selection of wines from blends created for Premiere Napa Valley by some of Napa's most highly regarded winemakers. These are wines you won't find anywhere else as they were made one time only. At the time of our visit 60 bottles of a 2013 Corison Premiere Reserve were available along with one Premier Napa Valley wine from Rosemary Cakebread and Mark Herold.
This is Dean & Deluca's ground zero store for unique and interesting wines – during one visit we discovered a wine created exclusively for this particular Dean & Deluca store – a sparkling wine crafted by Joe Wagner (Caymus family). When Ayesha Curry's wine, Domain Curry was already sold out, this particular Dean & Deluca still had bottles available for purchase.
Wines from Dalla Valle, La Sirena and others are sometimes available for tastings and purchase. We sampled several from their diverse collection.
The 2013 Checkerboard Vineyards Kings Row Napa Valley Red Wine shows sweet and savory aromas on the bouquet – almost meaty at times with notes of white pepper. Simultaneously structured yet with finesse this wine has very good acidity. There is a wonderful depth of flavor on the palate – mostly darker fruits complemented by more subtle flavors of vanilla. Feels good on the palate texturally. Shows dusty and well integrated tannins. Impressive.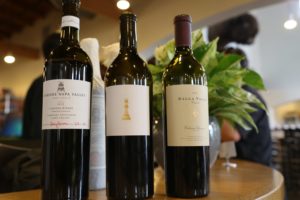 Equally as impressive but for a totally different reason; we tried the 2013 Corison Premiere Reserve and immediately said "this wine isn't from this century" – referring to the style of wines that were more commonly found in Napa in the the 1960's and early 1970's. Elegant bouquet with a supple palate, great acidity and balance. A memorable wine.
And while carrying an excellent selection of mostly Napa wines, Dean and Deluca also has a fine selection of meats & cheeses, various artisan products (imported and domestic) – and plenty of products to peruse for potential picnics and a full service sandwich bar (limited indoor and outdoor patio seating available). There is also a full service coffee station on site.
The first Dean & Deluca opened in 1977 in lower Manhattan – founded by two men – Giorgio DeLuca (a former history teacher and cheese shop owner) and Joel Dean (worked at the publishing company, Simon & Schuster). Over the years the company opened several additional locations.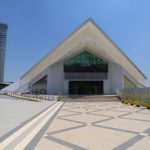 We always look for connections between the Napa Valley and Thailand (not always easy to find!). In late 2014 Bangkok based Pace Development Corp purchased Dean and Deluca including this St. Helena location from Napa Valley based vintner Leslie Rudd. They have grown the number of locations rather remarkably in a fairly short amount of time. Based on significant amount of time personally spent in Thailand every year (much of which is in Bangkok), we have noticed numerous Dean & Deluca cafe's popping up ranging from at Suvarnabhumi Airport to in some of the city's toniest shopping centers. They continue to develop their International presence.
And in 2018 plans are in place to open their only other West Coast USA store, in Malibu Village, Malibu (these plans may or may not materialize).