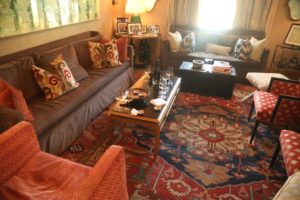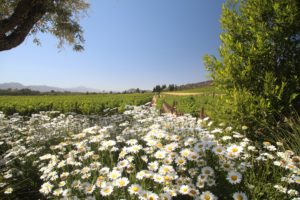 Darioush Winery is a visually intriguing looking winery specializing in premium wines. It was founded in 1997 by Iranian born, Darioush Khaledi and his wife Shahpar with their first vintage released that year. The 'Persian Palace', i.e., hospitality center was not completed until 2004 and was constructed with stones imported from quarries near Shiraz.
Darioush's father was a hobby wine maker and during his formative years, Darioush grew up around wine (well prior to the Islamic revolution in 1979). After college he became a civil engineer in Iran working on select government projects.
Through a sponsorship from Shahpar's sister who was already living in Los Angeles, Darioush and Shahpar immigrated to the USA in 1976. He did not yet speak English, although he spoke Farsi, French and Russian. Over time with his brother-in-law Parviz (Paul) Vazin, they built one of the most successful independently operated grocery store chains in the USA. Their first purchase was the failing Top Valu Market near Torrance. The parent company was called K.V. Mart Co – combining the first initials of the men's last names, Khaledi and Vazin.
Recognizing the needs of the surrounding Hispanic community were not being met by the prior owners, they transitioned to different products including those brought back from Mexico. And rather than hire from outside the community – they focused their efforts on hiring locally. They built this business from just one store to a regional chain of 41 stores at its peak. While Darioush has since divested himself from his interest in the business, several stores still continue to operate, primarily in the Los Angeles area/ These operate under the name Amar Ranch Market, Buy Low Markets, Top Valu Markets and Valu Mart Food Warehouse.
Amar Ranch Oxnard

Buy Low Market, Norwalk

Top Valu Market, Long Beach

Valu Mart Food Warehouse, Temple City

Darioush spent several years searching for an ideal vineyard site before settling in the southern part of the Napa Valley – in part, encouraged by Robert Mondavi.
A bit of interesting Napa trivia: the site of Darioush Winery used to be Altamura Winery and Vineyards – unfortunately the old Altamura home burned down in 2017 during bush fires. This property is 33 acres and along with the winery and hospitality buildings, is planted to Cabernet Sauvignon, Merlot and Syrah. When Darioush purchased the property, vines were planted to Chardonnay and Sangiovese. Darioush owns three other vineyards including the nearby Ashley Vineyard in the Oak Knoll District (named after Darioush and Shahpar's granddaughter), the 22-acre Sage Vineyard high on the slopes of Mt. Veeder and a vineyard in Coombsville (near the city of Napa).
Grapes for their Signature wines are not used until the vines reach at least 7 to 12 years of age (typically wine grapes produce enough usable fruit between three and five years).
Besides coming for the wine, this is a destination winery where visitors often stop in for reasons other than wine (one of only a few "destination wineries" along the Silverado Trail). At the entrance, guests drive past metal gates, always open during normal operating hours. Proceed down a very long narrow road passing water bubbling up in the grass median until reaching a circular part of the driveway containing a pedestal with an Olympic style flame. When the flame is turned on, this signifies that Darioush is at the property. The southern wing of the building is his private residence.
In the prestigious tradition of Opus One, visitors need to choose to park on either the left or the right side of the parking lot – just like at Opus One over the years we notice most people park on the right side of the parking lot. If it's raining, courtesy umbrellas located under a larger umbrella are available for visitors to use between the parking lot and the winery.
And guests often stop to take photos in front of the faux columns and fountains. The fountains and reflecting pools are impressive above ground, but equally as impressive is what is below the pools to keep the fountains flowing. Jim Wilder, owner of Pond and Fountain Pros installed the various plumbing and intricate web of equipment for these fountains. He told us the internal plumbing architecture is significant to ensure that the ponds are always filled to the same levels. Ten fountain jets are calibrated to spray water all at the same height and so the inner chlorinated pools do not mix with the outer water which contains koi and various aquatic plants.
Walking up to the winery is like walking onto a Hollywood set. This modern building "looks old" as it takes its historical influences from Apadana, a hall built in the first half of the 6th century BC originally part of the ancient great Persian city of Persepolis (located about an hour's drive outside of Shiraz in Iran). Its original design was by Darius the Great. Many stately looking columns supporting nothing, but air greet guests at the main entrance. The carvings of bulls on top of these statues are all missing their horns – to symbolize the pillage of the solid gold horns when Persepolis was destroyed. Similar to parts of Iran, the property is planted to several pomegranate and pistachio trees.
Persepolis, Iran (for comparison!)

As visitors make an entrance in the main room, they may well see chic well-dressed guests lounging at the nearly 360-degree square wine counter. If they look up at your entrance, they are merely looking to validate that you are one of them. If they don't look up, they are too into their wine, and this is a better sign. If tasting in the winter, enjoy a seat in front of the blazing fireplace. The fireplace's headstone appropriately rests on the heads of two metal men and contains what appear to be ancient hieroglyphic writings. Ask one of the hosts at the wine counter to translate these inscriptions for you.
A number of couches and coves are located throughout the tasting room area often used by small groups of people enjoy more intimate tastings. These sit-down spaces are available by reservation only with the last seating at 330pm. The tasting counter is rather unique; it looks like a broken windshield but is actually composed of several layers of glass with the broken glass being the bottom layer.
Experiences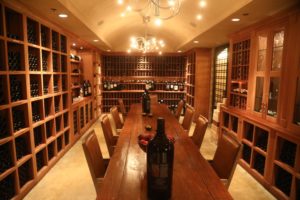 A concierge is usually located inside ready to welcome arriving guests. Sometimes on busy summer weekends, the concierge will setup a greeting station directly outside the main entrance doors.
A wine tasting includes at least one white, a red or two, and their signature Cabernet Sauvignon. In addition to the visually intriguing architecture, the winery offers a variety of unique tastings (all by appointment). Darioush has a distinctive partnership with Marin County's, Cowgirl Creamery. On Darioush's 90-minute tour and tasting called Fine Wines, Artisan Cheeses, guests are treated to hard-to-find limited production cheeses from family farms, and special winery release and library wines which are not available outside of the winery. This tour and tasting is offered once a day at 2pm.
Another very exclusive event is Darioush's "By Invitation Only" event. This is offered on certain days at set times and appeals to serious wine enthusiasts. It is a two-hour experience in which guests try some of their best wines including several bottlings from their Signature series. Guests begin this experience in a private room drinking a current release of Darioush Chardonnay while listening to a wine educator speak about Darioush's background and the history of the winery. A real treat are the tiny plates of caviar. One photo will catch one's eye – Darioush in 2008 wearing the Ellis Island Medal of Honor awarded by then President George W. Bush.
The wine educator led tour of the winery continues with a stop next to their vineyards and private space among the vine rows just north of the winery for intimate tastings; this is a beautiful spot, especially in Spring and Summer. Guests will also linger for short time in a small amphitheater; this comfortably seats about 180 people. This is used for local concerts and various fundraising events and has been used by the famous Iranian singer, Sattar and also a Russian opera singer. Then guests will enter the cellar – a clean and carefully thought-out space underneath the hospitality center with barrels perfectly lined up and hand painted with wine stains. Remarkably Darioush uses 15+ different coopers and during our latest visit, we saw some from Hungary.
One of the highlights of a visit to the cellar is a stop in Darioush's personal wine cellar room. It contains a significant collection of some of the Napa Valley's finest wines including older vintages as well as premium bottlings from some of France's First Growth chateaus.
And the experience culminates with a seated tasting of current release wines including their flagship, Darius II. Small bites are paired with the wines by the in-house chef. During our experience we found the culinary offerings exceptional. A couple of standouts included Roasted beets, beet purée, fromage blanc, beet powder, Corn agnolotti, corn pudding, crispy tortilla corn husk sauce and Morel mushrooms with fava beans and parmesan foam.
Select Wines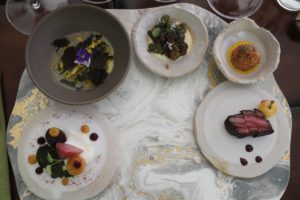 The 2018 Signature Darioush Napa Valley Chardonnay is medium to dark gold in color; offers captivating aromatics of honeycomb, creme Brulé, baked pear, hints of vanilla and caramel, butter and yellow pineapple. Offers plenty of complementary aromatics from the oak, but the bouquet is not oaky. Rounded across the palate but not creamy with flavors of pineapple, butter, apricot and ripe mandarin. Nicely balanced from start to finish. Lingers softly with some desert spice notes (clove) and a hint of mineralities. This wine saw 11 months in 66% new Siruge, Damy and François Frères French oak barrels.
The 2018 Darioush Signature Pinot Noir is the only Darioush wine that is not from their Napa Valley owned vineyard sites. These grapes are from a four-acre vineyard on Vine Hill Road in the Russian River appellation of neighboring Sonoma County. The vineyard is close to Dehlinger Winery. The vines are farmed entirely for Darioush and are dry farmed. Smells like the variety but with a riper bouquet. The wine offers a noticeable intensity on the bouquet with fruit forward aromatics including red cherry, strawberry and raspberry. Also tinges of baking spices and some tea leaf notes. The palate is very supple from start to finish – like the bouquet, also showing an intensity of fruit. Shows a very soft finish. The wine is fermented partially whole cluster, with hand-punch downs conducted during fermentation. It was aged 15 months in François Frères oak barrels.
The 2017 Darioush Signature Shiraz is dark ruby in the glass; the wine offers notes of black licorice, black pepper, dried herbs and hints of cedar and bacon fat. Initially shows savory but give this wine time to breath and the rich fruit aromatics will evolve in the glass showing aromas of dark cherry, blackberry and mocha. The bouquet is diverse with many layers. Nicely balanced across the palate with flavors of blackberry and a currant and red cherry brightness lingering on the finish. Very well integrated tannins.
The 2018 Darioush Signature Cabernet Sauvignon is dark ruby in color; shows very appealing aromas of blackberry, dried tobacco leaf and hints of cedar. Slightly briary. One of the hallmarks of this wine is its balance – a seamless presentation on the palate from start to finish with finely dispersed and rounded tannins anchoring the supple finish. Lingers with bright red fruits including cherry and cranberry. And this was the first wine that Darioush ever produced in 1997.
The 2018 Darius II Cabernet Sauvignon is primarily Cabernet Sauvignon from the Adadana Block at the winery estate with a small amount of Cabernet Franc sourced from their Sage Vineyard on Mt. Veeder. Medium to dark ruby in color, one can pick out this bouquet from a lineup due to its aromatics. Savory, hints of cigar smoke, spicy Santa Rosa Plum, blackberry, hints of fig and clove and cardamom – all rolled into one captivating aromatic showing. Layered across the palate, primarily showing darker fruits. Offers a firm texture with dusty rounded and finer grained tannins which show a little dry in their youth. Also lingers with a hint of cedar on the finish – but the oak does not dominate this wine. Has the depth and character to be very age worthy.
During one visit while tasting this wine, we overheard another guest exclaim, "I would be an alcoholic if I had this wine in my cellar".
And the label on the bottle matches the pedigree of the wine – it's a colorful portion of the 1890s piece inspired by ancient patterns of Persia – created by artist John Henry Dearle. This wine is only available through joining one of their allocation memberships.
One of the hallmarks of the Darioush wines is their texture. The tannins are handled thoughtfully and carefully both in the vineyard and in the winery. As a result, none of the wines we have ever tried over the years show any harshness of tannins – rather they are well integrated and contribute to each of the wine's overall balance.
During one of our earliest visits, we tasted through their flight of current releases (Portfolio Tasting). The 2008 Darioush Viognier has a pleasing bouquet showcasing well integrated flavors including notes of pear, red apple and citrus blossom. The palate is slightly creamy with a nice weight that carries from start to finish. The finish is fairly long.
The 2006 Darioush Signature Merlot (blended with 5% Cabernet Franc) shows some notes of cigar smoke and blackberry in the glass with a somewhat soft entry but a surprisingly intense long finish (all fruit).
The 2006 Duel (60% Cabernet Sauvignon and 40% Shiraz) features an attractive bouquet that is somewhat spicy but reveals more fruit as it opens in the glass. Sour plum and cherry show on the palate with dusty, well-integrated tannins anchoring the finish.
The 2006 Darioush Signature Cabernet Sauvignon is a fairly dark wine in the glass with flavors of blueberry and blackberry. Like the Merlot this wine also shows intense fruit.
Darioush also produces a 100% varietal Cabernet Franc. The bouquet on the 2006 Darioush Cabernet Franc is the most elegant of any of their wines we tried – the palate is clean with notes of blueberry and red cherry leading to a clean lingering finish. A beautiful showing.
—
In mid 2022 Darioush donated $100,000 to the Teaching Vineyard at Napa Valley College in support of replanting efforts needed at that time.
Darioush has a well stocked the interior space surrounding their tasting bar with a variety of unique decorative and useful treasures. Also select wine related books are for sale. For more information or to join their membership club, visit: www.darioush.com
Estate

Winemaking/Cellar