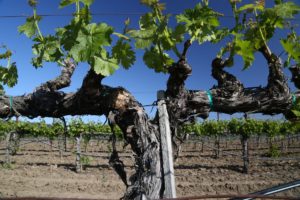 Corté Riva is owned and operated by Lawrence and Nieves Cortez; Nieve's cousin Romel Rivera is the winemaker and the winery takes its name from combining parts of their last names. This winery is the result of a story that is built on perseverance and hard work all of which started in the northern Philippines. Lawrence's family ran a fish farm, raising prawns and Nieves also came from a farming background. The agricultural life on the islands was not easy and they came to America looking to find additional opportunities. All three individuals immigrated to different parts of California in the late 1970's and then soon found themselves working the vineyards that surround the small town of Calistoga in the northern part of Napa Valley. While this was not easy work it gave them a perspective of the wine industry, literally from the ground up.
Nieves and Lawrence started working in the production line at the old Hanz Kornell sparkling wine producer and Lawrence and Romel eventually took jobs working in the cellars of Clos Pegase and Pride Mountain Vineyards where they both work today. Bob Foley was the winemaker at Pride for a number of years and both Lawrence and Romel were able gain invaluable wine making experience by working with Bob on not only Pride's wines but other Napa notables including Hourglass, Paloma, and Switchback Ridge. This was not a bad learning environment for aspiring winemakers! Today Romel and Lawrence are Corte Riva's two wine makers and Nieves runs the day to day operations and sales with help from family and friends.
Corté Riva sources all the grapes for their wines, mostly from high end vineyards in Napa. Because Lawrence and Romel have lived in the Napa area for so long, and worked in a number of vineyards they are very knowledgeable about Napa's different terroir and micro climate regions. They have an interesting philosophy when it comes to deciding which vineyards they are going to use. Rather than locking up long term contracts with growers, they make their buying decisions during harvest based on taste and quality of the fruit. This way they are not committed to any vineyards and if the quality of the grapes are not up to their exacting standards they will not purchase grapes from that vineyard in that particular year. Waiting until "the last minute" can be costlier, but this is just one of the decisions Corté Riva makes to ensure quality in their wines. Both Lawrence and Romel started experimenting with home wine in 1996 and after several harvests friends and family encouraged them to make it a commercial venture. As a result, their first commercial vintage was in 2001 of a limited production Merlot. This wine sold out in merely 2 months however fortunately future vintages saw an increase in production. Their wines have always scored well with the Wine Spectator and Robert Parker's Wine Advocate. The wines have been made at Pride Vineyards since day one.
Recently we sat down with Nieves to try some of their wines. Merlot has always been their flagship wine, having been produced every year since the first vintage. We tried the 2005 vintage. This is a big rich Merlot both in aroma, alcohol and fruit flavors. The complex bouquet starts working its voluptuous magic the minute the bottle is opened. Fruit and chocolate aromas are intertwined and as the nose opens up it is like smelling an aromatic chocolate brownie right out of the oven! The mouth feel is lush and soft and velvety in nature with a juicy mid palate that lingers seductively all the way through to the finish. Delicate barrel tannins bring a hint of vanilla to an extremely long finish that is both rounded and smooth. This wine begs to be consumed now. The 2005 Cabernet Sauvignon in the tradition of Pride's wines (a winery that straddles the Napa/Sonoma County line with vineyards in both counties) lists on the label the percentage of Napa versus Sonoma fruit used. This vintage is predominately Napa fruit and is very dark, almost a black purple color. Initially floral and minerality nuances are found on the nose which opens up to reveal black fruit and just a touch of mocha. The entry is very soft with with plush concentrated fruit flavors including blackberry and cherry with notes of cherry cola throughout and a finish that shows good structure and broad soft tannins.
Corté Riva also makes a Reserve Cabernet Sauvignon from their "best" barrel selections. This wine is appropriately named Mabuhay which in Tagalog (the official language of the Philippines) is a greeting and can mean "live long and prosper". Other wines produced in limited quantities are Zinfandel, Petite Sirah, and their one white, a Viognier. They have very good distribution within the Napa Valley especially in Calistoga which was their hometown for many years. In Calistoga you can find the wine at Cal Mart, Enoteca Wine Shop among others as well as at Dean & Deluca in St. Helena. As expected, their wine is distributed in the Philippines.