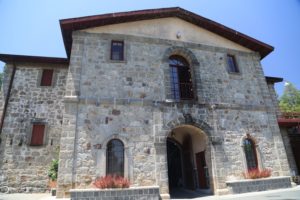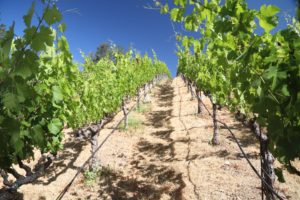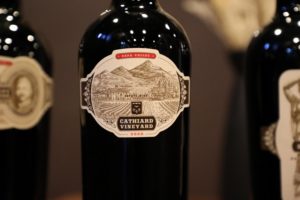 Cathiard Vineyard. Over the decades, this property has featured numerous owners and vineyard and winemaking heritage. Its roots began as a very small part of a nearly 18,000-acre land grant called Rancho Carne Humana, given to Dr. Edward Bale at age 30 by General Vallejo. This was roughly the entire valley between present day Tubbs Lane just north of Calistoga all the way down to Galleron Lane in Rutherford (today with no traffic about a 20-minute drive); records show that this was the 6th land grant given out by General Vallejo – the first being to George Yount. Eventually 15 land grants in the Napa Valley would be issued prior to California statehood in 1850. Bale's homestead, built in the early 1840s was anchored by a two-story adobe home on the west end of what is now Whitehall Lane (very close and just south of Cathiard Vineyard). A grist mill was also on site. The adobe structure stood until 1931 when it was destroyed by a farmer. Bale owned one of the early vineyards in Napa Valley – having planted Mission grapes on his property in the 1840s.
After Bale died, his wife began selling off portions of the huge property and gave away one piece to her daughter Ana who didn't get to enjoy the property very long before she passed. Records show the property was then sold to a man named James Thompson in 1869 who sold it to Captain George Gluyas in 1874 (owner of Sutter Iron Works in San Francisco). Gluyas sold the property for $17,000 to a man named Martin Furstenfeld in 1881 – by that time the property was 210 acres and included vineyards in the sale. An article from the March 23, 1883, in the St. Helena Star references the property containing, "some of the choicest hill vineyard land we have ever seen". The article also mentions a 2,500-gallon spring fed reservoir already on the property and Furstenfeld's plans for eventually building a fishpond.
Two brothers, James and William Rennie (sons of an Irish iron manufacturer) immigrated from Scotland via Australia to Napa Valley, and in 1887 purchased the property from Furstenfeld. They planted 60 acres of grapes and began construction on their stone gravity flow winery in 1888. The brothers hired Hamden McIntyre who was in part responsible for the Greystone building currently occupied by the Culinary Institute of America and Eschol Winery – now owned by Trefethen Family Vineyards. Hamden was the Howard Backen of the times; Howard is a well-respected contemporary architect responsible for some of Napa's most creative and innovative wineries.
While certainly not the first winery in the valley, their operations were notable because they were the first winery in the state to use a gasoline powered engine to crush the grapes. Rennie Brothers Winery was completed in 1900. But then two unfortunate situations arose. Soon after finishing the winery, a fire broke out later that year burning their press and all their barrels of wine. This was a total disaster and coupled with the fact that phylloxera was making its way throughout Napa Valley and into their own vineyards, the brothers soon found themselves out of business.
Napa County was once known as "the county of stone bridges" with the majority of these bridges constructed between 1894 and 1981; the Rennie brothers played a significant role in this. R. H. Pithie, a Scottish stonemason was responsible for building a number of these bridges and worked closely with the Rennie brothers for their financial backing of many local bridges including the replacement and current Pope Street stone bridge in St. Helena constructed between 1894 and early 1895. And they were not the only bridge builders in their family; their uncle sir John Rennie was knighted for his work in completing the 19th century stone-arched London Bridge (replaced by the current version in 1973).
The property changed hands several times, closed down during Prohibition and was eventually purchased in 1933, by Louis M Martini and his wife Assunta – the same year he founded Martini Winery in St. Helena. While Martini never used the old winery for wine making (rather it was used for storage and aging wines) he sourced some of the grapes growing on the property for use at Martini Winery.
In 1977, the Komes family (Jerry – a former President of Bechtel Corporation and his wife Flora) purchased 325 acres of land from the Martini estate (Louis and Assunta had died several years earlier) including the stone Rennie Brothers Winery and the old Brokehoff Winery (1885) and a home built in 1946 which was at one point was lived in by Louis M. Martini and his family.
The Komes were close to purchasing another winery and property on the Silverado Trail before that deal went through. Incidentally John told us that Elton John also put a bid on the property at the same time as the Komes.
Jerry and Flora planned to use the site as a retirement property and grow and sell grapes. However, their children, John and Julie soon became interested in resurrecting the old winery and producing their own wine. In 1977, the buildings were in bad shape; the Rennie Brothers Winery still had burn marks from the devastating fire 77 years prior and John recalls the roof was falling apart and the floor was still dirt (common in wineries of this era and earlier). John was involved in construction at the time, focusing on building mausoleums in the San Francisco Bay Area. Eventually he moved his construction business to Napa Valley and over the years built or remodeled some of Napa's most prominent wineries including Far Niente – along with restoring the stone winery on the Flora Springs property.
Perhaps there were plans for caves dating from the original winery – in the late 1800s an archway was built in the winery next to the hillside indicating potential plans for drilling caves. Those plans didn't come to fruition until 100+ years later when 13,000 square feet of caves were drilled at various intervals in the late 1990s.
—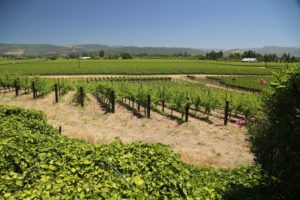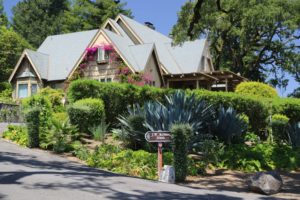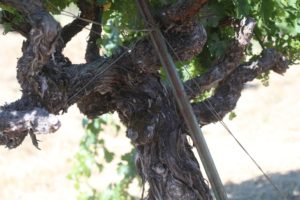 In early 2020, Flora Springs Winery was sold, including 200 acres of which 58 are planted to vine, to Daniel and Florence Cathiard of Bordeaux, France. Not included in the sale was the Flora Springs brand, The Room – the winery's tasting room on Highway 29 and additional vineyard property owned by the Komes family. Owners of Bordeaux's Chateau Smith-Haut-Lafitte, the Cathiard's (purchased in 1990 and is also their primary residence) own several other winery properties in France including Château Le Thil, Château Cantelys, Château Beauregard and Château Bastor-Lamontagne.
Both Daniel and Florence are champion downhill skiers and were on the French Olympic ski team. They built other careers outside of the wine industry including in advertising and supermarket stores. And they also own several hotels and spas and a ski chalet.
Cathiard Vineyard is perched slightly above the valley floor on the lower slopes of the Mayacamas mountains with vineyards straddling both the Rutherford and St. Helena appellations. The views on a clear day looking to the east are quintessentially Napa Valley – rows of grapevines stretch out as far as one can see until meeting the slopes of the Vaca mountains on the other side of the valley.
The first vintage harvested and produced at the winery was from 2020, overseen by an interim winemaker; this was an extremely challenging vintage for numerous reasons including due to some of the most destructive fires in recent memory in the Napa Valley. The fruit that was harvested between the LNU Complex Fire and the Glass Fire was treated gently at first – put into neutral oak after fermentation and later racked into new French oak barrels. It did not show any signs of smoke taint.
In April 2021 Justine Labbé arrived at the property from France to become the General Manager & Winemaker. While she previously worked a harvest at Pine Ridge Winery, the first time she visited Cathiard Vineyard was in April. Some of her previous experiences included working two harvests at Château Smith Haut Lafitte, a harvest at Moss Creek in Margaret River, Australia and living in very rural Cambodia for the better part of a year introducing agricultural practices and specific crops including permaculture to villages.
The Cathiard's and Justine's vision is long term; it is an exciting one that requires significant initial investment and time to elevate the quality of the wines produced. At the time of our first visit since the transition in ownership, numerous soil pits had been dug to analyze differences between several of the vineyard blocks and sub blocks and parts of the vineyard had been replanted. Some thirty different soil types were identified. In addition, after the ownership change, the vineyard transitioned to organic farming with biodynamic practices. A new winery building was constructed and houses stainless steel tanks ranging in size from 3, 5 and 7-ton capacities. Some of the tanks are inverted, in a 'V' shape allowing for additional cap surface area during fermentation (greater extraction).
Significant changes were made in the cellar including updating winemaking equipment and improving the overall cleanliness of the space. And immediate plans call for housing their own cooperage in a room located at the entrance to their cave. Water from a natural spring on the property is in part used within the winery. And plans call for a waterfall to be added to a series of existing stone walls located near the entrance of the cave.
The changes being made to the property have been and are being conducted with purpose and are thoughtfully planned out, both in the vineyard and the cellar. Keep a very close eye on this winery over the coming years and their subsequent wines.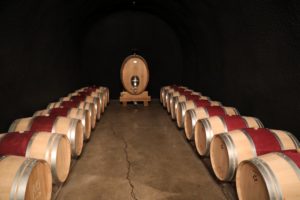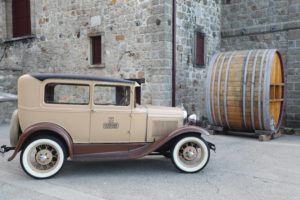 Some of the choicest blocks are located on the hillsides, hidden from view from the lower parts of the property. A highly appealing attribute of this property is its natural diversity – as a significant portion of the hillside land remains forested. Several small ponds are used to provide irrigation water as needed. The largest pond is Lake Cathiard/Sinegal, shared with their winery neighbor, Sinegal Estate.
The oldest vines date from 1983; currently the property is planted to a majority of Cabernet Sauvignon, along with Merlot, Cabernet Franc and Malbec. Well regarded Bettinelli Vineyard Management Company oversees the management of the vines. In addition to replanting sections of the vineyard, parts of the hillside have not been planted for more than 20 years and are slated to be planted again.
Select Wines
Cathiard Vineyard produced three inaugural wines from the 2020 vintage. While all three offer different personalities, the one characteristic all have in common is their superb balance. These are not heavy Napa Valley contemporary red wines, rather they have finesse and freshness, lively individualistic personalities and show extremely well with food.
We briefly tasted through these wines and made some basic notes; we will formally taste these wines again by 2024 and will add our tasting notes here.
Hora, a red wine blend takes its name from Greek mythology, with a hora referring to a group of goddesses representing the change of the seasons. This wine is focused more on fruit and a features a gentle and supple textural profile.
The Founding Brothers is produced in homage to James and William Rennie the founders of the original winery on the property. And images of both are portrayed on this label. The 2020 bottling is a blend of 55% Cabernet Sauvignon, 40% Merlot and 5% Cabernet Franc. This bottling offers plenty of fruit but also shows some spice notes on both the bouquet and palate. It lingers with notes of dried cigar on the juicy and mouthwatering finish. The tannins are present but do not dominate.
The Cathiard vineyard Cabernet Sauvignon is 100% varietal and was harvested from the oldest Cabernet Sauvignon block on the property. This is their flagship bottling and the least produced of the three wines.
Hospitality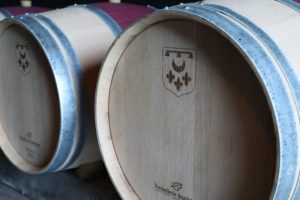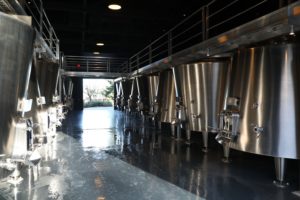 Cathiard Vineyard began hosting visitors to the property by reservation in March 2023. Several guest experiences are offered including the Signature Tasting, featuring several of their wines, the Private Estate Experience offering a taste of all of their current release wines plus a tour of the winery and cellar, the Walk with the Winemaker and the ultimate Cathiard Vineyard experience, the Off-Road Exclusive. Daniel purchased a 1970 Land Rover and had it retrofitted in Florida with a Tesla engine. This vehicle is now fully electric and is used to show visitors around parts of the property.
The existing hospitality space was renovated into a sit-down luxury space for guests.
Select Caudalie skincare products are available for sale. There is a direct family connection with this international company; Daniel and Florence's daughter, Mathilde Thomas and her husband Bertrand Thomas were inspired to start this company in 1995 in their early 20s after meeting Professor Joseph Vercauteren at Château Smith Haut Lafitte during harvest in 1993 where he told them about the benefits of extractions from grape seeds and their antioxidant properties.
Spa by Caudalie, Paris

This Paris based company has grown greatly since the early years with a strong presence in Europe along with North and South America and parts of Asia. Their first Vinothérapie Spa was built on the grounds of Chateau Smith-Lafitte utilizing a natural hot spring located 1,500 feet below the surface. Their first boutique spa opened in 2012 in New York; today there are more than 50 of these spas around the planet.
Since 2012 Caudalie has been part of the 1% for the Planet organization and donates 1% of its overall proceeds to organizations that focused on protecting the environment. In 2015 Mathilde wrote a New York Times Bestseller, The French Beauty Solution.
For more information, to purchase wine or to schedule a tasting, visit: www.cathiardvineyard.com
Estate

Vineyards

Lake Cathiard/Sinegal

BORDEAUX PROPERTIES
Château Smith Haut Lafitte
Daniel and Florence purchased this property in 1990 (about a 40 minute drive from the center of Bordeaux) and have elevated the stature of the site and its resulting wines significantly over the decades. They farm their vineyards organically and biodynamically. Records show vines were planted on site in 1365 and the property was then called Lafitte. The name Smith was added in the 1700s after 1720, Scotsman Georges Smith purchased the property. Today the 78 hectare property is planted to Cabernet Sauvignon, Merlot, Cabernet Franc, Petit Verdot along with Sauvignon Blanc, Sémillon and Sauvignon Gris. It is an extremely picturesque site featuring gardens and outdoor art sculptures.
It is highly unusual for a winery to own their own cooperage; a tiny cooperage is located on site and is one of only four winery cooperages in Bordeaux. The others are Château Margaux, Château Haut-Brion and Château Lafite Rothschild. Their control of their barrel program is impressive – from picking out which oak trees to harvest to the seasoning of the staves and assembly of the final barrels. And in 2023 King Charles III visited Château Smith Haut Lafitte including a stop in the cooperage.
Visits are by appointment and start promptly on time next to Le Boutique at Château Smith Haut Lafitte. include a detailed walkthrough of the property including a visit to the cooperage, the impressive cellars which when full house up to 1000 barrels and finishes with a tasting of several wines in a room next to Le Boutique, the gift shop. Following the tasting guests are free to explore Le Boutique which sells but does not offer tastes of wines from the Cathiard's other properties including Cathiard Estate in Napa Valley.
Le Chai Furtif
A second winery is located within walking distance of Château Smith Haut Lafitte, known as Le Chai Furtif. It is located in an abandoned rock quarry next to the edge of the forest. As a result of its location, Daniel told us he calls this his 'stealth' winery. It is entirely powered by solar energy and since 2014 the CO2 resulting from fermentations within the cellar are captured, converted to baking soda which then is used for spirolena cultivation. This was the world's first system to capture winery CO2.
One other winery we know of utilizing CO2 capture within the cellar is Domaine Dujac in Burgundy. Daniel told us their winemaking team visited Le Chai Furtif to better understand how the system works prior to implementing their own.
Le Chai Furtif is used for producing the wines from the Cathiards's other property, Château du Thil and also the second bottlings for Château Smith Haut Lafitte.
Select wines
Château Smith Haut Lafitte produces six wines each year: the flagship bottlings are a red and white Château Smith Haut Lafitte and two companion wines, Les Hauts de Smith and Le Petit Haut Lafitte (each with a red and a white bottling).
The 2017 Château Smith Haut Lafitte, Grand Cru Classe Pessac-Leognan (60% Cabernet Sauvignon, 35% Merlot, 4% Cabernet Franc, 1% Petit Verdot) was produced from a fairly challenging vintage in Bordeaux; 2021 another tough year. This wine is deep ruby in color and nearly opaque; the bouquet takes some time to open for the fruit to fully evolve. It offers aromas of cherry, raspberry, light notes of dessert spices, dried herbs, old cedar box and a petrichor character (smell of soil after the first rain). The palate offers a noticeable freshness from the bright acidity and complementary red fruits including cherry, currant and plum. The finish is mouth watering, savory and shows a slight tartness, accompanied by tannins offering a light grainy and persistent quality.
The 2016 Château Smith Haut Lafitte, Grand Cru Classe Pessac-Leognan (65% Cabernet Sauvignon, 30% Merlot, 4% Cabernet Franc and 1% Petit Verdot) is deep ruby in color with initial aromas showing notes of mushroom, smoked meats and dried herbs. Its profile is somewhat savory. However, give this wine time to open, and it does so beautifully, quickly evolving to elegant aromatics of raspberry, blackberry and red cherry. One can almost taste the terroir in this wine. Shows an earthiness mid palate through to the finish. The tannins are present but in a complementary role and are rounded, slightly chalky and harmonious on the finish. Lingers with mouthwatering acidity and flavors of red cherry and currant. Not tart but bright. Begs another sip. This is an extremely well-balanced wine which drinks nicely in its youth and certainly will retain its vitality for many years to come. Beautifully done.
The 2015 Château Smith Haut Lafitte, Grand Cru Classe Pessac-Leognan (63 % Cabernet Sauvignon, 33% Merlot, 2% Cabernet Franc and 2% Petit Verdot) is deep ruby in color and nearly opaque in the glass; the bouquet is elegant and offers aromas of dark cherry and assorted berries accompanied by a chalky minerality character. This is a full bodied red but with a simultaneous balance. The palate is layered with flavors of red cherry, plum and darker spices, especially noticeable on the fresh, savory and brightly fruited finish. It lingers with notes of tobacco, crushed dark pepper and a light woodsy spice. The rounded, lightly gravelly textured tannins are persistent and show a light astringency, but are already well integrated. For reference we tasted this wine 8 years post vintage. Do not be in a hurry with this bottling; it is built to age well for several decades. And we could see pairing this wine with duck or rabbit.
The 2019 Les Hauts de Smith Pessac-Leognan Red is medium ruby in color; the bouquet offers aromatics of strawberry, raspberry and red cherry, but there are plenty of other accompanying layers including scents of tobacco, bittersweet chocolate, mint, dried herbs and an earthy character. This balanced bottling offers flavors of red cherries and plums with alight herbal note completing the short but savory finish. The tannins are soft, rounded and well integrated. We tasted this wine 4 years post vintage; it should continue to age well for another 5-8 years.
Exterior

Winemaking

Le Boutiqe

Vineyards

Château du Thil
This 18th century Château du Thil is located only 1.5 km from Château Smith Haut Lafitte and focuses on producing Merlot dominated wines. The wines are not produced at the chateau but rather at the nearby Le Chai Furtif. Wines from Château du Thil are sold in Le Boutique, the wine shop at Château Smith Haut Lafitte.
The guesthouse, La Chartreuse Du Château Le Thil is also located at the chateau and features 9 rooms and two suites. Guests of the chateau also have access to parts of Les Sources de Caudalie including their indoor swimming pool. And of note: the chateau was once the summer residence of the family of Mr. Duffour Dubergier, mayor of Bordeaux in 1855.
Les Sources de Caudalie is located about 200 meters across from Château Smith Haut Lafitte connected via a walking path. This resort was the first ever Vinothérapie Spa (reference Caudalie). It opened in 1999. Part of Les Sources Group (a collection of vineyard hotels) and a member of the Leading Hotels of the World, this five-star resort is operated by Daniel & Florence's daughter, Alice and her husband Jérôme Tourbier.
Luxurious, yet understated walking the grounds feels like exploring a small village. The resort is a collection of wooden buildings built to mimic traditional tobacco drying barns of the region. These include 60+ rooms and suites, the Caudalie spa offering a variety of treatments and its natural hot water bath, an indoor swimming pool in the glasshouse, a gym, an outdoor seasonal heated pool and bathing area, a house on stilts next to the picturesque small pond, tennis courts, use of bicycles and three restaurants: ROUGE, a gourmet grocery and wine bar, La Table du Lavoir and the two star Michelin La Grand'Vigne. And one is never far from grapevines with vineyards literally surrounding the property.
Based on the overall feel of the property and numerous experiences and activities offered, one will have a hard time leaving. Options for guests include yoga, forest bathing culinary classes, wine tasting, and concierge arranged off-site excursions (some of these are offered seasonally).
The Tourbier's also own and operate Les Sources de Cheverny in the Loire Valley.
Château Beauregard
This property has extensive history dating back to the 11 century when the Order of the Knights of the Hospital of Saint John of Jerusalem owned and farmed land in this region. Apple trees used to be grown on site for residents of the nearby village of St. Emilion. An early chateau was destroyed during the French Revolution. The existing chateau dates from the 18th century. In 1991 the French investment firm, Caisse D'Epargne purchased the property (in business from 1818 until 2009). Under their ownership organic farming was introduced in 2011 and the property became fully certified organic in 2014.
In 2014 Château Beauregard was sold to the Moulin family and Florence and Daniel Cathiard. Since this purchase, the Cathiard's share of ownership has dropped and the Moulin family has majority ownership. In 2016 the property began to host visitors by appointment for tours and tastings. And five rooms in the chateau are used as a bed & breakfast.
The property is planted to 17.5 hectares of vineyards growing in a variety of soils including blue clay and sand (the Merlot) and more gravelly soils with veins of clay (the Cabernet Franc). A tiny amount of Cabernet Sauvignon is planted on the property, first used in their 2022 vintage. The vineyard is separated into 35 different blocks. The vineyards are managed using a combination of both historical practices as well as contemporary ones; these include horses and robotic machines.
Grapes from each block are kept separate in the cellar during fermentation and aging. The final blends are created after aging – typically 18 months in barrel for the flagship wine and 12-14 months for their second wines. The very unique looking tall concrete tanks were custom designed specifically for Château Beauregard.
Several wines are produced each year including the flagship Château Beauregard, Benjamin de Beauregard and Château Pavillon Beauregard.
The 2016 Château Beauregard is a blend of 70% Merlot and 30% Cabernet Franc. This wine is deep ruby in color; the bouquet offers a pleasing diversity of aromas including raspberry, cherry and blackberry and as it evolves a note of truffle appears. This latter aroma was quite fresh in our mind at the time of our tasting due to a recent dinner at Le Clarence in Paris. This wine is more fruit driven on both the bouquet and the palate than the Benjamin de Beauregard bottling. Well layered, the palate offers flavors of plum and red cherry. The tannins are dense but present a rounded textural feel which is almost creamy-like. Bright, savory and fresh. The finish offers a dusty character which persists after the fruit drops off. This wine is superbly balanced at the time of our tasting, 7 years post vintage. It shows nicely now, but you will be richly rewarded for patience.
The 2020 Benjamin de Beauregard is a blend of 80% Merlot and 20% Cabernet Franc. This wine is deep ruby in the glass; the bouquet is highly fruit-driven with aromas of raspberries and other red berries along with leather, pepper, dried herbs including thyme and oregano and a gamey character. Easy drink on the palate, its flavors are primarily red fruited including current, cranberry, red plum and red cherry. The dried herbs on the bouquet are mirrored to some extent on the finish along with a note of pink peppercorn and a light but lingering dryness. The name Benjamin is in reference to the youngest son in a family.
The wines are primarily distributed internationally including the majority to the U.S.
NOTE: we have visited Château Smith Haut Lafitte as part of two separate trips. Due to the scope of their properties, a third visit will be required to further update this review.