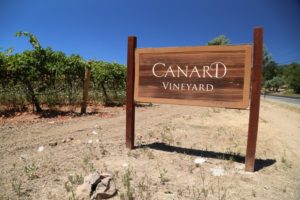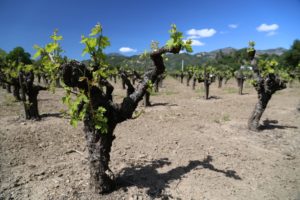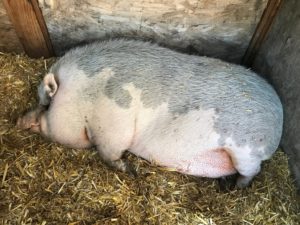 Canard Vineyard has been producing wine commercially in the Napa Valley since 1984. Today 22 acres of vines are planted on the 25 acre property. Rich and Carolyn Czapleski are only the properties' 4th owners since the original owner acquired the land from a General Vallejo land grant (Rancho Carne Humana – a nearly 18,000 acre parcel of land owned by Edward Bale that ran roughly from Tubbs Lane north of Calistoga down to Galleron Lane in Rutherford). This is a very historic site for many reasons. The house on site was built in 1859 by Reason Penelope Tucker who first came to the Napa Valley in 1846 (for perspective that was only 10 years after the first western settler permanently settled in the Napa Valley – George Yount). Tucker was known for organizing the first rescue efforts of the Donner Party trapped in the snowy Sierra Nevada mountains during the winter of 1846/1847 – having arrived at cabins in mid February 1847 where the stranded had holed up near Donner Lake – including a number of individuals who had already died from the cold and lack of food. He later participated in additional rescues. Tucker also owned land in what is now the nearby Bothe State Park (previously called Paradise Park) – and sold a single acre in 1853 to the Methodists – where a small Methodist church was soon built (the first church built in all of Napa County – the church is long gone, only a historical marker notes its original location). Much later, Paradise Park was sold to the state of California in 1960 by the Bothe family; the state proceeded to demolish the restaurant that was on site and they sold off all the interior furnishings.
Tucker was involved in a number of business dealings including purchasing and selling lots in the fairly new city of Napa and along with his son John, were the first stockholders of the Phoenix Quicksilver Mine in Aetna Springs, Pope Valley (Napa County's first cinnabar mine) and was part owner of Sam Brannan's Lodge in Calistoga. This mine was found in 1861 when a hunter, John Newman was out on the slopes and came across rocks containing cinnabar ore (a historical plaque currently marks the site).
Reason eventually left the Napa Valley after a lawsuit took away all his lands in a claim questioning rightful ownership of land dating back to the Bale's land grant. He moved to Goleta Valley near Santa Barbara where he died in 1888 at age 82. He is buried in the Goleta cemetery located directly next to the 101 freeway. The gravesite is a short walk from the tiny parking lot; two inscriptions on the marble grave marker are noteworthy – mention of his Donner Party rescue "one of the rescuers of the Donner Party" and one referring to his character, "a candid, honest and worthy man".
And the popular Tucker's Grove Park just north of Santa Barbara is named after Reason (even though he and his family never developed the land). What is remarkable is that we had already visited and written about this park on our Santa Barbara article on our travel website – but we never made the connection at that time, to Napa Valley.
And Tucker Farm Center, dating from 1920 (a short drive from Canard Vineyard) is named after Reason. This center serves the local farming community as a resource for events, arts and community gatherings. We have also seen references in old newspapers to the "Tucker District", referring to this part of the Napa Valley – generally between Calistoga and St. Helena.
Reason P. Tucker's gravesite, Goleta Cemetery

Tucker's Grove Park/San Antonio Park, Santa Barbara

Reason P. Tucker related spaces, Calistoga & Vicinity

Tucker Farm Center

The Czapleskis purchased this north valley location in 1983 after looking for property close to the San Francisco Bay Area where they could 'get away' and be in a rural location. Besides using some of the fruit for their own wines, they continue to sell some of their grapes. Old vine Zinfandel was the only wine they made for a number of years until later branching out into several blends, Cabernet Sauvignon and small productions of Cabernet Franc and Merlot. A tiny bit of Malbec is also planted on the property.
The name Canard refers to "duck" as well as Rich's "middle" name.
The reason they produce Zinfandel is a direct influence of Napa Valley wine pioneers Robert Mondavi and Joseph Phelps. After purchasing the property Rich hired a vineyard manager who then recommended he remove the old vine Zinfandel growing on the property in favor of a newer higher yielding, more economically viable variety such as Cabernet Sauvignon. Rich pondered this over and within the first week both Mr. Mondavi and Mr. Phelps had called urging him to preserve this part of the valley's vineyard history and keep the vines in place. Needless to say, Rich kept the vines and today they range in age from 75 to 130+ years old.
As a result, this is an extremely rare and historic vineyard. It is one of the two oldest currently commercially producing vineyards in the Napa Valley. There is only one other commercially producing vineyard Napa with vines dating from the 1880's. That is the the old Crane Ranch in St. Helena (now The Crane Assembly) containing a mix of various old vine red varieties – although Canard Vineyard has many more of their original vines still living then the Crane Assembly vineyard.
You don't see vines like these much in Napa anymore – they are all head trained – gnarly looking vines if you will – weathered by time yet still resilient and producing fruit, albeit in small quantities. The vines produce merely between 1 to 2 tons per acre. They are dry farmed – the ground is tilled in the spring and enough moisture remains within the soil for the vines to survive the dry months throughout the summer and into the fall. During fairly unusual heat spikes where the much newer non Zinfandel vines were stressed to the point of leaves wilting, the old Zinfandel vines show no visible stressing at all. Longtime winemaker Brian Graham told us these are the only vines he works with that are so balanced after all these years – he can always predict to the day when the fruit is ready to be harvested.
The vineyards are all sustainably farmed. The same vineyard manager has been employed for many years and Rich is also involved in the day to day hands on management of the vineyard – as he says of his own vineyard involvement and knowledge, "I know enough to be dangerous."
Select Wines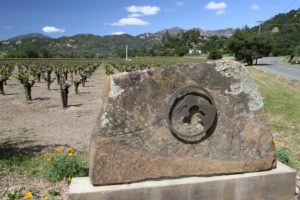 Adam's blend was initially crafted by Rich's son Adam with the approval of their winemaker. This wine is mainly composed of Cabernet Franc and Cabernet Sauvignon with just a touch of Merlot. Like several of their other wines, Adam's Blend is made in very small quantities. In this case, only 48 cases of the 2008 vintage were produced. The wine was aged entirely in French oak and was not fining or filtered before being bottled. A hallmark of their wines are the very aromatic bouquets. This wine is no different; the nose reveals a nice depth of rich fruit aromas. Flavors of black fig, blackberry and black cherry show on the palate. The finish is somewhat dusty, with medium structured tannins as well as hints of chocolate that linger.
The Cabernet Sauvignon is 100% varietal. The 2008 Canard Cabernet Sauvignon shows hints of anis on the bouquet, but with noticeable lingering notes of black berry, and black pepper – the rounded, opulent palate shows intense ripe black fruit. This wine packs a lot of punch for a Napa Cabernet Sauvignon. First, it is all estate grown, with a fairly small production that varies around 800 cases annually – but the real teaser was the price.
Canard changed their label briefly and then went back to their original label, a "throwback" if you will. Their "Throwback" is a proprietary blend; the 2007 Canard Throwback features mostly Cabernet Sauvignon with some Merlot and also Cabernet Franc. The Throwback shows so much fruit on the nose you almost have a tingling sensation! There are aromas of baking spices, ripe plum and dried black fig. The entry is surprisingly soft but gains in complexity rather quickly and is anchored by long dusty tannins on the finish.
Their Zinfandel was originally made by Joel Petersen for many years; Joel founded Ravenswood Winery in neighboring Sonoma County (incidentally that property now owned by Angelina Mondavi). Rich remembers that when Joel started making their Zinfandel, Ravenswood was only producing about 6000 cases of wine annually (wine production at Ravenswood eventually grew up to around 100,000 cases). Canard harvests the Zinfandel several times and they do not "cherry pick" the fruit – rather they pick both the extra ripe grapes as well as grapes that are still slightly under ripe.
It is rather intriguing to notice the dramatic differences between Canard's 2007 and the 2008 Zinfandel vintages.
The 2007 Canard Zinfandel is a fairly weighty and rich Zinfandel – both on the bouquet and on the palate. The nose shows lots of spice (black pepper) with ripe rich dominant black fruit aromas. This vintage is smooth upon entry but quickly shows a lot of fruit flavors – with sweet notes of black cherry throughout the palate. The finish goes lingers for quite sometime – with both fruit, notes of chocolate and alcohol.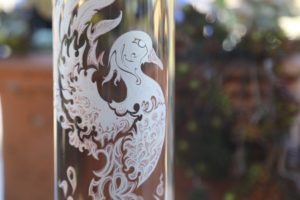 We don't use "beautiful" too often to describe wines – but the 2008 Canard Zinfandel is such a wine. This is a complete contrast to the 2007. Its clearly a different wine simply by judging the color – it is lighter in color, and is younger, yet its already more balanced than the 2007. Everything about this wine is more subtle compared to the older vintage. Baking spices, and higher toned fruit aromas including cranberry and raspberry show – leading to a rounded palate but with a clean finish that shows reasonable structure. Of the two vintages, this would clearly be the choice to pair with food.
And arguably Canard's most coveted and sought after wine is their Reserve Zinfandel – a wine that sees very limited production using only grapes from the oldest Zinfandel wines on the property. Tends to be a robust offering – with more oak and power then their standard Zinfandel.
While the focus of Canard's production is on their estate wines, over the years they have produced several non estate wines. One is a Provencal styled rosé of Grenache from a very unique vineyard growing on top of a bluff (limestone soils) with great views overlooking the coastal foothills (Paso Robles). Their 2020 Cuvée Des Cendres (means, 'from the ashes') and was crafted for several reasons; the name referring to the devastating Glass Fire of 2020 which burned through the upper part of the Napa Valley destroying both vineyards and physical wineries, to the fact that Canard was not able to produce any wines from their estate as the nearby winery they were producing their wines at suffered major fire damage – and a part of the profits from the sales of this wine are donated to the Napa Valley Community Disaster Relief Fund.
The 2020 vintage is pinkish orange in the glass with minerality and citrus aromas – and is slightly sweet on the palate (if we were to guess maybe 2 to 3% residual sugar) but this sweetness is balanced nicely by the acidity. A pleasant lingering tartness. Definitely a crowd pleaser!
—
They wines have very limited distribution in select states (about 10 states) and are generally not distributed much in the Napa Valley. As a result the wines are sold mainly through their website and through highly personalized visits for serious wine enthusiasts with Rich or one of their very small team. Rich is one of the more personable and hospitable folks you will meet in the valley and loves meeting wine enthusiasts.
Canard has produced their wines at other wineries ever since their first vintage. However plans call for building their own small winery on the property – we will update our notes here as this develops.
For more information or to join their wine club, visit: www.canardvineyard.com
The Old Ones