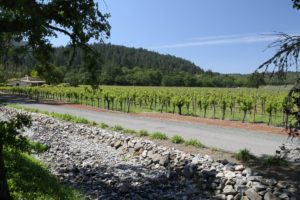 Calistoga Cellars released their first commercial vintage in 1998 (we originally visited them when they had a tasting room in downtown Calistoga). Today they produce a variety of wines (about 10,000 cases) under the Triumph Cellars label.
Their former physical winery location is now Envy Winery; after they sold that winery, part of that original property was retained by the owners – including a nice house which was featured in "Nine Months" a romantic comedy featuring Hugh Grant. Managing partner, Roger Louer is one of the founders of Calistoga Cellars – he is also involved in Roberts + Rogers (another Napa based wine brand).
Calistoga Cellars owns two Napa vineyards, one on Tubbs Lane (as mentioned above) in the far northern part of the valley and one off of Ehlers Lane, just north of the town of St. Helena.
While all their grapes are grown mostly in the Calistoga/St. Helena area – they make their wine outside of Napa Valley which has some inherent cost savings which are passed onto their customers in the very affordable pricing. We tried a 2006 Sauvignon Blanc; this wine only sees tank aging (no oak) and is crisp with a lively palate full of citrus, grapefruit and pear characteristics. The 2006 Chardonnay on the other hand is all fermented and aged in Oak.
If you like a Chardonnay that undergoes full ML, is buttery and creamy, with nuances of some oak, this is the Chardonnay for you! Their 2005 Zinfandel is sourced from Pope Valley. This is a real crowd pleaser. Its not overly fruity, or jammy. Its what we call a more "muted" Zinfandel. Thats not to say the fruit flavors are lost in this wine -it has nice cherry and currant notes.
The 2005 Merlot is a big wine – the Cabernet Sauvignon helps give it a very nice backbone. If you get a chance, try their Reserve Cabernet. It won double gold medal at a large tasting competition in San Francisco, for a wine of this caliber, it is decently priced by Napa standards.
A highlight is their Port made from 100% Cabernet Sauvignon grapes – several sips of this will only leave you craving more! It displays an excellent balance between alcohol and sweetness and additionally it is one of the most affordable ports you will find in the Napa Valley. Visit: www.calistogacellars.com
NOTE: this review has been identified as needing a *major* update.