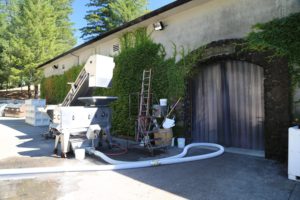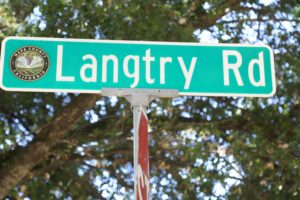 Cain Vineyard & Winery (formerly known as Cain Cellars) is located high in the forested Spring Mountain District with a somewhat isolated location away from most of the other Spring Mountain wineries. The winery was founded in 1980 by Jerry and Joyce Cain and presently produces between 10,000 and 20,000 cases per year. Their first vintage, a Sauvignon Blanc was made from purchased grapes in 1981. Lester Harder was Cain's winemaker during part of the 1980s (previously at Conn Creek and Chappellet). Jerry was a relator and commercial building developer based in Palm Springs (Cain Development Corp) and Joyce was a building designer. She designed the Cain Winery and hospitality center and oversaw its construction in stages during the early 1980s; the first harvest processed at Cain was in 1982. Joyce was also an avid culinary enthusiast and for some time sold a variety of Cain jellies made from Cabernet Sauvignon and Sauvignon Blanc under the name Napa Valley Connection.
Tragically both the winery and hospitality center burned down in the 2020 Glass Fire and the vineyards sustained major damage. Both the 2019 and 2020 vintages were destroyed in the fire. In order to make part of their 2021 vintage they purchased grapes.
In the mid 1980s, friends, of the Cains, James and Nancy Meadlock (died in 2019) became partners in the winery and assumed full ownership in 1991. James and Nancy, former IBM employees, were among the several founders of M & S Computing, Inc. in 1969; their last name of Meadlock was the M in the company, which was later renamed to Intergraph Corporation in 1980. Intergraph's primary business was developing computer chips which were used to process data into computer graphics; at one point it was the largest corporation in Alabama. After selling and becoming a privately held company in 2006, four years later in 2010 Intergraph was sold to Hexagon AB, a public information company headquartered in Stockholm, Sweden.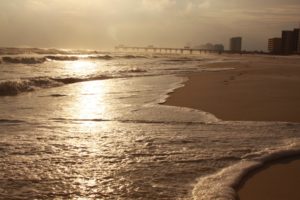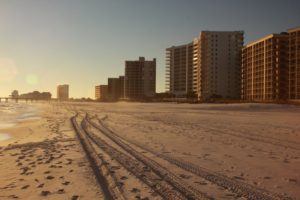 James Meadlock also owns Perdido Beach Resort in Orange Beach, Alabama and Voyagers Restaurant (the finest of several places to eat within the resort); Nancy was the General Manager of this resort until her passing. This property was previously known as the Perdido Hilton Hotel. We have personally stayed at Turquoise Palace, a few minutes' walk down the beach from Perdido Beach Resort. We will visit this resort and Voyages Restaurant during our next trip to Gulf Shores and Orange Beach.
Cain Vineyard & Winery is located about 2.5 miles in on the extremely narrow sometimes one lane windy Langtry Road. Cain is not the only producer located on Langtry Road. One will pass by School House Vineyard (one of the longest continuously producing wineries in all of the Napa Valley), York Creek Vineyard and some of Fritz Maytag's olive trees and by the driveway for Flying Lady Winery. This road does not continue through to Sonoma County despite what online maps sometime indicate.
The winery is situated on a ridge line in the Mayacamas mountains as with other Spring Mountain hillside wineries they sometimes receive snow in the winter. The vineyards range in elevation from about 1400 to 2100 feet with these uppermost vineyards among some of the higher vineyards found in Spring Mountain. Their total acreage is significant; five hundred in total of which about ninety are planted to vine. Their water source comes from the rainfall each year; two ponds on property store water for use throughout the season on the vines as needed. Springtime is a wonderful time to visit this winery as there are many picturesque flowers in bloom around the main building including dogwood, azaleas & rhododendrons.
The property used to be part of the 3,000-acre McCormick sheep ranch originally settled in the 1850s as a homestead. After the Cain's acquired the property from the heirs of the founders (they were only the second owners of the property) they hired noted Napa viticulture pioneer Laurie Wood to plant their vineyards to Cabernet Sauvignon, Cabernet Franc, Merlot, Petit Verdot and Malbec. Unfortunately, much of these vines were planted on AxR rootstock and were not resistant to phylloxera so over time most of the vineyard has been replanted. Because of the site's location featuring numerous contours and exposures and elevation range, harvest usually lasts from 4 to 6 weeks.
This is a scenic location with excellent views of the ridge tops and of their vineyards – some of which extend almost 1000 feet below the winery. Views are into part of the Napa Valley floor in the distance as well as into neighboring Sonoma County to the west. A prominent rock stands out by itself far below their upper vineyards; this is called La Piedra. Their vineyards are low yielding growing on very rocky shallow soils. Up to 1.5 tons / acre is a good yield. All their vineyards are certified organic. Ten vineyard workers manage the vines year-round.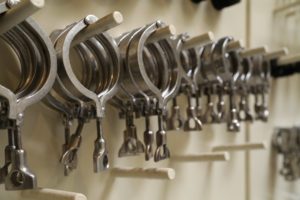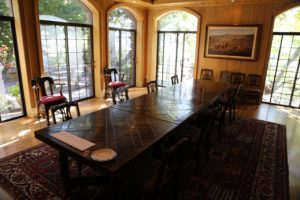 All visits are by appointment; for either a sit down tasting or a sit down tasting combined with a vineyard walk and a tour of their wine making facilities. Visits are private for your party and are hosted around a table small table in a very personalized setting. The tour of the winery stops in their fermentation tank room, barrel aging room and ends in an elegant room containing several tables where you will taste four wines. Note: once the winery is rebuilt, presumably tours and tastings will resume, and we will revisit and update this review at that time.
Part of the tour is about how they make their final blends – whittling down the choices from over 70 vineyard blocks to the three wines. Blending is a critical component of their wine making. There are a number of philosophies on when to blend; Cain tends to blend early allowing for maximum integration of flavors. Their flagship wine is the Cain Five which is a blend of the five classic Bordeaux varieties each of which is planted in their vineyards. This is the wine they are most known for – it has been produced since 1985 and is hand crafted down to the smallest of details. The name also ties in well based on the fact they had 5 children.
The fining of their wines is done with egg whites (generally no filtration is done to allow for maximum color and flavor) and all their wines are fermented with indigenous yeasts inherent on the skins of the grapes. All their wines are blends with the percentages listed on each bottle.
Winemaker and General Manager Chris Howell has been with Cain since 1990. Some of his former experience is formable, with time spent at Château Mouton Rothschild and much closer to Napa Valley, Peter Michael Winery in Knights Valley of neighboring Sonoma County.
We first visited Cain Cellars in the very early stages of the Napa Wine Project; we did not yet have the very unique perspective resulting from visiting and tasting with more than 1,100 unique Napa Valley based wineries and producers. Now we have a much better grasp of the various nuances of wine styles in the valley.

During a revisit we could clearly tell these are wines that are different from many of Napa's producers, hillside or valley floor. These are wines that have their own style or "Cainess" as one of their tour guides simply stated. Chris calls his style of wine making as "wine beyond just the fruit". And the proof of this is clearly in the glass.
Select Wines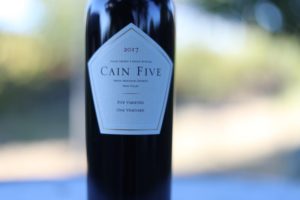 The 2017 Cain Five is 45% Cabernet Sauvignon, 26% Merlot, 21% Cabernet Franc, 5% Malbec and 2% Petit Verdot. This wine is deep ruby in color; the bouquet offers a barnyard like aroma, with forest floor notes, along with aromas of mushroom, pepper, beef jerky, dried herbs, bacon fat, two-day old used Band-Aid and a sweaty pitcher's baseball mitt after coming in to rest in between innings on a hot summer day. It is a bouquet with equal parts savory soul and dankness. While some may be turned off by the aromatics, in today's clean contemporary Napa Valley winemaking style, Cain remains true to their vineyard and cellar approach; this wine is a perfect example of this. Medium bodied across the palate this wine features primarily red fruits including red cherry and various red berries. This wine shows good acidity but not a higher-toned tartness. The finish lingers gently with earthy and fine chalk-like tannins and some savory nuances.
We recommend decanting and trying this wine over a period of an hour; it is like a shy child hiding in his room in the presence of visiting strangers for the first time, closed and turned inward until he becomes comfortable and begins to interact. Oxygen will eventually bring this wine out of its shell; be patient, it will take some time, slowly opening up even more aromatic layers including fruit.
The 2012 Cain Five shows a nice mix of both blackberries, a pine component and a subtle toasted cedar note interwoven on the bouquet. An earthiness (forest floor) along with mushroom aromatics both continue onto the palate. Features mouthwatering acidity. Well integrated tannins feel pleasant on the palate with a long lasting somewhat savory finish.
With just a few years more age, the 2007 is a perfect example of the importance of aging Cain's wines and balance and beauty as a result (coupled with this excellent vintage). This wine (tasted 9 nears after vintage) shows harmonious notes straight out of the bottle. The fruit is lively and seems like a younger wine then it actually is. The bouquet shows an elegant nose with hints of white pepper, aromas of rose petal, dark cherry and blueberry. Balanced on the palate, it features long lasting somewhat chewy tannins. A crowd pleaser!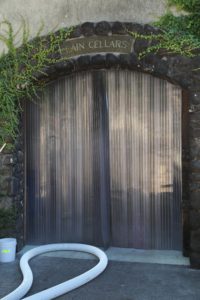 The Cain Concept, the Benchland features "valley floor" grapes they purchase from premium vineyards growing in alluvial deposits or bench land soil deposits from Oakville, Rutherford and St. Helena. The 2012 Cain Concept, the Benchland shows an earthiness mixed with a mushroom / truffle note on the bouquet – almost meaty reminding us of a number of Syrah's we have tried (but this wine has no Syrah in it). The palate shows a darker grip of black fruit (blackberry, black cherry) and a dustiness along with a subtle herbal component. The mouth feel is soft and velvety – the tannins are noticeable but not gripping in feel.
The very reasonably priced Cain Cuvée is always a non-vintage of two years and is bottled as NV (for non-vintage with a number representing the most recent of the two-harvests used to make this wine). The NV12 included the 2011 and 2012 vintages; this is a lighter styled, easy drinking wine and certainly gentle on the pocketbook. Aromatically it shows a sweaty leather/animal note to the bouquet, almost wild/gamey like. This wine needs time to breathe and as it opens this aromatic 'mustiness' dissipates, replaced by elegant fruit and a noticeable floral component. It is fairly soft on the palate with polished tannins, this wine drinks well young.
Cain holds on to their wines a couple of years longer than most Napa Valley wineries before releasing them. They also use longer premium corks and each of their bottles are laser etched with a few relevant details about the wine. All labels are still adhered with glue.
Spring House Tasting Salon, St. Helena
After the Cain Winery and hospitality center burned down in the fires of 2020, Cain downsized and for a short while, moved their hospitality operations in the summer of 2021 to the historic Spring House in St. Helena located directly across from Goose and Gander restaurant. NOTE: as of our latest update, Cain Cellars is no longer hosting visitors at the Spring House salon in St. Helena – we keep our notes here for historical reference.
They occupied part of this building for only a short while. This family home has rich history; it dates from the late 1880s and was built by Battista Salmina, brother-in-law of one-time owners of Larkmead Vineyards, Felix Salmina and his family. Incidentally, Felix Salmina was one of the seven founding members of the Napa Valley Vintners in 1944. And along with Felix Salmina, Battista also helped build and operate the old wooden William Tell Hotel just down the street from the Post Parade tasting room in 1878. Remarkably this building is still standing – located at 1228 Spring Street.
The home features two other Napa based producers, Lang & Reed and The Debate – both offering tastings by appointment in one of several spaces including a shared room and a porch overlooking Spring Street. As of our latest update to this review, Cain Cellars is now producing their wines at Raymond Vineyards, but hopefully the winery and tasting room will be rebuilt in the coming years.
In addition to primarily selling direct to consumer, Cain also is selectively distributed in Napa Valley including at Oakville Grocery. For more information, to schedule a virtual appointment or to sign up for their mailing list, visit: www.cainfive.com