CADE Estate Winery , under the same ownership as PlumpJack, is part of a select group of wineries that have more than one physical winery within the Napa Valley. The two founders of The PlumpJack Group are San Francisco's former mayor Gavin Newsom and philanthropist and entrepreneur Gordon Getty. John Conover is also a principal and is the General Manager. PlumpJack was looking to expand and when this premium vineyard site became available they decided it was the perfect terroir for adding a new winery to their collection. Besides, they were about out of vineyard space at their Oakville location; the timing was right. Their Howell Mountain terroir allows a production of a hillside grown wine different in style then the PlumpJack wines which are typically valley floor grown. In addition their location puts them in the Howell Mountain neighborhood of some of top producers including Dunn, Heitz and Abreu.
Despite being such a young winery, this is already the type of winery that "locals" take their friends. It is a classy appointment only tour and tasting experience, completely hidden away from the sometimes busy parts of the valley floor, and it is a winery that seems to have been here much longer than in actuality. Part of this can be attributed to the seamless design of the buildings and how well they blend in with the natural environment.
As with other PlumpJack holdings that have ties to names from Shakespeare's time, CADE is derived from a Shakespearean-era term for an oak cask or barrel. The actual winery and hospitality center is located just off of Deer Park road before you climb into the small town of Angwin. We had the privilege of touring this new winery during the middle of construction. A 15,000 foot cave was designed by the talented architect, Juan Carlos Fernandez who is originally from Guadalajara, Mexico. This is his first winery project but previously he has had a plethora of International design experience on a variety of buildings. He compares building a winery to a restaurant and says, "A lot of what you do depends on the chef's needs. In the case of a winery, though, it's the winemaker, not the chef, who helps to shape the program".
The winery is situated on the edge of a hillside at an elevation of about 1800 feet and the views overlooking the valleys and hillsides are killer. During rainy weather, a visit to this Napa winery is, borrowing from a movie title, truly "a walk in the clouds". A forest across from the winery will always be preserved and a number of their own acres are held within the Napa Land Trust to help keep a hillside balance between vineyards and native vegetation. Due to the number of red bark Manzanita bushes in the area, CADE appropriately chose this tree to be the symbol for their logo. The original tree that inspired the design for their logo grows in front of the actual winery building.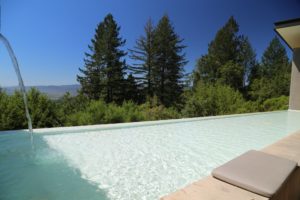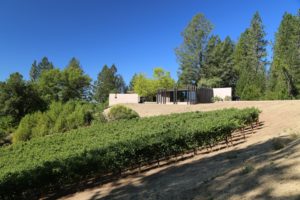 Much can be written about the CADE buildings. The winery was built "green" – with no wood used in the construction. Concrete which contains a percentage of ash recovered from coal burning plants was used as well as recycled plastic. In addition almost all the metal used in the winery building has also been recycled. With 21 unique vineyard blocks on the property there are 21 tanks so that each block can be managed separately during the fermentation process. The CADE Winery building has also been LEED certified (the first in Napa Valley to receive this prestigious certification). LEED is a program under the US Green building council that accesses a buildings impact on its location as well as environmental performance. As of press time the winery is waiting to be certified as LEED Gold which will make them the first such winery to receive this in the state of California.
The cave is unlike any of the other Napa wine caves we have visited. It is designed roughly in the shape of a shield resembling PlumpJack's logo and the center of the cave is a huge horn shaped room with an interesting design in the ceiling that carries throughout all of the tunnels. Note their metal tasting table in the central room of the cave; it is quite unique as it was made from the metal of a World War II Submarine.
Their total property encompasses 54 acres, 21 of which are planted to vine (Cabernet Sauvignon and Merlot). Their head winemaker oversees the various wine making operations between all of their Napa Valley properties. Nils Venge, the well known Napa king of Cabernet Sauvignon was PlumpJack's consulting winemaker for a number of their vintages following their inception in 1995. The winery handled its first harvest in 2007 with their first ever release being the 2005; their wine was made at PlumpJack until CADE became functional.
As of the time of this review, tours + tastings (combined) are provided several times a day and typically are paired with food prepared on site by their chef. The tasting plus tour lasts about 90 minutes. An organic garden is on site and its produce provides some of the items prepared on site. If the weather permits, tasting can be outside in their courtyard surrounded by the hospitality center or inside their well-appointed tasting room. And this room has a nice feel to it, comfortable yet sophisticated with the bonus of featuring great views overlooking the hillsides and into the Napa Valley.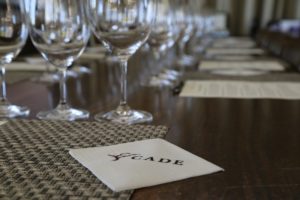 Their first ever white wine vintage was a 2006 Sauvignon Blanc blended slightly with Semillon. PlumpJack was a pioneer in the valley for using screw caps instead of corks and they are starting out their CADE wines in the same manner. This wine only saw 30% neutral oak and 70% stainless during fermentation so its not an "oaky" wine; it is a very crisp clean wine with some herbs and lemon flavors. The 2007 Sauvignon Blanc is also crisp with a very aromatic nose of tropical aromas (pineapple) and cut grass. The finish is smooth and clean. Their 2008 vintage will incorporate several different aging programs including stainless, the concrete "egg" tanks and several different types of oak.
The 2006 CADE Cuvee Cabernet Sauvignon is sourced from several prime Napa vineyards including the Beckstoffer managed Dr. Crane and the famed To Kalon vineyards. This wine is very dark in the glass with a bouquet of blackberry, black cherry and just a touch of vanilla. The entry and mid palate are rather soft and approachable with a good central core of black fruit leading to a finish with excellent structure – this wine has a good backbone. The 2005 Cabernet Sauvignon was the first wine ever produced by CADE and is sourced entirely from Howell Mountain (their home appellation, but not their own vineyards). Aromas of baking spices, blackberry and hints of chocolate show on the bouquet. As with their cuvee the entry is rather soft and very fruit forward leading to a big long finish with good grip and tannin depth. Drink with food now or cellar; either way this wine is ready to drink when you open it!
The first wine from the estate was released in Fall of 2010. With stellar vineyard sources already locked up they will continue to produce wine from other appellations within Napa as well as this premium wine from their estate vineyard. For more information and or to join their wine club, visit: www.cadewinery.com
NOTE: the PlumpJack Group purchased Ladera Winery in 2016 and have since renamed it to CADE 13th Vineyard – currently being used as a red wine only production facility and for hosting select Library tastings.
We also have a review of CADE 13th Vineyard on this site.
Estate Vineyards

Hospitality

Winery/Cave