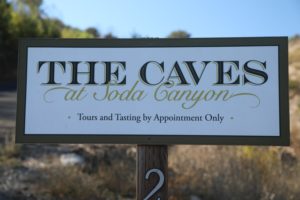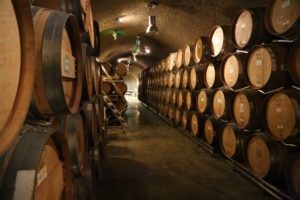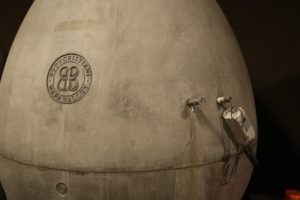 Buoncristiani Family Winery was founded in 1999 by brothers Matt and Jay Buoncristiani; today their other two siblings, Nate and Aaron are also actively involved with the winery operations. Their parents, Rob and Mimi are originally from San Francisco; they moved the family to Sonoma from the San Jose area where they lived for a very short while soon settling in Napa in 1977. Rob planted a small vineyard in their backyard at their house in Browns Valley (a neighborhood within the Napa city limits). Incidentally this tiny vineyard is still growing, planted to a mix of various red varieties. Rob made home wine in their garage involving a number of friends and neighbors and called their operation Chateau Mattina, meaning House of the Morning with the name created by combining his son Matt's name and a godchild named Tina. Rob even had a small bottling line within the garage. Matt recalls there was never a shortage of their home wine during the holidays. they won various awards for such home competitions including at the Harvest Fair in Santa Rosa and also the state fair.
And it was quality stuff; Rob began to enter the wine in various home wine making competitions and earned a gold medal at a Sacramento home wine competition for his 1974 Petite Sirah, a gold medal at the Harvest Fair in Santa Rosa. Some of the competitions they entered are no longer operating including the St. Supery Classic. Eventually his sons started making their own home wine in their parent's garage, "to replenish their cellar", as Matt puts it. They also entered their wines in a number of competitions, often bringing back medals for their efforts. Friends started noticing an encouraged them to start making wines professionally. The family decided to bond the garage for commercial wine making. The beginnings of what would be their flagship wine, the O.P.C. was first made in 1996 but not sold as this was still home wine. Their first vintage commercially released was in 1999 and included the O.P.C. and a Cabernet Sauvignon.
It is rare in Napa for a winery to be owned and operated by four brothers; the only other one we know of in the valley is Piña Napa Valley although one of the brothers, John Piña died in 2017. Despite all earning non wine related degrees at college, the Buoncristiani brothers all work in the wine business and have extensive wine experience; Matt worked in production at the acclaimed Rudd Estate Winery in Oakville and later was the Cellar Master at Caldwell Winery. Jay is Buoncristiani's winemaker and has been winemaker at Hess Collection and continues to offer wine making consultation services in the area, Nate has worked at Caldwell, Rudd, and Black Stallion and Aaron has worked with winemaker Philippe Melka and also continues to make wine in the valley.
From just two wines, they now have grown to around 5,000 cases a year producing both wines that are distributed as well as small production wines that are wine club member only wines. Over the years they have changed winery homes several times. Finally finding a permanent winery home and partnering with three other families – they now make their wine at the Caves at Soda Canyon (about a 20-minute drive north of the city of Napa). The winery operations are completely underground except for the crush pad.
In the face of natural disasters, this winery has two strong advantages, and it has already been tested twice since opening. Advantage number one is its underground location and advantage number two is it is built into what essentially looks like a giant rock pile. The winery survived the Napa earthquake of 2014 without loss of product (despite significant damage to the relatively nearby city of Napa) and during the Atlas Peak fire of October 2017, again the wine was safe as the fire did not come into the cave, yet it burned all the landscape around the winery and even partially melted some of their outside tanks and the asphalt of their parking lot.
While not owning vineyards themselves, they have been able to maximize some of their contacts in Napa Valley to secure premium grapes from top vineyards. Often their vineyard sources are locked up in long term contracts, so they have consistency of vineyard sources – and they have control of how the vineyards are managed.
During several tastings we have found their wines highly approachable in their youth, balanced and food friendly. These are wines structured to drink now but can also be aged. An unusual wine for a Napa producer is their Dolcetto, not sweet as the name in Italian might indicate, rather a very dry wine wine made from this Italian variety. O.P.C. is their most produced wine (a red blend). O.P.C is an acronym for Ol' Pa's Cuvée named as a tribute to their grandfather on their mother's side of the family.
Select Wines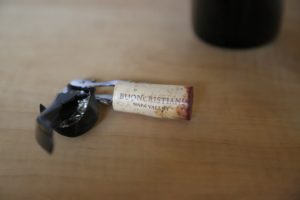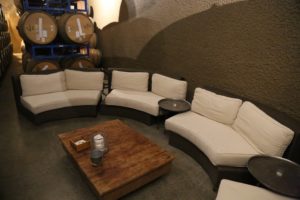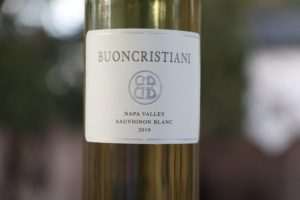 The 2019 Buoncristiani Napa Valley Sauvignon Blanc is medium to dark gold in the glass; the aromatics are immediately noticeable and expressive with scents of baked apples, pear, honeycomb, caramel candy, fresh papaya and dried mango. The aromas are tropical fruit meets baking spices; both offer a sweetness that persists throughout the bouquet. Or more simply put, this wine smells delicious, like dessert. The palate offers a rounded and supple mouth feel with some accompanying mineralities along with flavors of ripe Golden Delicious apple, pear, cantaloupe, warm butter, and lingering notes of hazelnut. This is a rich bottling featuring a long fruit-filled finish. There is nothing green or grassy about this wine. There is no need to pair this wine with any foods – just drink it by itself.
The 2021 Buoncristiani Napa Valley Chardonnay is a blend of grapes from Stagecoach Vineyard on Atlas Peak and Hyde Vineyards on the Napa side of the Carneros District. This wine is medium gold in color; the aromatics are immediately very floral including notes of jasmine and honeysuckle. this bouquet is tropical meets stone fruit and shows scents of mango, apricot and white nectarine. The sweetly fruited aromatics smell very enticing. The palate is a rich expression of this variety; it offers a rounded and creamy texture with flavors of ripe papaya, warm butter, crème Brule, pear, apricot and Golden Delicious apple at the peak of its ripeness. The finish lingers with a richness of ripe fruit complemented nicely with balanced acidity. This thoughtfully made wine was fermented using a combination of indigenous yeast and commercial yeast in both new and once used French oak barrels and small stainless steel drums. Only 25% of the wine went through malolactic fermentation. It was aged for 10 months sur lie before bottling.
The Triad Blanc is an unusual blend of Sauvignon Blanc, Chardonnay and Viognier. The varieties are fermented in both stainless steel and French oak barrels. The wines are not put through malolactic fermentation but are aged sur lie for 6 months. The 2015 Buoncristiani Triad Blanc shows notes of pineapple, apricot and lemon on the bouquet complemented by tropical floral aromas (the Viognier certainly helps add to the aromatic profile). There is an intriguing ethereal lightness to the palate in regard to the way it feels in the mouth; it is rounded and creamy but not heavy nor viscous. With that said this is a richly layered wine with lots of flavor. Hints of citrus show on the lively finish.
The 2018 Buoncristiani O.P.C. Proprietary Red is a blend of 42% Cabernet Sauvignon, 24% Syrah, 18% Malbec and 16% Merlot. Its name is an acronym pulled from, Ol' Pa's Cuvée. This wine is dark ruby in color; the bouquet offers a nice balance between both fruit and oak influence. It shows dark fruit including plum along with darker spices (pepper) and old cedar box. As the wine evolves in the glass the aromatics show hints of milk chocolate and mocha. The palate offers flavors of dark plum, black licorice and a pepper and tobacco spice on the finish. The tannins are chalky, earthy, dusty and persistent on the long and savory finish. Lingers with a slight drying character and a slight warmth of alcohol. Grapes for this wine were sourced from Hyde Vineyard in Carneros, Stagecoach and Hossfeld vineyards on Atlas Peak, and a vineyard in Coombsville. Each variety was fermented separately until creating their final blend.
The 2014 Buoncristiani O.P.C. Proprietary Red Wine is a diverse blend of Cabernet Sauvignon, Syrah, Malbec and Merlot from numerous vineyard sites in the valley including several prominent vineyards (Hyde and Stagecoach). Fruit forward on the bouquet it is very aromatic with a red cherry sweetness at its aromatic core. Shows both red and dark fruits on the palate with excellent acidity. Drinks well young – it is well-balanced with slightly dusty yet fairly polished tannins lasting for some time. There is a brightness or a liveliness on the palate that is certainly appealing.
—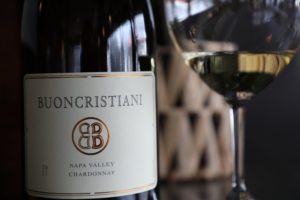 Over the years Buoncristiani have been highly awarded, rated and recognized by leaders in the wine industry including the Wine Spectator. Awards of "Rising Star of Napa Cabernet" and "Top Rhone Range Producer" only help cement their stellar reputation.
Most people who have tasted their wines in the Napa area are introduced to the brand at the Vintner's Collective in downtown Napa, a cooperative tasting room featuring premium local and small production wineries. Alternatively, select Buoncristiani wines are available at The Wine Thief, another multi-vintner tasting room near downtown Napa located across from the Oxbow Public Market (great place to pick up lunch or other snacks as you wine taste through downtown Napa). Serious wine enthusiasts can make an appointment with one of the brothers (usually Matt) at the winery where the tasting and tour is highly personalized and strictly by appointment.
Note the labels on the bottle in their Artistico Series; brother Aaron is the artist and is commissioned for each of these labels. Buoncristiani offers several membership options under their La Famiglia Wine Club – choose from 4, 6 or 12 bottles per shipment (shipped 4x a year). This wine club is highly customized; for instance if you just want reds or only whites, the shipments can be tailored to your preferences. Membership also gives you access to library wines dating back to their earliest vintages.
And this is not the only Buoncristiani family to be making wine;-their cousin Ron Buoncristia and his wife Melanie own and operate Orentano, a small Pinot Noir focused brand based in the Russian River Valley of neighboring Sonoma County.
The brothers also produce limited amounts of olive oil (from Jay's property near the city of Napa) and grappa. The wines are selectively distributed in parts of Canada, Japan and domestically in California, Texas, Florida and Hawaii among other states. For more information, to schedule a tasting, or to join their La Famiglia membership, visit: www.buonwine.com
Winemaking

The Caves of Soda Canyon