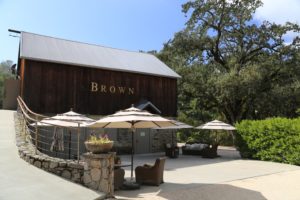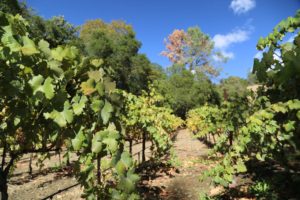 Brown Estate's wines reflect a "sense of place rather than palate". This is the first time on this project we've heard terroir expressed like this – in such a eloquent way. This is nice to hear especially when your primary wine is Zinfandel which is a varietal that is so often over manipulated, especially in the vineyard. The Browns let their wines speak for themselves; these are wines that are elegant and balanced and after trying their wines, perhaps you will see this varietal in a new light.
In 1980 Dr. Bassett Brown (died in 2019) and his wife Marcela located this fairly remote (by Napa standards) piece of property through a recommendation of a family friend who was already living in the Napa Valley (Howell Mountain). The Brown's were looking for a place to get away, relax and introduce their children to a more rural way of living (as compared to their urban Los Angeles area lifestyle). The property needed vision, which they certainly had. Thousands of bats were living in an old house and the stone and wood barn was in disarray. Today, looking at the estate and holding a photo taken of the property in 1980, you won't know your standing in the same area! They Browns planted their first 10 acres in 1985 and sold the fruit for a number of years. Today 50 acres of vines are planted on the their approximately 450 acre property.
Their children Deneen and David Brown tasted wines made at wineries that were purchasing their grapes. Recognizing a strong demand for their own grapes – they soon realized the quality of wines their estate vineyards were producing. Along with some encouragement from one of their vineyard 'neighbors' the Nichelini's, they decided to begin producing their own wine. The first few vintages were produced at Rombauer (when that winery was offering custom crush services for a number of premium clients). Winemaker David Brown has produced every vintage – he learned by doing through winery work for some of the producers that were purchasing their grapes. And early on, Zin Master, Duane Dappen was also making his D Cubed Cellars wines at Rombauer and provided consulting advice. Sister Coral later joined the family team.
The winery is now in an impeccably restored old stone and wooden building which dates to 1859. Later a cave was tunneled, which actually required significant amounts of dynamite because the hillside is nearly solid rock. As a result the cave is not your typical perfect tunnel but rather features a number of interesting shapes in the ceiling from as a result of the dynamite. Brown Estate's first vintage was from 1996 (incidentally their first few vintages were made at Rombauer Winery).
The Chiles Valley AVA is one of our two least visited appellations within Napa. While there are certainly vineyards here, the number of physical wineries within it's borders numbers less what what you can count on one hand. The appellation spans a long valley located within the Vaca Mountain range which is several ridges east of the main Napa Valley floor. Because of both its more northern and eastern location in Napa its climate is less affected by the cooling affects of the Pacific Ocean and the San Pablo Bay. Day time temperatures are often higher than other parts of Napa but night time can cool down and sometimes fog is present. Winter and spring time are often cooler than other parts of Napa. This, along with windy conditions contribute to a long growing season and harvest is usually later than grapes picked on the main valley floor.
Select Wines
The 2010 Brown Estate Chardonnay is a crisp wine that is well balanced. It sees no malolactic fermentation. There is very good acidity – its not a heavy viscous wine, rather retains its crisp characteristics throughout the palate. The nose shows notes of red apple, pear, faint honeysuckle and as it opens additional aromas of tangerine. This is not a heavy chardonnay but with its balance and acidity is great for enjoying with food.
The 2006 Brown Estate Cabernet Sauvignon is an elegant wine both on the bouquet and palate. It has a dusty characteristic on the nose with cigar box aromas. Red fruit dominates the palate including red cherry and currant.
Zinfandel is what the Brown's first planted on the property and remains their flagship varietal. Their Napa Zinfandel is the most produced and distributed of their wines. All components from the individual blocks in the vineyard that make up this wine are now bottled as their own wines (each of these wines is below 300 cases). All their wines are estate grown.
Their single vineyard Zinfandels are good examples of differences in micro climates, exposures and soils on the property. Some of the blocks are grown fairly close to each other but produce truly different types of wines. Two of these wines are from Rosemary's block and Mickey's block (named after an aunt and uncle).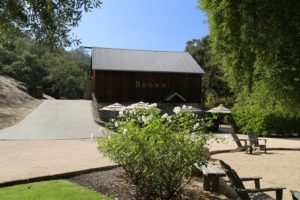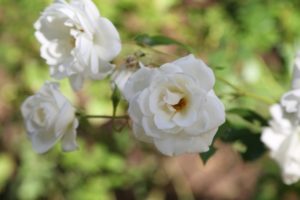 The 2009 Brown Estate Rosemary's Block is about the soil in which its grown. A pronounced dusty and earthy characteristic shows on the bouquet which also reveals some nice baking spices including hints of cinnamon as the wine opens. The core of this wine is high toned red fruit including red cherry, plum and raspberry. This is an elegant wine.
The 2009 Brown Estate Mickey's Block Zinfandel is certainly more about the fruit on the bouquet. It has an elegant ripe but balanced nose – this wine is dry but the core of fruit almost fools one into thinking there is some residual sugar – it is somewhat jammy. The tannins are certainly present, but they do not dominate, rather they linger in the background towards the end of the palate.
The 2006 Brown Estate Chiles Valley Zinfandel presents a complex layered bouquet containing both fruit and spice. A rounded juicy mouth feel follows – this wine is very approachable young. Ripe fruit shows on the palate – more black fruit then red including blackberry and black cherry.
An intriguing wine is the 2007 Brown Estate "Duppy Conqueror" dessert wine. The Browns heritage is Jamaican and "duppy" in the country of Jamaica is a ghost or evil spirit. Dr. Brown's brother designed this unique line drawing label. This wine was released to commemorate the Brown's 30th year in the Napa Valley. It is Cabernet Sauvignon fortified with a Zinfandel brandy – all grown and made on property. The entry is somewhat lean with intense but not overwhelming fruit. The wine is certainly sweet, not cloying at all and very balanced. This is a beautiful dessert wine.
—
Their wines are available at select restaurants in the Napa Valley including Meadowood and Press – both in St. Helena. Tastings at the estate are by appointment, very limited in numbers and are typically for mailing club members. Brown Estate is the model winery for how to utilize social media – they have an excellent online presence.
In 2019 Brown Estate partnered with Delta Airlines to offer several of their wines to Delta One passengers who fly between California and New York
NOTE: In mid 2017, the Brown Downtown Napa wine & hospitality center opened on the 2nd floor at 1005 Coombs Street in the Beckstoffer Building (open daily from 11am until 7pm). Visits are by appointment or by walk-in (if they can accommodate). View our separate review on this website for Brown Downtown. For more information and to join their mailing list visit: www.brownestate.com