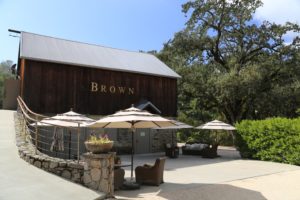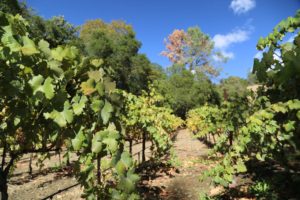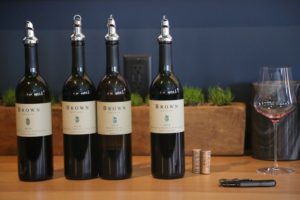 Brown Estate. During one of our visits to the estate, we were told their wines, "Reflect a sense of place rather than palate." This is the first time we had heard terroir expressed like this – in such an eloquent way. It was nice to hear this, considering they have built their reputation on Zinfandel, a variety which can easily be harvested over ripe resulting in loss of complexity. Their Zinfandels in particular, showcase both terroir, ripeness and the fruit driven qualities of this variety.
In 1967 Dr. Bassett Brown (originally from Jamaica) started as a physician's assistant at Central Neighborhood Health Foundation (CNHF) in South Central Los Angeles. He later acquired the clinic. An article in the May 25, 1972, edition of the Southwest Wave references doctors Bassett and partner A. Newton Woodward heading up a nonprofit called the Central Los Angeles Health Project (CLAHP) located at 2707 S. Central Avenue to serve medical needs of the local community and low-income residents. This building still serves as a clinic for the Central Neighborhood Health Foundation. Incidentally its location is only a 5 minute drive from a wine and spirits company we used to consult for located on South Main Street. We fondly remember walking to work under the 110 from USC Hotel and stopping at several street food vendors for Mexican food breakfasts.
And CNHF has since expanded over the years and now offers a wide diversity of medical services through their clinics, not only in locations within Los Angeles County but also in Riverside and San Bernardino counties. In 2012, Dr. Bassett was honored for his long-time work with the clinic by the dedication and naming of Dr. Bassett H. Brown Square at the often busy intersection of S Central Avenue and E 27th Street: a sign fastened to the stoplight indicating this demarcation is located directly outside of the clinic.
In 1980 Dr. Brown (died in 2019) and his wife Dr. Marcela Brown (originally from Panama) located a fairly remote (by Napa standards) piece of property through a recommendation of a family friend who was already living in Napa Valley (Howell Mountain). The Browns were looking for a place to get away, relax and introduce their children to a more rural way of life, as opposed to their urban Los Angeles and Pasadena area lifestyle.
The property needed vision, which they certainly had. Thousands of bats were living in an old house and the stone and wood barn was in disarray. Today, looking at the estate and holding a photo taken of the property in 1980, you won't know your standing in the same area! They Browns planted their first 10 acres in 1985 and sold the grapes for a number of years. Today 50 acres of vines are planted on their approximately 450-acre property.
Their children Deneen and David Brown tasted wines made at wineries that were purchasing their grapes. Recognizing a strong demand for their own grapes – they soon realized the quality of wines their estate vineyards were producing. Along with some encouragement from one of their vineyard 'neighbors' the Nichelini's, they decided to begin producing their own wine. The first few vintages were produced at Rombauer (when that winery was offering custom crush services for a number of premium clients). Winemaker David Brown has produced every vintage; he learned by doing through winery work for some of the producers that were purchasing their grapes. And early on, Zin Master, Duane Dappen was also making his D Cubed Cellars wines at Rombauer and provided consulting advice. Sister Coral later joined the family team.
The winery is now in an impeccably restored old stone and wooden building which dates to 1859. During their restoration they were able to save some of the original wood siding. Later a cave was tunneled, which required significant amounts of dynamite because the hillside is nearly solid rock. As a result, the cave is not a typical perfect rounded tunnel but rather features a number of interesting shapes in the ceiling as a result of the dynamite.
Their first vintage was from 1996; they made subsequent vintages at Rombauer Winery until they outgrew that space. The winery on their estate property was initially built in 2002 as a production facility – not with the intent of hosting visitors. But as word got out about the quality of the wines (first vintage was their Napa Zinfandel at about 700 cases) and the beauty of their rural location, they adapted part of the facility to host tastings. And while they still host a very limited number of visitors at the winery, their downtown space is much more conducive for seeing visitors. Their annual production varies but is usually around 7,500 cases annually.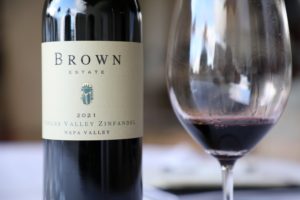 Chiles Valley AVA is one of our two least visited appellations within Napa Valley. While there are certainly vineyards here, the number of physical wineries within its border's numbers less than what you can count on one hand. The appellation spans a long valley located within the Vaca mountain range which is several ridges east of the main Napa Valley floor. Because of both its more northern and eastern location in Napa its climate is less affected by the cooling effects of the Pacific Ocean and the San Pablo Bay. Day time temperatures are often higher than other parts of Napa, but nighttime can cool down and sometimes fog is present. Winter and spring time are often cooler than other parts of Napa. This, along with windy conditions contribute to a long growing season and harvest is usually later than grapes picked on the main valley floor.
Select Wines
Zinfandel is what the Brown's first planted on the property and remains their flagship variety. Their Napa Zinfandel is the most produced and distributed of their wines. All components from the individual blocks in the vineyard that make up this wine are now bottled as their own wines (each of these wines is below 300 cases).
Their single vineyard Zinfandels are good examples of differences in microclimates, exposures and soils on the property. Some of the blocks are grown fairly close to each other but produce truly different types of wines. The Mickey and Rosemary blocks of their vineyard are named after Marcela's brother Mickey (died in 2014) and his wife Rosemary. Marcela originally stayed with Mickey at his home in Sacramento after moving from Michigan to California. And their son Tito has a business in which he sources used barrels from Brown Estate and converts them into various functional uses as well as pieces of art.
Sometimes these two wines are called the Yin and Yang of their Zinfandel production. The Rosemary's block grows in an east to west orientation and receives quite a bit of shade – especially from old oak trees that line parts of this vineyard. In contrast, the Mickey's Block is grown more south to north and receives quite a bit more sunshine and often produces a richer styled wine.
The 2015 Brown Estate Mickey's Block Zinfandel sees the same barrel aging program as the Rosemary's Block including 50% French oak and 50% American oak of which 1/3 of the total is new. The bouquet shows some earth nuances, but the star of the show here is mostly ripe fruit – especially blackberry. This bottling features plenty depth of flavor along with riper characteristics than the Rosemary's Block. The mouthfeel is rounded and is anchored by long lasting ripe tannins.
The 2009 Brown Estate Mickey's Block Zinfandel is certainly more about the fruit on the bouquet. It has an elegant ripe but balanced nose; this wine is dry but the core of fruit almost fools one into thinking there is some residual sugar, and it is somewhat jammy. The tannins are certainly present, but they do not dominate, rather they linger in the background towards the end of the palate.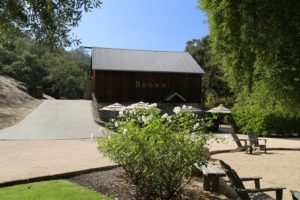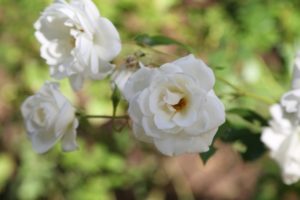 The 2015 Brown Estate Rosemary's Block Zinfandel shows bright aromatics – at times alternating between smokiness and earthiness with notes of cedar. This bottling is somewhat floral as it continues to open. Like the other two Zinfandels we tried, it shows a slight perceptible sweetness on the palate. It is very balanced on the palate showing more red higher toned fruit flavors than darker fruits. Fairly soft in its textural approach, this wine features well integrated tannins.
The 2009 Brown Estate Rosemary's Block is about the soil in which its grown. A pronounced dusty and earthy characteristic shows on the bouquet which also reveals some nice baking spices including hints of cinnamon as the wine opens. The core of this wine is high toned red fruit including red cherry, plum and raspberry. This is an elegant wine.
The 2015 Brown Estate Chiles Valley Zinfandel shows a variety of intriguing spices on the bouquet including vanilla, cardamom, toasted cedar and some notes of chocolate. It is fairly dark in the glass. There is plenty of fruit to, including ripe blackberry. Layered on the palate, this bottling offers bright acidity accompanied by depth of flavor. There is a blue fruit component. Features long lasting, somewhat dry and robust tannins. Did we mention this already; it offers very good acidity.
The 2006 Brown Estate Chiles Valley Zinfandel presents a complex layered bouquet containing both fruit and spice. A rounded juicy mouth feel follows – this wine is very approachable young. Ripe fruit shows on the palate, offering more black fruit than red including blackberry and black cherry.
In addition to producing Zinfandel from their estate, they also source Zinfandel from select vineyards throughout parts of Napa Valley and bottle these as AVA specific wines.
The 2010 Brown Estate Chardonnay is a crisp wine that is well balanced. Malolactic fermentation is inhibited. It shows bright acidity and is not a heavy or viscous wine, rather it retains its crisp characteristics throughout the palate. The nose shows notes of red apple, pear, faint honeysuckle and as it opens additional aromas of tangerine. This is not an oaky or buttery Chardonnay but with its balance and acidity is great for enjoying with food.
The 2006 Brown Estate Cabernet Sauvignon is an elegant wine both on the bouquet and palate. It has a dusty characteristic on the nose with cigar box aromas. Red fruit dominates the palate including red cherry and currant.
An intriguing wine is the 2007 Brown Estate "Duppy Conqueror" dessert wine. "Duppy" in the country of Jamaica refers to a ghost or evil spirit. Dr. Brown's brother designed this unique line drawing label. This wine was released to commemorate the Brown's 30th year in Napa Valley. It is Cabernet Sauvignon fortified with a Zinfandel brandy, all grown and made on property. The entry is somewhat lean with intense without an overwhelming amount of fruit. The wine is sweet, but not cloying at all and very balanced. It is a beautiful dessert wine.
Brown Estate also produces a second label called HOUSE OF BROWN. These are crafted to be easy drinking and are available at lower price points than the Brown Estate wines. Rather than being sold direct to consumer, they are sold wholesale to various retail outlets. They are soured from non-Napa Valley, but California vineyards and are distributed in parts of California and other states around the country.
—
Their wines are available at select restaurants in Napa Valley including in St. Helena at Meadowood and Press. A very limited number of tastings are offered at the estate and are typically for mailing club members.
Brown Estate is the model winery for how to utilize social media – they have an excellent online presence.
In 2019 Brown Estate partnered with Delta Airlines to offer several of their wines to Delta One passengers who fly between California and New York.
Brown Downtown Napa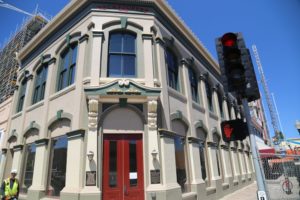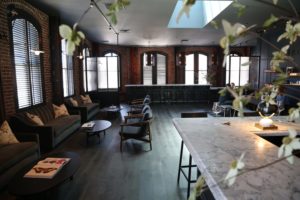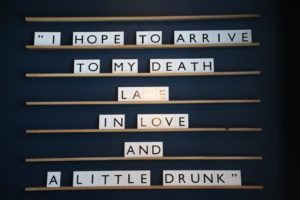 Brown Downtown opened in April 2017 in a prime downtown location at the corner of Coombs and First Streets, just down the street from the nearby Archer Hotel and slightly further from the Andaz Hotel. In addition, the former Napa Town Center, completely remodeled and re-branded as First Street Napa is next door (featuring 40+ fashion and specialty retailers and restaurants). This is all part of the continued exciting renaissance of downtown Napa which began after the flood control project was completed (downtown Napa used to commonly flood in the winter).
This building was purchased in early to mid 2014 by the Beckstoffer Family (prominent grape growers in Napa, Lake and Mendocino Counties). An earthquake centered slightly south of downtown Napa struck in August 2014, mere months after their purchase. The building sustained some damage but was later renovated and restored. The building was renamed to The Beckstoffer Building and was placed in a family trust where it cannot be sold or torn down.
It was built in 1905 and housed the first offices for the Napa Register until 1965. The building has survived three major earthquakes including the 1906 Santa Rosa/San Francisco quake, the 2000 Yountville quake and the 2014 Napa quake. More recently it housed Sushi Mambo (who moved up to Calistoga). Brown Estate was the first tenant in the building since the Beckstoffer's acquired the property.
While open to the public by walk-in if staff has availability (guests enter from Coombs Street), due to their somewhat hidden location and very limited signage, most people don't necessarily find them by walking by on the street. Rather visitor's find their tasting room through referrals from area businesses, general word of mouth or existing clients. Located on the second floor, one takes an elevator to reach their space. Almost reminiscent of a speakeasy – their tasting room features a somewhat retro feel with both a bar and a lounge area surrounded by brick walls.
They offer several tasting experiences downtown including two Introduction Flights – where guests choose to taste several of their most often distributed wines or a Zinfandel only tasting. Their Lounge Tasting is available by prior appointment. Because they are open later, with the last tasting offered at 530pm, this makes an excellent pre-dinner stop.
Sometime in 2023, Brown Downtown will be opening a new salon located only two doors from their current location. It is currently referred to as the HQ and will be used for larger groups as well as additional space when Brown Downtown reaches capacity. We will update this review significantly once this new tasting space opens.
And as of our latest update to this review, Brown Estate has a display in the main walkway of the nearby Archer Hotel highlighting some of their wines and related winery photographs.
—
A few times a year, Brown Estate publishes the Brown Bulletin, featuring informative and well written prose, with sometimes commentary on the current state of affairs involving the country or global issues. This newsletter also contains stories and other observations. For more information and to join their mailing list or one of three levels of membership, visit: www.brownestate.com