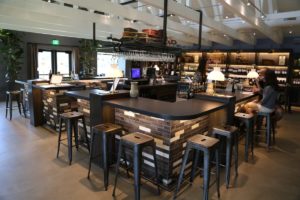 Brasswood Cellars (formerly Cairdean Estate) is located just north of St. Helena (one mile north of the Culinary Institute) in what used to be the St. Helena Premium Outlet shopping center (clothing, art galleries and an African Shona sculpture gallery). In 1988 Vintner's Village opened on the property and featured eleven tasting spaces from a number of Napa Valley wineries including Amizetta Vineyards, Caymus, Chappellet, Mount Veeder Winery and Rustridge among several others who are no longer in business. Visitors, including us, who used to frequent these outlets (built in the 1970s), will no longer recognize the property; the structures have been completely renovated, a 17,000 square foot cave has been drilled on site and the winery was completed in early 2015.
Incidentally, the number of revisions we have made to this post and the physical trips to the property to photograph and update all the changes over the past few years has been significant. Understandable considering the scope of this space. By mid 2021, almost everything seems to be settled in including their name change and a few other subsidiary name changes.
The winery was founded by husband wife team Edwin and Stacia Williams. Stacia developed an interest in wine while working on the east coast of the U.S. She made her first wine in 2000 from Napa grapes which were shipped to a local wine shop. Soon after she met Edwin who is from Fresno, California. The "wine bug" took hold; she and Edwin moved back to Fresno where Stacia enrolled at Fresno State and ultimately earned a degree in Enology & Viticulture.
This is a very unique Napa property. It is approximately 50 acres and straddles two sub appellations – Spring Mountain and St. Helena. While no grapes are currently planted on the property for commercial use, they have up to 20 acres to develop in the future. The property also comes with a variety of valuable permits – one being the extremely rare Napa permit to allow weddings on site.
This "campus" if you will, features four tasting rooms including the main tasting room where most walk-in visitors will taste wines), The Winemaker's Den, an appointment only room across from the main tasting room, the Vintner's Den just outside of the wine cave and one within the winery.
Brasswood focuses on their own wines but behind the scenes this has become one of Napa Valley's top wine communities. As a visitor to the property one won't necessarily see this, but their cave winery is home to wine making greatness with some of Napa's finest producers (who do not own wineries but make their wine here) and it is very common to see winemakers or people associated with various wine brands produced here pulling into or out of the winery parking lot or stopping by the deli for a bite to eat.
Brasswood Bar + Kitchen.
Along with their focus on wine – food is an integral part of the property. Brasswood Bar + Kitchen is a Gastro Pub; the large window behind the bar looks north towards the actual winery facility; you can watch harvest activities on the crush pad during September and October from your bar-stool seat! Their founding chef has Michelin three-star experience; he joined them previously from The Restaurant at Meadowood, also located in St. Helena. The sizable commercial kitchen easily has enough space to accommodate both the restaurant and the cafe's needs. Weather permitting, guests can eat outside on the patio overlooking the grounds, a great place to see and be seen, inside in the booths or at the bar.
Some of the fresh ingredients used by chef are sourced directly from the property – from a culinary garden growing on the south side of the property.
Brasswood Bar + Bakery
is a small café and deli featuring fresh pastries, a number of creative soups and salads and other locally prepared cuisine. Some of the items from the menu are prepared next door from their kitchen and brought over to the deli (our top choices for lunch here are their beet salad and some of the best fried chicken in Napa Valley). Not only do they offer quick to grab items to go but longer to serve items can be ordered from their nearby kitchen. Of note is their incredible mozzarella, but it is never on the menu, so guests have to ask for this directly.
In the mood for additional shots of liquor? One can order a "boozy milkshake" or additional drinks with some 'kick' to them! Limited indoor seating is available as well as a larger outdoor seating under a shaded covering next to an outdoor fireplace and several trellised grapevines (their tiny demonstration vineyard). If the weather is just right – the doors to the café will be fully opened creating a nice vibe between both the indoor and outdoor space.
Also note that for additional dining (that most visitors to the property will never see), picnic tables are located on a wooded hillside behind the hospitality center and deli (near the rear parking lot).
A large wine cask was purchased from a winery in Sonoma County, cut in half and now forms the centerpiece in the courtyard. This is the ideal site to hold weddings. A pizza oven and fire-pit are also located here as well as their eye-catching 'ice' water sculpture.
The Brasswood Sensory Room
is a very unique offering for Napa Valley. Stacia was inspired to create a room like this based on a trip she took to Burgundy, France. Select wines made from specific varieties are displayed throughout the room next to hand-blown glass coverings which contain a variety of fruits, plants, spices, earth/moss as well as finished artisan products. The smells contained within these offerings are supposed to roughly represent the aromas you might find in that particular wine. A tasting paired with artisan cheeses is offered here by appointment.
The parking lot is huge and dates from when there were multiple stores on site. Generally, it offers plenty of parking spaces, however we have seen this lot completely full, on busy summer weekends. Both bus and limo parking stalls are available.
The Shop at Brasswood + Mercantile
Shoppers looking for an international inventory of fine products take note of The Shop at Brasswood + Mercantile (formerly known as the Redolent Mercantile). This small store offers a collection of hand selected products from around the globe – it is a unique shopping experience for this part of Napa Valley. Both men and women's fashion, home décor, artisan jewelry, culinary tools, fine textiles, ceramics, hand-blown glass, specialty cosmetics and even a few electronics are available.
And this shop also contains wines from Brasswood wine partners as well as products from Brasswood Spirits, American whiskey, gin and vodka (if you haven't figured out by now, there isn't much that Stacia and Edwin do not do!)
The Brasswood Gallery.
This gallery opened at the end of 2015. An art curator oversees the rotation of the gallery approximately 4x a year which features fine paintings from galleries around the world.
Winery
Associate winemaker Cody Stacey was an integral part of this project for the first few years (he no longer works at Brasswood) and along with Stacia, were the ones we met when we first toured the property. Oddly enough Cody is from Utah – not generally thought of as a state that produces winemakers. Initially he was pursuing a degree in Mechanical Engineering. Working the graveyard shift at an aerospace company in Utah made him realize that type of work was not what he wanted to spend the rest of his life doing. He was making wine in his garage as a hobby. He changed his major to general science – finished his degree and then moved to California to study Viticulture and Enology at Fresno State. He met Stacia in one of his classes.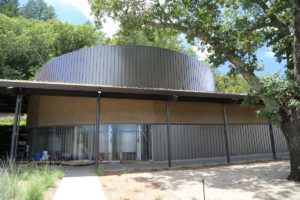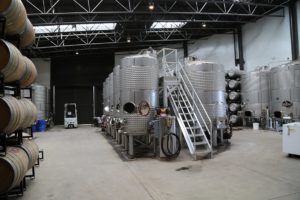 After graduating Fresno State, Cody moved to New Zealand and worked hands on in the wine industry there. After Stacia and Edwin purchased their St. Helena property in January 2011, they contacted Cody to discuss the possibility of becoming their winemaker. Cody remembers plenty of initial Skype calls when plans were being discussed for the property. He played an integral part in the design of the winery and the cave design.
The cave features three tunnels of which the main tunnel is one of the largest single tunnels of any wine cave in Napa Valley – both in height and width (very tall ceiling). Unlike many wine caves that drill through nearly solid rock, this cave was drilled through rather soft sediment and alluvial soils. It remains a constant 59 degrees. A lot of thought went into its design; parts of the cave can be isolated for temperature control during fermentation as needed and the cave tour route for visitors was designed to avoid the often-busy production facilities.
The winery was built next to the edge of the hillside. It contains a sizable tank room with large windows looking out onto the valley. Much of the roof is "living" with various plants and grasses growing on top. This rooftop garden is watered with water that is recycled from the winery building operations. The only other wineries in Napa Valley that have living roofs, that we are aware of are Quixote and Odette Estate.
The winery is as high tech as one will find in the valley; much of the operations can be controlled from an iPad remotely using specialized winery software created for winery operations. Things like controlling tank temperature, water use, pump-overs and automating certain processes like pressing can be controlled off site if needed.
Select Wines
Brasswood Cellars produces a diversity of wines with a focus on wines that are meant to age, have good acidity and are meant to be paired with foods. Brasswood Cellars owns three vineyards; the 10-acre Brassrock Vineyard in Coombsville, a vineyard in Russian River in neighboring Sonoma County planted to Pinot Noir and Syrah and their Crystal Springs Vineyard planted to six acres entirely to Sauvignon Blanc and located within a short drive of Brasswood Cellars.
The 2019 Brasswood Cellars Carneros Chardonnay is medium golden in color; offers aromas of a lemon peel zest, dried straw and hints of butter (but not overly buttery). The palate is rounded and creamy; it features a diversity of rich flavors including honeycomb, cantaloupe, peach and stone fruits. Lingers bright with hazelnut, notes of butter and light hints of caramel and other baking spices. This is a well-balanced and not an oaky Chardonnay. It was aged in 20% new French oak.
The 2019 Brasswood Cellars Russian River Pinot Noir is medium ruby in color; the nose smells like the variety with bright and youthful aromas, a union of both fruit and spice notes including cherry pie, cherry cola, raspberry and white pepper. Also shows notes of dried herbs and hints of mocha. This is a balanced bottling but with some depth of both fruit and darker spices. The finish is savory and seamless with supple and well-integrated tannins along with bright acidity. The wine was aged in 40% new French oak barrels.
The 2018 Brasswood Cellars Napa Valley Cabernet Sauvignon Coombsville Estate Vineyard is 100% varietal. This wine smells and tastes both like the variety and its origin, from cooler weather Coombsville, located in the southern part of Napa Valley a short drive east of downtown Napa. This wine is medium to dark ruby in color; the bouquet offers aromatics of cherry, black olive, dried tobacco leaf and hints of green bean and jalapeno. The palate shows mostly higher-toned red fruits including flavors of red cherry and currant. Finishes with a tartness and a persistent grip of still tightly woven tannins. After tasting this wine, we decided we would like to pair it with some Italian meatballs, perhaps from the Farmstead at Longmeadow Ranch in St. Helena. This wine was aged in 75% new French oak.
The 2015 Brasswood Cellars Cabernet Sauvignon Coombsville Estate Vineyard (85% Cabernet Sauvignon) is dark ruby in color; 7 years post vintage date it is starting to show a light bottle bouquet. Offers a sweet aromatic thread including of cassis, mocha, ripe cherry, dark fig and black licorice. The bouquet is also complemented by notes of black olive. Shows plenty of bright fruit including plum and cherry. The texture is a lovely component of this wine with still tightly woven tannins showing a broadly distributed grip on the finish. Lingers with a tartness and hints of dark pepper. This wine was aged in 60% new French oak.
The 2014 Brasswood Cellars Cabernet Franc Coombsville Estate Vineyard shows more fruit than any barrel influences on the bouquet. In a blind tasting we would have difficulties identifying both the variety and its vineyard source as being from Coombsville. The nose was a bit closed at the time of our tasting showing aromas of red cherry, mocha and other dessert spices. This wine is nicely balanced from entry through to the finish with bright fruit including red cherry, currant and a rose stem quality on the finish. It still shows very youthful 8 years post vintage date with a tannin texture that is rounded and supple – almost like a finer gravel.
The 2012 Brasswood Cellars Napa Valley Haley Margaret. Stacia lost her cousin to cystic fibrosis and this wine is made in her honor every year (with a portion of the proceeds being donated to the Cystic Fibrosis Foundation). This vintage was a blend of Pinot Gris, Rousanne, and Viogner; each variety contributes a certain component to the wine. The viognier provides lovely aromatics which are somewhat floral along with orange blossom and the Rousanne contributes a wonderful creamy and rounded mouthfeel to the palate. Later vintages of this label are produced as a rosé.
The 2010 Brasswood Cellars Merlot and subsequent vintages were sourced from the Truchard Vineyard in Carneros; the Truchard's are long time growers producing highly sought after grapes. Brasswood Estate sources several rows of this variety each year. These grapes have great natural acidity, so no adjustments need to be made during the wine making. The alcohol is nearly 15% but doesn't feel like it with fruit showing more red berry than dark. Offers an intensity of flavor with broadly distributed long lasting dusty tannins.
The 2010 Brasswood Cellars Napa Valley Cabernet Sauvignon was sourced from vineyards in Atlas Peak and Calistoga. It is a Bordeaux style blend; the nose shows some dustiness along with a slight herbal hint. Big ripe black fruit shows on the palate with flavors of cocoa with hints of cedar anchored by both highly noticeable wood and fruit tannins filling the mouth and anchoring a long finish.
The 2012 Brasswood Cellars Leannan Suisun Valley Riesling is a sweet wine – but not overly sweet. The residual sugar hits the palate on the front and then drops off mid palate to the finish. This is a lighter style wine with impressive floral aromatics, even when served cold.
—
The Winery at Brasswood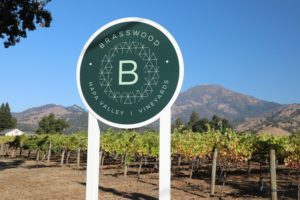 In October 2019 Brasswood Estate acquired Summers Estate Winery and the surrounding vineyards off of Tubbs Lane in Calistoga with the driveway located almost across from the driveway to Envy Cellars. We first heard this news from Brasswood Estate Director, Marcus Marquez soon after the acquisition.
Summers was founded in 1996 by Jim & Beth Summers (Beth's family has a long history in the wine business, she is the granddaughter of the family that owned Mazzola Brothers and Sons in Cucamonga, California in the early 1900s). Jim Summers (Mr. Charbono) who passed away in late summer 2018 founded the winery – he was originally from Kansas (his father was a butcher in a grocery store) who came out to the San Francisco Bay area to pursue his MBA from the University of San Francisco. He left the world of corporate finance to begin Summers Estate.
The wine Summers used to be most known for was their Charbono and the 25-acre property is planted in part to Charbono. A handful of vines on the property are in the 60–85-year-old range.
A large metal building was built over the existing production building, a barn within a barn, and the hospitality building was lifted onto a new foundation and remodeled. It has become another production facility for Brasswood and is known known as The Winery at Brasswood. Visitors to Summers Winery who visit this winery will no longer recognize the current infrastructure including the old hospitality house which is now a contemporary and elegant tasting salon. The winery and separate hospitality center were designed by Juan Carlos of Signum Architects. Brasswood is leasing both a majority of the production space and all of the hospitality center to Newton Vineyard for three years.
And kudos to Brasswood Cellars for being among the first if not the first Napa Valley based winery to embrace using Tik Tok; at the time of their early use, the platform was not yet mainstream.
Looking to incorporate an aspect of wine that they value most – the bonds of friendship that are formed over wine – they chose the name "Cairdean" for the original name of the winery – which in Scottish Gaelic means friends. They changed their name to Brasswood Cellars in 2016. For more information or to join one of their wine clubs, visit: www.brasswood.com
Grounds