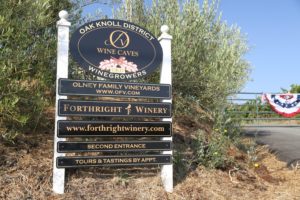 Bolen Family Estates is a joint partnership between father and son, Mike and Eric Bolen. Their family is from St. Louis; Mike has enjoyed French wine for many years and over time Eric also picked up his father's passion for wine. Eric started working part time in a wine shop in St. Louis where the owner created his own wine from California which he sold through his shop. Inspired by this Eric realized if he wanted to further develop his passion for wine he would need to immerse himself in the wine industry to a greater extent.
When you are inspired to follow your passion, sometimes you move rather quickly. Eric moved to the Napa Valley in 2005, attended wine making and viticulture classes at Napa Valley College, "knocked on a lot of doors" and by late 2006 had put the wraps on their first commercial vintage.
It is rare to find a Napa producer focusing all their efforts on a single wine and even rarer when that wine is a premium Merlot. This is the one wine that Bolen produces each vintage. Eric is on a crusade to "bring Merlot back", as he puts it. While Bolen is a new producer they have certainly built their operations with attention to detail and quality. Their two vineyard sources are both from Oak Knoll and include Beckstoffer's Orchard Vineyard as well as fruit from the Jaeger Vineyard. Oak Knoll is an AVA that isn't quite as cold as the Carneros region to the south and during the growing season certainly is not as warm as up valley. As a result the climate here is a little more moderate than the northern and southern parts of the valley and is an ideal area for growing Merlot.
Their wine was made under the direction of Art Finklestein (Judd's Hill Winery) for the first several vintages and Tom Rinaldi (winemaker at Provenance Winery) came on board as their winemaker in 2009. Tom has long nurtured a love affair with Merlot (currently makes several Merlot's at Provenance) and jumped at the chance to make Bolen's wine once he discovered they were only producing wine from this varietal. Today joint owner and winemaker Patrick McEvoy is the winemaker.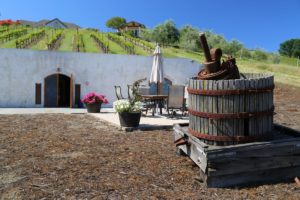 We asked about the possibility of producing other varietals and Eric said, "instead of making another wine, we can always make more Merlot" Nice! That they have done – their first vintage was merely 125 cases and has grown to over 600 cases with plans to increase production even further in the coming years.
Their current release is their first vintage and dates from 2006. This wine is called their "Reserve" as not all barrels may make the final blend. Hang time is critical for the Bolens and they try to keep their fruit hanging later in the harvest to capture as much of the flavor as possible. This is not a blended wine, it is 100% varietal.
Their philosophy with their barrel program is to use both new and neutral French Oak barrels (the majority being more neutral barrels). They use just enough oak to let the wine open up, the barrel aging complements the fruit rather than dominates and any influences from the oak in this wine are well balanced among the flavors of the fruit. The 2006 vintage is reddish purple in the glass with an elegant bouquet that is somewhat briary or brambly with notes of dustiness and brown chocolate. As the wine breathes the bouquet continues to reveal additional layers of rich fruit.
This is a medium to full bodied wine that is extremely approachable when its young, yet has intense big flavors. It retains its silky smooth structure throughout the palate. The core of this wine has a body that is voluptuous and soft and shows a wide range of both red and dark fruit including blueberry and blackberry. Sweet and fine grained tannins are part of a rounded finish (shows delicate notes of toasted oak) and is just as intense as the palate. Time this finish – it lingers for quite some time!
Bolen conducts limited tastings by prior appointment at their wine cave just west of the city of Napa. Plans call for some local distribution including Backroom Wines in the town of Napa as well as in the state of Missouri. With a production of just one wine each year it is rather difficult to have a wine club. However the Bolen offer several membership opportunities through their website. For more information visit: www.bolenwine.com
NOTE: as of 2019, possibly no longer producing. We will keep a close eye and update/archive this review if needed.